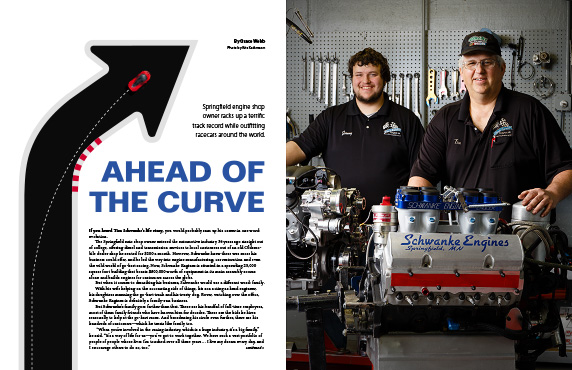 Ahead of the Curve
Springfield engine shop owner racks up a terrific track record while outfitting racecars around the world.
If you heard Tim Schwanke's life story, you would probably sum up his career in one word: evolution.
The Springfield auto shop owner entered the automotive industry 36 years ago straight out of college, offering diesel and transmission services to local customers out of an old Oldsmobile dealer shop he rented for $200 a month. However, Schwanke knew there was more his business could offer, and he led the way into engine manufacturing, car restoration and even the wild world of go-kart racing. Now, Schwanke Engines is situated in a sprawling 25,000 square foot building that boasts $800,000 worth of equipment in its main assembly rooms alone and builds engines for customers across the globe.
But when it comes to describing his business, Schwanke would use a different word: family.
With his wife helping on the accounting side of things, his son acting as head engineer, his daughters manning the go-kart track and his trusty dog, Rover, watching over the office, Schwanke Engines is definitely a family-run business.
But Schwanke's family goes farther than that. There are his handful of full-time employees, most of them family friends who have known him for decades. There are the kids he hires seasonally to help at the go-kart races. And broadening his circle even further, there are his hundreds of customers—which he treats like family too.
"When you're involved in the racing industry, which is a huge industry, it's a big family," he said. "It's a way of life for us—you've got to work together. We have such a vast portfolio of people whose lives I've touched over all these years… I live my dream every day, and I encourage others to do so, too."
—–
Schwanke was born in Windom in 1961 and moved with his family to a 700-acre farm outside of Sanborn a few years later. There, the family raised Holsteins and hogs. Schwanke said his father took care of milking the cows, while he was responsible for the 1200 hogs.
"I grew up pretty hard core," he said. "On the farm, in those days, you really worked together as a family. You fixed a lot of your own stuff. You had to—it was cost effective, and when you needed it, it was right now. And those lessons learned in those days, I still believe in today. It's part of what I am and what we do here."
When it came to fixing things, Schwanke found out early on that he had a fascination with all things mechanical. His father, besides being a farmer, was also a mechanic for a tractor implements  dealer, and his grandfather owned a junkyard nearby.
"I learned a lot about business and a lot about cars from a pretty early age, and I've always had that interest," he said. "I spent a lot of time at my grandpa's junkyard, and he'd always send me home with something to take apart. And Dad helped me a lot, too."
When he wasn't working on his farm or with his grandfather, he was helping neighbors on their farms. And when he wasn't at a neighbor's farm, he and his sister managed to make some money harvesting ditch hay to sell to local stockyards. They paid their father $30 to borrow his haying equipment and sold their produce for $60 a rack.
"That was probably our first real job outside of home," he said. "We'd go bale wherever we could. We didn't look at a road ditch like anyone else; it was a profit to us. We'd work our butts off when we could, because that was our play money. Those were the things we learned: to get things done and be ambitious."
Scwhanke also became very involved in his local FFA (Future Farmers of America). He won the state mechanics proficiency award and finished third in the nation in 1978, and acted as chapter president during his junior and senior years. He credits his time in the FFA with teaching him business essentials such as bookkeeping.
One task he was responsible for was organizing yearly fruit sales with his vice president. Every year, the kids in his chapter worked to sell a semi-truck load of fruit around their area. Schwanke said the highlight was being allowed to skip classes to sell the fruit when they were upperclassmen. ("We were seniors, so we'd get away with that," he explained.) Whenever they finished, they donated 50 percent of the profits to Camp Courage, a summer camp for children and adults with disabilities.
"You learned a lot about taking care of people and working with people," he said. "When I think back, it's pretty amazing about how all those little things that you did, that you didn't realize at the time, actually made you the person you are today. As I think back now, I get it."
When Schwanke graduated from high school in 1979, he started attending college at Willmar ATVI, where he studied diesel mechanics. Once he graduated in 1981, he originally planned to come back to the family farm, but his dad gave him different advice.
"I really wanted to stay with farming, but my dad encouraged me to rent a shop in Springfield and do both," he said. "As it turned out, I had more interest in the mechanical side of things and working with people more directly, and elected to continue to adventure in the mechanics world.
"I like the way things are put together and understanding how they work; I like to understand how they came to be, especially automotive and agriculture stuff. One of my role models is Henry Ford. I've read books on him and still work with some of his projects today, like the Model A engines I rebuild. I was really inspired by his activities from an early age, and that's probably where the interest came when it comes to old cars. My passions are race cars, street rods, performance muscle cars, anything to do with speed and gears and going fast."
Schwanke's first shop was called Tim's Automotive Business and functioned as a diesel service and transmission shop. He moved into an old Oldsmobile dealer shop, which he rented for the next 14 years, and started working for area car owners.
"That's really where it all got started," he said. "After a few of the local people realized what was going on, I started working for some of the local farmers, and I still do some work for them today. We don't do a lot of service work today—maybe a couple dozen people. I don't have any interest in it, and I didn't want to step on toes of other people. There was kind of an unspoken agreement when I had the [parts store], that I'd sell products to other mechanics but not compete against them, and I still believe in that."
—–
In 1981, Schwanke found his niche in the high-speed world of car racing. Several circumstances converged at once. First, he started rebuilding short block engines in his shop. He had been rebuilding all parts of the engine before, but he realized it was more cost-effective, while still offering a large market, to focus on short blocks.
At the same time, he hired a traveling salesman who quickly noticed a prolific but untapped market: sprint racecar engines. And he also started racing his own cars at meets across the United States. He started with stock cars, racing Camaros, and eventually moved on to sprint cars. He and his team would build the entire car except the chrome modeling, and the crème de la crème was the short block engine. While other racers' engines, salvaged from junkyards, would blow up after two or three races, his engines would last all season. The cars his team created averaged about 120 mph but could hit speeds of more than 140 mph during the straight legs of their races—and they left their competition in the dust.
The trick, he explained, was finding ways to rebuild the short block engines more cheaply than others could and investing the savings into a quality tires, shocks and other components. And it worked; he did so well that he was invited in the late 1980s to join the touring team "World of Outlaws," racing across the state. He would drive 35,000-40,000 miles every summer for his races, working maintenance on cars three or four nights a week. He even added a dynamometer into his store to test his engines, the first in the country and one of only 12 in existence in the U.S. When he wasn't using the dyno for his own cars, other teams would come from across the Midwest to test theirs.
He was never the racecar driver, except in three mechanics' races, where he took first place every time. His cars won every major championship except one before he decided to retire in 1994 so he could spend more time with his family ("probably the last time I'll retire," he noted). He had married wife Jan Schwanke in 1984 and by then, they had three of their four children: Jeremy, Tiffany and Crystal (fourth child McKenzie would arrive in 2000).
Once Schwanke retired from racing, the work orders started flooding in.
"When I decided I had enough of that… the day after that was the next busiest day of my life, because everybody wanted our secrets," he said. "They wanted to know what we did to make them go fast, and so for a price, I'd put it out there. And that's when the sales really took hold. We actually created a market that was a demand but never asked for. Nobody did what we did in those days. We learned how to produce a short block for a very low cost, minimal time, but yet a good quality product. And that word got out in the racing industry very quickly.
"We didn't tell them all the secrets, but we made them go faster. In racing, you have a point sheet. If you were outside the top 10 of points, my goal was to get you inside the top 10 the first year and then get you the top 5 the second year. We were very successful at that. Customers today that we do engine work for have been able to go on and win some of their dreams, and I'm glad to be part of that."
—–
As Schwanke found success with his short blocks, his business continued to evolve. Even while he was racing, he had started to expand, buying a gas station in 1985 with the hopes of making it into a transmission shop since space was getting tight at his original site. While he quickly learned that he wasn't cut out for the "oil baron" business, selling the station in 1989, he found more success with the machine shop he added the same year that he bought the gas station.
"That machine shop part of it came from the thought of, 'Let's get it done,'" he said. "I was sending work out to get it done, and I'd be impatient. I'd wait for people to do what I needed to be done. I'm still that way today. I just liked the hands-on part of it. I'm a working boss. I'm involved in almost every aspect of what this business does, other than some of the internet stuff. That new stuff is way over my head."
After selling the gas station, he bought a building south of Hanska that had previously been a horse barn. This became his transmission shop, and he still uses it today, now as a body shop.
In 1990, he had the chance to buy the local Big A Auto Parts store and took it, figuring it'd be cheaper than always having to buy new products for his projects. He didn't buy the building, instead transferring the inventory to his original shop. He ran his parts store until 2013, when he sold it to focus more of his time on what he enjoyed the most.
Around the same time, another building went up for sale in Springfield. This one had housed a grocery store before it went out of business, and it offered 7,200 square feet of space—far larger than his Oldsmobile dealership. In 1992, he bought the building and started a yearlong process of moving out of the old rented location and into the grocery store.
"Everybody thought I was nuts," he said. "We had a $1100 payment a month, for seven years. I remember that very well. I never missed a payment, but it was really a struggle. I still have that property today as well. We rent it to Schwartz Farms. They've rented it three years now."
Thanks to the new space, Schwanke was able to build a new machine shop in the back and buy more equipment. And that's when things really took off—thanks in part to the newly thriving internet. Schwanke began posting his short block engines on online racing sites, marketing them for $1,429 each.
"We just started posting some ideas and short blocks for sale, and, virtually overnight, we had phones ringing off the hook," he said. "They sold like hot cakes. We stocked 15-20 on a shelf, all the time, and sold 2,000 short blocks within seven years."
Schwanke said some of their first customers were from Utah and Ohio but soon their market had expanded to every state in the U.S.
"I really found my niche," he said. "I struggled a lot, both financially and with people, but once I got involved in that part of it, and found the short block side of things, I really had interest in that. Then the international sales started."
Schwanke estimates that his business does about 20-25 percent of its sales internationally. There was such a demand that they've set up 12 distributors outside of the U.S., in countries as diverse as South Africa, Brazil, England, Saudi Arabia and Indonesia.
According to Schwanke, the biggest challenge with international sales is the expensive shipping; it can cost upwards of $8 per pound to mail packages (not cheap when short blocks can weigh more than 150 pounds).
In 2010, he expanded his business once again, moving into his current location—a 25,000 square foot school building located on 19 acres on the outskirts of town. On a typical workday, you can find short block engine projects in the works for customers from Texas to New York. Schwanke's engines now sell for about $15,000-$20,000 each and take about 39-40 hours of assembly. He estimates they sell about 70-90 engines a year.
Looking to the future, Schwanke said he plans to add a showroom and museum to his facility to show off his car restoration projects (he currently has 27). And eventually, he's planning on Jeremy taking over the business. But for right now, he's not going anywhere.
"At this point," he said, "Rover and I are going to hang around."
—–
Ready, Set, Go-Karts
Besides working on cars, Schwanke owns a go-kart track and stages races every weekend. He has a long history with go-karts, having built 13 for neighbor kids and himself before he graduated from high school.
"I just bolted and welded the stuff together," he said. "My dad helped a lot. I got a lot of my engineering experience from that, a lot of my interest in smaller engines at the time. I usually sold them. You didn't make any money, but you [got back] the cost of products."
In the late 1990s, he started staging go-kart races in the parking lot of his business, attracting local kids. All four of his children raced and were good at it, winning competitions around the area.
In 2006, he was asked by a member of the Springfield City Council to turn the city's unused ice hockey rink into a go-kart track for local kids. He started with about 10 go-karts, renting them out for $5 a ride every Friday and Saturday evening. The events became so popular that 50-70 people were coming every weekend, and he added bleachers and a concession stand. He even found local businesses to be race sponsors.
During the fall of that year, he started hosting league racing, where racers would come on Sunday afternoons to compete for points and trophies. Eventually, 60-70 racers were showing up.
"Anything I do just seems to turn into a whirlwind, because we just go whole-heartedly at it," he said. "It was just fun—another type of fun."
He moved the racetrack to its current location in 2011, because the city park kept getting flooded. The new track includes 1,400 feet of underground wiring, 15 amps of service, irrigation and a state-of-the-art PA system—which Schwanke uses to announce races personally and also broadcast the National Anthem before every race. The track has 15 degree banking, and drivers can turn lap times of under seven seconds.
Schwanke still offers league races during the summer, attracting 40 competitors in six different racing classes every night while the stands are packed with up to 450 spectators. On other nights, he rents out the track for parties. People can pay $10 for a ride or rent the whole track for $350 per hour.
Old Cars
While it's not the main part of his business, Schwanke enjoys buying and restoring old vehicles. He does it for customers and he does it for himself, too. He currently has 27 vehicles that he's working on. One of his favorites is his Model A, which he'll take out for drives in the summer.
Schwanke said he finds most of the vehicles at estate auctions, but he has been known to pass up a good deal for the right cause.
"You've got to respect the family," he said. "In many cases, I'll stop an auction and say, 'Does anybody in the family want this car? Because if you do, I'll quit bidding right now.' A couple times, they've said yes, and I've just stopped and let it go."
The Tim Schwanke File
Birthdate: Aug. 4, 1961
Family: wife Jan, children Jeremy (28), Crystal (26), Tiffany (19) and McKenzie (15), dog Rover.
Lives in: Springfield.
Hobby: Sleep.
Most valuable tangible possession: a 1951 Kaiser, which had been his dad's last car.
THE ESSENTIALS
Schwanke Engines, LLC
Phone: 507-723-4120
Address: 804 East Rock Street, Springfield, Minnesota
Web: schwankeshortblocks.com