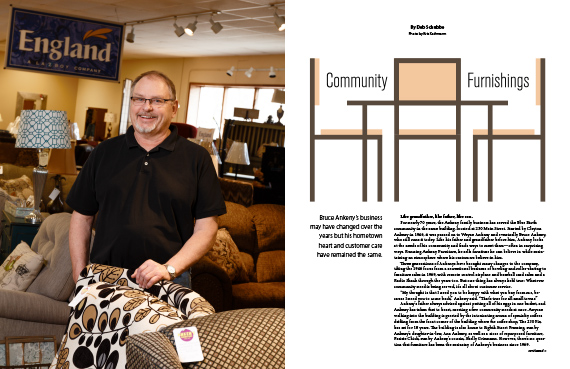 Community Furnishings
Bruce Ankeny's business may have changed over the years, but his hometown heart and customer care have remained the same.
Like grandfather, like father, like son.
For nearly 70 years, the Ankeny family business has served the Blue Earth community in the same building, located at 230 Main Street. Started by Clayton Ankeny in 1946, it was passed on to Wayne Ankeny and eventually Bruce Ankeny, who still runs it today. Like his father and grandfather before him, Ankeny looks at the needs of his community and finds ways to meet them—often in surprising ways. Running Ankeny Furniture, he sells furniture he can believe in while maintaining an atmosphere where his customers believe in him.
Three generations of Ankenys have brought many changes to the company, tilting the 1946 focus from a recreational business of bowling and rollerskating to furniture sales in 1969, with remote control airplane and baseball card sales and a Radio Shack throughout the years too. But one thing has always held true: Whatever community need is being served, it's all about customer service.
"My thought is that I need you to be happy with what you buy from me, because I need you to come back," Ankeny said. "That's true for all small towns."
Ankeny's father always advised against putting all of his eggs in one basket, and Ankeny has taken that to heart, meeting a few community needs at once. Anyone walking into the building is greeted by the intoxicating aroma of specialty coffees drifting from the front corner of the building where the coffee shop, The 230 Fix, has sat for 18 years. The building is also home to Eighth Street Framing, run by Ankeny's daughter-in-law, Ana Ankeny, as well as a store of repurposed furniture, Prairie Chick, run by Ankeny's cousin, Shelly Griemann. However, there's no question that furniture has been the mainstay of Ankeny's business since 1969.
—–
The business started with Ankeny's grandparents, Clayton and Lena Ankeny, who had the building erected for Ankeny Recreation in 1946. Ankeny Recreation offered a six-lane bowling alley, a rollerskating rink and a café. In 1954, following four years in the Navy, Clayton's son, Wayne (Bruce's father), added his unique humor and customer skills to the business. A Greyhound Bus depot also operated out of the Ankeny building then, sometimes running up to 16 buses a day.
Change has never been uncommon to the Ankenys, as the family transformed the business to meet customers' changing needs. The roller rink closed in 1955 due to a lack of skaters, but in the early 1960s it sprang back to life, reclaiming one side of the building until 1969. Meanwhile, when neighboring towns opened their own bowling alleys in the early 1960s, the Ankenys closed six of their bowling lanes and rented the space to the Knights of Columbus for bingo games. While they were at it, they added an arcade and a used furniture store for some time, keeping the rest of their bowling lanes open until the 1980s.
But in 1969, the Ankeys started offering what was to be the mainstay of their business: furniture.
"Blue Earth didn't have a large furniture store with bedding at that time, and we needed one," Ankeny explained.
Through the years, Ankeny learned the art of talking to customers and selling furniture at the elbow of his dad, and that partnership continued until Wayne Ankeny passed away almost six years ago. Today, Bruce's mother, Lois, owns the building, but Bruce runs the business.
Bruce Ankeny's first sales lessons started when his grandfather began operating a popcorn machine and sent Bruce and his siblings off to run up and down parade routes selling the goods.
"I was probably only eight, so I learned about sales early on," Ankeny said with a smile.
Throughout high school, Ankeny learned the value of work at the family business, working in both the bowling alley and the roller rink. At the bowling alley, he was a pinsetter, while in the roller rink, he was known as "the skate boy," the one to choose and play music.
"Girls would beg me to play their favorite songs, and I'd play them," he said.
When Ankeny wasn't working, he was swimming, playing football and baseball, and canoeing with the Boy Scouts in the Boundary Waters. He also loved music, spending "every free dollar" on albums featuring 1960s staples such as the Beatles.
He graduated from high school in 1974 with the plan to work for his dad until he decided what to do with his life, but his love of music ended up helping him start a business of his own. In 1976, he and his brother Jay, then a full time carpenter, opened The Record Roost, selling LPs and cassette tapes in a building the Ankenys owned down the block. Ankeny spent mornings in the furniture store, had lunch with his dad, then skipped down to The Record Roost for the after-school rush of teenagers arriving to buy their favorite tunes.
"If Dad needed me for anything, I just put a sign on my door, 'Be back in ten minutes,'" he said. "I kept The Record Roost going three or four years."
It also wasn't long after graduation that Ankeny married a classmate, his wife, Bonnie, who has worked for the city of Blue Earth for the past 17 years. They bought their present home in 1975, where they raised their children: Bryan, Brandon and Brent.
As time marched on, the Ankenys dropped bowling in 1982 and bought a Radio Shack franchise, putting Ankeny's skills to work as manager.
"With the franchise, we could sell anything we wanted to," he explained. "I was fortunate to be in the business when you could make good money selling cell phones. When my sons started collecting baseball cards, I sectioned off a little of the store for a baseball card shop. Our family has always been entrepreneurs, willing to try anything new."
Serving mouth watering lattes was another change, an idea Ankeny's dad brought back from Seattle, Washington.
"Coffee shops were huge on the West Coast, and Dad decided Blue Earth needed one," Ankeny said. "He hired a company from out there to show us how to set up."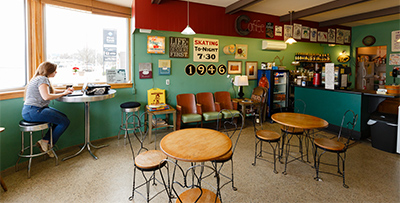 Since then, they've added hard-dipped and soft serve ice cream to the menu. Today, customers often leave the store not only with their purchases, but also with a cup of tasty brew in their hands and good stories in their minds, compliments of Bruce Ankeny.
Living in Blue Earth all his life, Ankeny has maintained friendships for years—and those friendships are an integral part of his business.
"My best friend in high school is still my best friend today and comes up every morning for coffee," he said.
When people step into Ankeny Furniture, chances are Ankeny knows their names, or the names of their parents. A woman buying a recliner can also enjoy conversation about grandchildren or local news. Ankeny often adds a few words as a customer leaves, "…and say hello to Jim," or whomever Bruce knows in that customer's circle. Buying something from Ankeny feels more like an over-the-fence chat with the neighbor than a business transaction.
His friendly nature and sense of humor, trickled down from his father, are only part of what makes Ankeny successful. He is a loyal man, loyal to his family, loyal to his community, and loyal to his friends and business acquaintances, who just so happen to become his friends, too. With an entrepreneur's mind, he faces the need for change head-on in his business, but he doesn't let go of what's important, such as his relationships with his salesmen.
"My Restonic rep used to be my Serta rep, and our England salesman used to be our Mastercraft salesman," he explained. "When they moved, I moved."
Over the years, Ankeny has sold furniture or bedding by Schweiger, Mastercraft, Serta, and Lane. He still deals in Lane products, but he now sells Restonic bedding and recliners he purchases from HomeStretch—not a well-known company but a very good product, Ankeny noted. Mostly, though, he sells furniture by England, a La-Z-Boy company he added to his floor eight years ago. To carry England products, he had to promise 50 percent of his store to their furniture—one time that he didn't follow his father's advice about putting all his eggs in one basket.
"Dad didn't think I should do it," he said. "He was worried that if England went under, I wouldn't have ties with other companies."
But Ankeny's gut told him to plow ahead with the decision.
"I stick with my salesmen, and when they make a change, I trust them," he said.
According to Ankeny, when a salesman leaves a company, it's generally to offer a better product. Ankeny dropped Serta when his salesman did, both out of loyalty to his seller and because Menards and other big box stores had started carrying the same products.
"All people saw was that they sold the same brand for lower prices, and it was hard explaining that it wasn't the same product or quality we were selling," he said.
The change proved to be a good one. Ankeny says there are 800 mattress manufacturers in the United States, and Restonic is in the top ten.
"Most people have never heard of them because they don't nationally advertise, but who pays for advertising anyway? Consumers. And for the dollar, Restonic is the better product," he said.
According to Ankeny, England is the best company he's ever gotten involved with.
"We sell furniture in the upper middle price range, so it's not the most expensive, but it's not cheap either," he said. "England has been in business for 50 years, and their claim to fame is their speedy special orders. They carry 400 different fabrics, and, because they own the bolts of fabric rather than buy them, it speeds up the process. Special orders take only 21 days. Back in my dad's day, they took eight weeks."
Ankeny has samples of each of these colors and fabrics in his store at all times, which means he can offer a particular piece of furniture in practically 400 colors.
Listening is much of Ankeny's success, a skill he attributes to his dad, who could put anyone at ease.
"Ninety percent of sales is communicating with your customer and listening to their needs," he said.
From all this listening, Ankeny was able to hone in on changing customer needs and change his inventory accordingly. While his store used to offer the highest quality of furniture, which ran between $1,200 to $1,500 for a piece, now the majority of his pieces sell for closer to $599-$999. They also come with 10-year warranties on the cushions and lifetime warranties on the frames.
"Nowadays people want to switch furniture more than they used to, so spending $1500 on one piece doesn't make sense," he said. "Customers want a whole room of furniture for that price—a couch, a loveseat, a chair and end tables—and still get good quality."
And that's what Ankeny Furniture delivers.
The business has always served the Blue Earth and surrounding area, but only in the last eight years has Ankeny seen a real influx of customers from Fairmont—mainly because Fairmont once had two furniture stores and today has only one. Now Ankeny Furniture sells throughout a 30-mile radius of Blue Earth, including the northern tier of Iowa.
"The biggest challenge of succeeding with a business in a small community is getting people into the store," Ankeny said. "Small town businesses don't have the buying power to meet minimum orders, so we need to find companies that like Mom and Pop stores."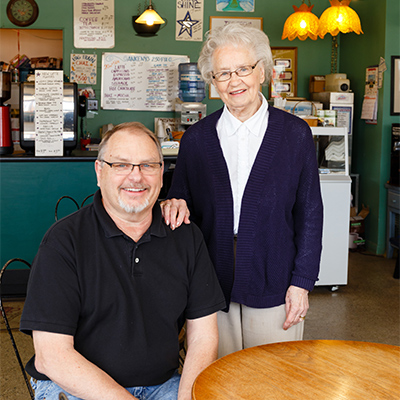 Though his dad and grandfather are gone, Ankeny still runs a semi-family business. His mother and daily lunch partner, Lois, helps at the store Saturdays. At 81 years old, she's still also the part-time bookkeeper in addition to her full-time position as a tax accountant for a law firm. Brandon Ankeny, a computer technician, delivers furniture after work and Saturdays along with high school student Chandler Kienitz, while fellow student Adrien Witlieff comes in after school every day to serve ice cream and coffee. Adding to the success of the team, Alice Odden works on Mondays, while cousin Shelly Griemann works Tuesdays and Wednesdays and one Saturday a month, giving Ankeny a day off. Finally, with daughter-in-law Ana Ankeny running the frame shop, it's not unusual to also see a grandson toddle over to Grandpa Bruce anytime with a welcome hug and a giggle.
"I feel blessed having both family and friends to work with in a fun and relaxing environment where we can share ideas and visions," he said. "Having people I can really trust has been important also."
—–
To Love A Community
The Chamber of Commerce recently presented Ankeny with the 2014 Community Service Award—an award his father, too, had received years ago. In addition, Ankeny is the president of the Blue Earth Royal Chiseler's Woodcarver's Club, a Convention and Visitors Bureau member, first president of the Blue Earth Town & Country Players, and a member of the committee that worked to build the new public safety center in town. He also serves on the Parks and Recreation Board and helped with the shelter projects for Steinberg Park and Putnam Park, as well as co-chairing the committee to build the new Hope United Methodist Church, where he is a member of the choir and CCO committee.
Hobbies, Fun And Retirement Plans
Always a music lover, Ankeny has kept many 45s from the roller rink, bringing his current collection to around 600 LPs and a number of 45s. He also played in a band from 2005 to 2011 with some family and friends, including his son Brandon on the lead guitar.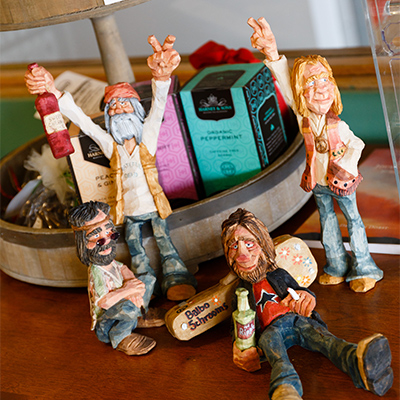 On the crafty side, Ankeny has enjoyed woodcarving for years, carving out caricatures ranging from hippies to Santas. Between 1982 and 2011, he carved 65 Santa Clauses a year. The hobby started in the early '80s when he fell in love with a hillbilly chess set carved by John Sabin and displayed in a Farm and Home show. Today, Ankeny is working on a Civil War chess set and plans to attend a woodcarvers' show in Davenport, Iowa this summer.
Ankeny also enjoys spending time with his family. Three of his grandchildren live in Blue Earth, while the other six, children of Bryan and Tiffany and Brent and Chrissy, reside in Eau Claire, Wisconsin.
Ankeny doesn't have any specific retirement plans for the near future, but he said he thinks wood carving and camping will take up part of his days, along with a little music and a lot of family.
Drumming Up Business
To draw new customers, Ankeny participates in several special events. He and his cousin Shelly Griemann held a chocolate and cheese tasting last Valentine's Day with samples from The Chocolate Season of Algona, Iowa. Live music was provided by the group "Beyond Blue," with Debbie Ankeny and Mike Springer performing.
The citywide Chicks Spring Fling is another strategy to attract customers. Ankeny said last year's theme was "sunrooms," and each business donated something related to sunrooms for prizes. People had to come into the store to enter for the drawings. Ankeny Furniture donated a chair and an ottoman, as well as showing a movie on the wall.
Ankeny also participates in Blue Earth's Holiday Sampler, an event organized by the Business Improvement Committee, a branch of the Blue Earth Area Chamber of Commerce. (In the past, Ankeny's father was president of this committee for several years.) For the Holiday Sampler, a Blue Earth event for more than 20 years, businesses stay open later, put out lights and serve treats to patrons, while the Madrigals, a group of local high school students, sing from store to store.
THE ESSENTIALS: Ankeny Furniture
Address: 230 Main Street, Blue Earth, MN 56013
Telephone: 507-526-2407
Facebook: Ankeny Furniture