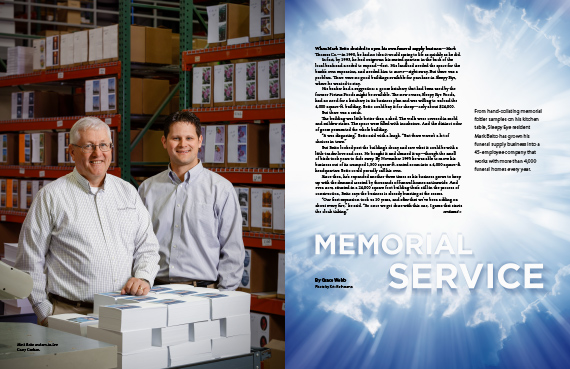 Memorial Service
From hand-collating memorial folder samples on his kitchen table, Sleepy Eye resident Mark Beito has grown his funeral supply business into a 45-employee company that works with more than 4,000 funeral homes every year.
When Mark Beito decided to open his own funeral supply business—Mark Thomas Co.—in 1990, he had no idea it would spring to life as quickly as it did.
In fact, by 1993, he had outgrown his rented quarters in the back of the local bank and needed to expand—fast. His landlord needed the space for the bank's own expansion, and needed him to move right away. But there was a problem. There were no good buildings available for purchase in Sleepy Eye, where he wanted to stay.
His banker had a suggestion: a goose hatchery that had been used by the former Pietrus Foods might be available. The new owner, Sleepy Eye Foods, had no need for a hatchery in its business plan and was willing to unload the 4,000 square-ft. building. Beito could buy it for cheap—only about $24,000.
But there was a catch.
The building was little better than a shed. It had no heat, no electricity and no water system. The walls were covered in mold and mildew stains. The space was filled to the brim with old incubators. And the distinct odor of geese permeated the whole building.
"It was disgusting," Beito said with a laugh. "But there weren't a lot of choices in town."
But Beito looked past the building's decay and saw what it could be with a little tender love and care. He bought it and cleaned it up—though the smell of birds took years to fade away. By November 1993 he was able to move his business out of its cramped 1,500 square-ft. rented room into a 4,000 square-ft. headquarters Beito could proudly call his own.
Since then, he's expanded another three times as his business grows to keep up with the demand created by thousands of funeral homes nationwide. And even now, situated in a 24,000 square foot building that's still in the process of construction, Beito says the business is already bursting at the seams.
"Our first expansion took us 10 years, and after that we've been adding on about every five," he said. "So once we get done with this one, I guess that starts the clock ticking."
—–
Growing up in Granite Falls, Beito, 63, never planned on opening his own funeral supply business. It's not something one usually aspires to do as a little kid. Instead, Beito was more interested in the newspaper business.
He grew up on the family farm, the oldest of three siblings. (His younger brother still farms the land.) Along the way, he met his future wife, Sandra, who was on the same bus route as he was. The two were married in 1973.
After graduating high school, Beito studied economics at Macalester College in St. Paul and worked for the college paper. He graduated in 1973 and moved on to the University of Minnesota to earn his law degree. There, he worked for two campus publications as well as writing for community papers.
"It was something that I wanted to do," he said. "I felt called to do it."
He graduated from law school in 1976, and he and his wife bought the Sanborn Sentinel, the weekly newspaper for Sanborn, MN. Beito ran the newspaper while his wife worked as a teacher. They sold the paper after two years and moved to Sleepy Eye in 1979, where he became publisher and co-owner of the Sleepy Eye Herald-Dispatch.
He ran the Herald-Dispatch until 1990, when he decided to take a completely different road: opening his own business. He had become friends with Wally Haas, a Sleepy Eye businessman who started the company that would become Bic Advertising and Promotional Products. Haas had sold the company in the 1960s, and a decade later bought back the funeral products portion of the business. The two had even talked about Beito buying Haas' funeral supply company. But Beito decided he'd rather start his own from scratch—even though he had limited experience in the world of printing products other than his time at the paper. He called his new venture Mark Thomas, after him and his son, Thomas ("Thomas was easier to spell and remember than Beito," he explained).
"There was no road map; I didn't really know what I was doing," he said.  "I didn't have a business name that anyone had ever heard of, I didn't have any products that anyone had ever seen… it was just a blank slate. I said, 'We'll just start it and see how it goes.'"
Beito said he chose to explore funeral supplies—starting with memorial folders—because they were easy to sell.
"I wanted to make things that were ours and sell them profitably, all across the country," he said. "Sleepy Eye is a fairly small town, so I knew I needed more business than what my local community could give me. I wanted a product that I could sell that wouldn't require a long sales cycle, so that someone could look at a sample and say, 'Yeah, that looks good,' not something that would require me to make personal visits to them and spend a lot of time with them. I didn't have the time to spend driving all over; I needed a product that was easy to sell."
To begin this new chapter in his life, Beito grabbed his camera, drove around Sleepy Eye and took pictures. He started with an inventory of 16 different memorial folders (which has now grown to more than 200 choices), sending his pictures to Corporate Graphics in North Mankato for printing. He guessed at how many copies he should order.
"I had to think about what I could justify, printing how many thousands of each of these that I'd never sold before," he said.
With the first printing on its way, Beito realized he'd need a place to house the business.
"I couldn't do it from my living room," he said. "I talked my banker into letting me rent some office space they weren't using for $50 a month, on a trial basis."
Once he received his order back, he and his three children—Tom, Laura and Julia—put the samples together by hand.
"They would help me after school or on weekends put these samples together," he said. "We'd walk around a table and hand collate them. I made my kids work with their coats on when we were starting, to save heat. But that didn't last very long because you can't collate with gloves, so I had to turn the heat on."
Tom and Laura grew up and moved on. They both went to law school and are attorneys in the metro area. Julia and her husband, Casey Coulson, moved back to Sleepy Eye in 2005. Julia and Casey share ownership of the business with the Beitos. Casey's title is sales manager, but there are few tasks that he doesn't get asked to handle.
"It's been a wonderful opportunity to have Casey here," Beito said. "Ten years and we haven't had an argument. Without a succession plan, what's the point of growing a business?"
When Beito started, he had no customers. Instead, he created a mailing list of funeral homes and sent the first batch of samples out in late 1990. Within only a few days, they received their first order from a funeral home in North Dakota.
"Right away, people started asking for stuff," Beito said. "'Can we get thank-you cards to go with that?'"
So he began offering more products: thank-you cards, service bulletins, prayer cards. All that printing led him to buy his own printing press.
In that first year of business, Mark Thomas Co. attracted a few hundred customers, enough to warrant the hiring of an employee, Julie Huiras, who still works for the company today. ("Most of our customers call in their orders, so Julie has been talking to our customers every day for 24 years," Beito said.) As for those first customers, many of them still work with the company today, too.
"Twenty-five years is a long time, and things change," Beito said, "but it's not at all uncommon for me to look back at my computer and find somebody in my files who was a customer in 1991."
For the next three years, the business steadily grew, even though Beito never hired any salespeople to go out into the field. Instead, he kept faithfully sending out samples to funeral homes, until finally, in 1994, he created his first catalog. In his own words, it wasn't very big or fantastically successful, and he didn't make another one until 2000. And now, even though he's gotten to the point where he sends out catalogs 12 times a year to 15,000 addresses, he still makes his samples, too.
Around the same time that he started his catalog, his landlord at the bank informed him that he'd need to move his operation because the bank needed its space back. That's when he was pointed to the Pietrus hatchery.
"It was a decision time," he said. "Were we going to pour a lot of money into this business or sell to somebody else and be done?"
But quitting was never a serious consideration, he said—he was enjoying his business far too much. So, he moved out of the bank and into the hatchery. He even brought some of his old furniture with him, tables and desks that the bank wanted gone. He still has one of the bank's end tables in his office.
"We try not to waste things if we can possibly avoid it," he said, mentioning how he also converted old egg carts from the hatchery into envelope trays.
The space that seemed luxuriously large for three employees in 1993 was cramped a decade later by more products and a dozen employees.
"It seems like I've spent the last 25 years looking for more space," Beito said. "I've always been looking."
Even the 13,000 square-ft. plant Mark Thomas Co. moved into in 2004 wasn't enough. The 2004 building was built on the site of Pietrus Foods' processing plant, which the city of Sleepy Eye tore down in 2000. Beito bought half the site, and Terry Zinniel bought the other half as a shop for his underground utilities business.
"It wasn't more than a couple of years later that I started pestering Terry about selling me his building," Beito remembered.
That deal finally happened in 2013, when Zinniel Utility Contracting moved to a new location in New Ulm. An addition that connects the Mark Thomas Co. building to the Zinniel building is nearing completion, and gives the company a 24,000 square-ft. headquarters.
Much of the growth at Mark Thomas Co. has been due to acquisitions.
"We're always interested acquiring businesses that fit into our niche," Beito said.
In 2003, Mark Thomas bought out Caring Times, a funeral printing company in Red Wing. While the two companies offered many of the same supplies, Caring Times had also sold urns.
"[The owner] had some contacts and designs," Beito said. "We'd never thought about selling urns before, but we decided to give it a try."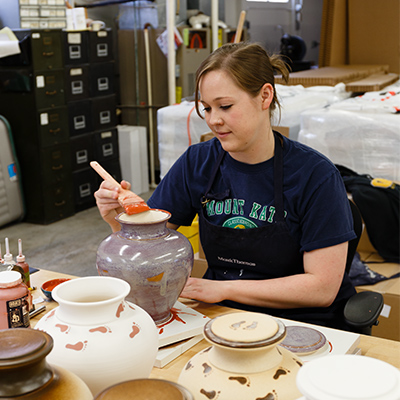 To offer the same engraving services that Caring Times had offered, he bought a laser engraver. Later on, he decided to start making ceramic urns to go along with the wooden ones, so he bought a kiln and hired some sculptors. It takes them about a week to create an urn. Beito also started importing urns from a company in India in 2006.
Beito estimates that Mark Thomas now sells 15,000 cremation urns a year, every one of them to a funeral home. The company plants a tree with every urn sold (except their smallest sized urn), through a nonprofit organization called American Forests.
"We started seven years ago with this memorial tree program, and we've planted 60,000 trees so far," he said.
He said the business has been selling more urns in recent years as more people choose to be cremated.
"It seems like it's increasing," he said. "We're doing more and more."
Mark Thomas bought a local cabinet maker, Sleepy Eye Cabinets & More, in 2007. Its owner, Brian Renberg, continues to work at Mark Thomas Co., making wooden urns and flag cases. In 2009 Mark Thomas built a 5,500 square foot shop adjoining the original hatchery building, which was intended to be used as a wood shop and urn inventory space. But as the company continued growing at a startling rate, Beito had to change his plans a bit.
Midway through the process of putting up that building, Mark Thomas bought the inventory from Chapel Craft, a funeral supply company in Sioux Falls that had gone out of business.
"They had a building full of stuff," he said. "We were over there for days… We had semi loads of this material, and no place to put all the stuff. We had made our building as big as we possibly could. So right away when we moved in, it was on the verge of getting too small."
And from the way things are going, he'll probably need another expansion soon.
"Our sales have gone up every year," he said. "The business is doing just fine, and doing even better as more and more people discover us. We're up to 45 employees. Every year, we sell to something like 4,000 different funeral homes. And we're getting new customers all the time, from all over the country."
Beito has also received recognition from his community for his business's success. In 2009, he received the Sleepy Eye Chamber of Commerce's Manufacturer and Technology Award, and, in 2014, Mark Thomas Co. was named the city's Business of the Year.
Beito credits his success to his company's willingness to try new things. While his printed products are still the biggest portion of what his company does, some of his newer product lines are also taking off.
"We keep on trying new things," he said. "We're always looking for new products and have been surprised at how well some things have been accepted."
Some of those things have worked better than others. The flag boxes have been a big hit, but Beito's attempt to sell engraved photo frames wasn't as successful. On the other hand, some of his ideas, like offering crosses and crucifixes, didn't seem promising at first but then took off later. When he first offered the crosses, he said, he didn't sell any—but now he sells upwards of 1,000 pieces to funeral homes every month ("It's just taken off like crazy"). And some things that he had never really considered ended up surprisingly popular, such as the cremation jewelry he sells. He buys the jewelry from India, ordering thousands of pieces at a time, and they are consistently snatched up by funeral homes.
"We're just stunned at how many of these things go out," he said. "So things like that I don't always predict with any great accuracy. Sometimes, we just have to be smart enough to figure out, 'That'll work.'"
Still, no matter how many product lines Beito explores, he said the focus will always be on funeral supplies.
"Our sweet spot is funeral memorial products," he said. "We try to take the skills that we have and circle around that area. We don't do weddings, offices, etc. What's next? We're not 100 percent sure. But it seems like the more we offer, the better we do at it."
—–
Giving Back
Beito does a lot to give back to his community and beyond. For several years, he used some of his vacant land to grow a garden, which his employees tended. The food was donated to the local food shelf after every season. However, one year the food shelf flooded and couldn't accept donations, so Beito didn't work the garden that year. He hasn't gone back to it since, but he has found other ways for him and his employees to work in their community.
He's also part of the Great Printer Program, which is a group of printing businesses committed to going beyond basic environmental regulation standards to do even more to protect the planet. Every year, they take on a different project, such as switching over to all wind-generated power and investing in ergonomic floor mats.
Beito volunteers in his spare time, as well. He teaches a junior achievement class at the elementary school and is active in his church.
Great Deals On Shipping
No matter what customers order from Mark Thomas Co., their cost of shipping will always be $6. Beito said it's important for him to keep costs down so that his customers can afford his products even if they're ordering from across the country.
"We're located in some cases far from what our customers are," he said. "We can't do much about how long it takes to get there, but we can do our best to make it inexpensive. We do the best we can with negotiating good prices with our shipping companies. It will always be $6 for the whole order, no matter what you order or how much you order."
THE ESSENTIALS: Mark Thomas Co.
Phone: 507-794-5100
Address: 120 Pine Street NE, Sleepy Eye, MN 56085
Web: markthomasco.com