Chankaska Creek Ranch and Winery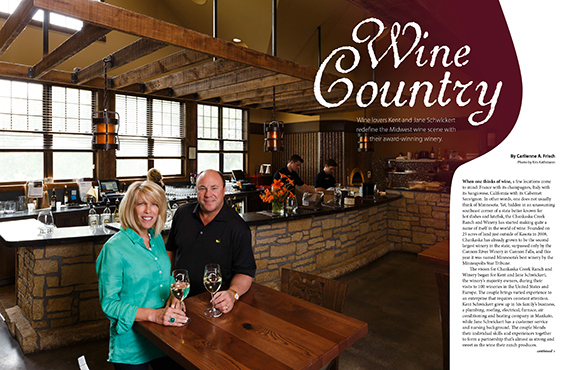 Wine Country
Wine lovers Kent and Jane Schwickert redefine the Midwest wine scene with their award-winning winery.
When one thinks of wine, a few locations come to mind: France with its champagnes, Italy with its Sangiovese, California with its Cabernet Sauvignon. In other words, one does not usually think of Minnesota. Yet, hidden in an unassuming southeast corner of a state better known for hot dishes and lutefisk, the Chankaska Creek Ranch and Winery has started making quite a name of itself in the world of wine. Founded on 25 acres of land just outside of Kasota in 2008, Chankaska has already grown to be the second largest winery in the state, surpassed only by the Cannon River Winery in Cannon Falls, and this year it was named Minnesota's best winery by the Minneapolis Star Tribune.
The vision for Chankaska Creek Ranch and Winery began for Kent and Jane Schwickert, the winery's majority owners, during their visits to 100 wineries in the United States and Europe. The couple brings varied experience to an enterprise that requires constant attention. Kent Schwickert grew up in his family's business, a plumbing, roofing, electrical, furnace, air conditioning and heating company in Mankato, while Jane Schwickert has a customer service and nursing background. The couple blends their individual skills and experiences together to form a partnership that's almost as strong and sweet as the wine their ranch produces.
—–
Kent Schwickert's work ethic began developing when he was four years old, emptying trash cans and putting price tags on paint cans. Attention to detail came with counting nails, which he believes may have been a task assigned to keep him occupied rather than for inventory purposes. As a teenager, he made deliveries to customers and worked in the company's sheet metal shop in addition to working various jobs at Mt. Kato, Mankato's ski slope. He also spent one summer during college honing his sales skills by promoting Emery Worldwide Freight Services from office door to office door.
"Emery gave us training and a blue blazer," he recalled. "I did all right."
He attended Dunwoody College of Technology in Minneapolis, where he studied building blueprint reading, and the University of Minnesota, where he earned a bachelor's degree in economics and finance in 1982.
Schwickert describes his "real job" as being the senior vice president and national sales director for Tecta America Corp., which was formed by Schwickert's commercial contracting company, Schwickerts, and nine other companies in 2000. He spends about two-thirds of his time traveling on corporate business. So what did he experience during his visits to wineries that accounts for wanting to plant grapes, manufacture wine and open a winery in his limited free time?
"I have grown to have a passion for collecting wine," he said. "I had a vision of having a vineyard and a winery, so we put together a group of investors. Jane and I and two of my brothers have a majority investment. I solicited nine other investors who own nearly half the shares."
Jane Schwickert, also a native Mankatoan, added, "We've always made a good team, but this is the first time we've worked together professionally and spoken the same language."
The Schwickerts purchased 25 contiguous acres from five landowners in 2008. The property includes a farmhouse built more than 150 years ago. Recently remodeled, it is now the home of wine maker Mike Drash. The Schwickerts chose to keep the name that appears on the original homestead papers—Chankaska Creek Ranch—adding "winery" to bring attention to their specialty. (The name Chankaska, which originally may have been spelled Shanaska, means "enclosed by forest" in the Dakota language.)
The Schwickerts planted nine acres of grapes in 2009, now expanded to 13 acres. A year later, they began construction on the 11,000-square-foot winery and tasting room. The first harvest came in 2011. Only three years later, the winery produced 21,000 gallons (about 9,000 cases) of wine.
Making Chankaska wines known to potential customers posed little challenge for the Schwickerts, who knew how to set the stage for their young business. They worked with Red Door Creative in Mankato to design bottle labels and posters, and they had plenty of time to work on promoting their product before it hit the shelves.
"When you start a winery, you have three years before you begin distributing wine," Kent Schwickert said. "I'm very market driven and idea driven for promotion. I've been a networker all my life. My initial goal was to have a profitable winery within five or six years. That's still coming. Grape plants can't produce grapes for three years, and won't produce to their full capability until after five years. The investors and the bank have been very supportive. To please all wine drinkers, we offer a variety of red and white wines, as well as a rosé. What I'd really like to see is for our brand to be known nationally, and I think we're getting there. We do not yet have the production level to go through a distributor, but over the past two years we've acquired 125 liquor stores outside of Minnesota as our customers. We also are becoming known through our Wine Circle Select customers, to whom we ship directly."
The Wine Circle Select is a group of wine lovers who pay no membership fee but commit to accepting four shipments of wine for at least one year. Members experience the full range of Chankaska wines, including those made from California and Washington grape varieties. They receive one case of wine every three months, as well as complimentary tastings, events passes, discounts on additional wine and other perks.
"We have more than 1,500 members in the Wine Circle, which is unusual for a winery of our size and age," Jane Schwickert said. "We recently hired a concierge to give attention to the Wine Circle. The members are our most loyal customers."
As the general manager of Chankaska Creek Ranch and Winery, Jane Schwickert manages four distinct teams of employees. There's the tasting room manager and 15 employees, the three people who make outside sales to restaurants and liquor stores, the grounds and vineyard manager and crew, and the events and marketing team. Schwickert uses skill sets she developed in previous jobs–leadership, proficiency in quality improvement and knowledge of the community. She has established an online training program for employees who work in customer relations, and she provides an opportunity for them to learn about winemaking from Drash.
Before she helped her husband open their winery, Schwickert worked as a Shopko cashier and in sales at an office supply store. She went on to receive a Bachelor of Science in Nursing from Minnesota State University Mankato, working first as a bedside nurse and then in operating rooms and recovery rooms. Eventually, she became an infection control specialist, writing for a website on infectious disease control.
"That was my dream job," she said. "It ended after the dot-com fall, so I became a stay-at-home mom with our two children—another dream job."
The couple's children are both interested in the vineyard. Ian, a college sophomore studying business and marketing, works in the tasting rooms during school vacations. Greta, a high school junior, took a day off from school six years ago to plant one of the first grape vines.
"Greta is a leader, interested in being in charge," Jane Schwickert said. "She'll follow in her dad's footsteps."
Jane Schwickert's current dream job involves more travel abroad, as she explains, "We've traveled for the past 25 years, since we've been married, but we've gone abroad more in the past eight years, mainly to France. We're thinking of going to Scotland to see whiskey being made because now we have a distilled spirits license—we're the only winery in Minnesota to have one. We've begun making whiskey, gin and brandy, and may possibly have bitters for sale next year."
As with wine, there are regulations to meet when it comes to making whiskey.
"For gin making, you take the grain and add citrus or flowers for the formulation of the 'basket,'" Kent Schwickert said. "The basket of fruit, flowers and fragrances must be approved by the Tobacco and Trade Bureau."
There also are state regulations to follow. Minnesota has a three-tiered system. A business can do only one of three things: manufacture alcoholic beverages, distribute them to wholesalers, or sell directly to the public in bars and liquor stores. There is, however, an exception. As a result of the University of Minnesota's successful research in developing cold-climate hybrid grapes, the Minnesota legislature passed a statute that permits a farm winery such as Chankaska to sell up to 75,000 gallons annually to restaurants and liquor stores, as well as at its own location.
The statute was written, Kent Schwickert said, "because Minnesota has never been considered a wine-producing state–and now we are."
Chankaska's wines have drawn favorable attention to Minnesota's wine industry, winning the winery several awards. This year, at the Finger Lakes International Wine Competition in upstate New York, the winery's Sauvignon Blanc received a gold award, the highest in the nation. North Forest, a Valnot Krem (Norwegian for Walnut Crème), won top honors at Finger Lakes and in a Riverside, California competition.
"So we're making good wine," Kent Schwickert said. "That's our first priority. I have to like it. We have a great team working here–new products, new visions, new plans. I want to produce a great product and to strive to give the customer as much satisfaction as possible."
—–
Turning Grapes Into Wine
Mike Drash, Chankaska's vice president of winemaking since February 2014, was attracted to making wine for several reasons. The first was economic.
"I was unemployable," he said. "I had degrees in anthropology and sociology, with a minor in theatre media. In college I liked wine, so when I was 23, I packed up everything in a car, with a couple of dogs."
Drash drove from Tennessee to the California winemaking areas of Napa and Sonoma. There he knocked on the door of a winery and told the winemaker that he'd just driven across the country to look for a job. He was hired to learn winemaking.
Although Drash admits that making wine is "a lot of hard work," he appreciates the agricultural aspect, saying, "On my mom's side, there are six generations of cotton farmers in Mississippi. There's also the science side to winemaking and the romance of having a glass of wine with dinner."
Over time, Drash developed a reputation for making excellent vintages. He served as the treasurer of the Napa Valley Farm Bureau Board and eventually owned his own sustainable viticulture winery. With more than two decades of winemaking experience, along with his industry contacts, he now makes wine not only from Chankaska's fruit but also from grapes that he imports from California and Washington vineyards. He controls the entire process, even choosing the day grapes are picked.
Drash's assistant, Josie Boyle, analyzes the chemistry of the wines, as well as assisting Drash in filtering, cleaning, maintaining a good barrel program and blending. She previously worked in wineries in New Zealand and Michigan, where she achieved the rank of cellar master.
The winemakers are using their experience in Chankaska's latest enterprise–making whiskey, gin and brandy.
"Being from Tennessee, I have a fascination with making whiskey," Drash said. "It's a lot like winemaking. The still was imported from Germany, and the company provided training."
The latest beverages go into the same cellar as the wine, under the parking lot.
Food, Wine and Revelry
The Schwickerts both prefer dry wines. Kent's choice is Reserve Marquette, which differs from Marquette. As he explains, "Reserve Marquette has better quality grapes." Other differences include Brix (a scale for measuring sugar content), acidity and pH.
Jane prefers Sauvignon Blanc, a wine that complements grilled fish, chicken, goat cheese, white pizza, smoked salmon, shellfish, bouillabaisse, green salads and vegetables.
Off-dry white wines, such as Petite Colline and Creekside White, are tasty companions to cream-based pastas, triple cream cheese (such as St. Andre, Brie and Camembert), composed fruit-and-nut salads and chicken with fruit sauces.
Sweet white and rose wines, including Riesling and Kasota Rose, set off the flavors of Indian, Vietnamese and Thai selections, soft cheeses, and fruit crepes, salads and tarts.
Marquette and other fruity, light-bodied red wines are a good accompaniment to grilled appetizers, tomato-based pastas and pizzas, BBQ ribs, chops and the meat platter Charcuterie.
For steaks, prime rib, chops, lamb and game meats, the Schwickerts recommend a dry barrel-aged red wine, such as Cabernet Sauvignon, Merlot, Pinot Noir, Zinfandel and Reserve Marquette.   
The winery's tasting room offers wood-fired pizzas, antipasto and featured desserts, including cheesecake and chocolate selections. There is a $7 wine tasting fee. Wine can also be purchased by the glass or by the bottle.
"Our main customers in the winery tasting room are women, ages 45 to 60, which is typical nationally," Jane Schwickert said.
Her husband added, "But we have it all, men and women, ages 21 to 80."
For larger gatherings, Chankaska offers six venues. Weddings are the most popular event; the winery also hosts receptions, birthday parties, corporate functions and other events. The Barrel Room can accommodate a party of 50 to 75 people, while up to 100 guests can gather on the Tasting Patio. On the right bank of the creek, the aptly named Creekside features a 40×80 tent with cathedral windows, flooring and an additional lawn. It offers seating for about 200 guests. Across the bridge, in Chankaska Forest, there's theatre-style seating for 250 guests or dining space for 200. More athletic guests can play bocce ball or croquet on Chankaska Court. And for guests seeking a private view of the Minnesota River Valley, there's the hilltop Chankaska Field.     
Chankaska also opens its doors to non-profits. Educare, a foundation created by business people as an opportunity to provide grants and funds to school, held a May fundraiser at the winery. Chankaska provided the space, a wine tasting and a VIP wine tasting for large donors.
The venues are managed by Karen Borresen-Berg, the event and marketing coordinator.
Pouring Out The Facts
What would you change about your winery?
Kent: I'd make this building bigger, have a bigger tasting room. Jane: And more storage room.    
Business philosophy?
Kent: I learned a long time ago that I want to have all of the information before I make a decision, which may not be necessarily what I want to do. Jane: We are a family here, a team. We have a lot of fun.
Favorite school classes:
Kent: Math. I like to solve problems. Jane: Reading, writing, science.
What would you like to have studied? Both: Enology
Hobbies? Jane: Knitting and reading. Both: Travel
Proudest accomplishment?
Kent: Growing Schwickerts with my brother, Kim, from a medium-size company to a large one. Jane: Kent's tenacity with the winery, that it's happening.
Most valued possession?
Kent: The winery. It is me. Jane: My wedding ring.
What words describe you?
Kent: Hard-working, tough, fair, rational. Jane: Processor, perfectionist, caring.
If not this business, what would you be doing?
Jane: I'd love to write a book about our first few years of experience here.
Uncorking America's Heartland
Jamieson Lindquist, the 20-year-old manager of the grounds and the vineyard, had his moment in the spotlight in May, when the crew of Wine Diamonds Film arrived at Chankaska to shoot footage of Lindquist and the grapes he nurtures. The tale of Lindquist's "babysitting" the grapes on chilly late-April nights is part of the independent documentary "Wine Diamonds: Uncorking America's Heartland." ("Wine diamonds" is a slang term used by wine aficionados to describe the tartaric acid that accumulates on the underside of corks and sometimes is found in the sludgy sediment at the bottom of a wine bottle.)
"It was about 30 degrees those nights," Lindquist said. "I was out with smudge pots to provide heat and a fan to remove cold air. I stayed in the vineyard from 10 p.m. to 6:30 a.m. to make sure the pots didn't run out of fuel. If the grapes freeze, we lose all of our crops, so we have to protect them."
Lindquist's commitment to grapes began when he was eight years old. He worked in his parents' Lonsdale vineyard, helping to plant vines, put in grow tubes, build a trellis system and train vines. Six years later, he was recruited by another vineyard owner to prune and maintain vines, eventually managing 3,900 vines. Lindquist is studying business agricultural production at South Central College in North Mankato, and is also enrolled in the online Viticulture Enology Science and Technology Alliance.
THE ESSENTIALS
Chankaska Creek Ranch and Winery
Phone: 507-931-0089
Address: 1179 E Pearl Street, Kasota, Minnesota