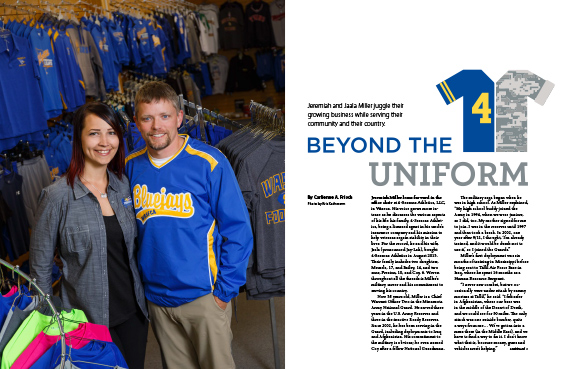 Beyond the Uniform
Jeremiah and Jaala Miller juggle their growing business while serving their community and their country.
Jeremiah Miller leans forward in the office chair at 4-Seasons Athletics, LLC, in Waseca. His voice grows more intense as he discusses the various aspects of his life: his family, 4-Seasons Athletics, being a licensed agent in his uncle's insurance company and his mission to help veterans regain stability in their lives. For the record, he and his wife, Jaala (pronounced Jay-Lah), bought 4-Seasons Athletics in August 2013. Their family includes two daughters, Maurela, 17, and Bailey, 14, and two sons, Preston, 10, and Coy, 6. Woven throughout all the threads is Miller's military career and his commitment to serving his country.
Now 38 years old, Miller is a Chief Warrant Officer Two in the Minnesota Army National Guard. He served three years in the U.S. Army Reserves and three in the inactive Ready Reserves. Since 2002, he has been serving in the Guard, including deployments to Iraq and Afghanistan. His commitment to the military is obvious; he even named Coy after a fellow National Guardsman.
The military saga began when he was in high school. As Miller explained, "My high school buddy joined the Army in 1994, when we were juniors, so I did too. My mother signed for me to join. I was in the reserves until 1997 and then took a break. In 2002, one year after 9/11, I thought, 'I'm already trained, and it would be dumb not to use it,' so I joined the Guards."
Miller's first deployment was six months of training in Mississippi before being sent to Tallil Air Force Base in Iraq, where he spent 16 months as a Human Resource Sergeant.
"I never saw combat, but we occasionally were under attack by enemy mortars at Tallil," he said. "I felt safer in Afghanistan, where our base was in the middle of the Desert of Death, and we could see for 50 miles. The only attack was one suicide bomber, quite a ways from me… We've gotten into a mess there (in the Middle East), and we have to find a way to fix it. I don't know what that is, because money, guns and vehicles aren't helping."
—–
Jaala Miller has other memories. She recalled, "Jeremiah left for Iraq when Preston was three weeks old and came back when our son was two years old. I knew before Jeremiah did that he was getting extended for six months because I was listening to a speech by President George W. Bush. I told Jeremiah on Skype, and the others who heard were saying, 'No, we're not getting extended.' They got the official word in Iraq about three days later."
"I think my job in Iraq and Afghanistan was easier than Jaala's here," Miller said. "My food, laundry, other things were taken care of. I just had to do my job, but Jaala had to do everything here."
Like many military families that include a service member with combat area experience, the Millers had difficulties when Miller returned from the Middle East. His wife wiped her eyes as she said, "We knew of many soldiers and a few friends who were divorcing. It took my dad passing away seven years ago to make us realize how important we were to each other."
One of the challenges the couple faced was Miller's experience with Post Traumatic Stress Disorder. Nearly 100 percent of those who serve in a combat area return with Post Traumatic Stress Disorder, commonly called PTSD, a mental/emotional disorder caused by the stress of warfare. (It also can result from surviving dangerous situations other than warfare.) PTSD has been recognized at least since the Civil War and has been called by various names throughout the past 150 years: soldier's heart, shell shock, battle fatigue, combat fatigue and combat neurosis. People suffering from PTSD often turn to alcohol or drugs to buffer their pain, and they are at a high risk for suicide. Past generations of veterans didn't have the assistance available to today's vets, but many veterans still do not seek out the help they need, according to Miller.
"If I were to give any of my military friends advice, it would be to admit they have a problem," he said.
He recommends that anyone close to a veteran have an ACE card, which lists resources that everyone who knows a veteran should have. ("ACE stands for: 'Ask the veteran about his or her situation, Care about the veteran, then Escort the veteran to assistance listed on the card,'" he explained.)
"The experience can be scary and may need to be simplified," Miller said. "There are resources. There are small, localized meetings, where veterans can talk with others who have the same feelings. Pride can get in the way of a veteran asking for help. When I came back, I started at the Veterans Administration, where I had a safe place to talk about issues."
Miller's concern for veterans led to his starting Waseca County's Beyond the Yellow Ribbon program. The organization is a resource hub–a referral and networking group for veterans and their families, as well as for other members of the community who want to help veterans. (For more information, go to beyondtheyellowribbon.org).
Miller also volunteers as a suicide intervention officer for his military unit. He explained, "Soldiers are advised to call if they have thoughts of suicide or know of someone who has. We talk them off the ledge and get help for them. I've spent some long nights on the phone, especially during holidays."
Despite his personal struggles and the struggles his family faced together, Miller chose to remain in the National Guard.
"I know what needs to be done," he said. "I know how to do my job. When I came home from deployment, I began doing everything to fill the void. Now I'm trying to focus on the things I can do well."
The Millers' other priorities are intertwined. Their children's interest in school and community sports was a factor in the decision to purchase 4-Seasons Athletics, located at the corner of 2nd and State Streets in Waseca's small business district. The store was opened in 1976 by Tom and Cindy Piche and has grown into a town staple. Miller, who was managing a bar after returning from active duty, saw an opportunity for a more family-oriented lifestyle, so he casually asked the Piches if they were interested in selling. A year later, the Millers became sports equipment entrepreneurs.
"I always wanted to own a business and to run a bar," said Miller, who earned a two-year business administration degree from Rasmussen College in Mankato. "After I managed Club 57 here in town, I realized that a bar is not conducive to family life. I had a business plan for 4-Seasons Athletics drawn up through a Region Nine Development Commission consultant and got financial planning through the Minnesota State University-Mankato Small Business Development Center. We said a lot of prayers. We believed if it was supposed to happen it would, because everything happens for a reason. I contacted several banks in the area and got a loan from one in Mankato."
One advantage of buying an existing business was the well-established relationships with vendors, such as Fame Awards in Owatonna and Brandt Garment Lettering in North Mankato. Another advantage, one that has three decades of experience in the business, is even more priceless. Her name is Jane Bartelt.
"Jane knows everything about every sport, about all of the inventory, and she does screen printing in the basement–and so much more," Miller said. "She keeps us grounded. She knows the business inside and out, so she consults with us on what works and what doesn't."
Two high school students who work part-time round out the staff, while the Millers' primary contribution to the business is their tech expertise.
"We brought 4-Seasons into the digital age and redesigned the web page," Miller explained. "Now we get Facebook and text messages on Sundays, like, 'Can you open the store? My kid needs a mouth guard.' That customer spent more than $200, including the purchase of cleats and pads. It was awesome."
In addition to featuring products on Facebook, 4-Seasons Athletics benefits from word-of-mouth promotion, print advertising in the Waseca County News and the Good News Magazine, and in radio spots during local radio ad campaigns. The store also sponsors many local sports and organizations, has a table at the local basketball association tournament and may soon have a table of products at local school sports registration events.
Another change can be seen in the inventory, which is continually expanding. As Miller explained, "We are slowly adding things like Saucony running shoes and more Under Armour apparel. I didn't believe in the hype about Under Armour quality until I started wearing it. A customer showed us a picture of an Under Armour backpack, and Jaala researched it and found one in another color. We usually have the ability to find or get whatever a customer wants. If we can't find it, we will suggest other options. And we would like to continue to grow by adding more fitness and other items."
Custom-printed shirts are popular orders, with requests coming from school teams, bands, community organizations, businesses and family reunion groups (to name a few). Individual customers may be seeking items for their children's sports or apparel representing their favorite teams. Jaala Miller quotes and helps design the custom orders, and Bartelt does smaller orders of screen printing and many of the Bluejay (Waseca's high school mascot) apparel items available in the store.
In addition to customized clothing, the store offers workout, practice and post-game apparel, as well as a variety of equipment: mouth guards, water bottles, shoes, baseball gloves, and customized plaques and trophies.
"We always sell to younger generations as they get into sports," Miller said. "When Waseca teams are doing well, more people want to join the team, and fans also want more apparel."
With Bartelt's help, Jaala Miller has taken on ordering the apparel inventory, while Bartelt still orders the sports equipment–an entirely new ballgame for Jaala yet to learn. Jaala admits to working 50 hours a week, many of them late at night, while her husband fits in 15 hours away during the week for his volunteer work with veterans and selling insurance in an office a block away from 4-Seasons Athletics.
"I make Jeremiah do all the things I don't want to do here," Jaala Miller said.
One of those jobs is building maintenance. Her husband recalled an instance when that handy work paid off in a sale. "When I was painting the wall out front at 11 p.m. one evening, a kid came in and spent $100," Miller said. "A typical sale is $25 to $50. A lot of the time, if customers come in for one thing, they'll buy more. Jane is very good at pointing out our new items."
Jaala Miller also brings a variety of strengths to 4-Seasons: a degree in community social service and experience working with people who have disabilities. While managing a group home, she met Jeremiah, who did maintenance there. He recalls telling his cousin, "Someday I'm going to marry that girl."
His wife added, "At first we were friends. He's not like other men. He's not afraid to show his soft side."
Jaala Miller has a very specific goal for 4-Seasons.
"We have a lot of supportive customers who don't want to go out of town," she said. "We have customer service and quality products at prices you can't beat. Some items are more expensive in discount stores than they are here. We want to keep the quality of the products and service high while keeping the store open for the community."
—–
Mr. Waseca
What did Jeremiah Miller do to earn the Waseca Chamber of Commerce Community Service Award last year? You could look at the list of his volunteer work, enough to nearly fill a page. He initiated the non-profit Free Flags for Veterans so that every veteran can fly a flag in front of his or her home. He started and is a board member of the Waseca County Beyond the Yellow Ribbon program, a referral and networking group for veterans and their families. There's also his service on the Waseca Hockey Association Board, the Waseca Chamber of Commerce and the VFW Club Committee; his membership in the American Legion; his service as Waseca Cub Scout Pack 86 treasurer (formerly as the cub master); his membership in Tuscan Lodge #77; his offering of free introductory fitness classes at Anytime Fitness as a certified PIYO instructor–and the list goes on.
But the list, however impressive, may be only part of the answer. Last year, he participated in the "Sleigh and Cutter Mr. Waseca" event. The audience saw another side of the man they watched grow up in the community. Wearing sparkly workout gear, Miller did a fitness routine while singing Queen's "Bohemian Rhapsody." He needed to do something to get people's attention, he thought. It worked—he was named Mr. Waseca.
Jaala Miller's list of volunteer activities also is stellar: Team Academy Charter School Board, Downtown District Committee, Waseca Lakefest Committee and the VFW Facilities subcommittee. She also offers a free initial class as a certified "Insanity" instructor at Anytime Fitness and co-hosts a free weekly workout there.
As she explained it, "If Jeremiah can't do these things, he volunteers me for them."
—–
What's The Score
Family? He: Middle of six children.
She: Youngest of four, the only girl. I wanted to do everything my brothers did, but better.
Favorite subjects in school? He: history and business classes. She: Music, choir, science and school sports.
First jobs? He: Hy-Vee deli in Waseca, where I learned customer service, marketing, preparation and presentation. She: Perkins hostess, dealing with a lot of people, then at age 16 the Rainbow Residence, a 16-bed facility, followed by ELM Homes manager at age 18. It takes a special person to do this work.
Accomplishment of which most proud? He: Raising a healthy family. The military has shown our children what being an American means. She: My proudest moment is when our children do the right thing by treating others the way they want to be treated.
What three words describe you? Both: Positive, caring, energetic.
—–
Healthy Hobbies
Customers of 4-Seasons Athletics may notice the healthy image that Jaala Miller projects—which is explained by the fact that she is also the proprietor of a health and fitness business. It has not always been thus. She explained, "Although I had been in tennis, track and hockey while growing up in Owatonna, I had become unhealthy—a smoker and overweight. Six years ago, I slowly started my health and fitness journey by making positive changes. I eventually quit smoking, and, with a lot of hard work and determination, I lost the 100 pounds that I had gained during pregnancies and because of the stress of Jeremiah's deployment. Now I consult online, in person and over the phone regarding how others can live a healthy lifestyle."
She is a Beachbody coach, a certified Insanity workout instructor and a runner.
"We both got into running," Jeremiah Miller added. "I did my first marathon in 2007 and have run five full marathons and 13 half marathons."
His medals are displayed at the American Family Insurance Agency, where he works with his uncle. His wife's 16 medals hang on the wall in 4-Seasons' office. She has run three full marathons and 13 half marathons. Preston recently joined his mother in running 20 miles in one week.
—–
4-Seasons Athletics LLC
Phone: 507-835-5267
Address: 124 N State Street, Waseca, Minnesota
Facebook: 4-Seasons Athletics