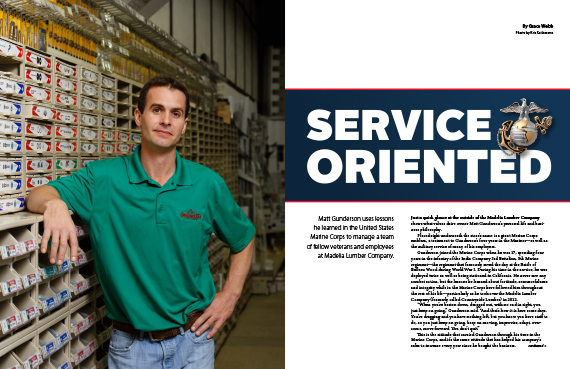 Service Oriented
Matt Gunderson uses lessons he learned in the United States Marine Corps to manage a team of fellow veterans and employees at Madelia Lumber Company.
Just a quick glance at the outside of the Madelia Lumber Company shows what values drive owner Matt Gunderson's personal life and business philosophy.
Placed right underneath the store's name is a giant Marine Corps emblem, a testament to Gunderson's four years in the Marines—as well as the military service of many of his employees.
Gunderson joined the Marine Corps when he was 17, spending four years in the infantry of the India Company 3rd Battalion, 5th Marine regiment—the regiment that famously saved the day at the Battle of Belleau Wood during World War I. During his time in the service, he was deployed twice as well as being stationed in California. He never saw any combat action, but the lessons he learned about fortitude, resourcefulness and integrity while in the Marine Corps have followed him throughout the rest of his life—particularly as he took over the Madelia Lumber Company (formerly called Countryside Lumber) in 2012.
"When you're beaten down, dragged out, with no end in sight, you just keep on going," Gunderson said. "And that's how it is here some days. You're dragging and you have nothing left, but you know you have stuff to do, so you just keep on going, keep on moving, improvise, adapt, overcome, move forward. You don't quit."
This is the attitude that carried Gunderson through his time in the Marine Corps, and it's the same attitude that has helped his company's sales to increase every year since he bought the business.
—–
Gunderson was born in Madelia in 1976. The second of five children, he grew up in a family that had strong ties to the city's business community: his grandfather had owned the Farmers State Bank and his father owned Madelia's grocery store until 2008. Gunderson's father also owned multiple other businesses and managed the local VFW for several years, on top of holding other jobs. In addition, his mother still owns an upholstery and quilt shop.
"We've helped a number of new businesses in Madelia over the years with laying the groundwork in getting them started to achieve their goals," Gunderson said.
Going into high school, Gunderson started working at his father's businesses, helping at the grocery store and rehabbing different buildings his father owned, as well as odd jobs around the community.
"I've had lots of jobs," he said. "I've done a lot of stuff—I wouldn't even know how to explain it all."
He added that he learned valuable lessons as he worked alongside his father for so many years.
"I worked with my father for 25 years," he said. "He's been a great help and a mentor to me, letting me bounce things off him in certain situations and giving me the freedom to make decisions on my own. He helped me develop my work ethic. I've always worked hard, put in long hours and spent a lot of time doing my best. Often, you have to make sacrifices. Is it worth it? We'll see."
During his last year of high school, Gunderson joined the Marine Corps' Delayed Entry Program, which is a pre-enlistment program that allows 17-year-olds to participate in training with a parent's permission. According to Gunderson, it was always part of the plan to join the Marine Corps; his father had served in the Marine Corps during the Vietnam War, and he wanted to serve too. Once he graduated high school in 1995, he left for boot camp three days later.
Gunderson attended the Marine Corps Recruit Depot in San Diego, California for boot camp before continuing on to his school of infantry training. Afterwards, he was attached to India Company 3rd Battalion 5th Marines in California and spent two six-month periods overseas with the 31st MEU out of Okinawa, Japan.
"It was a hell of a good time," Gunderson said. "I'd do it again in a heartbeat."
While Gunderson enjoyed his time in the service, he still decided to leave once his four-year commitment was up, to pursue other goals. He came back to Madelia, saying it was the only thing he missed while he was stationed away from home.
"I like the laid-back atmosphere here," he explained. "I've had many people question my decision to come back, but I've always enjoyed Madelia and working with my father and being involved in the community."
When Gunderson first came back, he started working at the grocery store again, along with managing his father's properties. He worked in many departments from the bottom up for several years and then also began taking on side jobs as a licensed contractor. But, in 2012, he learned of the opportunity to buy Countryside Lumber and decided to take it.
"I rolled the dice, and I said, 'Let's take a shot,'" he joked. "[Former owner] Gary Peterson had passed away and I didn't want Madelia to be without a local source for building materials. I knew it was important for the community. A lot of the things that I've done, or my family has done, haven't necessarily made any sense, but they were more of the right thing to do. My father and other local business people have always done what they could, as best as they could, to keep Madelia looking the way that it does today. If you look down the main street of Madelia, everything's full. We have a lot to offer in a small town, and that's something to be proud of. It takes everybody to make it work."
One of the first things Gunderson did after buying the business was add the Marine Corps emblem to the front of the building.
"I'm very proud of my service," he explained. "I'm proud to be a part of the Marine Corps. Most of the people I've served with, to this day, would do it all over again at the drop of a hat."
While Gunderson likes to highlight his link to the Marine Corps, he had another reason for displaying the branch's emblem so prominently.
"It was a tactful way of saying, 'Caution,'" he said. "There's a saying that the customer is always right, but that's not completely correct. The customer's concerns should be listened to, heard and addressed to the best of our abilities. However, if they enter with expectations beyond our business values and reality, I'm going to interject. I have no problem jumping in the middle. I'm going to be the one that stands up for what I believe is right."
Gunderson admits he may have lost a few customers because of his strong convictions, but he added that sales have continued to increase throughout the last four years—so much that it's been difficult to keep up. As more and more customers come to his full-service building center, he has started offering more and more products.
"We have a philosophy at Madelia Lumber: If a customer comes in looking for a specific product, I will get it for them," he said. "I will find it. I will do whatever I can to satisfy our customers' needs in a timely manner. Our customers' satisfaction is the most important part of what we do."
Gunderson is currently working on a new showroom to highlight his exterior products, and he recently remodeled most of the store using the products he carries to show their potential.
Because Madelia Lumber is a full-service business, customers come in for projects ranging from fixing a lock to building a house—and Gunderson and his employees help every step of the way. While many projects are fairly routine, other customers ask for custom work, often bringing pictures off Pinterest and asking for help recreating them. For example, one year, Gunderson and his employees helped build several giant Jenga game sets and custom patio furniture.
"If somebody brings in their pictures, and says they want to make something but they need help, we'll absolutely help," he said. "We've created a number of custom projects for our customers. It's not like there's a plan for it or anything, but we figure something out. We're constantly coming up with different ways to service the customer, generate sales, offer another service… And that'll continue to expand as we move forward."
Some projects are more stressful than others. When it comes to a new home, commercial or agricultural project, Gunderson said tensions can rise as customers have to make many small and timely decisions.
"When you're working on the larger projects, it's stressful for people," he said. "There are a lot of choices and a lot of things that have to be decided on. Sometimes, we just need to reassure them, 'It's going to be fine.' It's us trying to comfort them a little bit, to help them make their decisions, get them what they want, to make it a little easier for them. We've had great success working with the customer on a personal level. We will spend whatever time it takes at any time of the day to make sure that what they want is what they're going to get."
While many customers hail from Madelia, Gunderson said there's no limit to the distance that he and his employees will travel for someone. He has suppliers from about five different states, but despite being a lumberyard much of the business's sales come from other products. There can be days when no lumber is sold. Because of this, it makes even more sense to offer other products, including flooring, tools, doors, hardware, paint and more. In fact, Gunderson estimates that, on a weekly basis, he probably adds 20 new products to his shelves.
"We really offer a little bit of everything and continue to add new products weekly," he said. "There isn't something that we have not gone out of our way to find for our customer. We do a lot of custom ordering for different scenarios. We're constantly adding new products, trying to offer everything we can to satisfy our customers."
Another way Gunderson has tried to satisfy customers is by keeping his doors open seven days a week, which is uncommon for a small town building center.
"It's just one less reason for our local community to have to drive somewhere else to get something," he reasoned. "It certainly is a convenience for them. A lot of people tell us, 'Hey, I'm so glad you're open on Saturdays and Sundays. Thanks for doing that.' It's not that we sell a huge dollar amount, but people seem to appreciate it, and traffic continues to grow. I'm selling a service. I'm doing the best that I can to interpret what the customers want. And service these days, in my opinion, is something that's very lacking. So we've really prided ourselves on doing whatever it takes to provide what the customer wants and needs and do the best we can. And I would say it's hard to beat our service. It's hard to beat the commitment that we give to our customers."
Whenever the doors are open, Gunderson is there—putting in more than 70 hours every week. (He said he has taken two or three lunch breaks in the past four years.) Still, he said the work is worth it to meet his customers' needs.
"It's a commitment," he acknowledged. "At the end of the day, it's my responsibility to do whatever it takes to make it work. I make sure the other employees get some time off, since without them, I can't do what I do. Keeping them happy and satisfied is probably the key. I just oversee everything and make sure it's all moving forward. Some days it is, some days it's not. You just deal with it. That's where the military part comes in. You don't worry about it. You just move forward. You don't let the pain bother you; you just look past it.  If you look past it, in 10 years, it will be okay."
—–
Veteran Service
Several of Gunderson's employees share his military background. His brother, Eric, participated in combat tours of the Persian Gulf, Haiti and Iraq during his time serving in the infantry in the Marine Corps. Kent Petterson also served in the Marine Corps in Aviation Ordinance, while fellow employee Lee Bouma served six years in the Army National Guard. Other employees have close family members who are actively serving or who have served in different branches of the military.
According to Gunderson, veterans make some of the best employees, because of the commitment and attention to detail they bring to the job.
"Without a doubt, they are the best workers," he said. "There's an attention to detail with military people that is not something that you can teach. It's not something that I can explain to you. It's just one of those things that you either have it or you don't. That's why everything works very well here. I'm very particular, and Eric, Kent and Lee are, too. It's a mindset."
Business Challenges
Gunderson said one of the biggest challenges his business faces is price comparison to other lumberyards. It can be difficult to compare prices when the quality and grade of the products is different.
"If it's a really good price somewhere else, it's probably that price for a reason," he said. "We do the best we can. If we've got something to compare our product to, we'll compare apples to apples. But there's no such thing as apples to apples anymore. How many varieties of apples are there now? More than 7,500."
It can also be difficult to keep up with all the new trends, especially when Gunderson works with multiple suppliers that offer a wide range of options for building and hardware products.
"It's a daunting task some days," he said. "I knew it was going to take me 5-10 years to get things running the way I want, and I'm not there yet, so I wouldn't be able to tell you if I'm doing right or doing wrong. But I'm still here."
Madelia Lumber Company
Address: 24 Center Avenue North, Madelia, Minnesota
Phone: 507-642-3201
Web: madelialumber.com
Facebook: Madelia Lumber Company