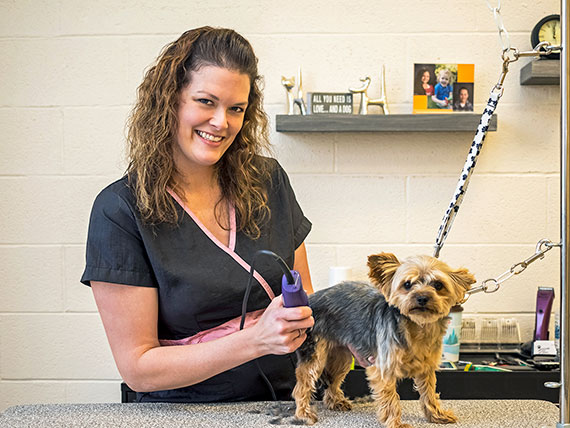 Photo: Art Sidner
Mankato: Calling All Paws
Jillian Cousins grew up around animals, so it's no surprise she has managed to take those experiences and create a successful business.
Cousins was raised on her grandparents' Arabian horse farm and grew up helping prepare the horses for the show ring. When she was 15, she became a bather and brusher at Pet Expo, and she continued in that line of work at Madison Avenue Pet Grooming.
"Shaving down a 12-lb Shih Tzu is nothing compared to shaving down a 1,200-lb horse," she said.
Cousins opened her own home studio in 2002 and ran it until 2004, but then she became the grooming salon manager at Petco in 2007. While she enjoyed working there, she said she longed to have her own studio again, since that allowed her more one-on-one time with clients. After she became a national certified master groomer (the only in southern Minnesota) through the National Dog Groomers Association of America, she decided to open another studio.
Cousins said business is already bustling, since many of her Petco clients followed her to her studio. She works both with dogs and cats, offering full service baths and grooming, as well as "peticures," dental work, spa treatments and facials. She suggests bringing in pets for a trim every 6-8 weeks.
Cousins independently contracts with another groomer and said there is room for two more groomers at her studio. She added that she hopes to someday open a grooming school to pass on her knowledge.
"We forge a lot of relationships with the pet and the owner," she said. "I want those pet parents to know they can trust me that their little furry family members are in good hands."
In her spare time, she cares for her own pets: her Dachshund, her cat, her parrot and her fish.
Calling All Paws
Address: 402 Hope Street, Suite 1
Telephone: (507) 388-7297
Website: callingallpawsmankato.com