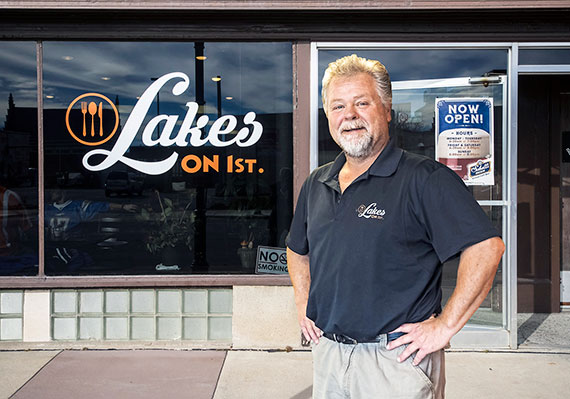 Photo: Art Sidner
New Ulm: Lakes On 1st
Jumping from a two-decade career at 3M to running a restaurant may seem unusual to most people, but Mike Bode said that was always his dream.
"I always wanted to have a restaurant," Bode said. "I'm probably the happiest I've been in the last seven years."
Bode was born in Nicollet but grew up in New Ulm. Besides working for 3M for 23 years, he also bartended at Turner Hall (where he was also on the board of directors) and the B&L Bar. All the while, though, he kept his eye out for opportunities to start his own restaurant—and something finally came along in March 2015.
Bode named the restaurant "Lakes on 1st" after his grandson, Laken. The official grand opening was in October, but Bode has been serving meals at the restaurant since July. The restaurant serves breakfast, lunch and dinner, with a menu that isn't expansive but includes enough choices to offer variety—from ten different types of Paninis to homemade noodle soup, with the "Gobbler" (a turkey Panini with smoked bacon, cheese and granny smith apples) being one of the most popular orders. In addition, customers can request specials on the restaurant's Facebook page, and Bode will work some of the suggestions into that week's menu.
Bode's daughter works alongside him as manager, and his wife also works at the restaurant part-time, along with eight other part-time workers.
Bode said he hopes to someday be able to expand his restaurant into a larger building, but that will be far down the line.
"Right now, we say we're 'small on seating, big on flavor,'" he said, adding that the current building seats 28. "Come over and see us! You'll be pleasantly surprised."
Lakes On 1st
Address: 512 1st North Street
Telephone: (507) 354-0306
Facebook: Lakes on 1st