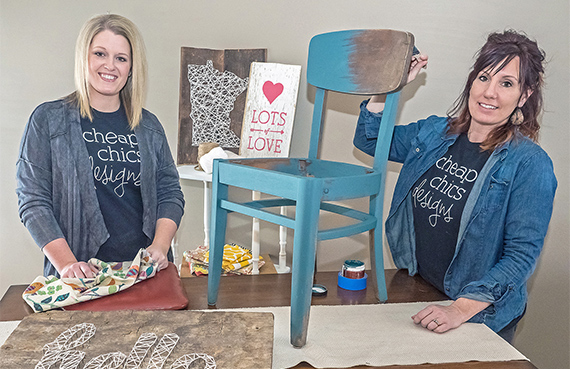 Photo: Art Sidner
St. Peter: Cheap Chics Designs
When Amy Stearns and Kari Mulvihill began chatting over their lunch hour at Carlson Craft, they never thought it would lead to them opening their own business together.
Mulvihill grew up in Nicollet and has worked for Carlson Craft as a graphic designer for about five years. Stearns grew up in Arlington and has been a graphic designer at the same company for 15 years. As the two women bonded over lunch, they quickly discovered a shared love for handmade crafts and vintage décor.
Both women enjoyed hunting for unique pieces of furniture at garage sales, thrift stores and estate sales, then repurposing them into something new. They also enjoyed creating their own vintage décor, such as painted barn wood signs.
"When we find something that looks appealing to us, we can see a vision for that piece, whether it's changing the color or updating the hardware," Mulvihill said. "We turn that old piece that somebody might see as junk into a brand new piece of furniture."
"We asked ourselves, 'How can we put this passion we have into a business and create something unique?'" Stearns added.
They took a chance and rented a space at an antique store in Gaylord in April 2015. Next, they started selling their products at the Whiskey River Flea Market at St. Peter. There, they met the owner of a new boutique in St. Peter called The Refinery, who invited them to start vending at her store in November.
The women say now they're focusing on adding more products to their inventory and creating a functional website.
"To see how far the business has come since last April, and how much we've changed and the people we've met, it's really great to see," Mulvihill said. "We can't wait to see what this year brings."
Cheap Chics Designs
Address: 216 South Minnesota Street
Telephone: (507) 934-5981
Facebook: Cheap Chics Designs