REDA: Coming to the Table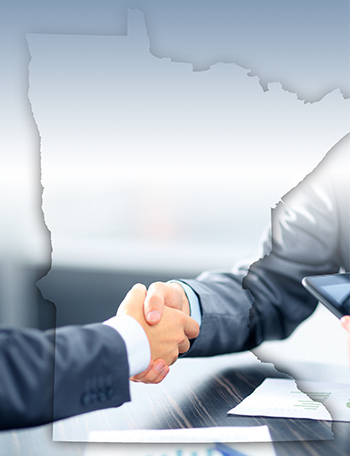 REDA: Coming to the Table
The Regional Economic Development Alliance gives southern Minnesota communities a voice regarding economic development across the region.
Every community knows the importance of courting new businesses and helping nurture the businesses that are already there: more jobs, more property taxes, more money flowing back into the local economy. For decades, the model for economic development revolved around each city jealously guarding its economic interests, snagging interested businesses that came through the area and focusing on the area within its own borders.
But in southern Minnesota, that model is being turned on its head thanks to the Regional Economic Development Alliance (REDA).
This alliance, facilitated by Greater Mankato Growth, includes two counties, seven cities and the Region Nine Development Commission, all working together to enhance the desirability of the southern Minnesota region for businesses. Members all have access to resources through Greater Mankato Growth, as well as receiving information about businesses that are interested in expanding in the area. Each member also sends representatives to monthly meetings to discuss the economic outlook of their community and the region as a whole, as members strive to tackle issues facing all of southern Minnesota.
It's about collaboration, not competition.
And it's working pretty well so far.
How It Started
The story of REDA is a surprisingly long and complicated one, with a history tightly wound around Greater Mankato Growth.
"In the early 1980s, there was discontent within the Mankato/North Mankato business community about business development," explained Jonathan Zierdt, president and CEO of GMG. "There were competitive actions between the two cities, really what people would call 'pirating' one business to another. The business community did not see this as healthy; they saw it as detrimental."
According to Zierdt, local business leaders banded together in 1983  to create Valley Industrial Development Corporation, a not-for-profit organization meant to provide a single point of contact for businesses interested in the Mankato-North Mankato area. The organization raised nearly $1 million to be used for investing to provide for operating capital, often through loans to businesses that wanted to expand. The group had about 30 primary investors, including Northern States Power (now Xcel Energy) and Hickory Tech Corporation (now Consolidated Communications), along with about 140 other investors.
By the early 1990s, the group had created such a positive reputation that the cities of Mankato and North Mankato wanted to become part of it, working through a joint services agreement. Other cities, such as St. Peter, also voiced an interest in joining, though those plans didn't work out until later.
Valley Industrial changed its name to the Greater Mankato Economic Development Corporation in the early 2000s. Shortly after, it merged with Mankato's Chamber of Commerce to form Greater Mankato Growth in 2007. At that point, Zierdt and other GMG staff worked on reconnecting with all the communities that had expressed an interest in becoming part of the group.
"This was never about convincing somebody, 'You should do this,'" Zierdt said. "This was about all these cities saying, 'We get it. There's value in banding together, and we want to do this.' Our job was really about gathering everyone together and creating a process that could be effective for everybody."
Throughout that process, several neighboring communities joined REDA, including St. Peter, Amboy, Mapleton, Le Sueur and Eagle Lake. North Mankato was interested but didn't actually join until about a year and a half ago, and Nicollet County recently came back after a hiatus, officially rejoining in January 2016. Along the way, Amboy and Mapleton both decided to pull out and focus their limited resources exclusively on their cities, which Zierdt said is understandable.
"We didn't do a very good job explaining about the expectations," he said. "People think, 'When's the next major business going to open and hire 150 people?' That just doesn't happen everywhere and all the time. The business makes the decision, not us."
REDA now includes Greater Mankato Growth and nine other members: Mankato, North Mankato, Lake Crystal, Madison Lake, Eagle Lake, St. Peter, Le Sueur, Blue Earth County and Nicollet County.
"It's had a couple of iterations as we went through figuring out stuff," Zierdt said. "But it's six years strong now. It is the model. Anywhere you go in the country, you'll find regional approaches to economic development, and it's the way we have to compete."
The Nuts And Bolts
At its most basic level, REDA is a way for members to share information and support each other's efforts towards economic development, according to REDA Chair Jim Beal.
"REDA is a unique movement in itself," said Beal, who was elected chair of the alliance at its inception. "Becoming part of REDA, your membership puts you at the table and gives you the tools and resources necessary to contribute to your own growth."
Cities and counties within the Mankato-North Mankato Metropolitan Statistical Area (MSA) and close outside can contact GMG about membership if they're interested. Each member pays annual dues, which are calculated on a per-capita basis: $2.19 per person within the city or county's population. The only exception is Mankato, which pays $4.38 a person. Mankato City Manager Pat Hentges came up with the idea, Zierdt explained, saying the concept behind that pay difference was the fact that Mankato is the economic hub of the region and therefore benefits the most from being a part of REDA.
"The city of Mankato is the employment center of the marketplace," Zierdt said. "By its very nature, it's going to see more opportunities than everybody else. It's our responsibility [to pay more] since we'll see the lion's share of the deals."
Altogether, REDA members contributed about $290,300 in 2015, with private sector investments adding another $274,500 to the budget. (REDA members promise that private businesses within their communities will also donate funds to the alliance.) Added together, this gave REDA a 2015 budget of about $564,900. About half of that ($328,700) went to services and programs, while another $199,500 went to marketing and communications, and only a fraction ($34,300) went to operating expenses.
Once a city or county joins REDA, they're able to send a representative to the alliance's monthly meetings, where members update each other on what's going on in their communities and discuss issues that are facing the region. There is also an advisory committee made up of GMG staff and representatives from each member's community, which meets a few times a year. In between meetings, GMG staff continually works on marketing, outreach, public relations and networking to help increase the visibility of the southern Minnesota region in general and its members in particular. Staff members also conduct site visits to area industries, working to learn more about issues facing local businesses.
"We have this large group of people who are always in constant dialogue," Zierdt said. "We're always working on a business development opportunity. There's always a dozen in the pipeline."
When GMG receives requests for proposals regarding businesses that want to relocate or expand, they share that information with all their members, who then have the choice of whether to make a bid for the business or to pass up the opportunity if it isn't a good fit for their community.
Beal warns that being a REDA member doesn't automatically put a community on top of a list of places for businesses to look—but it does give them that opportunity to participate in the process. He pointed out that his city of Eagle Lake has been a member of REDA for seven years, but no business has come to Eagle Lake in that time because of its participation with REDA. However, he said more businesses have approached the city about possible moves because of the information that GMG has shared about it.
"Cities question, 'If we put money into REDA, what do we get back out of it?'" he said. "It's part of being at the table. You don't know what you may get back out of it. If you think you'll get something out of it today, it's probably not going to happen. You still have to sell your city on the merits of your city."
Russ Willie, Director of Community Development at St. Peter, agreed about the increased opportunities afforded to cities through REDA.
"We used to be able to pitch one business a year, but now with REDA, and the RFPs they get, we pitch at least three a year," he said. "It's nice to get to bat. You're not going to get a base hit unless you get to the plate, and for a long time, we never got out to the plate."
There are other benefits and resources that REDA members receive, such as a prominent place on GMG's website and promotional materials. They're also able to make use of GMG's staff, which can be a huge resource for cities that don't have large staff budgets, such as Eagle Lake.
"We have a fairly small staff, and we don't have a lot of time, so I think it was a good use of our funding and our resources to go with REDA to help look at some of those economic development issues," said Eagle Lake City Administrator Brad Potter.
(Both Zierdt and Beal stressed that GMG also offers resources like these to cities within the region that haven't become members of REDA. However, non-member cities don't attend REDA's meetings and aren't displayed as prominently on marketing materials or the website.
"They just don't have as much access to as much information," Zierdt said.)
Zierdt likens REDA's role to a car dealership's website, showing people what cars are available to purchase within the area.
"Our job is to represent everything that's possible to the business community, and let people come here, figure it out and pick the one that makes the most sense," he explained. "They might call us, and we'll shepherd them to the right folks. It's our job to position things. We provide a ton of critical business information. There's nothing grand about that that makes the front page. There's a lot of unsung hero stuff."
Because of this, he added, it can be difficult to point out successful projects that came to be because of REDA's involvement—but they're everywhere, from Lake Crystal's pursuit of industrial land development to the new Walmart Distribution Center on Highway 14. In fact, according to GMG's website, every dollar invested by REDA participants leveraged $438 of GMG impacted capital investment across the region in 2015, with capital investments exceeding $500,000,000 throughout the past three years.
Cities And Counties
When it comes to REDA's members, each one joined for its own reasons and is seeing its own benefits.
According to Hentges, Mankato was instrumental in forming REDA and continues to have a major hand in the region's economic development. The city represents the majority of REDA's funding, paying almost six times more (about $180,000 a year) than any other member. But Hentges says it's worth it.
"The clearest No. 1 value that REDA gives members is how they have raised the marketability of our region," he said. "Our economy here is all interrelated to other communities in our area. REDA [helps] reach out into the region."
For Willie, some of the most valuable benefits of REDA have been its publicity, marketing and lead development. He explained that St. Peter had been interested in joining REDA for several years before officially becoming a member in 2008, and since then, the city has greatly utilized the resources available.
Meanwhile, the small city of Eagle Lake hoped to supplement its staff with more resources, Potter said, and they've used REDA to collect data and maintain relationships with current businesses.
"REDA offers to sit down with existing businesses to make sure they're doing well," he said. "I think that's the most important part in your local economy. I think sometimes people get excited to attract new businesses, and at times we can assume the existing businesses are doing okay. REDA has helped us out in that aspect."
Counties are also able to join REDA. Blue Earth County has been a member for several years, while Nicollet County officially rejoined in 2016. When a county joins REDA (under the same fee structure as a city), the cities within its borders can also make use of REDA's resources, which can be a huge benefit to smaller communities and rural areas. County staff can use those resources too, but counties are usually less interested in trying to attract a specific business to a specific community and more interested in issues facing the overall region.
"You always know what's happening with the people who are at the table, if you're sitting at the table," Beal said. "By the counties participating, they know what's happening within their cities. You take Blue Earth County: You've got Madison Lake, Eagle Lake, Lake Crystal, Mankato…  It helps the county understand what's happening with the regional growth."
Blue Earth County Administrator Bob Meyer agreed.
"Our primary purpose is to understand some of the development that might be occurring in the general area and how the economic development is occurring not only in Blue Earth County but also the region in general," he said. "We look at things that are happening and how we might partner in ways to continue to be an attractive place to businesses that are looking to move to the area or expand in the area."
Nicollet County Administrator Ryan Krosch said Nicollet County board members felt the same way, voting to join REDA so that the county could be more involved in the region's economic development.
"We wanted Nicollet County to be a fuller player at the table with our other regional partners and help see continued prosperity in the region," he said. "We felt like it was a good use of resources to help the regional marketing efforts of Blue Earth County and Nicollet County. Their website is full of data for us, and they're able to provide marketing info, statistics, etc., on how to build our resources and data that we have and to be aware of what's happening in the other communities. Any support we can provide our regional partners in promoting the area is a win for everybody."
Collaboration Vs. Competition
Impressively, while the communities within REDA still each look to attract businesses to their own area, there is not a sense of competition among members, but rather collaboration.
"We don't look at it as a competition," Krosch said. "We travel back and forth across government boundaries. There's a spill-over effect over what's going to happen. There's going to be a benefit to employment in the area, housing, schools, our community as a whole."
Willie agreed, adding, "We know that there's a natural mesh between our communities. It's a regional economy, and we like to look regional. They're our neighbors. We have a benefit from Mankato's growth, and Mankato has a benefit from our growth. Collaboration, working together, pooling resources, pooling talent—I don't know how that can't be a good thing."
This emphasis on collaboration also helped address another concern that some members had when REDA was first beginning: the fear that Mankato would keep all the good business deals to itself. However, members from across the alliance now say that hasn't happened in the slightest.
"Pat Hentges was great about making sure everyone was aware of what's going on out there, to make sure we all had the opportunity," Beal said. "Mankato's always been the hub. What we hear about more than anything is Mankato, and the growth of Mankato. As small cities, [other members] wanted to be able to be part of the growth of the region. By becoming a REDA member, they became a member at the table with all the Mankato and North Mankato regional businesses."
Other members have also voiced their satisfaction with how everyone is treated.
"When we joined, there were some in town that were concerned, 'Well, Mankato will cherry-pick. GMG will give Mankato and North Mankato the better deals,'" Willie recalled. "But I wouldn't have joined an organization if I thought that was the case. I have 100 percent trust in GMG and their staff."
Looking Ahead
According to Zierdt, REDA's joint services agreement will be opened up sometime this spring for members to go through and possibly update its contents to better reflect the organization's current priorities, such as a stronger emphasis on downtown development and talent retention.
"We want to make sure that we keep our work that we're charged to do in counsel with our partners so that it's relevant to what's occurring in the world of economic development today," Zierdt said. "It's changing rapidly, when it comes to how we have to compete on a global scale and be a region that's going to thrive. We want to make sure that we're staying on the leading edge of the greatest tactics that are being tried. We want to be innovative and fail fast if it's not going to work so that we can move on quickly to the next thing."
Another question for the future is how far-reaching REDA could possibly become. At the moment, its borders extend to roughly the borders of the Mankato-North Mankato MSA, along with Le Sueur, which is right outside of that. However, there was recently some discussion about those borders when Waseca County voiced an interest in joining REDA about two years ago. While REDA members were also interested in collaborating with the county, the ultimate viewpoint was that REDA wasn't ready or able to stretch itself so far.
"We'd love to do more things regionally, but we're not sure that we're ready," Zierdt explained. "I don't think any of us have an interest in just wanting to get bigger and expand just to get bigger and expand. This REDA model is very particular, and we're not sure that we're ready yet to take on the additional workload. We didn't want to strain the system. There's no resistance to the idea of including Waseca County. We just don't want to go before we're ready."
However, both Zierdt and Beal agreed that the hope is to expand REDA and add more members when the time is right.
"I would like to bring all the cities within the region into REDA," Beal said. "I think it's important for a city to belong to REDA. I think it has been a valuable part of the region. The cities that have participated feel a connection and a collaboration, which is so important to the success of what we're doing."