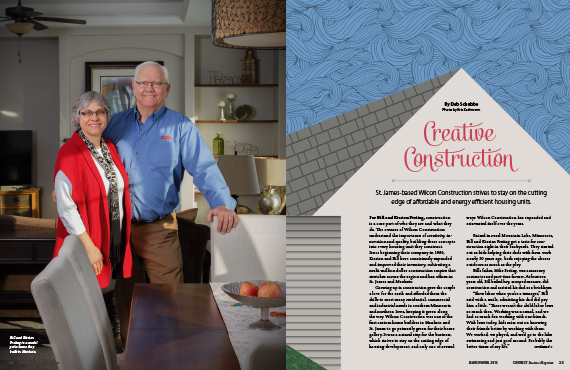 Creative Construction
St. James-based Wilcon Construction strives to stay on the cutting edge of affordable and energy efficient housing units.
For Bill and Kirsten Freitag, construction is a core part of who they are and what they do. The owners of Wilcon Construction understand the importance of creativity, innovation and quality, building these concepts into every housing unit they construct. Since beginning their company in 1986, Kirsten and Bill have consistently expanded and improved their inventory, cultivating a multi-million dollar construction empire that stretches across the region and has offices in St. James and Mankato.
Growing up in construction gave the couple a love for the earth and afforded them the skills to meet many residential, commercial and industrial needs in southern Minnesota and northern Iowa, keeping it green along the way. Wilcon Construction was one of the first custom home builders in Mankato and St. James to go primarily green for their home gallery. It was a natural step for the business, which strives to stay on the cutting edge of housing development, and only one of several ways Wilcon Construction has expanded and reinvented itself over the years.
Raised in rural Mountain Lake, Minnesota, Bill and Kirsten Freitag got a taste for construction right in their backyards. They started out as kids helping their dads with farm work nearly 50 years ago, both enjoying the chores outdoors as much as the play.
Bill's father, Mike Freitag, was a masonry contractor and part-time farmer. At fourteen years old, Bill bailed hay, scooped manure, did construction and assisted his dad as a bricklayer.
"Slave labor when you're a teenager," Bill said with a smile, admitting his dad did pay him a little. "There weren't the child labor laws so much then. Working was normal, and we had so much fun working with our friends. With laws today, kids miss out on knowing their friends better by working with them. We worked, we played, and we'd go to the lake swimming and just goof around. Probably the better times of my life."
—–
During his leisure time, young Bill did a lot of hunting, fishing and playing at a ball field a half mile from home. Those teen years proved important not just for the education Bill gleaned from his father, but also because he met his life's partner back then.
Kirsten Regier, the oldest of five siblings, hoed weeds in the bean fields, picked up rocks, plowed fields, gave shots to pigs and helped with farm bookwork.
"I helped Dad more than Mom on the farm," she said, "and Dad paid us."
When Kirsten wasn't knee-deep in chores, she fed her creative side by reading the Betsy-Tacy series, Wuthering Heights and other work by the Brontë sisters.
She and Bill rode the same school bus, but they didn't get acquainted until fate stepped in when they attended the same Bible study. In 1975, when Bill was 24 years old and Kirsten was 20, the couple married.
At the time, Bill and his brother Steve were partners with their dad. They managed their masonry and concrete business, Mike's Construction, from a small Mountain Lake office. Kirsten helped Bill's mom part-time with the books, switching to full-time when their daughter was five.
As the company grew, Kirsten expanded her skills. Along with Spanish, she took accounting classes, one at a time, through Minnesota State University Mankato.
"That accounting background has been invaluable," she said.
Eventually, Mike and his sons divided the company. Steve lived in St. James, where Bill and Kirsten had a number of friends. So, while Mike continued the business in Mountain Lake, Bill and Kirsten made the move.
"We wanted to live in the 'big' city," Bill said with a smile.
He and Steve became Freitag Brothers Construction, masonry and concrete contractors in St. James. Bill worked as a job superintendent before also deciding to become a commercial general contractor.
"We worked for other commercial general contractors, and I found it was something I really enjoyed," he said. "So we transitioned to a little of it in 1986 when I was still partners with my brother. [At Freitag Brothers] I was a job superintendent, so I learned how things should be done. After a few years, my brother actually came and worked for us."
Though Steve died in a truck accident in 1999, Bill remembers the fun his brother brought to the crew and maintains that same atmosphere in the business he and Kirsten established.
In 1986, Bill and Kirsten started Will-Sten Enterprises. They kept the name general, because they weren't sure which direction they wanted to steer the business. Incorporating in 1991, CEO Bill and CFO Kirsten wanted the public to recognize they were contractors by their name, so they became Wilcon Construction, Inc. and stretched their expertise across southern Minnesota.
Wilcon was the general contractor for the energy efficient redevelopment of Cherry Ridge Apartments in Mankato in 2007, as well as Viking Terrace Apartments in Worthington in 2006, which included a geothermal heating and cooling system and other green products.
Today they serve a bigger area, working as far south as Algona, as far north as Hutchinson, west through south central Minnesota and northern Iowa, and as far east as Le Sueur.
Kirsten said that during the recession in 2008, they were still working in the Worthington area, but Twin Cities contractors took anything east of that.
"The recession changed the mix," she said. "Commercial construction just dried up."
"So we still did commercial work," Bill explained; "we just changed our area and did a lot more work in northern Iowa."
"We also started doing a bigger percentage of our own development work then," Kirsten added.
Their first development in Mankato was traditional housing in 2002. Shortly after, they bought some land and developed a 16-lot residential development in St. James. A few years prior to the recession, they started building single-level apartments and townhomes geared toward baby boomers, and they developed some single and multilevel properties they rent out. When the market slowed, they changed seven units of one development into rental properties.
"Cash flow was tight at that time," Bill said, "and the rentals gave us just enough to keep going."
Kirsten added, "The thing we realized during the recession was that there weren't enough single-level (patio homes)—safe, healthy homes for baby boomers and elderly people—and those homes kept selling. And we love it—we're both baby boomers ourselves."
"Now we mostly serve boomers and seniors," Bill said. "That's what we really enjoy doing."
Bill and Kirsten have taken extensive training to meet the changing needs of baby boomers and aging adults. They're trained in CAPS (Certified Aging in Place Specialists) and in CAASH (Certified Active Adult Specialists in Housing), programs offered every year through the National Association of Home Builders (NAHB). Through CAASH, they visited communities for 55-plus adults around the nation, attending events and touring developments in Philadelphia, Denver, Florida and many other areas.
"We'd get so inspired by what we'd see," Kirsten said.
They studied what was popular and working and what they felt they could improve. One improvement is the 36-inch door, which makes moving around in wheelchairs and with canes or crutches easier. They first used wider doors in 2006, but now these doors have become a Wilcon standard regardless of the buyer's age, unless narrower doors are requested.
"We're integrating what we learn into our building process," Bill said.
They also add extra space in kitchens between islands and main countertops.
"We modify most plans we purchase, because most of them aren't designed that way," Kirsten said.
As the Freitags see it, each new house could be the last home a person would ever live in, and Wilcon Construction aims for owners to age comfortably in place.
"If they acquire a disability, they'd still be able to live there," Kirsten pointed out.
In part, their parents inspired them to dig deeper into the needs of this growing population. His mother is 86, and her parents are 90.
"And it isn't just their needs," Kirsten said. "It's also the needs of their visitors. Almost everybody will have a visitor with special needs."
No step up at the entrance, heated floors, zero-entry showers and everything on one level, along with other creative touches, make patio homes popular. Most of them are in associations.
"People really enjoy the low-maintenance living associations offer, especially when homeowners are gone a lot and don't want to worry about lawns or snow removal," Kirsten said.
They still build custom two-story homes on request, and they add basements on request. Basements aren't necessary for storm shelters in Wilcon homes, though, because the walls to the main baths are reinforced, making the high-end bathrooms with fashionable tile floors and walk-in tiled showers a great storm shelter.
"Not having basements loses so much maintenance," Kirsten said. "There are no worries about the sump pump when it rains, and extra closets make up for any lost storage."
Another feature added by request is a bathtub, since many people over the age of 55 no longer use one, Kirsten said.
Once a part-time bookkeeper, Kirsten now reviews plans to give each project a woman's perspective, and puts that perspective to work designing and staging homes.
"I listen to our realtor (Bonnie Kruger, from Century 21) in what she says customers want," Kirsten explained. "I love doing open houses, because I hear what people like and don't like, and we've changed our products to meet these needs. We never used to have pantries, and now I don't think we'd build a house without one unless somebody gave us a specific plan and said, 'Build this.' Even if it's just a corner pantry, you have a pantry in your kitchen."
Kirsten shows true artistry, designing the kitchen in the Mankato model home where their office is located. She has vision, and she puts it in every home they build. Buyers often write in the offer to include furniture or artwork she used to stage a home.
"It's a compliment to our stager," Bill said with a chuckle.
"Tammy at Rickway Carpets, our realtor and a designer help with many of the design and staging ideas," Kirsten replied, smiling. "We know how to ask the experts."
Besides education in CAPS and CAASH, Bill took some construction management courses at MSU and the technical college. Along with Bill, project manager John Hoffman and two superintendents, nephew Ryan Mattison and son Andrew Freitag, attend training on building green so that Wilcon homes are durable, sustainable, energy and water efficient, and safe.
Wilcon Construction is a Minnesota Green Star builder and has built three bronze-level, Green-Star homes. Although Wilcon doesn't apply for green certification on every home, all homes are built to green standards.
Building codes for energy efficiency went into effect in 2001, with upgrades every few years.
"We're doing most of it before it becomes code," Bill said. "We've used insulation with R50 for several years, and the code just recently went up to R49."
The model home housing their office has R60 insulation in the attic, and Bill said they are starting to use more insulation of that standard, even in commercial offices.
The City of Mankato offers some continuing education, too, and workers have also grabbed classes through MRBA—the Minnesota River Builders Association, which has energy codes specific to the state of Minnesota.
Green patio communities that Wilcon has developed in Mankato include the Woodhill development by the Catholic cemetery, Fox Run (nearly finished), Dancing Waters, Cardinal Creek and Beacon Ridge.
Kirsten and Bill share ownership of the land in Dancing Waters with a son and daughter-in-law, but they aren't partners—the kids have their own business.
"And Beacon Ridge is four-plexes," Kirsten added. "They're patio townhomes, so they're more affordable but still with very nice finishes."
On the commercial side, they've done banks, schools, remodels and libraries.
"We're doing a lot of handicap accessibility, especially in schools, and we've done some churches," Bill said. "I don't know that it's even half our business that's commercial anymore. We do some new construction projects and build-outs (remodels), but they tend to be bigger projects, million-dollar projects. But there we are doing what the architect tells us to do, and with patio homes we have a lot more creative leeway."
They've also done well in the industrial arena. Wilcon built a power plant and generator plants in Worthington and St. James, and the company did a lot of work with ConAgra in St. James and Winnebago Manufacturing in Blue Earth.
Bill and Kirsten say they couldn't do what they do without their team, people they call coworkers rather than employees.
Among their 18 coworkers, two sons work with them: Andrew and David. Most of the team has been with the company for ten years or longer.
"Even a lot of the subcontractors we use, we've worked with a long time and they're all part of the team," Bill said.
Until the recession, they had 56 coworkers. Kirsten explained that the industry lost a lot of workers during the recession, about 40 percent in Minnesota.
One thing that helps Wilcon grow, despite the smaller staff, is the philosophy to "work smarter, not harder," using checklists and reviewing things often with subcontractors. A knowledgeable team makes the difference. Hoffman is great for his knowledge of building techniques and using paints, caulks and glues with low/no VOCs (volatile organic compounds).
"He's really learned how important it is to build homes that are safe for all ages," Kirsten said. "John and Project Coordinator Elijah Kannmacher have good connections with their respective generations and understand their needs and wants."
Also knowledgeable is Todd Tetzloff, who runs the industrial and commercial side out of St. James. Hoffman, Kannmacher and Tetzloff all came to the company as interns from MSU, Hoffman in 2006, Kannmacher in 2012, and Tetzloff in 1997.
"MSU has really been good to us," Kirsten said.
Now in their sixties, the energetic couple isn't looking to retire anytime soon. They enjoy what they're doing too much.
"They say baby boomers nowadays plan to work into their 70s," Kirsten said, "and we're baby boomers."
They plan to continue building patio homes as well as rental properties, but they'd also like to grow their industrial/commercial end.
"We do probably a little over $4 million a year there, and we'd like to keep that growing," Bill said.
—–
Constantly Constructing
Wilcon Construction's commercial projects have increased in Mankato. To name a few, they did a build-out (remodel) for the Mankato VA Clinic, Community Bank in Mankato and the North Mankato Pioneer Bank, as well as building the Knutson+Casey office building for the new law firm.
In St. James, they updated the Super 8 hotel's reception area and lobby, as well as adding pool lifts and a hot tub, and they updated the offices and lobby of the Pioneer Bank.
Keeping Busy
Kirsten and Bill Freitag start their days with a devotional in their geothermal-heated home, which costs only $1.50 to $10 a month to cool during summers. They have coffee together, check emails on their tablets and review reports and pictures that the crews have emailed.
"Getting two to ten pictures of a project has helped me so much to feel like I'm in the loop," Kirsten said, "even if I'm never actually at a specific job site. It helps to know what everybody is doing, too, so if anyone needs to supplement a thin crew, they know where to get the help."
Now a master at building safe patio homes for boomers, Bill served as the president for the Minnesota chapter of Associated Builders and Contractors in 2001 and served a three-year term on the National Board of ABC. He is a member of NAHB, the National Association of Homebuilders, and MRBA, the Minnesota River Builders Association, which is the local chapter of NAHB. Also, he's a member of the Mankato Rotary Club.
At work, he visits job sites regularly, but he spends most of his time meeting with future customers, sometimes even in the evening or on Saturdays. The rest of his weekends are spent with family—their parents, three sons and a daughter, and four grandchildren. When he can, he enjoys the outdoors, hunting with his sons and grandson.
Kirsten still reads a lot, but today her reading is mostly construction magazines. She picks up the mail in St. James, does the banking and tends to bookkeeping with the help of a nephew. From there, she attends meetings, visits job sites, stages homes and shops for staging.
"She does a lot of shopping," Bill said with a chuckle.
They are both active in their church, and enjoy walking, bird watching, landscaping with native plants and attending their grandchildren's activities.
THE ESSENTIALS
Wilcon Construction
Phone: (507) 375-5464
Address: 1512 7th Ave S, St. James, Minnesota
Website: wilcon-construction.com