Pleasant Grove Pizza Farm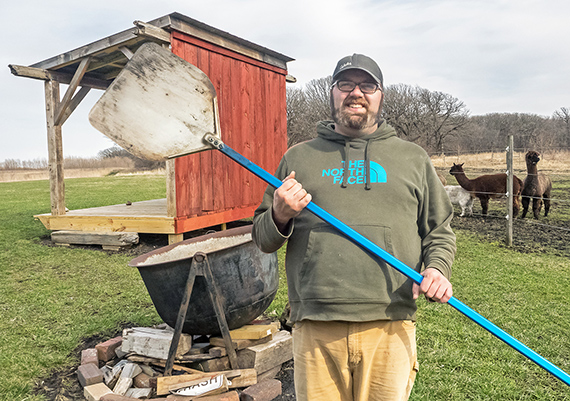 Photo: Art Sidner
Waseca | Pleasant Grove Pizza Farm
When Bill Bartz bought land outside of Waseca in 2008, he initially considered raising alpacas. Now, he runs a pizza farm.
Bartz was born and raised in Waseca, leaving after high school to become a duck and goose hunting guide. After guiding groups everywhere from Minnesota to Canada, he returned to Waseca and started working in custom remodeling with his father. When 60 acres of land went up for sale outside Waseca, he couldn't pass up the deal.
While Bartz eventually decided to set up a venue for weddings, he changed his mind after his girlfriend, Emily Knudsen, convinced him to visit a pizza farm in Wisconsin with her.
"I'm not going to lie—at first I kind of dismissed her," he admitted. "But I wasn't there for 20 minutes before I was sold."
Bartz and his friends added a kitchen into his barn, and he and Knudson began experimenting with different kinds of pizzas. In August 2015, they held their soft opening, and Bartz said business has been steadily growing as more people hear about the farm.
Bartz and Knudson run the business mostly by themselves, though friends will sometimes help on busy nights. They offer four types of pizza, along with "pizza fries" (breadsticks). The most popular pizza is their Pig + Pork, which is topped with spicy sausage, pepperoni, green olives and shredded mozzarella.
Perhaps more interesting than what the farm offers is what it doesn't offer. Visitors need to bring their own tables, chairs, serving utensils, drinks and appetizers. They're also required to bring their trash back out, since Pleasant Grove Pizza Farm is a "clean farm" that doesn't offer disposal services.
Visitors are able to wander the farm, pet animals (including an alpaca) and listen to live music, which is offered every night the farm is open. The farm is also available for weddings.
Address: 41142 160th Street
Website: pleasantgrovepizzafarm.com
Telephone: (507) 384-2692
Facebook: Pleasant Grove Pizza Farm