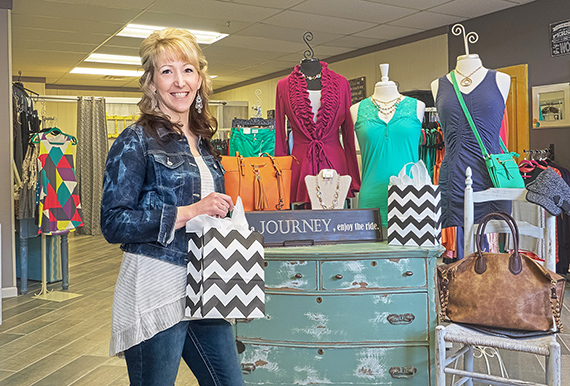 Photo: Art Sidner
Lake Crystal | Sisterhood Inspirations
For Brenda Sanderson, it all started with a dresser.
Sanderson explained that she received a dresser from her mother-in-law and thought it had the potential for a perfect entryway bench—if she could just repurpose it. She managed to create such an impressive final product that friends soon started asking her to repurpose their furniture too.
From there, Sanderson decided to open her own store, selling repurposed furniture (as well as offering custom work) but also clothing and accessories. She explained that she is rather unique in the world of boutiques, since she orders small quantities of clothing and never restocks the same pieces. Because of this, there is a totally new selection of products every week.
"If I have a limited amount of inventory, not everyone will be running around in the same thing," she said.
Sanderson said she also caters to plus-sized women, another rarity in small boutiques. About half of her boutique is dedicated to plus-sized clothing.
"It was very important to me to offer every woman of every size good quality clothing that's trendy and affordable," she said. "They want to look trendy, but they don't know where to find clothes. Whatever size you are, if you feel beautiful, that makes all the difference."
Sanderson has her retail sales license and finds most of her merchandise through wholesale companies. While she runs the store by herself right now, she said she hopes to hire someone to help with the workload, and she also has plans to start an online store in the future.
Sanderson officially opened her store in November. Before that, she worked in a beauty salon for 16 years, though she took the last three years off to be a stay-at-home mother to her three sons. She's relatively new to Lake Crystal, moving there a year ago because of her husband's job.
"It's definitely more work than I thought it would be, but it's been the happiest I've ever been," she said. "I feel like I was born to do this."
Address: 133 South Main Street
Telephone: (507) 726-6625
Facebook: Sisterhood Inspirations