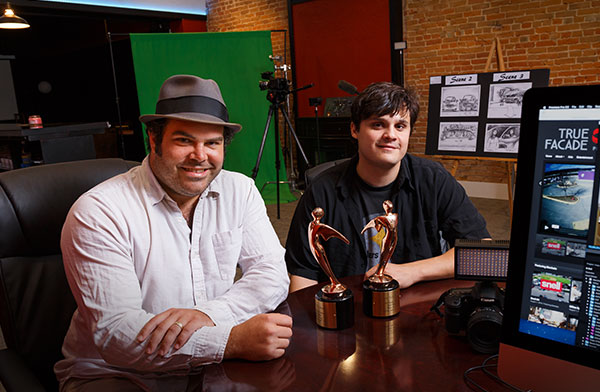 Ryan Sturgis and Michael Chalhoub (Photo: Kris Kathmann)
Production Value
True Facade uses cinematic filmmaking techniques to create powerful marketing messages for its local clients.
Plot: A young man born in New Hampshire and working in the film industry in New York City, follows the love of his life to a small city in southern Minnesota.
Scene: Mankato, Minn.
Cue: Ryan Sturgis.
"When I moved to Mankato nine years ago, I noticed all the entrepreneurial endeavors here. Better yet, there were a lot of fun ones! I could just see the passion behind the stories. A lot of people working really hard to make something come true for them. I knew they had great stories, and that telling those stories would be the best promotion for them."
Enter: True Facade Pictures.
Sturgis founded True Facade Pictures as a way to bring what he had learned in the film industry in New York to Mankato. True Facade started as an independent film company specializing in short and feature length narrative, documentary and reality films. But the company is now also a leading producer of promotional and web videos in the Greater Mankato area.
"I wanted to introduce the area to a cinematic style and open businesses here up to a new way of marketing. My first few clients were Bent River Outfitters, CityArt program, the 410 Project, and Raw Fusion. They were paramount for me. I purposefully chose those things in town that were contributing significantly to our culture," says Sturgis.
He started True Facade in the basement of his home, with one camera and some editing software. Then he just started walking around to see what he could find. What he found was a need for his services in southern Minnesota.
Sturgis says, "I saw there was a need and an interest here. In general in our society and in our culture, video marketing is experiencing a huge insurgence. It is growing exponentially."
In order to grow True Facade, he knew he needed help.
Cue: Michael Chalhoub.
---
Born and raised in Mankato, Chalhoub was a recent graduate of Minnesota State University Mankato. He had a degree in Philosophy, and like Sturgis wanted to use video to get his ideas across.
Chalhoub says, "I made my first film when I was nine years old. It was about getting my grandfather a cup of coffee! My real passion is ideas and I think video is the perfect medium to express ideas."
He spent a couple of years after college trying to make small films and documentaries on his own. But he finally came to a life-changing conclusion.
"I realized I couldn't do it alone. And I knew that if there was another filmmaker in Mankato, then he or she needed help because I knew I couldn't do it on my own. So, I ended up meeting Ryan and in the very first week we had a connection. We have two very different philosophies on life and how to do things but they complement each other so well in our storytelling."
The two met in September of 2014 and now Sturgis refers to Chalhoub as his right-hand man. Together the duo has grown the business and it now occupies the entire space at 509 S. Front Street in downtown Mankato.
Chalhoub says, "We started getting all sorts of fun jobs like the United Way 2015 campaign, the YMCA and the 2016 Connecting Kids campaign, just all sorts of nonprofits and projects in town. Through all the interviews we get to learn so much about the community and that helps in business."
Sturgis adds, "Yeah, we get such insight and see what drives the culture around here. We had an awesome opportunity working on the United Way campaign to meet a lot of business people and a lot of contributors. We really got a sense of the community."
But the breakthrough came this last year when True Facade started doing commercials.
Sturgis says, "We went from promo vids to adding short documentaries and now to commercials. When we made that decision to do commercials, we picked who we wanted to do a commercial for first.  That was Todd Snell of Snell Motors. We picked him because we had interviewed him for United Way and he's this amazing person and Snell gives back to the community so much. So we started there."
Chalhoub says, "Ryan came up with an amazing tagline which is, 'Snell, where are you getting your car?' We went in there with storyboards and a whole plan laid out. And they took a risk on us. We made five commercials for them and it all culminated recently when we won national awards for those spots. We went up against 13,000 competitors from across the nation and won two 2nd place Telly awards."
As the accolades come in, Sturgis feels more and more confident. "Now we have picked up Tailwind Development as a client, another great community-oriented, local client. So I do think we are going to continue to find that there are companies in Mankato that will supply the amount of production that we need, but it is still a question because as we grow and as we do the next thing, our creative and our production costs are growing exponentially, too. I don't see us being stuck and trying to adhere to only this market. Eventually we will start pitching ideas to ad agencies in the cities as well as regional businesses."
But they know there's a lot to be done right where they are now. And they plan to make sure area businesses understand the growing market for promotional videos and how they can be used in nontraditional ways.
Sturgis says, "We work closely with company's marketing teams to show them how we can complement what they are already doing in marketing, with video. We have ways which we can market those videos online in new ways. One is IP address targeting. For instance, ever notice when you are on YouTube and an ad pops up and you are amazed at how applicable it is to you? Well, that's something we can provide. Google ads, YouTube ads, we can help use the internet for video marketing. Companies are going to want to spend some of their marketing dollars in that medium. And we can get them there. We are full service from creative to production, to distribution. We are currently doing it with the biggest companies in Mankato right now."
A goal for the duo is to elevate their industry throughout the region, as it's something that hasn't really been available before.
Sturgis says, "I want to make the area aware they have full-service video marketing accessible to them in their own backyard. They do not have to go through an agency in St. Paul to get high-end production. What we do is considered national-level creative."
Even with all the technological advances, such as nonlinear editing and IP address targeting, for Sturgis and Chalhoub it still gets down to one thing to be successful.
Chalhoub says, "The story really is the core of the work. It is the story that gets us excited. We use video and other elements, but it all comes down to the story and how those elements can fit into it."
Sturgis agrees, "It's been a goal to bring that video marketing element to Mankato but the larger goal for Michael and I is the storytelling and to do that through film. Our tagline is 'cinematic video production'. So when we're talking about cinematic, we're talking about a whole bunch of different things, the audio, the scene, the actors. They all contribute to the way a story comes through. The production value is high with our projects, but obviously the real key is the story."
The collaboration between Sturgis and Chalhoub has proven to be invaluable in their storytelling process.
Chalhoub explains, "That's a really important element in the partnership, we have found a fun, creative way to tell stories because we each bring different perspectives. With a story of any kind, whether narrative or documentary, you have to have a clear way of getting from the beginning to the end. But you also have to have things from the sides to fill it in! And we each come in from a different side! So when editing we combine both perspectives and we end up with a great story arc that is really well supported  and that really has been significant in our way of forming ideas and working together artistically."
The two are now creating their own story, beginning with the transformation of their building.
Chalhoub reflects, "It's interesting because the company is called True Facade and the first thing we did was rip the old facade of this building down. It is still a work in progress. But we have put up a new facade and are now redoing the inside."
A building that reflects their evolution as a company: from short films to commercial production and, coming soon, television shows.
Sturgis says, "We are writing a grant to the Minnesota Arts Board to do a pilot for a series! It will be a narrative-based series that we want to shoot right here in Mankato. The story is about a female music engineer and DJ in her late 20s. We've got local music groups involved and optioned to be part of this series. So while we are enjoying the video marketing side of the business, we'll continue to push ourselves on the cinematic side as well."
Right now Sturgis and Chalhoub are the only employees. They have two interns and use independent contractors they trust to help with projects.
"We are truly a turn-key, full-service operation," says Chalhoub. "We know all the ins and outs as far as the legal aspects, insurance and all of that, so companies don't have to worry about a thing."
Sturgis adds, "But we are also small enough that we try to have a personal relationship with each client. We talk to the owners and work with the marketing teams. Video marketing is the future and we're glad to be a part of it here in southern Minnesota."
---
What Is True Facade Pictures?
True Facade Pictures can provide directors of photography, general direction, and general staffing to film original scripts or projects. It provides an inclusive production package to individuals or companies looking to film their scripts or projects. This package includes: script consultation, high-quality acting talent, a production team, editing, sophisticated direction, and all necessary equipment. It does not include funding for your project, however, we can help you raise money through the many different networks out there designed to support the art of filmmaking.
Behind The Scenes: Ryan Sturgis
"I found 'the one' and was going to follow her anywhere," explains Sturgis when asked how he landed in Mankato, Minnesota after working in the New York City film industry. "My wife, Heather Hamilton, and I moved to Mankato in 2007 because she got a professorship in the theater department at Minnesota State University."
He says theater is another love, "I've always had a desperate passion for movies. I have been known to watch films by directors from their first film to their current or last one made–in sequence."
What was the first movie you went to see? Did you like it?
"Snow White and the Seven Dwarfs. I loved it. It is the very first animated feature film and the desperately passionate creation of conceptual genius, Walt Disney, who is one of my cinematic heroes."
Who is your favorite director? Why?
"My favorite director is Paul Thomas Anderson. He is capable of articulating, in his films, pieces of the human emotional spectrum that most of us can only feel but can not communicate. He speaks to me in a language I don't fully understand which makes me feel like there's something larger than myself out there. And he's great with actors." 
What is your favorite movie of all time?
"My favorite movie of all time is Frank Capra's "It's A Wonderful Life""
If you could work with anyone in the film industry, who would it be?
"If I could work with anyone I think I'd work with John Ford. He's an adventurist and an absolutely brilliant director. Plus, I'm a real sucker for Westerns."
Behind The Scenes: Michael Chalhoub
"I believe in method, not magic tricks," explains Chalhoub when asked how he uses his Philosophy degree from Minnesota State Mankato, to guide his career in filmmaking. "I once read a sort of self-help book that said in order to be what you want to be, you have to have a definitive goal. Once you establish that goal, then only do things that help you achieve that goal."
Chalhoub took that to heart three or four years ago.
"What I found, is that once you make that commitment to something, life decisions are kind of made easy for you. For instance, say you have five opportunities, well, pick the one that is going to help you attain your goal. Even with finances, only spend on things that help you reach your goal. Following that path, led me here to True Facade."
THE ESSENTIALS
True Facade Pictures
Address: 509 South Front Street, Mankato, Minnesota
Phone: (507) 382-4319
Web: truefacadepictures.com