Eunoia Family Resource Center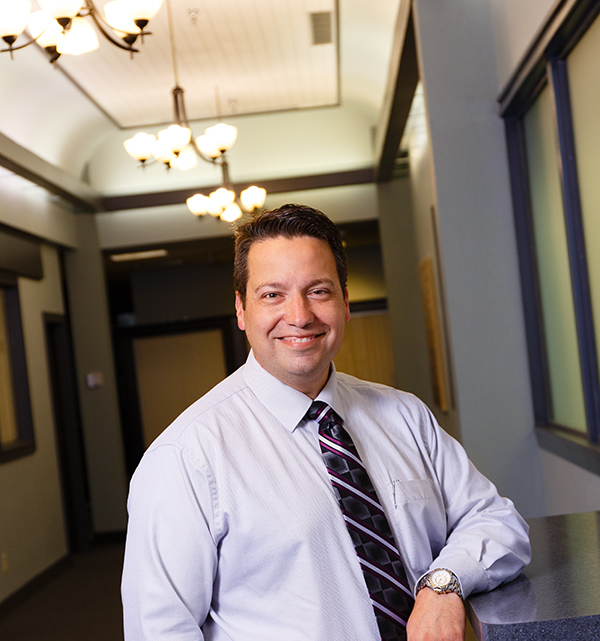 Well-Minded
Eunoia, Dr. Ramie Vetter's mental health practice, has grown from a one-person office to seven locations across Southern Minnesota.
For many, life is like a roller coaster. Long climbs to reach a high point, only to find a drop off waiting once you get there. Twists and turns that can be both exhilarating and frightening. Dr. Ramie Vetter, having ridden roller coasters himself throughout his lifetime, wants to help others stay on the tracks.
"As human beings we've got a lot going on. There are work issues, personal life issues and family issues that greatly affect our mental health," says Dr. Vetter. "My job is to help people really make sense of it."
He calls it a job, but he'll admit it doesn't really seem like work to him.
"Growing up I would hear my dad talk about his pastoral counseling, so I was familiar with some aspects of doing therapy and what that means," reflects Dr. Vetter. "But it wasn't until I took a high school psychology class that it really clicked. I pursued it, got my first Master's degree and started working with clients. Right away, I was hooked. It just immediately clicked with me. I enjoy helping people and, fortunately, I get paid to do it."
It's that passion that led to Dr. Vetter's decision to open his own practice in Fairmont in 2008. He named his practice Eunoia, pronounced ee-OH-nee-ah, fully understanding not many would know its meaning or its pronunciation. But he knew, at the very least, it would get people talking, the whole point of what he is trying to do.
"Its Greek derivative means 'well-minded'," explains Dr. Vetter.
Eunoia Family Resource Center is a group of mental health clinics specializing in individual, couples, family and group therapy, as well as psychological testing and psychiatric services.
In rhetoric, Eunoia indicates the goodwill a speaker cultivates between himself and his audience. Dr. Vetter immediately found an audience, a need for his services in the region. Eunoia now has 7 locations throughout southern Minnesota.
"I had no grand plans of eventually having 7 offices. It just kind of grew organically based on the need," he explains. "Originally, I was a one-person operation. But I had an extra office next to mine that was empty. As I got busier, I started hiring other therapists to help with the load and it just sort of spread. A lot of the offices I opened stemmed from therapists calling me and just saying, 'have you thought of opening an office in St. James or New Ulm.' So I started looking at doing that, opening where I could find suitable office space, and making sure I had therapists that would be a good match for the company. I have such good people around me. It's humbling at times."
Dr. Vetter now has Eunoia offices in Blue Earth, Fairmont, Gaylord, Mankato, New Ulm, and two locations in St. James. The therapists at each location are from the towns they serve and have unique understanding of the needs of each community. Dr. Vetter says that is one special thing about Eunoia, big resources yet small enough to adapt to the needs of each area. For instance, one therapist in the St. James office, Lucia Beckendorf, is the only Spanish-speaking therapist in the region. Another, Dr. Brandon Scott Dugan, provides the Marchak method for parenting evaluations.
"One of the things that makes my company so great, other than the people in it, is that we are able to be open to meet the needs of the communities we serve," Dr. Vetter says. "And I can sit down with different community organizations to see what their specific needs are at the time. For example, in Mankato, we work with the Probation Parole of Blue Earth County. I asked them what they saw as the biggest need in regard to the services we could provide. In Blue Earth County, they agreed anger management was a big one. They shared with us that they needed it specifically for each group – men, women and children. So we were able to get that up and running."
Eunoia has 19 therapists from different realms and eight support staff. The timeline has a quick progression. It moved from its original Fairmont location into its current spot at 1420 N State Street in 2012. Dr. Vetter opened his first St. James location in 2013 and added another in that city in 2014. Also in 2014, he opened in Blue Earth and New Ulm. Then in 2015, he expanded into Gaylord. And in March 2016, he reached into Mankato. He is taking a breather from expanding right now while he focuses on establishing the Mankato office, which just opened in March in the Madison East Mall.
"It was a roller coaster," admits Dr. Vetter. "We're kind of taking a breather now and focusing energy on the Mankato office and continuing to help that grow. Mankato is a nice sized city and it's been great meeting other professionals in the community. It's been a good experience. There's enough of a need that we feel we can work collaboratively. It's best for the patients if everyone is working together."
Dr. Vetter said it was immediately evident the Mankato market has a need for Eunoia's services.
"Absolutely there is need here. Most surprising was when Mankato Clinic, which has offices across the hall here, came over and wanted to know how they could make referrals to us. We found the same thing with Mayo, the local crisis center, Blue Earth County, just everyone very interested in how can we collaborate and work together realizing that right now it is not uncommon for there to be a two to three month backlog for people needing these services. So, being new to town, we can help alleviate that because we can get people in sooner than later."
Aside from all of his degrees and professional lauds, Dr. Vetter says his personal experiences also give him a keen understanding of what some of his clients might be going through.
Dr. Vetter says, "My dad was a Vietnam vet, and also originally trained as a Lutheran pastor. So he went back into the military for a career as a chaplin. In my childhood, I moved all over the place. So I can relate to clients and kids that are going to a new school, trying to make new friends."
It wasn't until he met his wife during his undergraduate studies at Augustana in Sioux Falls that he realized what it was really like to have a place called "home."
"When we got married just after graduation, the agreement was that I could go wherever I wanted for graduate school, as long as we ended up back in Fairmont, Minnesota. My wife's life goal was to be third generation business owner for her family's business, Fleet and Farm Ace Hardware in Fairmont and St. James."
Dr. Vetter agreed, but initially it proved harder than he thought.
"Once I finished school and my doctoral training, my internship was in Springfield, Missouri. During that time, I was helping families either reunite or deal with the potential of terminating parental rights. It was hard, intensive work but beneficial.
"When we moved back to Fairmont, it was actually difficult to find a post-doctorate program. You see, I had my doctorate degree, but needed a year of supervision before I could get licensed. I was fortunate to get a post doc from Mayo in Fairmont! I finished my year post doc there, worked for two and half more years. Then I started Eunoia in 2008."
Armed with his own life experiences, Dr. Vetter put together a business plan to not only help residents in the region but the therapists under him as well.
"What we do for our providers is office support, advertising, billing, training and we cover liability insurance, continuing education costs, and we even offer 401k and health insurance."
And, in a line of work that deals with heavy stuff on a daily basis, Eunoia is there to support its staff's well being.
"Self care in this field is important and it's something we watch as a company. We make sure our people are taking vacations, handling everything okay. All of our offices are close knit, so if someone is struggling, the therapist next to him or her is helping that therapist out. We definitely screen new applicants heavily to make sure they are a good fit and fall in line with our culture of helping people, helping each other out."
With the opening of the Mankato office, he sees an opportunity to foster those wanting to enter the field as well.
"We picked the Mankato site to be a training ground for future therapists. Ashley, who minds our front desk in the Mankato office, is a student at Minnesota State University in the field of psychology. So we recruit undergrads to work in the office and they get that experience. We hope to eventually be an APA (American Psychological Association) approved training site for internships and post doc. So our psychologists would provide direct supervision to future psychologists wanting to obtain licensure."
Eunoia also strives to take part in the National Health Service Corps, a federally-backed loan repayment program to recruit providers to an area.
"If sites can be National Health Service Corps eligible, it helps in recruiting. It's not uncommon for providers to walk away from schooling with $ 200 to $300 thousand in loans. So until those are paid off, a big chunk of their salary goes to that repayment. So the National Health Service Corps program is attractive to them."
One key component of that special program is that if someone can't pay for the therapy they need, the therapist will provide it for free.
"Some of our sites are currently part of the National Health Service Corps. We hope to achieve that for all of the locations. Also we accept most insurance and have a sliding fee scale," he says. "If people need care, we don't want cost to be a barrier."
Another area Eunoia is making its mark in Southern Minnesota is through employee assistance programs or EAPs. An EAP is a service provided by employers to assist employees with personal or work-related problems that may impact their job performance, health, or mental or emotional well-being. EAPs generally offer assessments, short-term counseling, referrals, and follow-up services for employees. EAP counselors also work in a consultative role with managers and supervisors to address employee and organizational challenges and needs.
"For several years now we have provided EAPs for the 3M site in Fairmont. So we have experience with company trainings, one-on-one support with managers and supervisors, and working with human resources personnel. People don't have to be mentally ill to need a service such as ours. We can just help people deal with other people more effectively."
Eunoia – a different sort of name, for a business Dr. Vetter hopes is making a difference in the communities it serves.
"When creating Eunoia I wanted a company that could adapt to the needs of the communities in which we work and provide services that are meaningful to our clients. Thinking outside the box has helped us develop some wonderful programs to offer our patients. I challenge each employee at Eunoia to not just provide what is considered standard care, or even excellent care, but to actually care about the person in front of us."
---
Professional Cred
Dr. Vetter certainly has an impressive resume. He has earned a Masters of Arts in Marriage and Family Therapy, a Master of Arts in Psychology, and a Doctorate of Professional Psychology.
"My doctorate is in clinical psychology, where much of my work is working with individuals for all sorts of adjustments to life, depression, anxiety, adoption issues, domestic violence, addiction issues and grief."
But Dr. Vetter is not all work and no play. His hobbies include working with Boy Scouts, camping, hiking, building computers, and pheasant hunting.
Entrepreneurial Family
Dr. Vetter has been married to his wife, Bonnie, for 19 years. They have three sons; 13-year-old Parker, 11-year-old Noah and 6-year-old Jonah. His wife and children are a big reason he now calls Fairmont home.
"My deal with Bonnie was always that we would land back in Fairmont after my schooling," he explains. "She was a business major in college and her goal in life had always been to be involved in her family's business. So I knew the deal when I married her and fully understood the terms of that agreement!"
He smiles, "It has worked out well because the last thing I wanted to do was move my family more than I had to. I was anxious to put down roots and not move again!"
Employee Assistance Programs (EAPs)
EAPs may be more common than many think both for large and small businesses. Two decades ago, the U.S. Bureau of Labor Statistics estimated that 58 percent of full-time employees had access to an EAP. Today, the Employee Assistance Professionals Association reports that 97 percent of corporations with more than 5,000 employees, 80 percent of those with between 1,001 and 5,000 employees and 75 percent of those with between 251 and 1,000 employees have such a program in place.
What is behind the influx? Experts believe it comes down to one thing: The workplace can be a stressful environment. Discontented workers may not work as hard as satisfied workers and might miss work due to unscheduled absences, such as calling in sick. So helping employees find ways to deal with that stress is an important part of maintaining productivity and job satisfaction.
So, just what is an EAP?
An employee assistance program is a benefit which usually provides short-term counseling for employees regarding issues that can affect their on-the-job performance, such as addictions, financial problems and emotional issues. If long-term counseling is necessary, EAPs offer referral services.
Analysts have found that employers that invest in employees by providing EAP services see a high return on investment rate. According to Monster, each dollar put into establishing and maintaining an EAP saves as much as $5 to $16 in terms of absenteeism, accidents and increased costs in the form of medical benefits and workers' compensation claims.
THE ESSENTIALS
Eunoia Family Resource Center
Locations: Blue Earth, Fairmont, Gaylord, Mankato, New Ulm, and two locations in St. James
Web: wellminded.org