Madelia Community Hospital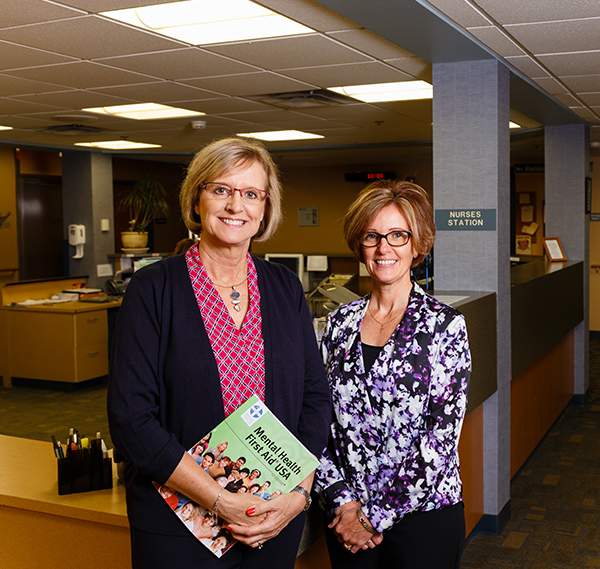 Deidre Hruby, Director of Patient Care and Jodi Ulmen, Quality and Risk Management Director
Vital Statistics
Two women focus on community collaboration to keep a rural hospital strong in the midst of industry changes.
There is a growing belief in the health care community that by 2020, one in three hospitals will close or reorganize into an entirely different type of health care service provider. Becker's Hospital Review reports that hospitals and health systems in the United States are undergoing a dramatic shift in their business models due to a number of forces that are expected to eventually turn the industry on its head. Especially vulnerable, rural hospitals. According to the American Hospital Association, there are 5,724 hospitals in the United States. Of those, 1,984, or 35 percent, serve rural communities and are considered rural hospitals. Most of those have been designated as Critical Access Hospitals. CAHs are rural hospitals with no more than 25 beds and are at least 35 miles away from another hospital.
Madelia Community Hospital & Clinic (MCHC) is in this category and sits right in the middle of the land of health care giants: Mayo, Sanford and Allina. However it continues to find ways to stand strong in the midst of a consolidation trend by focusing on the community it serves and developing key partnerships with other regional health care providers. All allowing MCHC to maintain its independent status.
One change in the business model came in 2012 when MCHC entered into a professional services agreement with Mankato Clinic. For the past four years, the agreement has allowed Mankato Clinic to provide leadership service and physicians to help offer more access to Madelia's patients, and support for its employees. With a partnership between the two health care entities, Mankato Clinic supports MCHC through its electronic health records, quality control, transcription team, and specialty services like onsite diagnostic imaging interpretation, ultrasound and lab. Mankato Clinic physicians and advanced practice providers working at MCHC also provide outreach services for urology and cardiology, which now include telemedicine appointments with Mankato Clinic Cardiologist Dr. Manpreet Kanwar. MCHC managers attend Mankato Clinic leadership team meetings so employees can follow the best practices for their colleagues and patients. In addition, Mankato Clinic CFO Steve Hatkin attends MCHC board meetings as a consult.
Aside from that partnership, MCHC also propelled community engagement to the forefront of its business practices and two MCHC staff members, Jodi Ulmen and Deidre Hruby, are leading the charge. Ulmen, Quality and Risk Management Director for MCHC, and Hruby, the Director of Patient Care, are helping the hospital meet the challenges of the industry today by including the local community in what they do by providing resources, sharing knowledge and developing relationships.
Ulmen says, "It's not just about the patients; it's about the community."
And certainly, MCHC has been a crucial part of the community since it was founded in 1950. This is not the first time it has had to ride out changes in health care, adapt to demographic shifts, and reinvent itself in the midst of the influence of larger health care institutions. Its vital signs are good.
Madelia Community Hospital & Clinic is a 25-bed inpatient/outpatient facility that also boasts a 24-hour emergency care facility with comprehensive medical, surgical and radiological capabilities. It is accredited by the Joint Commission and is a federally designated critical access hospital. MCHC has Spanish-speaking providers. Its services range from acute care to preventative care and many types of screening tests are offered locally. Its home health staff serves a 25-mile radius.
And now, with the guidance of Ulmen and Hruby, they are able to take that one step further. It all started with the federally-mandated program that requires every nonprofit hospital to do a community needs assessment every three years. Hruby admits the results were not all that surprising, but it did give them a call to action.
Hruby says, "The top four issues in the community were obesity, cancer, cardiac disease and diabetes — all linked to sugar consumption. We saw the need."
MCHC's web page states what many Americans already know — that health studies have shown a direct link between the consumption of sugar-sweetened beverages, such as soda, sweetened teas, flavored milks and sports drinks, with significant weight gain in children and adults. The data are significant for the Madelia community. In Watonwan County, the obesity rate is 28 percent and the diabetes rate is higher than the state average.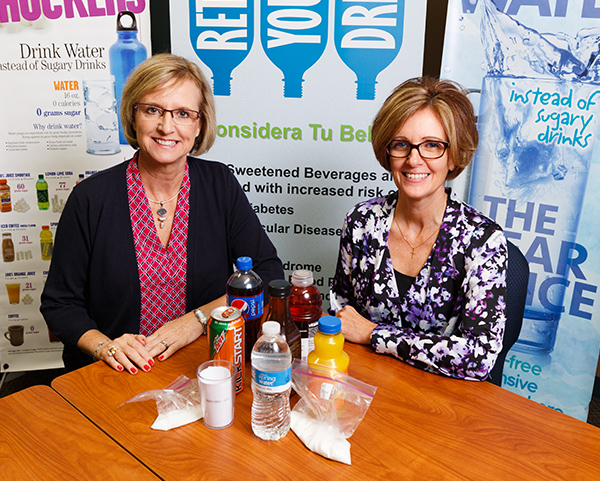 Hruby and Ulmen with Rethink Your Drink campaign marketing materials.
As a result of the hospital survey results, the Madelia Community-Based Collaborative was formed. And in 2014, the hospital helped launch the "Rethink Your Drink" campaign through the Collaborative, with the goal of improving the health and well-being of Madelia residents. (The drink does not refer to alcoholic beverages, but rather sugary drinks.) The Collaborative received a grant through the Statewide Health Improvement Program to fund the project. Ulmen and Hruby, both of whom have a nursing background, serve on the MCBC board, which meets monthly and includes additional hospital employees. The Collaborative has involved representatives of SHIP, the Minnesota State University-Mankato School of Nursing, the Glen Taylor Institute for Family and Society, and Watonwan County Human Services, as well as a University of Minnesota Extension Educator, a Madelia Public Schools representative and a representative of the Ministerial Association.
Ulmen says, "When researching obesity, we learned that many factors contribute to obesity, and sugary drinks play a significant role. They are the easiest to remove from the diet, so we focused on that. It's not about 'taking it away,' but about awareness to healthier alternatives, making the healthy choice the easy choice. Our main focus has been the kids, and they have been shocked at how much sugar is in soft drinks. At community events we also reach middle-aged and elderly residents.
Ulmen says that early in the Rethink Your Drink campaign, the Minnesota Department of Public Health raised the question of handling push-back from pop companies. The issue was addressed in the media, with pop companies nevertheless stating that lack of exercise, not pop consumption, causes obesity.
Leading by example is, of course, crucial. Hruby says, "Here at the hospital, we need to walk the talk. The picture on the front of the two beverage machines in the break room is now a bottle of water."
Ulmen adds, "The pop machines now have less than 50 percent of sugary beverages. The other policy change is that no sugary beverages are served in the dietary department. When a person asks, 'What if someone is nauseated?', we say that ginger tea is a good alternative to 7-Up. Ginger tea is available in the department." The duo is hoping other businesses will follow their example by having healthier options in the workplace.
Members of the Collaborative initially brainstormed ways to engage the community in reducing consumption of sugary beverages. The campaign has involved Facebook postings, a school poster contest, interactive displays at park events and inviting nursing students to speak to school health classes. The most popular aspect may be MCHC's mascot, "Flat Doc," a life-size one-dimensional figure in green scrubs that often accompanies the MCBC displays to help promote healthy lifestyles and encourage community members to be active.    
The Rethink Your Drink campaign also has had an effect on students' experiences in school. Madelia schools have established hydration stations, and refillable water bottles have been provided to each student, funded by a U-Care grant. A Minnesota Department of Health grant paid for infuser water bottles for all school employees and all MCHC staff. Employees of Luther Memorial Home and Tony Downs Food Company received information and infuser water bottles through employee wellness programs.
Medical statistics may be an indicator of success in the future.
Both women are considering the next aspect of reducing obesity and diabetes in the Madelia community. Ulmen says, "Rethink Your Drink bridges to the next phase — the benefits of exercise, diet and sleep. We will increase public awareness of the variety of fruits and vegetables available. For example, during Madelia Park Days, the UM Extension Educator taught community members how to cut a jicama or a mango and offered tasting samples. Kids got the opportunity to participate in the American Heart Association-sponsored Jump Rope for Heart, and, of course, the Rethink Your Drink booth made another appearance."
Last year, the MCHC and MCBC began another campaign, responding to concerns about suicide in the community.
Hruby says, "MCBC was well established and quickly pulled together a mental health task force. All of the people involved brought ideas. An instructor at Minnesota State University Mankato taught QPR (question, persuade, respond), which coaches a lay person to ask 'Are you having thoughts of hurting yourself?' and then to help the other person get appropriate help — to persuade them to go to the Emergency Room or to a mental health practitioner.
"We knew the community had questions about suicide and mental illness," she continues. "In June we had a workshop for people who might have a connection — emergency medical technicians, police officers, health care providers, county public health employees and ministers. In July we had a community forum for anyone who wanted to learn more about suicide prevention. More than 30 people attended. Last year, QPR training was provided to more than 90 teachers, aides and school administrators and was offered to the community."
Hruby says, "On World Suicide Prevention Day, we gave Madelia High School students a semi colon 'tattoo' with skin markers. The semi-colon signifies suicide awareness, meaning 'the story's not over yet.' The semi-colon represents a sentence that the author could have ended, but chose not to do so. The sentence is your life, and the author is you. We also gave students Lifesaver candy and told them, 'Have a Lifesaver, be a life saver.'
"We want to get information out there," she continues. "There's such a stigma about mental illness. Last December we had a caring program on 'how to handle the holidays when your family member is gone.' For Madelia Park Days, I put together activity folders about feelings and had them next to the collaborative's other booths. By the end of the event, they were all gone — taken by kids, parents and grandparents. A hospital employee and a county social worker who have had Mental Health First Aid instructor training have been teaching others. We have more SHIP funds available to train people who work with youth — teachers, Scout leaders, etc."
The need for mental health education is substantial in rural communities. MCHC's website indicates that nearly 20 percent of people in the United States live in a rural area. Because rural populations are often underserved, they deal with disparities in health and behavioral health. The Collaborative offers an adult Mental Health First Aid Course to anyone 18 years or older, which covers anxiety, depression, psychosis and addictions.
The programs have been noted.
Ulmen says, "The Minnesota Department of Health is very interested in what we're doing in our model programs."
Hruby explains further: "At the Minnesota Rural Health Association conference in June, the Department of Health discussed suicide prevention through community collaboration and lauded our Madelia community project."
Ulmen says, "Our goal is to demonstrate how it all ties together – Rethink Your Drink and the mental health task force – our physical well being and our mental well being."
These are community initiatives driven by the community's health partner, Madelia Community Hospital & Clinic.
---
Getting Personal
Talk about your family.
Ulmen: "I have a husband and two adult children. My daughter is a nurse."
Hruby: "My husband and I have four sons and one daughter-in-law. One son is working on a nursing degree."
How do you relax?
Ulmen: "I like to sit on the deck with my husband and enjoy a cup of coffee or a glass of wine, depending on the time of day."
Hruby: "International travel, cooking, baking, sewing, being with grandchildren."
Of what accomplishment are you most proud?
Ulmen: "Achieving my nursing education. I was a 30-year-old non-traditional student with two active kids and a very supportive husband. I studied on Sundays."
Hruby: "Raising our children with my husband to have ethics, values and a work ethic, and leading by example."
What possession or what intangible do you value most?
Ulmen: "I don't value possessions. I value God and my family."
Hruby: "My family means the most to me in the whole world."
What words describe you?
Ulmen: "Organized, a good listener, patient, and my husband says I'm the rock."
Hruby: "Good listener, optimistic—and my mom always said I was an over achiever."
If you weren't at MCHC, what would you be doing?
Ulmen: "I'd retire and do volunteer work."
Hruby: "My dream job is to be a shopping director on a cruise ship, or work for a company as Director of Fun. I could also be a vacation planner or tour guide."
Invested In Madelia
Ulmen and Hruby both grew up in Madelia and have strong ties to Madelia Community Hospital & Clinic. Ulmen said, "I've lived here all my life, except for three years when my husband was in the Air Force in Minot, N.D. When I was 19, I had my tonsils out in this hospital."
Hruby, who was born in Madelia Community Hospital, countered, "I had my tonsils out here when I was five."
The two Madelia community movers and shakers answered a few questions about their backgrounds.
What were your favorite and least favorite classes?
Ulmen: "Accounting was my favorite. I thought I wanted to be a bookkeeper. My least favorite class was English. I prefer to read for knowledge."
Hruby: "Chemistry — I had the best chemistry teacher in the world, Mr. Abraham. Algebra was my least favorite. How can X plus Y equal three?"
Of what accomplishment are you most proud?
Ulmen: "Getting my Licensed Practical Nursing degree in 1999 and my Associate Degree in Nursing in 2008 — both from what is now South Central College in North Mankato."
Hruby: "Getting my Bachelor of Science degree in 1994 from MSU-Mankato as a non-traditional student."
Why did you choose a medical career?
Ulmen: "Nursing was my second career, after accounting. I had figured out where I belonged."
Hruby: "When I went back to school as a non-traditional student, I considered pre-med, but that would have been difficult to do when raising a family."
What career track did they follow at Madelia Community Hospital & Clinic?
Ulmen is a registered nurse with a current Minnesota license and has been the Quality and Risk Management Director since October 2007. Before returning to SCC for nurses' training, Ulmen worked as a loan secretary at Farmers State Bank in Madelia for nearly five years. She began her medical career at Madelia Community Hospital as a Nursing Assistant, progressed to being a staff Licensed Practical Nurse, then the education coordinator, then the social service designee and eventually the discharge planner, before achieving her current position as the Director of Quality and Risk Management.
Like Ulmen, Hruby has maintained her RN license and began her medical career track at Madelia Community Hospital. Her first exposure to the hospital was as a Candy Striper to gain volunteer hours for Girl Scouts in the 1970s. She began her employment as a Nursing Assistant, progressed to being a Registered Charge Nurse and then a Home Health Care Nurse before assuming her current position as Director of Patient Care.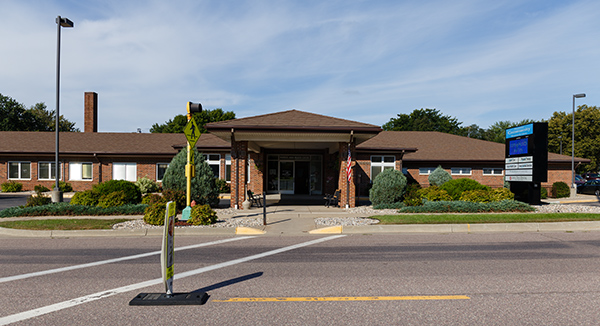 Hospital History
The Madelia Community Hospital was founded nearly a century ago. A look back at its history offers a glimpse into the progress of medical care–the changes and improvements that brought better patient care to past generations and to today's patients. Here are some of the Madelia Community Hospital's milestones.
■ 1918—Dr. W.J. McCarthy purchased the Hoffman residence and converted it into a private hospital with 12 beds. Millie Sharper was Madelia Community Hospital's first nurse.
■ 1941—The Village of Madelia purchased the hospital and operated it as a municipal hospital until 1954.
■ 1950—A nonprofit fund-raising corporation was formed to raise funds from residents to build a new hospital.
■ 1952—St. Paul architect, Max Buetow, presented plans for a 22-bed hospital. Dr. H.E. Coulter donated the new site at 121 Drew Avenue SE (still the present site, shown above).
■ May 1953—Construction began.
■ June 1954—Patients and equipment were moved to the new hospital. The first hospital superintendent was John A. Sivertsen, employed on a part-time basis, with Ruth Zimmerman the superintendent of nurses. One year later, she took over both positions and remained administrator until June 1968.
■ 1962-63—An eight-bed addition was added to the south end of the hospital, with a full basement that included a meeting room and a storage area.
■ 1966—The hospital qualified for Medicare; oxygen was piped in and suction equipment was installed.
■ 1967—Complete heart monitoring equipment was installed.
■ 1970—The hospital became a member of the American Hospital Association.
■ 1970-71—A major remodel included an addition to house the laboratory, x-ray room, dressing rooms, waiting area, physicians' lounge, dirty linen area and mechanical room.
■ 1971—The Joint Commission of Accreditation accredited the hospital, with full accreditation being achieved ever since.
■ 1978—A physical therapy department was established.
■ 1980—A blood analyzer was purchased, improving emergency care.
■ 1984—The Swing Bed Medicare certified program began.
■ 1985—The Home Health Care certified program began.
■ 1992—Candace Fenske was named Hospital Administrator; she remains in that position.
■ 1997—A two-story, 18,000-square-foot addition was added onto the north side of the hospital to accommodate the Madelia Clinic, laboratory and an ambulance bay on the upper level, and dental, optometry, physical therapy and home care on the lower level.
■ 1999—A new entrance was constructed, offering one-entrance access to the hospital, clinic, optometrist and dentist. Madelia Clinic joined Mayo-ISJ.
■ 2004—A post anesthesia recovery area was added/remodeled. Electronic medical record keeping began. The non-profit Madelia Community Hospital Foundation was formed to raise and manage donations of funds and property.
■ 2006—A ground breaking was held for the addition of 12,461 square feet and for a remodel. The $8 million project included a new patient wing with private wellness rooms.
■ 2008—New Ulm Orthopedics began seeing patients at MCH.
■ 2010—MCH was designated a Level 4 Trauma Hospital.
■ 2011—Mayo Clinic Health Systems ended operation on the Madelia Campus. A service agreement with Mankato Clinic was signed.
■ 2012—Avera e-Emergency activated for the ER Department. MCHC Physical Therapy began a satellite clinic at the Lake Crystal Area Recreation Center.
The Madelia Community Hospital & Clinic is an independent, non-profit 501c3 organization, formed in 1950 to raise funds for a new hospital. Currently, as in the past, the organization is directed by a board of nine area residents, with Candace Fenske as CEO. MCHC currently has a relationship with the Mankato Clinic, which employs doctors, nurse practitioners and physician assistants for MCHC. All other staff are employed directly by MCHC.
THE ESSENTIALS
Madelia Hospital & Clinic
Phone: (507) 642-3255
Address: 121 Drew Avenue SE, Madelia, Minnesota
Web: mchospital.org