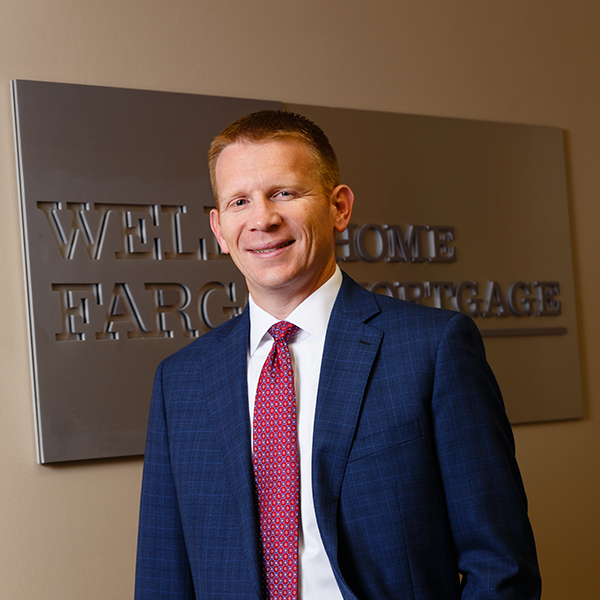 2nd Place: Business Person of the year 2017
Dream Maker
Andy Nessler, who calls Mankato home, helps others across Southern Minnesota and South Dakota find theirs as Area Manager for Wells Fargo Home Mortgage.
It's perhaps the biggest financial decision many people will make in their lifetime, a responsibility that Andy Nessler of Wells Fargo Home Mortgage does not take lightly. It is a responsibility he embraces.
"I've always enjoyed helping people. As a home mortgage consultant, I was able to help people navigate through the process of one of the biggest investments they'll make in their lives – buying a home," Nessler says. "To be the one they trust to help them either save money on a refinance or purchase a home, well, it's an honor. Now with that comes a large responsibility. I fully understand that. People are counting on you to help them reach their financial goals."
It's his dedication to those counting on him over the last 15 years, that earned him a recent promotion from loan originator and sales manager of the Mankato branch to Area Sales Manager for Wells Fargo Home Mortgage serving South Dakota and Southern Minnesota.
It also earned him runner-up in our Business Person of the Year vote.
"Andy is a great leader and I'm excited to see where this new opportunity will lead him while he continues to benefit the Mankato community," says Amy Wagner, a colleague who nominated him.
Nessler started with Wells Fargo in 2002, a year after graduating from Minnesota State University-Mankato with a degree in Sales and Marketing. He began in business banking, but fairly quickly figured out he wanted to try originating home
mortgages and made a move to that department in 2003. He hired his first junior mortgage consultant in 2007 and continued to hire and develop successful home mortgage consultants ever since.
"Wells Fargo has been a great company for me. I've loved working here. It will be 15 years in February," he reflects. "Wells Fargo has 270,000 employees nationwide, so it has afforded me many opportunities to grow and develop as a leader both with the company and in the community."
Nessler accepted one of those opportunities on August 1 of 2016 making a move within the company, being named Area Sales Manager for South Dakota and Southern Minnesota. He will oversee the branch managers in five locations, and help develop the mortgage consultants on each team. Wells Fargo Home Mortgage has two offices in Rochester, one in Mankato, one in Sioux Falls, SD and one in Rapid City, SD. 
"As a leader now, I get enjoyment out of helping others succeed," says Nessler. "So my experience of originating loans all those years is a huge teaching tool and advantage for me in assisting our home mortgage consultants since I have experienced many of the same situations they are facing. I also like to see people grow and develop and reach their full potential."
Just as he has had to grow and develop over the last decade. The mortgage industry is one in which you have to hustle to keep up.   
"The mortgage industry is a constantly changing industry. So the people you will see that are successful in this industry are people that can adapt to it and accept change."
Nessler says overall the changes are good for the industry and help him look out for his clients and their investment.
"The government is much more heavily involved than it used to be in terms of home mortgages," he explains. "With lending comes a lot of different rules and regulations that we navigate through. It's all meant to benefit the consumer and reduce the possibility of fraud. So it is a constantly changing industry and that's why people need help when purchasing a home."
Also constantly changing, the ups and downs of the economy. Currently, Nessler says, the Mankato market is enjoying the "up" part of the cycle. In fact, Nessler says he personally had his busiest purchase season this past spring and summer since his first year in 2003.
He says the housing market here continues to flourish, with inventory barely keeping up with demand.
"I see our home values have rebounded very nicely since 2009, 2010. The new construction has done well. As for single-family homes, we had many people listing their house and selling it the same day, often with multiple offers. That's a sign of a healthy housing economy."
But Nessler says even when the country goes through the "down" part of the cycle, his industry can stand up to the adversity such as the recession in 2008.   
"During 2008, 2009 and 2010, interest rates were very low so people were refinancing like crazy. So that actually ended up being one of our busiest times."
Nessler says in any commission-based position, laying the right foundation from the beginning is the key to getting through difficult times, such as downturns or uncertainty about the economy.
"The way to try to be successful in this business is to build up your purchase business. In this market, no matter what the rates are, people are buying and selling houses. So you are trying to essentially build up avenues for purchase business. Those avenues could be through community involvement, personal relationships, realtors and other referral partners, that way you are less susceptible to the trends of the market. Meaning, whether rates are up or down, people are either buying or refinancing. So over the years the more people you originate for, if you do it right and take care of those people, the more people will come back to you for refinance. Also, hopefully, your clients will refer you to others. As my originating career developed it was my parents, my friends, my wife, my past customers, people I'm on boards with, who drove my referrals. Pretty soon you have this large network of ways to get business."
It also helps to be affiliated with a company like Wells Fargo. Nessler says Wells Fargo has been the number one retail mortgage lender in the country for a number of years.
"We take a lot of pride in that," he says. "One thing I've always loved about Wells Fargo is that we are a very large company which allows us to offer as many products and services as anybody else out there, yet we are very local in those places we have offices. All of our employees live in the communities of the offices they serve, they raise their families there and are invested in the community. I feel like it's a national company with strong local flavor."
Certainly community has always been important to Nessler. He grew up in Mankato, went to Mankato West High School and then to Minnesota State University Mankato where he graduated in 2001 with a degree in sales and marketing. Mankato is a priority for him.
"Community involvement is a big priority for me. I've always focused on that. I am on the United Way Board currently, I've been campaign chair and board chair throughout my tenure. I have also been involved in the YMCA Strong Kids campaign, Mankato Golf Club board and Junior Achievement."
As he raises his family here and watches his children grow up in his hometown, Nessler looks forward to also helping Wells Fargo Home Mortgage grow its footprint in the market.
"People are always going to buy and sell houses," he says. "It's an exciting time to be in or entering this great industry. Rates will fluctuate, but if you build solid relationships with your customers they will ride those waves with you."
As one of the top Business Person of the Year vote getters, Nessler offers this as one reason for his success.
"I've always had the desire to be the absolute best. I think in a commission-based position, as mortgage consultants are, that it's necessary to be a bit competitive. You have to want to be the best. I've always been very driven, respectfully aggressive is how I say it. But it's more than just numbers on paper for me. I also enjoy the relationships I have been able to build with people. This industry is built on relationships and trust. I enjoy helping others achieve their dreams. First being able to help with home ownership and now being able to develop future leaders at Wells Fargo. I just enjoy it so much."
---
Andy The Entrepreneur
Andy and his wife Christine partnered with a long-time Wells Fargo colleague, Chris Mihm, to start Freedom Home Care LLC in 2014. Freedom Home Care provides customized, affordable, basic home care services with a mission of allowing individuals to maintain their independence and stay in the comfort of their own home for as long as possible. The company also strives to provide family and friends with the peace of mind that their loved one will be well cared for and safe. Freedom Home Care provides non-medical, home care services in Southern Minnesota.
Nessler has said his passion for family drew him to the home care industry and that his own parents modeled the importance of caring for family members and friends. But, he admits, Christine and Chris do most of the heavy lifting in that endeavor.
"As far as Freedom Home Care, I'm not involved in day to day business, but rather the big picture," he explains. "Christine and I own half the business and our partner Chris Mihm owns the other half. So I'm involved as an owner, but Chris and Christine have the responsibility of managing the business. And they're doing a great job."
At Home with Andy
Andy lives in Mankato with his wife Christine and their three children; Nine-year-old Max, seven-year-old Liam, and four-year-old Margo. Even though his career could have taken him elsewhere, this is where he wants his family to call home.
"We love it here. There's a reason we've stayed here. With Wells Fargo I've had opportunities to move but we haven't wanted to do that at all. Mankato is a great community," says Nessler. "It's constantly growing and there are a lot of great things going on in Mankato. I've always loved it because it has everything you want and need without some of the other issues you don't want… like traffic. It is just a great community and I love the direction it has gone and continues to go."
After Hours
Andy works with numbers outside of the office too, in the form of logging miles on a run or bike, or holes on a golf course.
"Really I enjoy most outdoor activities like biking, running, golfing and more recently hiking. I have run in some half marathons. Another great thing about this area, are all of the opportunities for outdoor activities."
Wells Fargo & Company
Wells Fargo & Company (NYSE: WFC) is a diversified, community-based financial services company with $1.9 trillion in assets. Founded in 1852 and headquartered in San Francisco, Wells Fargo provides banking, insurance, investments, mortgage, and consumer and commercial finance through more than 8,600 locations, 13,000 ATMs, the internet (wellsfargo.com) and mobile banking, and has offices in 42 countries and territories to support customers who conduct business in the global economy. With approximately 269,000 team members, Wells Fargo serves one in three households in the United States. Wells Fargo & Company was ranked No. 27 on Fortune's 2016 rankings of America's largest corporations. Wells Fargo's vision is to satisfy our customers' financial needs and help them succeed financially.
Wells Fargo Home Mortgage is the nation's leading originator and servicer of residential mortgages, offering home loans through the largest network of mortgage locations and bank branches, online, and via phone.
THE ESSENTIALS
Wells Fargo Home Mortgage
Phone: (507) 387-9243
Address: 1600 Madison Avenue, Suite 115, Mankato, Minnesota
Freedom Home Care, LLC
Phone: (507) 387-HOME (4663)
Address: 101 N Second Street, Suite 100, Mankato, Minnesota
Web: freedomhomecarellc.com