Kroubetz Lakeside Campers and Motors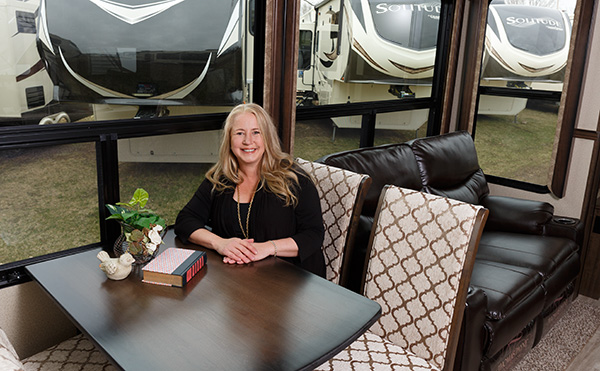 Happy Camper
With an almost two decade-old business in tow, founder Kim Kroubetz takes new roads toward expansion from Lake Crystal to Greater Minnesota.
Even after 18 years in business, Kim Kroubetz says she still has "pinch yourself" moments.
"I go outside and look out at my lot and just think, 'wow'," she reflects. "When I think back to what I started with…well, a lot has changed."
It was back in 1999 when Kroubetz and her husband Paul, both not even 30 years old yet, a plot of land along Highway 60 as you enter Lake Crystal. When she reflects back, she is filled with gratitude. The two hadn't even been married three years, when Kim wanted to pursue this dream and she says she couldn't have done it without Paul's unconditional support. With the land secured, Kroubetz figured she had enough money left over to buy 12 campers to sell from that spot. It proved to be an exercise in persistence, though, to snag her first inventory.
"Every Fall there is a big show called 'Louisville', down in Kentucky," Kroubetz explains. "They can fit all manufacturers under one roof. It's pretty incredible. So I grabbed my brother Jeff and we flew down there. We were young and new to business, so it was harder than I thought it was going to be to be taken seriously!" She chuckles, adding "I finally wore the Gulf Stream rep down, and he sold me 12 RVs. I had a few cocktails that night because I'm like, what if no one buys these?"
But those 12 didn't last long.
Now Kroubetz Lakeside Campers and Motors has an inventory of nearly 400 units available between new and used. Her number of employees has grown too. She started out with just herself, her brother and another salesperson. She just recently crossed the 20 mark for number of employees and expects that to almost double this year.
"We are going to hire at least 12 to 15 people here," she says. "More so in service and a few in sales. Everyone thinks this is a seasonal business and I guess it is to a point. But in 18 years, I've never had to lay anyone off in the winter. That's because we try to have products for all seasons. For instance, we sell a lot of fish houses during the winter."
With the high volume of campers moving off the lot (Kroubetz declined to give an exact number) she says it's time to bring in a whole sales crew.
"During the first 15 years, I've always done most of the selling," she says. "I love helping people find just the camper to fit what they are looking for. But it's time for me to step away from that day to day selling. Now I am in more of a support role for the sales team and focused more on growing the business."   
Kroubetz Lakeside Campers and Motors currently has inventory spread across four different lots in Lake Crystal, which prompted Kroubetz to look for more land, where she can continue to grow.
"I had just about started to give up on being able to find 30 or 40 acres in Lake Crystal," Kroubetz says. "But a dear friend who I've done business with before asked 'if you want to stay in town would you be interested in purchasing my piece of land?' It is located right across the highway from us now and it was just an incredible thing to be able to do. It's 80 acres total. I don't know if we really need 80 acres, but that's what we got! In a perfect world I would like to time our move to that location with our 20th anniversary."    
Kroubetz has seen steady growth over her almost two decades in business. She expects that to continue in her business and the industry as a whole.
"The RV industry is just always open to new ideas," Kroubetz says. "It has also realized that adults and children alike want technology. So camping is vastly different in some cases then it used to be. Every year I think there is no way it could get bigger, but it does. Even when I started I thought 'can this area support another RV dealer?' We, as an industry, are floored because every year we say it can't get any bigger and then it does. Last year was a record year for the RV industry and this year they are already forecasting, and we are as well, another record year." 
Another bonus is that there is an RV to fit just any budget. Kroubetz has campers on the lot ranging in price from $995 to  over $100,000. She says manufacturers have a knack for being able to make RVs that can appeal to all types of camping enthusiasts.
"If you want five flat screens and two fireplaces and a dishwasher and garbage disposal and central vacuum and a touch screen device that you can control every mechanical function on your camper…well, we've got it," she says. "But then there are a few people that  say 'hey! but what about our carbon footprint, this is getting ridiculous!' So now in the last few years the industry has seen a renaissance in the vintage retros and the little R-Pods where they are purposely stripping out a bunch of that stuff and getting back to the basics of camping. The RV industry is just so ahead of what people think they need and is great at reading what people want year after year."
And Kroubetz says there are other indicators that camping is alive and well in southern Minnesota.
"In our region, every campground I know has added on multiple times over the past five years," says Kroubetz. "And new ones are popping up. It's just cool to see."   
Kroubetz says although the RV industry is able to adapt with changing times, the core of what camping can offer will always be a strong foundation.
"I grew up RVing with my family, I don't think I was in a hotel til a high school band trip," reflects Kroubetz. "We went camping, and that was what we did. It was, and it still is for many people, a total family affair with parents and grandparents and cousins all taking part. Just to have those memories is special. Camping and RVing is something that is for everyone, babies to grandparents, everybody likes it; the campfire, the comraderie, it's a safe environment for kids, adults have other adults around to interact with. It's just something kids and parents truly enjoy. They can be together but also have opportunities to be apart."
That's one reason Kroubetz believes her industry seems to be insulated from the ups and downs in the economy.
"Five years ago people were saying, 'well, baby boomers are driving this growth in the industry and when they all are not camping anymore then maybe it will take a decline'," she says, "But now we are seeing the baby boomers' kids are finally at a point where their kids aren't out of the house quite yet, but they've paid off student loans and some of their other bills, so they have some disposable income. If they camped growing up, then they'll want to give that experience to their kids as well. Plus there is the follow my neighbor effect. Everyone goes camping now and often they go on vacations together, so I don't see it ever ending. " 
Kroubetz says locating in Lake Crystal has been a very special part of her journey.
"I think southern Minnesota understands, more than most, the importance of keeping dollars in the local economy and I think our agriculture and farming communities have a lot to do with that. I think folks here will always give the local person the the first chance. Anytime you are dealing with the services industry whether its boats, cars, RVs, most will need to be serviced at times. So if a buyer can get a fair shake with a local dealer, they'll also be saving money on the backend because they'll have someone locally when and if they have to go in for service."
At 18 years of age, Kroubetz says she still feels like her business is young. She is looking forward to its next stage in life, not only for her business but for her community and her family. Kroubetz says her daughter Ashley and her brother Jeff have been crucial in helping grow the business, and she wants to be able to provide a good foundation once she is gone. Her dream is to have other family and grandchildren join in, but she says she understands sometimes their plans take them in other directions and dreams of their own.
"I am toying with the idea of putting in a campground along the creek on the back side of our 80 acres," says Kroubetz. "I think it would be cool for Lake Crystal. One thing we are missing in this community is there is not an overnight stay here. When people stay overnight they can explore the community, so then cute shops pop up, other businesses move in because people will want to meander through town. I would like that to be one little gift I could give to Lake Crystal."
---
Networking
Kroubetz realized the road she was on in business could be a bumpy one at times. She also realized she needed to find others who had gone over those bumps to get their insights. So seven years ago, she sought out others in her industry.
"I'm smart enough to know I don't know everything," she says. "So I joined a 20 group. It's a group with 19 other dealers across the country. We meet four times a year and we share everything. We even rotate through and tour each others' dealerships."
In addition to that, Kroubetz Lakeside Campers and Motors belongs to the ROUTE 66 RV Network.
ROUTE 66 started in 2003 as a way for dealers to hold each other accountable and elevate industry standards. The network quickly grew to over 150 locations throughout the United States. ROUTE 66 member dealers are handpicked by their peers based on their reputation for integrity, customer service and after-sale support. It benefits the RV community by offering  over 1,200 service bays staffed with nearly 2,000 RVDA Certified Technicians.
Kroubetz says her affiliation with Route 66 and other organizations like it, help keep her at the top of her game.
"Our solid relationships with our manufacturers and being nominated as the area's only Route 66 Dealer have proven to be a great asset for the enjoyment and service of our customers!! We are also an accredited member of the Minnesota Better Business Bureau to help insure customer confidence and our commitment to providing the best service possible," she says.
Words of Wisdom
"Everybody says this but I think a lot of businesses forget how true it is, your customers allow you to be here or not. Period. So, if I could give any piece of advice to any business it would be to keep your customers happy, truly care about them. And keep your employees happy and truly care about them. If you do only those two things and make them your 100% ultimate focus in the world, everything else just falls into place and the money follows. If you are chasing money you forget about taking care of the people." 
"If you get stuck in the mentality of 'its my way or it's no way',then you never get to experience what success can be. Success just means you've learned to help other people and not care more about yourself than you do about others."
Kroubetz Outside The Office
Her out of the office activities seem to focus on family, and animals, which she considers an extension of her family. One of her latest prized possessions: an African Gray Congo name Murray.
"I have always had a weird bird thing," she muses. "Finally as we grew here and added office space, I found I had room for a bird. So now he comes to work with me, although he does tend to talk a lot!"
Horses are another hobby. A hobby she feels fortunate to share with her daughter, Ashley.
"My daughter is actually able to fulfill my lifelong dream," says Kroubetz. "She and her boyfriend purchased  a house on a beautiful hobby farm just south of Mankato. So she has her horse there and my horses there as well as chickens and dogs. I'm too old to tackle that anymore, but she is doing it and it's fun to watch."
Growing Pains
Before starting Kroubetz Lakeside Campers and Motors, Kim had a background in sales and marketing, primarily in real estate. But all of that experience didn't quite prepare her for one aspect of her business, managing people.
"My dad has a human resources background, so during our growth spurts I would hire him on a very part time basis," she explains. "I wanted him to find out what the employees were happy about and what I needed to work on." 
Not cutting her any slack, he came back with some answers.
"He came back and said they are all happy, but…there's always a but isn't there?" She smiles. "He said you are growing and doing a bunch of new, cool stuff but you need to work on communicating all of that with them. He really drove home the importance of communication with my team. So that's been probably the biggest challenge as we grow, making sure that I am communicating with everyone positively and effectively."
New Location Opening
Now that she has grown her Lake Crystal location, Kroubetz is expanding to other parts of the state.
"This is kind of out of the blue," she says. "But some land became available in Walker, Minnesota so we purchased a lot up there. We just got our dealer's license for that location and campers start arriving in April. My dad is actually coming out of retirement to help  manage that office."
THE ESSENTIALS
Kroubetz Lakeside Campers & Motors
Phone: (507) 726-6454
Address: 351 E Highway 60, Lake Crystal, Minnesota
Web: kroubetz.com