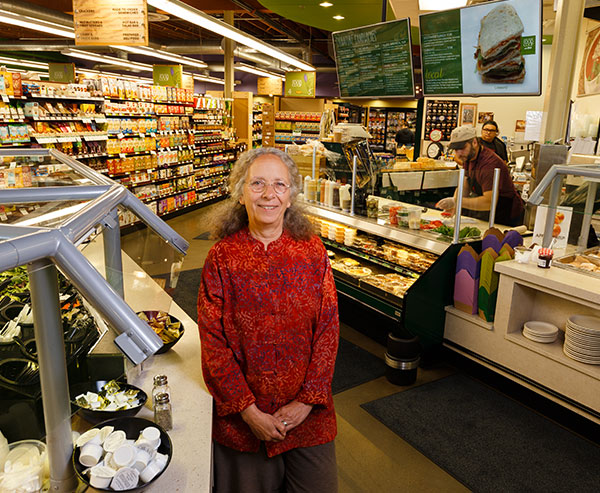 Photo: Kris Kathmann
Vote with Your Fork
With 2,500 owners and a multitude of devoted customers, the St. Peter Food Co-op is a long-running example of how a local business can thrive when run democratically.
When Margo O'Brien first relocated to St. Peter, Minnesota from Boulder, Colorado, she was taken aback by rows and rows of peanut butter… in buckets. At the original St. Peter Food Co-op, founded in 1979, peanut butter buckets made up most of the bulk food department. The store was around 1,000 square feet and functioned with an all-volunteer crew. "There was no person in charge," said O'Brien. "People would just show up with produce to sell. I remember a granny driving up saying, "I have zucchini," and I went out to her car and it was in the trunk. It was probably a 15 pound zucchini. That's how we started out—local. It was very, very on-the fly."
Today, O'Brien is in her 36th year as the St. Peter Food Co-op's General Manager. The Co-op is in its third location in downtown St. Peter and growing by the minute. In 2017, over 200,000 customers passed through the now 10,000 square foot store, contributing to sales topping several million dollars. The full-service grocery store offers all major departments, including meat, produce, bulk, pantry, cheese, dairy, wellness and personal care items, many from local producers and family farms. Those buckets full of peanut butter? Nowhere to be found.
Open to Everyone, Every Day
The concept of a cooperatively owned business is not new to the majority of Minnesotans. The state has been home to many agricultural, banking, and electrical co-ops over the years, and is currently the country's most cooperatively organized state. Co-ops like the grocery store in St. Peter are owned by individual community members (owners) and operated by a democratically-elected Board of Directors.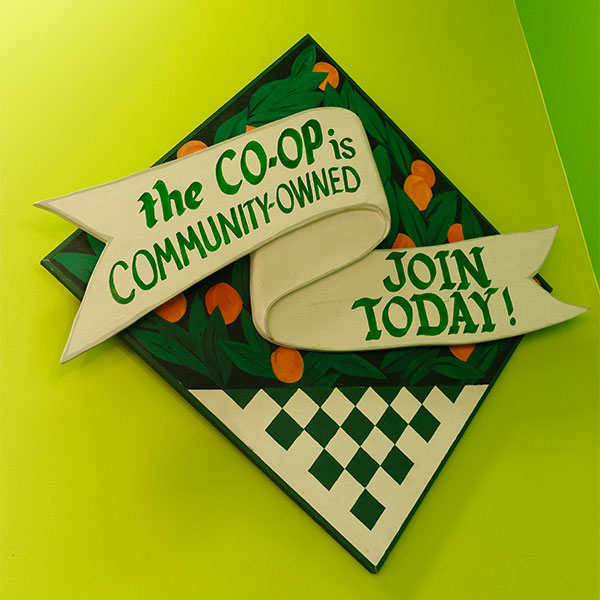 "Like any other Co-op we are owned by our owners," said O'Brien. "Some people call them members, but they really are owners—people invest money and they become an owner of this business. I have over 2,500 bosses."
Since 2,500 people can't realistically govern a business, a Board of Directors is elected out of the pool of owners. Then, the Board of Directors hires a General Manager. "It's a very interesting economic alternative, because you aren't going to have to worry about someone moving your business elsewhere. The focus—the hope and the vision of running this business—is to espouse values that our owners want to see manifest in their community," added O'Brien.
Kyle Chambers, a professor in the Department of Psychological Science and co-director of the Center for Developmental Science at Gustavus Adolphus College, was elected by the Co-op's owners to serve as President of the Board in 2014. He described the roles of the Board and the General Manager as well-defined, distinct, and, in some cases, limited. "With input from the Co-op's owners, the Board develops the Co-op's Ends Statement that provides the long-term direction for all of the Co-op's operations and activities," said Chambers. "The Board then establishes by what means these goals can be pursued. This is accomplished not by telling our GM [O'Brien] what she should do but by specifying what she should not do."
For example, policy statements such as "The GM will not allow an unsafe shopping experience for our customers" or "The GM will not cause or allow personnel policies to be inconsistently applied" allow O'Brien to accomplish these goals however she sees fit, based on her knowledge of the food industry, Co-op history, and local community.
However, unlike some other industry co-ops, such as electrical cooperatives where you must be a member in order to partake in co-op services, everyone is welcome to shop at the St. Peter Food Co-op. O'Brien says this is one of the biggest myths the organization faces in terms of public relations and community outreach.  "Anyone can shop here from any town. They don't have to be a member, an owner, or even a Minnesotan," she said.
Owning Part of a Local Business
Community members who choose to join the Co-op as owners benefit from additional perks that can make shopping even more affordable and convenient. A one-time stock purchase costs $200.00 (payable in a lump sum or quarterly installments). In return, owners receive access to exclusive weekly sales and discounts; quarterly Owner Appreciation days with an additional discount structure; a 10% discount on special orders; patronage refunds when available; a vote in Co-op governance and opportunities to serve on the Board; discounts at other Minnesota co-ops; and more. Current students can also become Co-op owners, at a discounted rate of $25/year. The St. Peter Food Co-op has seen an average growth of about 200 new owners per year for the past six years.
Less tangibly, owners contribute to Minnesota's economic democracy by supporting the local economy, a small business in their community, local producers, and sustainable and organic practices. O'Brien reflected on her observations of the store during a recent Owner Appreciation week. "I really think that creating that sense of community is so important… that connection of person-to-person is in our DNA. It's vital to having a thriving and healthy community. To be able to create that community space here, and support it by becoming an owner, has nothing to do with money, and discounts, and pricing, and all that," she said.
Chambers agrees. "Co-operatives like the St. Peter Food Co-op are businesses that are owned and run by the customers, employees, and residents in the community. The Co-op has over 2,500 owners, and each of these owners regardless of their race, ethnicity, religion, gender, or socioeconomic status has an equal voice in the policies and future direction of the Co-op," he said. "In addition, Co-ops like ours are not driven by just profit. They provide a salient example that businesses can demonstrate concern for the well-being of all people, foster a welcoming community, and be good stewards of the environment while remaining financially sustainable. These objectives are not mutually exclusive."
Good, Local Food
Co-op shoppers can find virtually any item they'd expect to find in a typical grocery store, with low priced everyday staples as well as more high-end options for extra-special occasions. The store offers weekly Fresh Deals (new every Wednesday) as well as a bi-monthly Co+op Deals flyer offering additional sales and discounts. Customers can access these sales through the Co-op website, weekly email newsletter, or pick up a printed flyer at the store. Sales often highlight local products—items that come from Minnesota or four surrounding states—Wisconsin, Iowa, North Dakota, and South Dakota. This definition of local was agreed upon by the Twin Cities Co-ops, in order to provide more clarity around the concept of "local," a selling point that many traditional grocery stores now highlight. Shoppers can identify local items in the Co-op by a round, green "local" sign. Other store signs indicate Fair Trade, USDA Certified Organic, and sale items. "I truly appreciate that the Co-op supports new local business owners," said Chambers. "Our store has a humble physical footprint and yet the Co-op has an admirable track record of making space for products by local individuals who grow and mill their own wheat, pour their own candles, or design their own greeting cards. As an owner, I'm very proud that our Co-op plays a prominent role in lifting up our local economy." In 2017, 27.75 percent of sales were to local producers. "Besides ownership, this is another one of those examples of economic sustainability—working with local producers to keep money in our community," said O'Brien.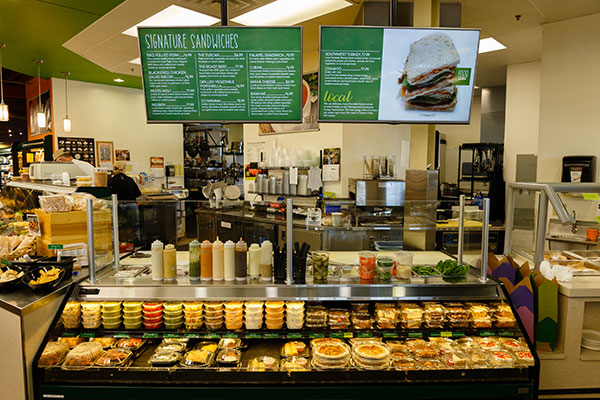 Another unique feature is the Co-op's popular in-store deli. When the Co-op was getting started in the late seventies, volunteers began selling simple sandwiches. When those proved to be popular, they added homemade soups, cooked on a two-burner stove. These days, the deli offers a bakery; hot and cold made-to-order sandwiches; a self-serve hot bar with hearty, homemade entrees; a fresh salad bar; a build-your-own-burrito bar; and three daily soup options. In 2017, the deli brought in almost 30% of store sales, which is rare among co-ops. The weekly lunch menu is available online and shoppers frequently plan their trips according to when their favorite dishes are being served. With seating indoors and out, the Co-op has quickly become a popular locale for St. Peter business people and students looking for a place to meet for coffee or grab a quick lunch.
A Staple in the Community
The Co-op hosts a number of events, classes, and outreach activities every season. During the month of November, donations are collected for the St. Peter Children's Weekend Food Program, helping to provide weekend food packs to students in need. Each March, an annual food campaign brings in thousands of items for the St. Peter Area Food Shelf. Through the St. Peter Community Education program, classes are offered on cooking, healthy living, and seasonal fare. 2017 also saw the pilot of a brand new program in conjunction with Lutheran Social Services—"Friends in the Kitchen." These free monthly classes highlight budget meals and target older, low-income individuals. Class size grows each month and there has been interest from other parts of the state in replicating the "Friends in the Kitchen" model. The Co-op also donates to (or sponsors) a variety of local groups, including the River Ramble, Minnesota Valley Scenic Byway Association, Southern Minnesota Initiative, Moses Sustainable Organic Farming Conference, Habitat for Humanity, Ney Nature Center, Diversity Education Exploration Project, Mankato Youth Symphony, and Benches-Mankato Humane Society, among others.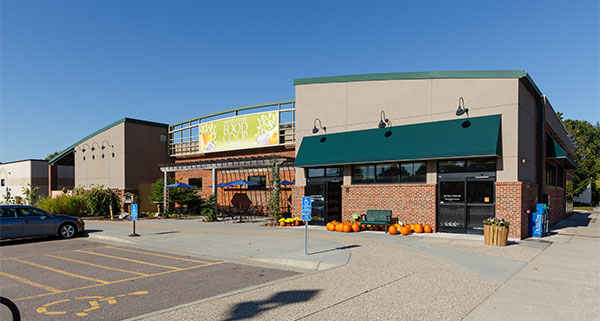 2017 marked the launch of the Co-op's new website, the first redesign in approximately 15 years. The store contracted with Minneapolis-based Big Ocean Creative to build a mobile-responsive site highlighting the daily lunch menu, weekly sales, and upcoming events. The site also serves as a communication tool between the Co-op and owners, as well as a recruitment tool for potential owners. Weekly blog posts featuring recipes, local producer spotlights, food trend articles, interviews, and Board announcements keep visitors in the know. Since the site launch in May, website traffic has nearly doubled.
Looking forward, the Co-op is gearing up for the next phase. Their current location (228 West Mulberry Street) is the Co-op's third location, which opened in 2011. "We had a brand new building, brand new everything," said O'Brien. "It seemed so enormous from our little postage-stamp down the street, but we are getting close to capacity." Anticipated for 2018, the store refresh will focus on food service and creating a better experience for deli visitors. "We're looking at more take-out options, more convenience, some new programs—overall some more room for everybody," O'Brien added.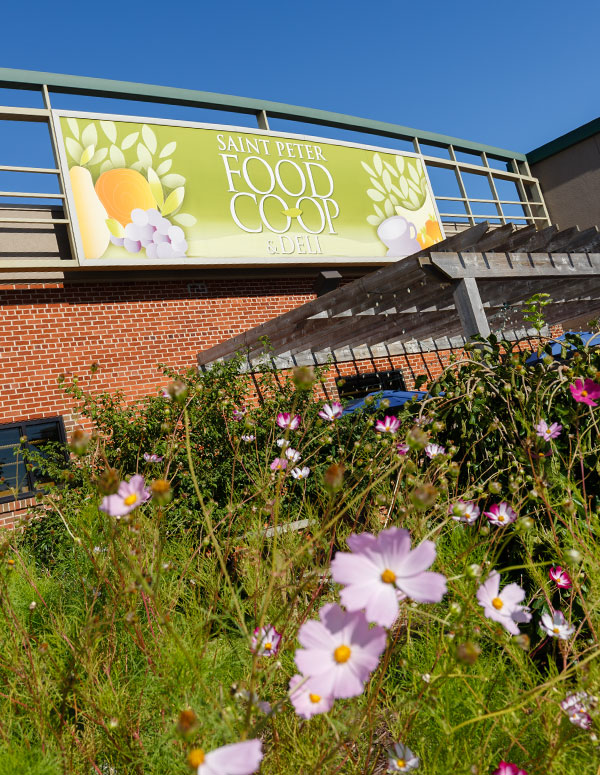 Food Holiday of the Year
Thanksgiving—one of the Co-op's largest food holidays of the year—is also on everyone's mind. Each year the Co-op hosts a Holiday Open House leading up to the fourth Thursday of November, featuring samples and visits from local producers, holiday sales, and giveaways. In addition to pre-sales of local turkeys, the store offers a variety of vegan, vegetarian, and gluten-free options. Although the holidays can be stressful, Co-op staff try hard to keep things fun. "Last year we had a Team Butter versus Team Gravy competition," said Co-op Brand Manager Kris Higginbotham. "We understand the basics when it comes to Thanksgiving. We stock the traditional stuff. It's stuffing, it's turkey, it's potatoes, it's gravy, it's sides, it's green beans. We try to make it easy." Last year, the Produce department featured a "cranberry bog" inside the store, where shoppers could scoop up their own fresh berries for the holidays.
There's one thing you won't find at the St. Peter Food Co-op, and that's pressure to eat a certain type of way. "We have this little saying," said O'Brien. "You vote with your fork. We have always tried to provide the community first and foremost with a grocery store. We provide education on protecting the planet—we explain organics, sustainability, GMOs, all of those trigger points relating to agriculture. But we give people a choice. That's been a successful route for us."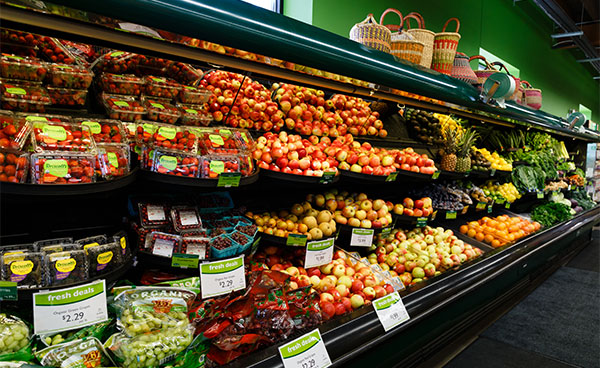 O'Brien explained that the Co-op has not one, but three bottom lines: financial, environmental, and community. "We watch those, and measure those, and plan for those," she said. Competition in the natural food world is fierce these days, with almost all traditional grocery stores advertising healthy, clean, and sustainable options. "In a certain way, as part of this revolutionary movement of natural foods for 35+ years, we kind of won the war," said O'Brien. "It's really wonderful that these kinds of foods are available to anyone, anywhere. Now it's a matter of going back to telling the story of our values—of why we're here, what we've done, and what we're planning on doing in the future."
---
Longest Running Co-op Deli Sandwich
Cheese Deluxe Sandwich: Colby cheese, carrots, lettuce, tomato, sunflower seeds, onion, mushrooms, and mayonnaise on whole wheat bread.
Egg Salad Cashew Sandwich: Egg salad with carrots and cashew and lettuce on whole wheat bread.
Gobble, Gobble, Gobble
Every year for Thanksgiving, the St. Peter Food Co-op sells local, pasture-raised turkeys from Ferndale Farms. Family owned and operated for three generations, Ferndale Farm was established in 1939. Ferndale turkeys are raised without antibiotics or artificial growth promotants; fed a natural diet of grains, vitamins, and minerals from a local feed mill; and processed naturally without additives. Co-op customers can pre-order a certain sized turkey or pick one up at the store in the days before Thanksgiving.
Co-op Principles
The Seven Co-op Principles, created by the International Cooperative Alliance:
Open and voluntary membership (open

to all persons, without gender, social, racial,

political, or religious discrimination)

Democratic member control (one member

= one vote)

Member economic participation (members

democratically control the capital of the co-operative)
Autonomy and independence (members maintain their co-operative autonomy)
Education, training and information (co-ops inform their members, elected representatives, staff, and the public)
Cooperation among co-operatives (co-ops collaborate—locally, nationally, regionally & internationally)
Concern for the community (co-ops work for the sustainable development of their communities)
Ends Statement
The St. Peter Food Co-op exists so that we have a healthy, sustainable, and just community locally and beyond. As a Member-Owned Co-operative Business, these Ends will be accomplished while advancing the Cooperative Principles & Values and maintaining the Co-op's long-term financial viability.
Shoppers have goods and services that nourish people and the planet.

Everyone has opportunities to make connections and build relationships in a fun, inclusive gathering place.

Members have facilities and operations that promote environmental stewardship.

Employees have a just workplace where every vote is valued and respected.

Our community has access to resources and knowledge about how each person can contribute to personal, community, and environmental health.
THE ESSENTIALS
St. Peter Food Co-op
Address: 228 West Mulberry Street, St. Peter, Minnesota
Web: stpeterfood.coop
Facebook: St. Peter Food Co-op & Deli