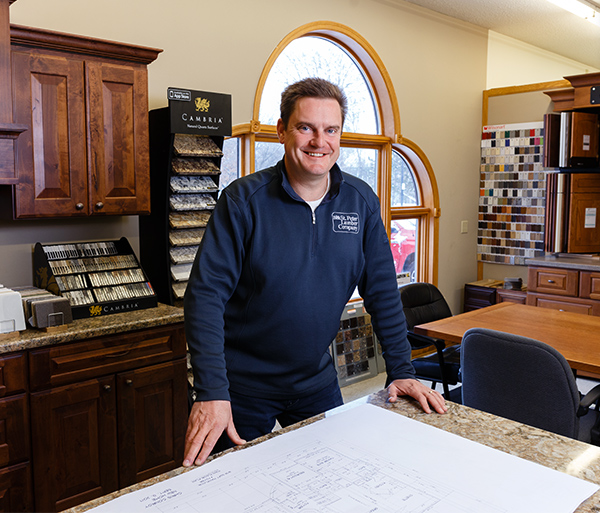 Old Growth Industry
With deep roots and diversification, St. Peter Lumber Company has remained solid through the natural periods of growth and decline of the housing industry.
Chad DeBlieck grew up around the lumber yard. He didn't really know it then, but watching his dad manage the operations of Standard Lumber was giving him tools he didn't even know he would want or need. But that he now knows, helped get him where he is today.
DeBlieck's father managed the yard in St. Peter for almost two decades, before purchasing it in 1988 and changing the name to St. Peter Lumber Company. And that started a new history for a new family-owned business. As his father eventually sold the business to him in 2011.
While the lumber yard stayed in the family, one thing is for sure: today's lumber company is unlike the lumber yards of his father's early days. Today, a lumber yard is more than just a place to purchase lumber and other parts one might need for a build.
"Whether you have a vision for the perfect cabinet knob or an entire room, our team will use advanced software to meticulously draw your ideas in detail," says DeBlieck. "These drawings are scaled, include measurements and dimensions, and are done in different angles, and broken down into smaller details. We recognize that no two customers are exactly the same, so we take the time to understand their needs and make a unique drawn out plan."
Software and technology have changed the way companies like St. Peter Lumber Company do business, but DeBlieck says it was his father's early foresight in expanding the lumber yard's offerings that helped change the course of the company.
"In 1994 our family was looking for other services we could provide to our customers," says DeBlieck. "At the time, we had a couple dozen contractor items for rent. The cooperative we are members of, Do-it Best Corporation of Fort Wayne, Indiana, had developed a rental center program. In 1995, St. Peter Rental became the first stand-alone Rental Center in the program. When I graduated from college I managed the operation and was part owner until 1998 when we hired a manager. In the last ten years we moved the rental operation into the St. Peter Lumber to better service our customer's needs. We currently rent most anything from construction equipment, lawn and garden machines, party items, and much more."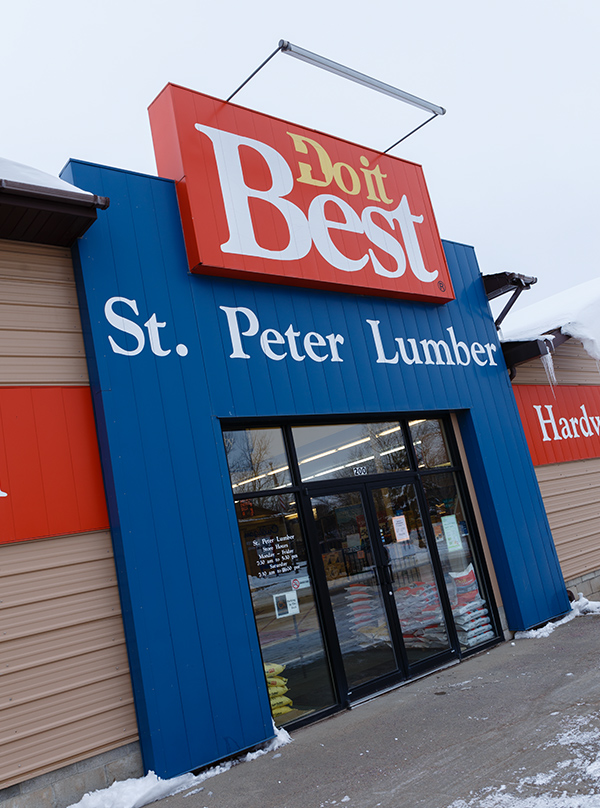 DeBlieck admits, constantly innovating and trying to adapt to changing times and uptick in big box stores entering the market, is a challenge. It's a challenge he is not facing alone. St. Peter Lumber Company supports a nonprofit known as "Independent We Stand."
Independent We Stand is all about independently owned businesses across the country reaching out to their communities and educating them on the benefits of buying local. DeBlieck believes by supporting other locally-owned businesses, the regional economy can be strengthened. Simply buying their products, eating their food, or using their services allow locally owned and operated businesses to in turn put dollars back into the local economy by way of taxes, payrolls and purchases. All of that, of course, translates to more money for things like roads and schools.
Aside from being a smaller, locally owned business, DeBlieck says there are other challenges specific to his industry as well.
"Our biggest challenge in the recent years has been the accelerated timeliness of building products. Customers and contractors are demanding products much faster than ten years ago. These products are often finished products which require special care in storage and delivery."
Over the years, DeBlieck has experienced the ebb and flow of industries like his, industries that are impacted by shifts in the economy.
"The building industry has a cycle. When the housing market is strong, the building industry flourishes. When the housing market is down, things are tough. As most in the industry recall, the early 2000's were tough. The housing market is strong right now and it is time to make hay. In times like this, we invest in people and equipment because times will not always be as they are now," explains DeBlieck.
Building relationships and investing in people is a top priority for DeBlieck, as he thinks back on his years running a lumber company, that's what sticks with him the most. He's up to thirteen full-time and four part-time employees now.
"We have had some life-long friends who have worked for the yard over the years and have gone on to other occupations all around the country," he says.
And he extends that to customers too, who DeBlieck knows he must take good care of to stay a leader in the industry. That means not only providing what he considers top notch products and service, but also helping customers along the way by empowering them to do it themselves.
"While we are available to do any job in your home big or small, we like to offer customers do-it-yourself tips so they can save time and money by doing things on their own," he says. "It doesn't have to be a full scale renovation to make a difference. For instance, an easy way to update your cabinets is to change out the knobs and pulls. If they are looking dated, add a designer touch and style for an updated look. Another thing you can do is switch out old light fixtures for a sleek new design. Contractor grade brass fixtures can be swapped out for stylish new brushed nickel or oil rubbed bronze and bring new life to a room. Switch out the light bar in your bathroom with a simple three light wall light to create a new feel. Finally, add an easy tile backsplash to your kitchen or bath. Many fun things can be used for the design including ceramic, glass tiles, river rock, or cork."
With this sort of custom design in mind, DeBlieck expanded St. Peter Lumber's offerings yet again, purchasing Neubert Milling in 2013. The purchase helped him expand his service offerings to customers by providing custom millwork and hand crafted woodwork to any home improvement project.
"Neubert has a long history in the area as it was an old millwork company which dates back to the early 1900's," he explains. "The business model was later found outdated and many of the manufacturing processes were inefficient and no longer used. So, we made a tough decision in 2015 to move out of the North Mankato location and move the shop to our St. Peter location. We kept the capability to produce custom millwork for replications of mouldings in the area or to create a completely custom profile for our customers. Sometimes things don't go the way you think, but to move on and learn from the experience makes you stronger."
Another source of strength for DeBlieck continues to be his father, who is semi retired from the business.
"My father has taught me extensive knowledge of the lumber and building industry over the years and has opened doors of opportunities for me," he says. "He's introduced me to other organizations like the Northwest Lumberman's Association which has been a great resource."
From its address of 200 South Front Street, St. Peter Lumber delivers products up to a 50 mile radius. DeBlieck says his hometown will always be where he'll operate from.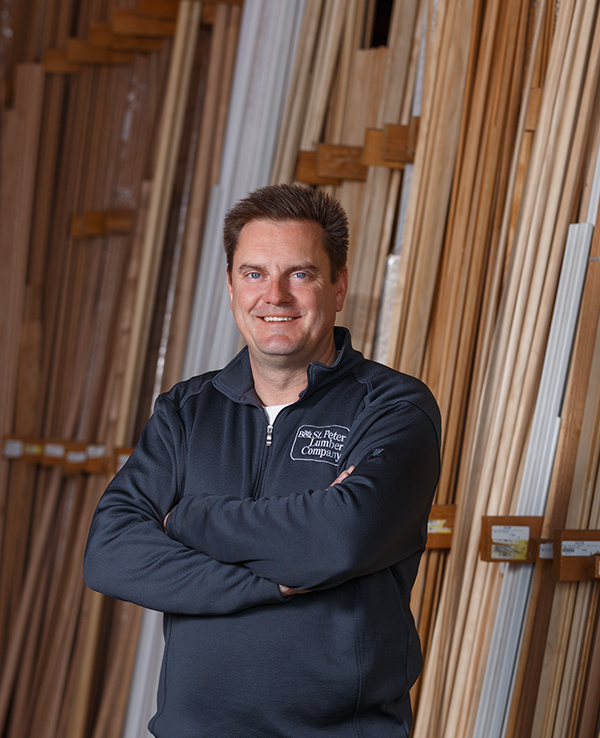 "St. Peter is a great community to raise a family and live in," he says. "The city has some challenges to operate a business in as well. We do have high utility rates, businesses have a high property tax rate due in part to the amount of non-taxable property in the city, there are very few non-city owned residential building lots, building permit fees are near the top in the area, but we have great building officials to work with."
DeBlieck says his business philosophy and business plan are built around one mission: "We want to provide the best building materials possible on time and correct to our customers in turn building a strong reliable relationship."
---
About Independent We Stand
Independent We Stand recognizes all socially responsible businesses, both large and small. The movement focuses on helping the little guys not just survive, but thrive…and all the while helping them to contribute to their community.
Small business owners think money spent in your community should largely stay there, not always go home with strangers who hail from heaven knows where.
These locals aren't just "moms and pops." They're all about family—brothers and sisters, uncles and aunts, cousins, neighbors, friends—all the people who make your community a wonderful place to live.
They're scout leaders, volunteer firemen, Little League coaches. They're the folks who sing in the church choir, rescue animals and help feed the less fortunate.
Stats on Value of Small Businesses
Over the past 17 years, small businesses accounted

for 65% of all net new jobs.
77 million Americans are employed by small businesses.
89% of consumers agree that independent businesses contribute positively to local economies.

esidential neighborhoods served by a successful

independent business district gained, on average, 50% more in home values than their citywide markets.
Independent retailers return more than three times as much money per dollar of sales than chain competitors. Independent restaurants return more than two times as much money per dollar of sales than national restaurant chains.
If independent businesses regained their 1990 market shares, it would create 200,000 new small businesses, generate nearly $300

billion in revenues and employ more than 1.6 million

American workers.
If just half the U.S. employed population

spent $50 each month in locally owned independent

businesses, it would generate more than $42.6 billion in revenue.
The local economy gains $179 vs. $105 for a chain store for every square foot a local firm occupies.
Sources: Independent We Stand, Small Business Administration; Intuit Small Business Innovation Study; American Express OPEN Independent Retail Index; Civic Economics/American Booksellers Assoc., U.S. Dept. of Labor
DeBlieck's Foundation: Family
"I enjoy spending time with my wife and four children. We travel, snowmobile, raise and show animals in 4-H, hunt, fish, and play a little golf."
A "little" golf has been something Chad has always enjoyed.
"I grew up in St. Peter and graduated from St. Peter High School. I attended the University of North Carolina at Wilmington for two years. When I was looking for a college, I wanted a school I could attempt to walk on and play golf in a warm climate as well as obtain a business degree. At the time, UNCW had a very good staff of retired economists from the east coast and the climate was great."
After two years, Chad returned closer to home and graduated from University of St. Thomas with a degree in Finance and Economics.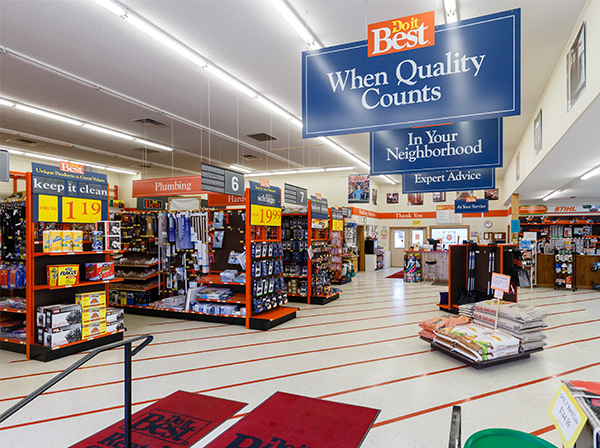 St. Peter Lumber Lowdown
The lumber yard has been in operation since the early 1920s but the product line has grown since then. St. Peter Lumber now carries a full line of building materials for any home improvement need. Just a few of the products include Total Equine, Do-It 3 piece tool kits, Gyro Cordless Drills, mowers, trimmers, lawn tractors, tool boxes, and kitchen cabinets. They also offer Kent Feeds Inc. domestic and wild animal feed and care products as well as bird seed and feeders.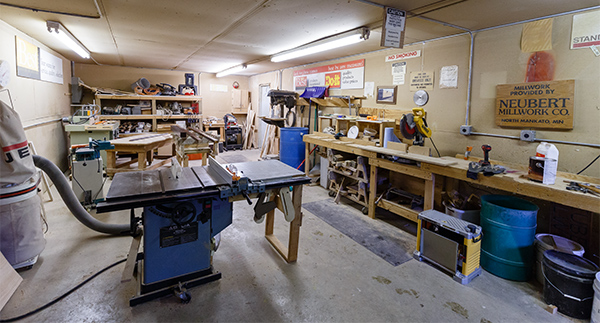 Walk Down Memory Lane: Neubert Millwork
Neubert Millwork Company's journey started in 1915, originally located at Belgrade & Cedar in Mankato. In 1916, A. Neubert Lumber Company moved to the corner of Lyndale & Wheeler. (Some folks back then also called it "East Wheeler".) In 1929, the lumber company was sold to Standard Lumber Co., but maintained the millwork division. In 1938 they opened a second location at 408 Pike Street across the river in Mankato. They consolidated the 2 locations in 1943. By that time they had branched out into church pews and furniture. Many of the area churches have Neubert pews in them today. They operated there until 1971 when the first round of urban renewal hit Mankato. From there they went to the top of the hill at 1901 Lee Boulevard in North Mankato. In the early 1980's Neubert Millwork Company was sold to Clair Haefner of North Mankato and was renamed Neubert Millwork & Lumber. The Haefner family owned and operated the business until July of 2013 when it was purchased by Chad DeBlieck.
THE ESSENTIALS
St. Peter Lumber Company
Address: 200 South Front Street, St. Peter, Minnesota
Phone: (507) 931-3200
Web: stpeterlumber.com