Waseca Tries to Rekindle Entrepreneurial Spirit of the Past
Connect TV is produced with True Facade Pictures | Submitted Photos
Waseca city leaders are planning for the future, by studying the past. Waseca, like many rural cities, has had many notable entrepreneurs such as EF Johnson (EF Johnson Company), Bumps Brown (Brown Printing), and George Herter (Herter's Outdoor Goods). As they grew their companies, they spawned many other ventures in Waseca many of which are still around.
"We want to recharge the entrepreneurial pipeline as a dynamic future is created in Waseca," says Gary Sandholm, Waseca Economic Development Coordinator.
The first step in initiating this recharge was forming B.E.S.T., the Business Entrepreneurial Support Team. B.E.S.T. is a countywide organization that promotes business growth and community improvement. One idea B.E.S.T. has been kicking around over the past year and half is the idea of shared space for entrepreneurs. And in January, this idea became a reality. A facility known as The Park is now open. The Park is a shared office space that provides inexpensive work spaces for entrepreneurs, or other small businesses that might not have their own facility.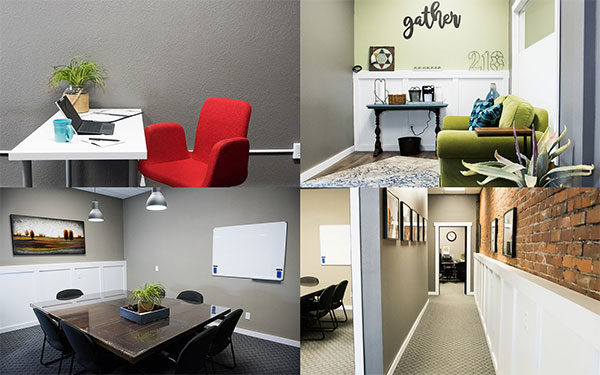 "The Park is in the old Park Theater hence its name," explains Sandholm. "The building was recently purchased by Dave and Sue Vigstol as a location for their estate sales business. Turns out, they didn't actually need much of the space in the building and had no immediate plans on using the extra room. So Erin Wagner, with B.E.S.T. of Waseca County, talked with them about the shared space project and they were interested in the concept."
The amenities initially are desk space, internet connection, conference room, and the option to rent closed office space. As the concept and the building evolves, more amenities will come to fruition.

"One additional benefit to the community is that, although our activities in The Park are focused on entrepreneurs, it is also available to remote workers and freelancers/self-employed. I've been self employed since before moving to Waseca, and since I did not have a group of co-workers to interact with, the process of finding a niche for myself in the community was a bit more lengthy than it is for most people. This can fill that void for folks like me," says Wagner.
Wagner heads up the marketing and business development for Smartbeat, a video baby monitor with breath detection that can alert parents if their child is not sleeping safely. The company is currently in beta and hoping to be available for purchase early this summer. Wagner loves the work, but is a remote worker.
"The rest of the Smartbeat team is based out of state, so I have been working from home rather than from the company headquarters," she says. "While I love the flexibility, I can go days without leaving the house, simply because work and rest are all in the same location. So I am renting desk space at The Park, which will give me the opportunity to change locations from time to time. It will also make it easier to focus for longer stretches, and puts me in contact with more people from the community."
The Park is located at 218 North State Street. Owner Sue Vigstol says she is pleased with the way The Park has come together. "I am glad the B.E.S.T. group approached us," she says. "We were just going to use the extra space for an occasional estate sale or storage. But now it's a beautiful space where anyone can rent a space to work, or we even have a classroom. There are lots of ways the shared space can be used."
Sandholm says the importance of this project can be seen in the potential that it can unleash in Waseca.
He says, "It provides a businesslike space where entrepreneurs can develop business concepts and plans, will help build a network of entrepreneurs that can help each other solve problems and better take advantage of opportunities, provide a stepping stone from a kitchen table idea to actually starting a business and be a place where members can meet with SBDC, SCORE, and other business service providers for business assistance."
Wagner agrees, The Park should open some doors in the city.
"I think The Park will play a key role in helping Waseca nurture its entrepreneurial talent. A co-working space alone wouldn't create a cultural shift, but there are various other entities in town working to support entrepreneurs, such as B.E.S.T. of Waseca County which has a support program up and running. Having a location in town for all of these entities to come together may make The Park into Waseca's startup lightning rod. Amazing things happen when the right people come together."
Website: theparkwaseca.com
Facebook: The Park Waseca