Spring Touch Lawn & Pest Control
Connect TV is produced with True Facade Pictures | Photos by Kris Kathmann
Home Turf Advantage
Marv Kottke's childhood lawn mowing business grows to 12,000 customers and 60 employees over 45 years; A classic entrepreneurial tale.
When Marv Kottke started mowing lawns 45 years ago, he didn't imagine his customer base would eventually grow from two dozen to 12,000. He didn't imagine he'd possess the help of more than 60 employees. He didn't imagine running a fleet of 35 trucks, each with Spring Touch Lawn & Pest Control emblazoned on the side and equipped with tablets and printers. He didn't imagine having anyone besides his parents to answer the phones, much less a call center with half a dozen employees doing only that. He didn't imagine that growing the business would fall second to growing his family or that someday the two would seem intertwined.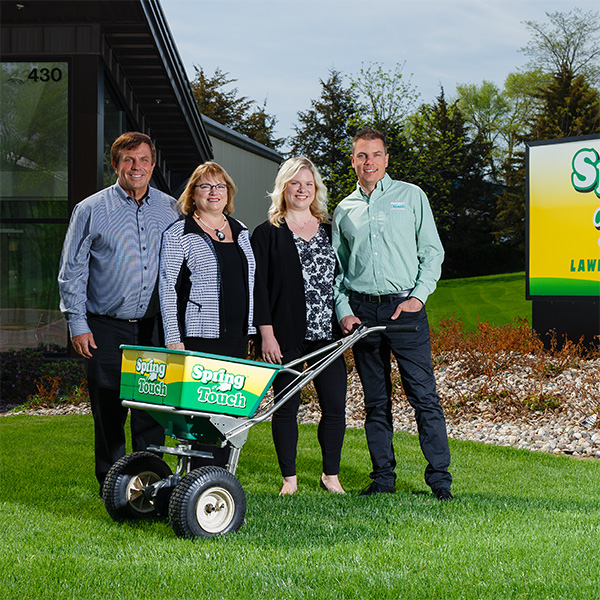 That first summer in 1973, Kottke was just a middle school kid driving a tractor around his Mankato neighborhood. Neighbors within a 2-mile radius of his home near Franklin School would call and ask him to help with their lawns.
Kottke would gas up his John Deere 110 lawn tractor. He'd hitch a matching green trailer to the back to carry a push mower. He'd tow the entirety of his company, then called Marv's Lawn Care, along the Broad Street sidewalk, and mow until dark.
"I never ever imagined that I would be doing this the rest of my life," Kottke says. "It's literally the only job I've ever had."
Maybe Kottke couldn't picture what his life and company would become. But that has more to do with how much the company has grown — in the number of people it employs, customers it serves and services it offers — than any lack of imagination. Now the company is selling franchises to grow in the region, with the goal of planting Spring Touch locations around the U.S. in the near future.
It would have been impossible to expand Spring Touch without the hard work of Kottke's wife, Linda Kottke; their children, Brian Kottke and Jennifer Newlands; and their son-in-law, Nathan Newlands. Working with family guarantees there are many people who can be trusted to get things done — but he never planned to have this luxury.
"I didn't think my kids would work in the business with me. I assumed I would grow it and work hard, and at 55 or 60 years old, I'd sell it out and that would be it," he says. "Now with the children in the business, it's really exciting, and we can take it to the next level."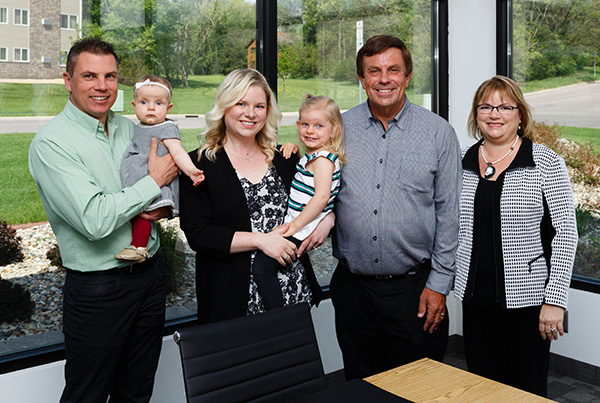 'We all have our own piece of the puzzle'
Spring Touch currently offers a number of services, including organic lawn care, core aeration, lawn disease control and sprinkler installation and maintenance. The company offers specialized services to control mosquitoes, fleas, ticks, moles, grubs and other pests. In the Mankato area, it also provides snow removal services.
This range of services requires a number of employees who focus on different areas. For a long time, though, the company simply consisted of Kottke mowing lawns and applying weed control, once he became licensed to do so in high school.
The company's first unofficial employee was Kottke's father, Bernie Kottke, who originally bought the old John Deere 110 tractor and assisted with mowing once the customer base grew. Both of Kottke's parents grew up on a farm, and they demonstrated the importance of a strong work ethic.
"My dad was a tool and die maker for 10 years. Then he got injured, so he started up Kottke's Coin Service. He did that most of his life, and he helped me part time, mowing grass back when I was young and started getting bigger commercial properties," Kottke says. "For him, it was like farming. He loved it and loved getting out of the house."
After high school, Kottke enrolled at Minnesota State University, Mankato, but he continued to run Marv's Lawn Care while taking classes. He took business courses because he wanted to be an entrepreneur, but he didn't know what industry would suit him best.
"I was looking for different businesses, but kept growing the lawn care business as I went through college," he says. "…After taking the business core classes, I went to the University of Minnesota Horticulture School in Waseca."
Kottke realized near the end of college that the business he needed to grow was the one he'd been running since middle school. "We were doing quite well financially, and it seemed to have limitless growth," he says.
By that time, Kottke had met a young woman from Blue Earth who was studying business management at MSU, and also had a strong interest in running a business. Their paths crossed during a missions trip to Daytona Beach, Florida, with Campus Crusade, according to Linda Kottke.
"We drove down the whole way on the bus and didn't even know the other person was on the bus," she says. "But by the end, we were best friends and were inseparable after that."
Linda went to work for Spring Touch the day they got married in 1983, she says. The company offices were at their North Mankato home until 1992, and she would answer the phones, keep the books and send invoices from there. They built offices off Lookout Drive, just a block away. This was convenient for raising two children while running a business.
"I had a baby on my hip and the cordless phone in my pocket," Linda Kottke says. "We went about our daily business and tried to do business at the same time."
It was never a given that the kids would pursue a career at Spring Touch, but they were very familiar with how it worked. Jennifer Newlands began working in the office at age 14, and then pursued a music ministry degree from North Central University. While studying in Australia, she met Nathan Newlands.
"She was doing a year abroad over there, and I'm her souvenir," he says.
Newlands had served in the Australian Air Force, and then opened his own small business. When he moved to Minnesota in 2008, not long before their wedding, it made sense for him to join the Spring Touch team.
"All of my schooling was in horticulture. I worked at retail, wholesale nurseries, a private school on the grounds, that sort of stuff," he says. "My background was horticulture, so when I was coming over, Marv was like, 'I've got a job for you.'"
Brian Kottke, who now serves as lawn care and pest control manager, started digging in sprinkler systems and pulling pipe at age 12. After completing a business management degree at South Central College, he pursued another associate's degree in automotive service. He uses that knowledge to service the Spring Touch vehicles in-house, but passion was his main motivation.
"He enjoys restoring cars and snowmobiles and different things," Kottke says. "He didn't see it as a career opportunity; it was more of an opportunity to learn and enjoy his passion more."
A family business might not be for everyone, but the mix of personalities and strengths has benefited Spring Touch, Kottke says.
"When it works, it works really great, and I'm sure when it doesn't work, it works really badly," he says. "But we have been very fortunate and really blessed. We all have our own piece of the puzzle."
'Learn it and then grow it'
When Kottke changed the company's name to Spring Touch in 1988, he had a very specific goal. "I knew that someday I wanted to franchise the business," he says. "So I knew I needed a better name than Marv's Lawn Care, and I wanted to have a professional logo, something I could eventually trademark, register and build a franchise company with. It just took me 30 years, but here we are."
Spring Touch is now selling franchises for $30,000 in surrounding states and will hopefully spread across the U.S. Kottke says this price is low because Spring Touch corporate plans to make money from each location's repeat business and product sales — rather than the single sale of that specific franchise.
"Our model is based on royalties. The more they make, the more we make," he says. "So we both have a vested interest to grow their business."
The fact that Spring Touch offers a range of services means the franchises are likely to keep a consistent customer base. The franchises will all use Spring Touch branded fertilizer, which will save them money.
"We have tremendous buying power. That's what's huge," he says. "Obviously, when you can buy at national pricing versus retail pricing at the corner hardware store, there's a big difference."
Most of the work on the franchise model has occurred in the past five years after Newlands was promoted to vice president of franchising, according to Kottke. Kottke and Newlands toured different franchise companies around the U.S., and Kottke earned a certificate in franchise management from Georgetown University. The corporate store will provide franchises with peer groups, accounting workshops and other forms of assistance.
"We've done a lot of education and put a lot of time in it, because we want our franchises to be successful," Kottke says.
The company moved its headquarters from North Mankato to St. Peter in 2015 because the lack of space was stifling its ability to grow. The building boasts 40,000 square feet — quite an improvement from the previous building's 8,000. It has office and warehouse space, along with a call center.
Spring Touch purchased the building — the old Taytronics location — from the city of St. Peter and renovated it. The Kottke family and other employees completed a significant amount of the work.
This is one thing that sets apart Kottke, Newlands and the rest of the leadership at Spring Touch from other companies: They are not afraid to get their hands dirty. They all started out digging in sprinkler systems, mowing lawns and treating for pests before telling others how to do it. This allows them to solve problems and give advice to customers without hesitation, but it also helps them respect the hard work their employees do, according to Kottke.
"We know what the technicians are doing every day. I've treated 100,000 lawns — I know what it's like. I've put in a couple thousand sprinkler systems. You just have that respect and rapport with each other," he says, adding that he and Newlands still work in the field a few times each year. "…We call it therapy. It's a lot of fun now. When you're doing it day to day, of course, it becomes work."
Running a family business requires everyone to pitch in when needed, Kottke says. But it also requires treating everyone, both employees and customers, with the same courtesy reserved for loved ones. As a result, Kottke and Newlands always test new products at their own homes before selling it to anyone else. This is how Spring Touch has grown into what it is today, and it's how the company plans to grow the number of franchises going forward.
"Once it seems something works really well, then we offer it to our customers," Kottke says. "That's our philosophy: Learn it and then grow it. Start small and go from there."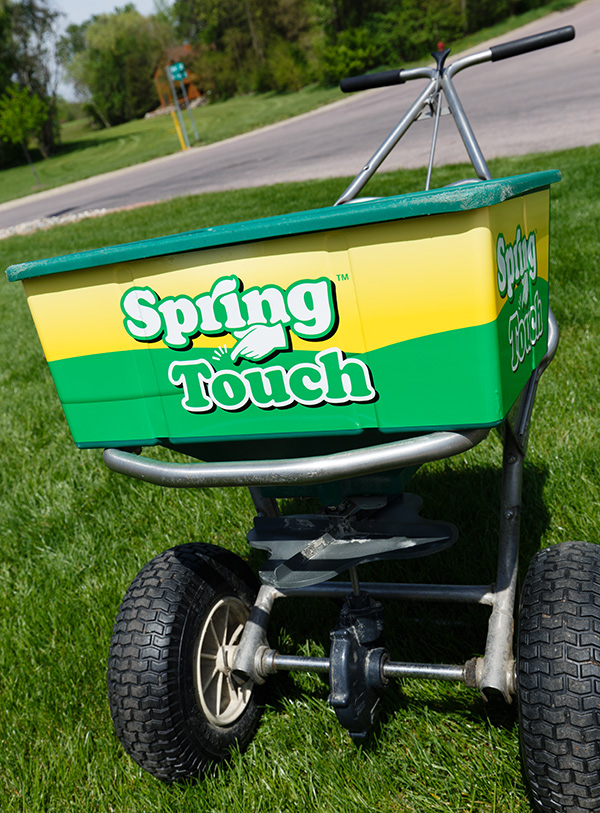 ---
Franchise On The Rise
Focusing on lawn care and pest control has provided a steady stream of revenue for Spring Touch. Both industries continue to grow, which is a benefit that Marv Kottke and Nathan Newlands focus on when talking to potential franchisees.
The lawn care companies enjoy repeat business, and all of those mowing and treatment trips add up. The annual revenue of the landscape services industry is $78 billion, and it has a 3.9 percent annual growth rate, according to a recent IBIS World market report.
In addition, the annual revenue of the pest control industry has exceeded $8.1 million and possesses a 4.6 percent annual growth rate, according to Pest Control Technology Magazine.
Organic Lawn Care Offers Benefits
Spring Touch Lawn & Pest Control has developed its own organic products to make lawn care green. The company's fertilizer, which is packaged in green and yellow to match the company's branding, contains mostly biosolids, offset by just 17 percent nitrogen and three percent pod ash.
"So 20 percent of the bag is mineral fertilizer with crabgrass control, and 80 percent of it is biosolids, which is organic fertilizer," Marv Kottke says. "…Organic fertilizer is great for your root system and your soil conditioner, but the mineral fertilizer gives you the top green and gives you the top growth. So the combination is huge."
Another green product Spring Touch offers is a water-based weed control. The company replaced its previous petroleum-based product with this a few years back, according to Kottke.
"It not only works better, but you also have less smell," he says. "It's almost odorless, so our customers appreciate that."
Helping Military Families Through Lawncare…and Baseball
Having served in the Australian Air Force, Nathan Newlands understands the importance of taking care of military families. A few years ago, Spring Touch teamed up with the national nonprofit Project EverGreen to provide services through its GreenCare for Troops and SnowCare for Troops programs.
The programs began in 2006 to provide snow removal and lawn care services to active-duty personnel and "post 9/11 disabled veterans with a service-connected disability," according to the Project EverGreen website.
As vice president of franchising, Newlands will require each new Spring Touch franchisee to participate in GreenCare for Troops. "We give free lawn care to people who are overseas serving right now," he says. "…It's a 'Thank you' to them."
The GreenCare and SnowCare for Troops programs have assisted 11,000 military families, the website states. Over the past 12 years, 6,000 professionals have volunteered an estimated $8 million in services.
To raise awareness about the programs, Project EverGreen and lawn care equipment manufacturer Toro, one of its main sponsors, asked Newlands to throw the first pitch at the Twins' June 2 game against the Cleveland Indians. A video on Facebook showed him practicing with his 3-year-old daughter, Olivia, and encouraged viewers to help in raising $10,000 for the programs.
Baseball isn't as popular in Australia where Newlands grew up, but he was one of the few Aussie kids who enjoyed and played the sport. When his father visited in 2008 for Nathan and Jennifer's wedding, one of the first things they did was go to a Twins game. Newlands felt confident about throwing the first pitch because it would help military personnel, some of which have young families like his.
"It's something that they don't have to worry about for their family back here," he says. "A lot of them have young kids that want to be outside in the yard, so we go out and treat for free while they're overseas."
THE ESSENTIALS
Spring Touch Lawn & Pest Control
Address: 430 Ritt Street, St. Peter, Minnesota
Phone: (507) 388-9100
Web: springtouchlawn.com
Facebook: Spring Touch Lawn & Pest Control