Connect TV is produced with True Facade Pictures | Photos by Kris Kathmann
Retail Renaissance
St. Peter's Ashleigh Moelter is riding the boutique retail wave by adding locations and partners.
It's being dubbed a "Retail Apocalypse". The term refers to the closing of a large number of North American, large chain, brick-and-mortar retail stores. The trend started in 2010 and shows no sign of slowing in 2018. The statistics have become so significant in the United States that "retail apocalypse" now has its own Wikipedia entry.
Major department stores such as JCPenney and Macy's have announced hundreds of store closures, and well-known apparel brands such as J.Crew and Ralph Lauren are unprofitable. Further statistics show that nearly half of the shopping malls in the U.S. are expected to close by 2023.
Locally, national retailers like Herbergers and Sears, among others, have closed their doors. Bringing this national trend close to home.
"As I look at these large retailers and department stores struggling, I feel as though so much of it comes from losing touch with their customers and worrying more about the statistics. The focus for them I feel has shifted from gaining those relationships in store to now pushing the numbers and employees reaching daily quotas. Creating and maintaining a culture around daily quotas isn't something that many individuals thrive on. They may thrive on reaching the number but getting there can seem rehearsed," says Ashleigh Moelter, owner of The Refinery, a specialty women's clothing shop that started in St. Peter.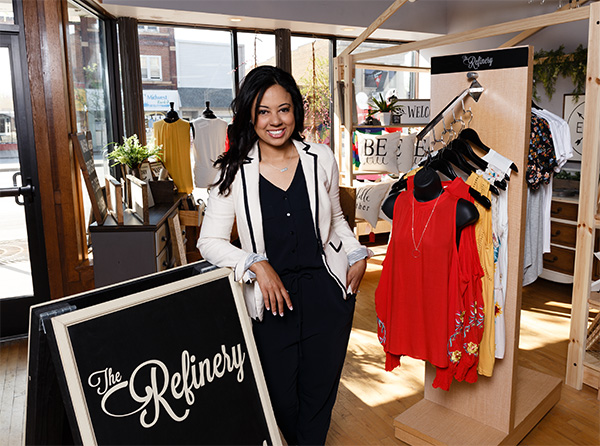 So, in the midst of a retail apocalypse, our region is seeing a renaissance of smaller boutiques and locally-owned shops. A movement led by local business people like Moelter.
"Something that I think is so important in this industry are the personal connections and relationships you develop along the way. Our number one priority at all times is our customers. We think of them as family, even if it's the first time we are meeting them. The relationship should always mean more than the sale. We can make sure they leave our store with the best outfit, gift, or home décor piece. But when the time comes that the outfit is out of season, the gift has been given, or they need to switch up their home décor, did we create a good enough experience the first time where they will instantly think to come back," she says.
The Refinery has a unique offering of apparel, home décor items and gifts. While she seems to have the right business savvy for it, retail is not her background.
Just after college she had a career in healthcare administration, holding senior leadership roles in both human resources and later transitioning into clinical operations.
"I loved everything about my career field and all the opportunities it brought," she reflects. "I was in my mid 20s working for some of the most well-respected healthcare leadership teams and orthopedic physicians in the Midwest. I went home every night feeling excited, inspired and challenged. But also as a new mom, extremely tired and struggled to find the work-life balance I heard so much about."
Moelter had to not only adjust to being a new mom but also being a new mom to special needs twins, born prematurely. Along with her babies, she brought home a trach, oxygen, monitors, feeding tubes, and had to get them to up to eight therapy appointments per week, three or four physician visits a week, and then, before she knew it, baby number 3 was on the way.
"It was at that time I decided to step back and take a part time position with the University of Minnesota Amplatz Children's Hospital and the March of Dimes as a Family Support Manager working with families who had children in the NICU. Something I was all too familiar with and a position that was near and dear to my heart. This position allowed me the flexibility to be there for my children while also being able to provide for our family.
"As the years went by we started thinking more and more about what type of school setting would be best for our children. We both agreed that being in a small-town setting was best for us as a family and started looking for a home in the St. Peter area."
Moelter had graduated from St. Peter High School but going back as an adult gave her a whole appreciation…and a whole new vision of what life could be like there.
"I remember coming down and looking at houses and walking the downtown thinking how neat is was and what a gem of an area that I never really discovered when in high school," she says. "I remember looking at Nutters, River Rock, Sticks and Stones, Contents, Swedish Contour and thinking wow you really can find a little bit of everything in this town.
"Then the wheels started turning and I thought, I should open another women's boutique in town! But maybe also incorporate kids apparel, gifts, and a few DIY projects. I knew nothing about opening a boutique, let alone running a business. My husband was the business man having owned some Dairy Queen franchises. But a clothing boutique, of course, was a different story."
As she does with all endeavors in her life, Moelter went into "go" mode. She found what she calls a "neat" little 700 square foot space vacant in St. Peter, pulled a few all-nighters, crunched some numbers, and put her grand plan into motion.
"It was perfect. Not too big, not too small, needed some paint, a good deep cleaning but most importantly it was in my budget," she says. "About eight weeks later I opened a little store on Minnesota Avenue called My Mother's Daughter. A name that stemmed from everyone in town knowing my mother Kim and always being called "Kim's daughter". We carried a small selection of kids clothing and a small selection of women's clothing."
Fueled by the early success of "My Mother's Daughter" the wheels continued to turn in Moelter's mind.
"The little store was doing well but I knew I needed a little experience in the retail industry before I could jump into really successfully growing my business. So I decided to go and apply for a job at Target. In my mind I was thinking… Yes, a side job at one of my favorite stores, a great discount, and most importantly the experience I was looking to gain as I dreamt of really expanding my new boutique. I applied at Target for a flow team member position, which was an early morning position learning the logistics. I figured this way I could work the mornings prior to my other job and still have enough flexibility to be with my kids. By the way, by this time, we had welcomed baby number four into the family!
"I was called in for an interview the very next day but after seven different interviews was offered an Executive Team Leadership position in Human Resources in the southern Minnesota area. I went home, talked to my husband and as always, he looked at me and told me it was my decision but that he would always support whatever decision I made. I am a woman who trusts her gut and knew that this was an opportunity I just couldn't pass up. From day one of walking those downtown streets after house shopping I knew there was something special that was going to come out of it. Even if it meant I needed to learn to juggle three jobs, four kids, and everything else it entailed."
Over the next year and a half, her business continued to grow, they stopped carrying children's clothing and even went through a name change to just "Ashleigh's." All the while, Moelter was learning all she could about the retail biz.
"I remember it was October 2015. I was in the store on a Saturday morning doing a window display and noticed a for lease sign in the window across the street. I put a sign on the front door that said back in 10 minutes and walked across the street to check out the space. I peeked inside and all I could see were beautiful hardwood floors, a tin ceiling, and a whole lot of opportunity. I immediately called on it and the new landlord met me in store the very next day. I once again trusted my gut and the timing, gave my notice at Target, and opened The Refinery late November 2015."
Today, in just two and half years since opening, The Refinery has expanded to include locations in Chaska, Minneapolis and New Prague. St. Peter though remains home.
"St. Peter is our flagship location and our biggest location," Moelter says. "We have a very strong customer following locally and throughout the Midwest. With being right on 169 we get a lot of highway traffic stopping in on their way to and from the Twin Cities area."
Up until now, Moelter admits it has been a labor of love with she and her husband carrying a bulk of the work burden. However, she finds as she expands locations she is also expanding her support network, even bringing in a partner.
"I created and developed this business on my own. Something I am very proud of but also something that I look forward to sharing with my new partner, Krista Morneau. Krista is the wife of former MLB player Justin Morneau. Krista and I share the same work ethic, values, drive, and ambition. Krista believes in small business and believes in The Refinery and future that it holds.
"Between the two of us we currently have nine children and often joke that we have an entire baseball team. We are busy moms but also moms on a mission to make a difference. We hope to continue to grow and scale The Refinery but also really incorporate a philanthropic side to the business that makes an impact."
Impact is something she believes smaller, locally-owned retail shops can have on their communities. And one reason they can survive when larger retailers are struggling.
"The future for small, locally-owned retailers I feel is positive. There is so much room for growth and opportunity out there. Seeing the shift and excitement in society for shopping local has been incredible. One of the things that is important to us as we continue to grow and expand is always creating new and exciting experiences for our customers," she says.
---
Family Time Equals Priceless
No matter how many professional roles Moelter takes on, her most important one is that of mother. Devoted to her husband and five children, Moelter prioritizes them over her business ventures, which she believes would not be successful without the strong foundation at home.
"Outside of work I enjoy spending time with my family," she says. "We are homebodies and love our time together. Most often you can find me shuttling children around from activity to activity. We also enjoy spending time together at the campground and traveling when we are able to do so."
She considers herself a life-long learner, and is committed to constant self development.
"My favorite thing to do personally is to read or listen to podcasts. I am always looking to learn and develop as an individual, leader, and entrepreneur."
St. Peter Perks, The People
While she appreciates the quaintness and the special character of the buildings and atmosphere in St. Peter, Moelter knows they wouldn't account for much if not for the population around them.
"My absolute favorite thing about St. Peter is the people within the community," she reflects. "I have never met a more supportive and loving community as this one. With the growth the town has experienced it has been incredible to see such a welcoming environment for all."
Coming Home
"Growing up, the saying in our household was 'Home is where the Army sends you'." My mom was a Command Sergeant Major in the Army which meant we moved often, like typically every two to three years. I was born in Germany due to my mom being stationed there. Prior to graduating high school, I had lived in multiple different states including Washington, Texas, Alaska, and even making my way back to Germany as a freshman in high school. My mom is originally from St. Peter which meant during any of her deployments to Iraq, Afghanistan, and Korea my sister and I would come back to Minnesota and stay with our grandmother during her deployments. I ended up having the opportunity to graduate from St. Peter High School in 2006 and from then on knew St. Peter would one day be the place I would raise my family."
A Match Made In Minnesota
"My husband who is originally from Roseville, Minnesota and I met through the Chamber of Commerce in Winthrop, where we also currently own the Dairy Queen there. We have five children all under the age of 8. The twins are 8 years old, then we have a 6-year-old, a 4-year-old, and a 2-year-old. Our family began in the Fall of 2009 when we welcomed our twins into this world 4 months premature. Since then our world has been nothing short of a whirlwind. After spending 7 months in the hospital with them, we were finally able to welcome them home in the Spring of 2010. Since then we somehow managed to add another three to the family and couldn't be happier."
The Refinery LLC
Address: 216 South Minnesota Avenue, St. Peter, Minnesota
Address: 105 Main Street East, New Prague, Minnesota
Address: 102 East Second Street, Chaska, Minnesota
Phone: (952) 873-9679