Inspire Health & Wellness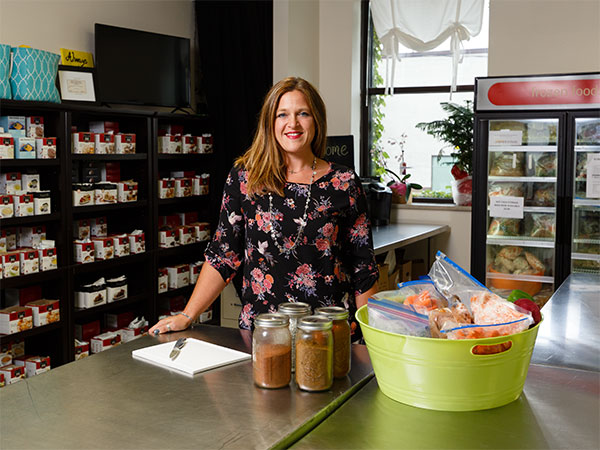 Photo: Kris Kathmann
Mankato – Inspire Health & Wellness
Diet and weight loss centers seem to pop up daily, but as Tina McClain watched this happening, she could see a few things that could be done better.
"I want to offer people an affordable diet/wellness plan along with the family grab and bake at-home meals to complete what I feel teaches people healthy living without the large yearly fees or initial fees," she explains. "I knew way too many people were going into severe debt because they were trying different plans. I want them to learn health living and have a balance in life without it being a financial burden."
She founded Inspire Health and Wellness in February of 2016, but it was just May of this year when she brought her dream full circle.
"I opened my commercial kitchen with grab and bake at-home meals open to anyone. I decided to open the grab and bake home commercial kitchen because it completes the healthy lifestyle I have been teaching people for years. This allows families to have healthy, quick meals and teach their children while cooking it at home," she says. "There are three things that happen inside Inspire Health & Wellness. One involves meal prep classes and grab and bake at-home meals. The second is I help design an individualized diet/wellness certified plan. And lastly, I finished with a college degree in LIFE coaching in August of 2018 and will start my Masters program in life coaching in the spring of 2019. So I offer those services as well."
For McClain, the business is very personal.
"The key to my success has been my ambition and drive to show people it doesn't have to be all or nothing in a diet plan," she explains. "You can get results with grace, love and balance in life. I live that in my life the best I can. I'm normal, I have a judgement-free zone always in my office. Because I lost over 100 pounds eight years ago I know how people feel, how they are depressed when they don't eat well, how they look down at the floor instead of holding their head high and being proud of how they feel when they are living a healthier life."
McClain says business is going well at the new location in the Hugo Building. She has even hired a part-time employee to help with her growth.
Inspire Health & Wellness
530 North Riverfront Dr, Suite 150
Phone:  507-381-5948
Website: inspirehealthcoach.us