Marshall Ace Home & Hardware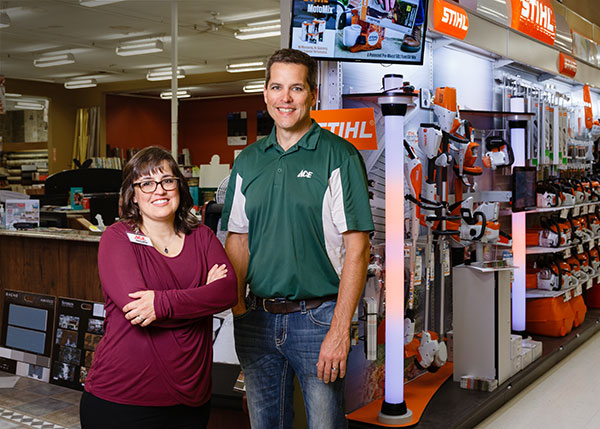 Photo: Kris Kathmann
Building on the Family Business
In its seventh decade, this family-owned hardware store in Marshall, Minn. continues to diversify.
As the oldest of three children in the family, Jennifer (Fox) Johnson was 15 when she began her career at what is now Ace Home & Hardware in Marshall, Minnesota.
"One evening, my father, Ray Fox, told me I was going to the store with him the next day and to be ready to learn the hardware business," she explains.
Her first responsibilities included stocking shelves and using the pricing gun, a tool long since replaced by UPCs to be scanned at the register. On Saturdays, she cashiered, which helped her overcome childhood shyness.
"I was a quiet person growing up," Johnson says, "but when I cashiered during the school year, I had to talk to customers. For good customer service, you have to talk to customers."
She eventually became the flooring specialist, a responsibility she has kept for 22 years. She also is co-owner of the business, along with her brother, Mike Fox, and a silent partner, James Carr.
Ace Home & Hardware, located on U.S. Hwy. 59 North, was founded as the Marshall Lumber Company in 1952 by Luis Galanter. He opened his business, with three employees, in a 480-square-foot garage on the north end of town, near the industrial section. Thirteen years later, he sold the business to Roy Fox and Robert L. Carr. In 1972, Fox's son, Ray, purchased his father's share of the business, and three years later the store became a True Value Home Center. Today, the 38,000-square-foot business serves customers—homeowners, industry, farmers and property management companies—not only in Lyon County, but also draws business from Lincoln, Redwood, Murray and Yellow Medicine counties.
Five years ago, Jennifer Johnson, Mike Fox, and James Carr took ownership of the business. They had purchased the family store in Williston, North Dakota three years earlier. (See sidebar: Boom Town.) The middle sibling of the Fox family, Julie, is not involved in the business, but works as a scientist for the Minnesota Bureau of Criminal Apprehension.
Johnson manages the store in cooperation with the operations manager, Diane McCormick. Fox manages the lumber yard, a 5,000-square foot warehouse and a niche market–home construction. The business holds a general contractor's license, which is not typical for a Home & Hardware store.
It was even more unusual 50 years ago, when the owners began that aspect of the business.
Johnson explains, "Roy Fox and Robert Carr built a lot of homes in the 1960s and 1970s. We still provide everything needed to build a home, even the concrete. We have a well-trained and knowledgeable staff, with two of them able to draw blueprints."
Fox adds, "We build from the ground up, using 10 or 12 sub-contractors. We build several homes a year on spec and typically have two for sale at any time. We also do custom building. We dug a hole just yesterday, here in town."
The store's five department managers oversee sales of flooring and cabinets (including kitchen and bath), paint, plumbing and electrical supplies, as well as building materials. Sales of building materials substantially add to spring and summer profits, except in the years in which the community weathers housing slumps. The store also offers tool and equipment rental.
"We are staffed with 50 employees from several area communities, many of whom have been with our family business for more than 20 years," Johnson says. "Our long-term service means that when customers shop in our store, they will see the same people offering knowledge that comes only from experience. Many of our customers shop our store because of our personalized service. We know them on a first-name basis. In addition, our staff members go through a minimum of 15 hours of training each year to keep them on top of the trends.
"One current trend is luxury vinyl planks, called LVP planks, often installed in a basement or other area that may get wet," Johnson continues. "They are pieces of vinyl flooring that snap together like a jigsaw puzzle. If your basement would flood, you can number the planks, take them up, snap them apart, clean them, and (using the numbers) put them back down after the concrete floor dries.
"We're slower with new trends here because we're very conservative in the Midwest," Johnson reflects. "Trends start on the East or West Coast and take a while to get here. In paint trends, gray is big this year, especially for interiors, and white and shades of blue are also big."
The store's advertising is traditional, typical of a customer-based business in a small community. In addition to newspaper, radio and social media advertising, Johnson advertises with banners and in programs at Southwest State University, located in Marshall, and at public school events.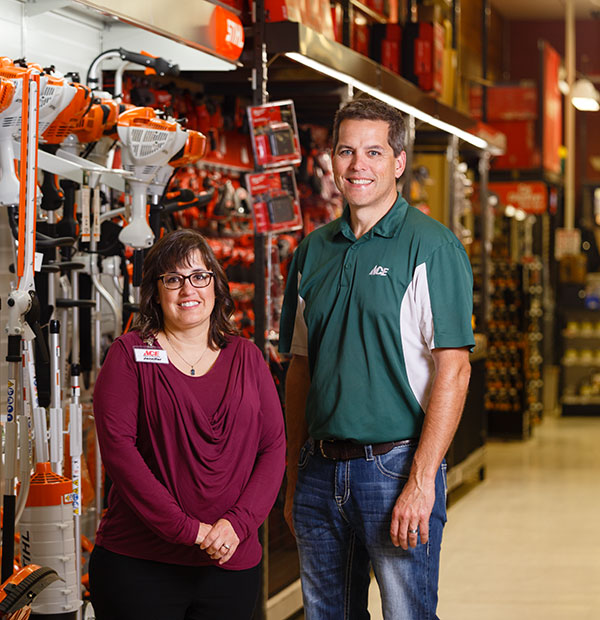 Although some of the store's staff training takes place online, Johnson and Fox bring information back from Ace national conventions, to which they also take some employees. Johnson said, "We just came back in September from the Ace convention, where we bought products for next spring. The next show is in March, when we'll be buying for fall and Christmas."
In addition, sales representatives of product lines that the store carries personally train employees on product knowledge. Marshall Home & Hardware is a dealer for high quality brands such as Weber, Yeti, Milwaukee Tools, Craftsman Tools, Nest Home Products, Marvin Windows, Kozy Heat Fireplaces and Larson Storm Doors. Some of the store's inventory, such as Big Green Egg grilles and Stihl chain saws, draw customers because those items are not available online. Seasonal displays include a springtime green house and a live Christmas tree, with lights and ornaments, in December.
The rental department at Ace Home & Hardware offers options not often seen in a hardware store. In addition to having a large tool and equipment rental department, the store offers (and will set up) items useful at weddings, parties and housewarmings, such as tables, chairs and a dance floor. They'll even provide linens for weddings.
The store became Ace Home & Hardware, in 2015. Johnson explains, "We like that Ace is a co-op. As store owners, we buy stock and own part of the corporation, and we appreciate the informative conventions. The Ace conversion included new lighting vendors, expanded housewares, RV supplies and a wine-and-beer-making supply center, as well as better marketing strategies and higher name recognition."
After Johnson worked in the store for several years and graduated from Marshall High School, she earned a marketing degree at the University of North Dakota in Grand Forks. When she returned to Marshall, she worked in the store's paint department for two years before moving to the flooring department in search of more challenge.
Fox also grew up in the business, beginning his hardware education at age 14 in the lumber yard and building materials department. He earned a business management degree at Minnesota State University, Mankato and spent a few years working in financial management in St. Cloud. When he left that job, his father offered him a casual opportunity: "Why don't you just work here until you find your next job?" Fox has been at the store ever since. Having grown up in the community, both owners have innate knowledge of customers' interests.
Johnson handles the company finances, retail pricing, human resources, and customer relations, including advertising, marketing and events planning. She described one recent event, Men's Mega Mania, as "our biggest grilling demonstration ever." She invited 11 non-competing exhibitors to take part, including a bike shop, a health products store, a bakery, a tech company, the YMCA and Marshall's SMASH Homebrew Club, of which Johnson has been a member since adding the wine-and-beer-making center to the store. She says, "We served samples of various craft brews that our club members had made, only to people age 21 or older, of course."
Johnson also plans and arranges an annual children's event, "Bounce Into Summer," with bounce houses, an obstacle course and refreshments from which the proceeds go to local nonprofit organizations. In November, she arranges a "Girls' Night Out," inviting women's clothing stores, a health store, a cosmetics consultant and a fitness center to participate.
Johnson's typical day in a normal 40-hour week includes the usual dealing with emails and phone calls. Her youthful Saturdays as a cashier have resulted in customer interaction being her most enjoyable activity. "Ninety percent of it is on the sales floor," she says. "I sometimes even review invoices while I'm on the sales floor."
Fox spends 45-50 hours a week reviewing inventory and ordering merchandise, looking over the previous day's sales numbers and keeping an eye out for new products and trends in trade magazines. In mid-morning, he goes to construction sites. He said, "We don't build houses, we build homes."
Both Johnson and Fox said they appreciate being able to solve a situation that a customer may consider a crisis, however common it might be. Johnson says, "Many of our customers have been with us for 20 years, so their records are here. We can look up the information on a broken door knob or a lawn mower that quit working."
Fox says, "Our goals include wanting our employees to have a comfortable work environment and a comfortable living."
Johnson adds, "Of course, our goals include making a profit every year, but also to be involved in the community. We're always looking for new ideas and new niche markets, such as the beer-and-wine-making supplies for the home brewer, so we don't become stagnant."
Johnson is a regular customer in the home brewing department. She explains, "I have two new wines planned this year, and 12 or 15 varieties in the cellar. I give away about three-fourths of it, usually at Christmas. It's not a lucrative hobby for me."
---
Boom Town
"In the early 2000s, my father bought six True Value stores, all of which were closing," Johnson said. "He kept them open, but sold off the rest by 2010, selling the store in Williston, N.D. to the three of us partners three years before we bought the store in Marshall." That positioned the new owners to benefit from the oil boom of 2011-12.
"Our store in Williston was definitely a profit maker during the oil boom," Johnson says. "It was crazy. The employees couldn't even unload pallets because customers just took merchandise off the pallets, sometimes taking the entire inventory of one item."
Johnson and Fox drive to Williston several times a year to check on the store's appearance and to review Ace programs with employees. For day-to-day management, the owners rely on local talent. Johnson says, "We have a good manager who previously managed a hardware store and then worked in the oil fields. He found that he missed the customers, so now he manages the Ace store for us."
The demographics vary somewhat between the two communities, with Williston having a younger, less tradition-minded population than Marshall. Johnson said, "Our Williston store manager can do more trendy things than we can do here. For example, there are trendier colors in home décor there than we see in Marshall and more hard surface flooring, rather than carpeting. The manager has an art background, so he's good at laying out merchandise displays and even has a niche art supply department, just as we have a niche in beer-and wine-making supplies here."
Match Making in the Store
Jennifer Johnson's husband, Josh, indirectly met her through the hardware business. Although he had occasionally been a store customer, they had not met. The story of their romance sounds as if it might have come from the pages of a book about "how we do things in Minnesota." They were introduced by a customer, a paramedic who was redoing her kitchen and met with Johnson to purchase flooring. In keeping with Minnesota small town protocol, Johnson asked her customer, "Do you know someone I could date?" The paramedic recommended a fellow paramedic, Josh Johnson. When he went to the hardware store to meet his blind date, they "clicked," and they were married in 2003. They have a 13-year-old daughter, Abby, and a 12-year-old son, Jake.
Josh Johnson, now a Thrivent financial planner, likes to tell the story of his grandmother's advice about finding a wife. (It, too, seems to fit with our Minnesota mindset.) He smiles as he says, "Grandma Johnson used to tell me that when I was looking for a wife, I should remember that the one I would find in a bar would remain in the bar, and the one I would find in church would remain in church. Well, I found my wife in a hardware store, and that's where she always is."
Personal Nuts and Bolts
Favorite school subjects?   Johnson: "Spanish, art and music. I played the piano."   Fox: "Math and the social aspect of recess. As a kid, I was too high energy for a classroom setting."
Family?  Johnson: "My husband, Josh, and I are both heavily involved in our children's activities-hockey, 4-H, volleyball, piano recitals, church activities, etc."   Fox: "My wife, Dr. Jessica Fox, is a corporate veterinarian for Ralco Nutrition. We have an 18-year-old daughter, Morgan, who recently left for college."
Hobbies?   Johnson: "I enjoy wine making, playing piano, paper crafting, kayaking and fishing with my family, but travel is the most relaxing. Our honeymoon trip was to Hawaii, I've taken several trips to Europe, and we're planning a trip to Hawaii with the children this Christmas."   Fox: "I enjoy golfing and fishing, and I used to be an avid hunter, but I no longer have time for hunting. I agree with Jennifer that travel is the most relaxing activity. I've traveled with my wife on her business trips to South and Central America."
Most valued possession?   Johnson: "I'm not really big on things, but I'm proud of the house my husband and I built four years ago in Lynd, five miles from here. We enjoy it, and I enjoyed modifying some of the blueprints."   Fox: "I have a car, a Dodge Challenger Hellcat, that goes 199 miles an hour. I had a sporadic driving record growing up, and didn't always have a driver's license, so I haven't verified that the car will go 199. My nephew, Jake, kind of wants it when he turns 16,"—a comment to which Johnson said, "That's not going to happen."
Most valued intangible?   Johnson: "The support of our parents while growing up, with good values, including education. Our father has a business degree, and our mother taught music."   Fox: "Having a lot of staff who have been here 20-plus years."
Three words to describe you?   Johnson: "Open-minded, a good listener, always eager to learn something new."   Fox: "Risk taker, community-minded, good communicator."
Volunteer work?   Both: Marshall Chamber of Commerce (Fox is a Board Member) and the National Small Business Association (Fox serves on the leadership council).   Johnson: Hockey Association and 4-H.   Fox: Rotary and City Planning & Zoning Commission.
THE ESSENTIALS
Marshall Ace Home & Hardware
500 North Highway 59
Marshall, MN 56258
Phone:  507-532-3296
Website:  marshallace.com