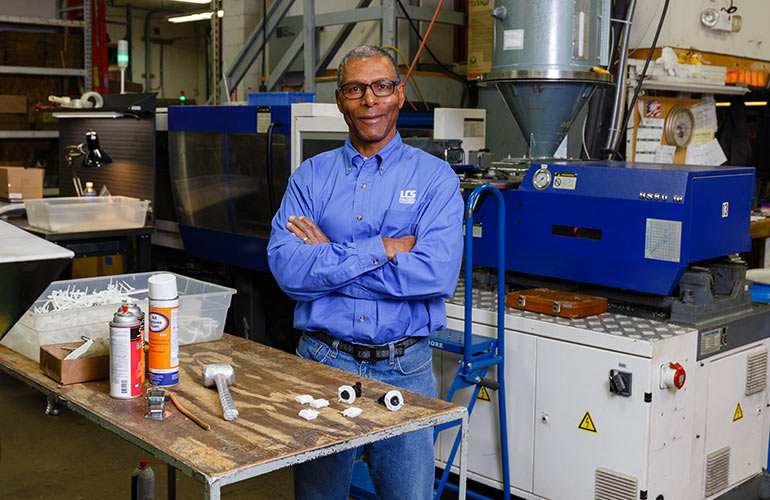 Photo: Kris Kathmann
Breaking the Mold
Waterville company is thriving in the competitive global market producing plastic injection molded parts.
Around this region, Waterville, Minnesota is known as the home of Kamp Dels, the Sakatah Lake State Park and an eclectic mix of charming restaurants and bars. Mixed in with the small town feel of Waterville, population 1,945, is a player in the global injection molded plastics market: LCS Precision Molding, Inc.
Reed Hart, owner of the now four-decade, family-owned operation, is proud of its location and the jobs its provides for the community.
"Waterville is a terrific community to own a business in," explains Hart. "Many of our employees live in Waterville or in one of the other communities nearby, and we're proud of the fact that more than a few of these employees have been with us for 10, 15 or 20 years. For a business like ours these long-term employees are key. Quality is very important to our customers, and employees who understand the parts we make and know our customers, are key to customer satisfaction and our success."
The global injection molded plastics market is now an almost $300 billion industry. Increasing demand for plastics components in a variety of end-use industries is fueled by growth in industries that include packaging, automotive, electronics, home appliances, medical devices, as well as windows and doors.
LCS Precision Molding, Inc. has been in business for more than 40 years with a plant, warehouse and office in Waterville. By industry standards, it's a mid-sized company with 24 full-time employees, several part-time employees and even temp workers when demand is high. The injection molding process involves manufacturing of molded products by injecting molten plastic materials using heat into a mold and then solidifying them. LCS, though, long ago broke the mold for what its creator had envisioned.
"The business was started in 1975 by Don Kaplan," explains Hart. "He owned a Manufacturers Rep company and through that company he saw an opportunity to supply several of his customers with plastic molded parts. LCS, which was originally named Lake Country Sales, has slowly grown in size from a one machine side business to our current 15 injection molding presses."
Coming to Waterville, Minnesota also broke the mold for what Hart envisioned for his life. His education and career have taken him criss-crossing the country, before he and his family settled back in Waterville and took over the company that has deep roots in the community.
"LCS was started by my father-in-law. He reached a point where he wanted to pull back from the businesses he owned and focus on his Elk farm," explains Hart. "So my wife and I purchased LCS in 2006 and moved to Minnesota.
"I'm originally from Ithaca near the finger lakes region of Upstate New York," he continues. "After high school I moved west, first to Colorado, where I met my wife, then to Northern California where we both completed our college degrees at Cal State San Francisco. After working for a few years we moved back to Ithaca for graduate studies at Cornell University. I completed an MBA; my wife has a Masters in Industrial and Labor Relations. After graduate school we both spent many years working for Hewlett-Packard in California. My wife, Julie Kaplan, worked for over 25 years in various human resources roles and I worked in Operations for Hewlett Packard's North American Server business."
Hart had the education and the experience and brought his own vision with him to LCS.
"Because of Don Kaplan's work representing suppliers to window and door manufacturers, the fenestration industry has been and continues to be the central core of our customers," says Hart. "We supply parts to Amesbury Truth, Andersen, Kolbe, Sierra Pacific, Weather Shield, and many more of the window and door companies throughout the Midwest and around the country.
"Branching out from that core, though, we now work for a wide variety of industrial customers, supplying parts for recreation-related companies, motorsports, furniture, retail display, and companies in a number of other industries. Like all injection molders we pursue projects where we can partner with customers to supply high volume parts on a long-term basis, but we also are happy to work with customers on prototype or small run projects. For example, we have a customer that came to us 5 or 6 years ago to produce replica guitar bobbins for custom guitars. We still make a relatively small number of these parts each year, and hanging in our offices is a picture of a guitarist for James Taylor's band on stage playing a guitar that has one of these LCS produced bobbins on it!"
While Waterville was a far cry from what Hart and his family experienced in California, it has suited them well and Hart says is a great place to grow a business although it does come with its challenges.
"The challenge we face is the same one faced by most manufacturers in southern Minnesota in these times of high employment – it's often difficult to find local employees, particularly to staff 2nd and 3rd shifts," says Hart.
Economic and political challenges are also a constant presence. Shortly after Hart purchased the company, the recession of 2008- 2010 hit the country…and his industry in particular, hard.
"Because we do so much work for companies in the housing industry the great recession of 2008-2010 hit us very hard. It took some time to climb back out of that hole and get back to the revenue numbers we had in 2006-2007. Once we were able to do that we've been pleased with the growth we've been able to achieve, which has averaged a little over 10% per year," says Hart.
The key to that growth and success, Hart says, doesn't come down to just the products, mostly it's the people.
"Our success has been the people we employ," he says. "They enjoy working in the community they live in, and take pride in LCS. While there are types of parts where we have particular expertise, much of our competitive advantage comes from employees who do what it takes to make sure our customers get quality parts on time. On some thankfully rare occasions over the years, I or one of my employees, have couriered parts to customers to avoid an early production line shutdown. Engineers, plant managers, and purchasing managers remember vendors that go above and beyond as companies they want to do business with in the future. A number of times over the years we've gotten calls for quotes from someone we worked with in the past who's moved to a new company and recommended us when it came time to look for an injection molder."
It's not only the local employees Hart chooses carefully.
"LCS carefully selects our vendors to ensure customers get the best possible pricing on a project from planning phase through production parts," he says. "These relationships allow us to bring the highest levels of experience and skill to bear on our projects, and we've only built relationships with companies that we know have a customer first philosophy."
Hart is proud of the company, the community, and the culture he's built. LCS is a privately held corporation with stock held by Hart, his wife and his daughter, qualifying LCS as a Minority-Owned Business.
"We first became certified several years ago when my daughter was working for us as our marketing manager," Hart says. "She still helps out on a part-time basis with our marketing efforts, but now lives in New York City and has another job. Anyway, some customers either because of their own purchasing policies, or because of government-related contracts look for minority-owned vendors for their bid lists. There don't tend to be many minority-owned manufacturers, to a large degree because manufacturing tends to be capital intensive, so that can often be a barrier to entry. Minority-owned businesses are more common in service-related industries with lower start-up capital requirements. The advantage is relatively small – it may help us to stand out and have an opportunity to quote where we might not have stood out in the past.
"But more importantly, it's something we're proud of. So when my daughter researched it and found we qualified we went through the application process and noted it on our website and in our marketing materials."
Hart only takes a brief pause to look at where the company has been, as he knows the future will also have its challenges.
"I am not a fan of the recent rounds of tariffs put on products sourced in China. I think it will be a net negative for our standing in the world, and for the U.S. economy. We are working with several customers who are looking at bringing parts they're currently sourcing in China back to the U.S. I'm confident we can provide similar pricing, and much better lead times and service to these customers by making these parts in Waterville. While I don't like the tariffs, I don't think they're going away anytime soon, and I think there will be a shift toward U.S. vendors for some types of plastic parts. We want to make sure that manufacturers in the upper Midwest think of LCS when these on-shoring decisions are made."
---
Trends in Precision Molding
Precision molding is becoming more popular and is the current trend used to address many manufacturing challenges. That is because it allows engineers to quickly address production issues using advanced tools. Tools that are so technologically advanced they can monitor the injection process and send alerts during a malfunction. There are tools to simulate mold flow and make changes to processes in real time. Companies can even program machines to alarm when operation is outside of tolerances.
Another trend to watch is metal to plastic conversion. More and more manufacturers are considering changing metal parts and products to plastic. It's not a new concept, the idea of metal to plastic conversion has been around for quite some time. Until now, some companies didn't consider it as a viable solution. The industry had the idea that metal is superior to plastic. But they are finding that's not always the case thanks to new materials and mixing processes. Today's plastic can be stronger, lighter in weight, and more flexible in design.
While some items may always need to be made from metal, the excuse of "it's always been made this way" is becoming less and less of a reason to put off switching to plastic parts.
Nearshoring is another trend to watch. This is the concept of outsourcing work to within the United States. Outsourcing to companies in Asia used to be understood as helping to lower costs in production, materials, and labor. But the industry found outsourcing overseas can have many hidden costs. It also dramatically impacts the timetable, potentially adding weeks to the schedule. Companies that require fast turnaround simply can't afford that.
Faster turnaround times also makes it easier to have a tighter reign on production and quality. If a production run contains a defect, the steps needed to fix the mistake are within reach and can be caught early on. Nearshoring reduces the amount of time it takes to receive the product while still letting companies take advantage of lower costs.
Hart On The Spot
What is your favoite hobby?  Road Cycling
What is your favorite food?  New Orleans Creole/Cajun (my mother's family were New Orleanians)
Where is your favorite place to travel?  Everywhere! Traveling is a second hobby.
What is your favorite sports team?  Timberwolves! We're season ticketholders and passionate fans.
Low Down on LCS
Manufacturer's Reps
Distributors
Tooling
Country Tool
KWL
Southern Minnesota Tool
Win Sino Mold Company
Contract Assembly
Certifications
ISO 9001:2008 certified company, registered by Bureau Veritas Certification North America, Inc.
A Minority Owned Business nationally certified by the North Central Minority Supplier Development Council
Services
LCS can help take a project from design phase into full scale production. Their engineering department can assist with part design, prototyping, resin selection, and source the most cost effective tooling available through both domestic and Asian toolmaking partnerships. Their factory specializes in cost effective short run manufacturing, part assembly, min/max stocking programs, short lead times and consistent OTD record of >95%.
THE ESSENTIALS
LCS Precision Molding, Inc.
119 South 2nd Street, Waterville, MN 56096
Phone: 507-362-8685
Website:  lcsplastics.com