1 Million Cups Initiative in Mankato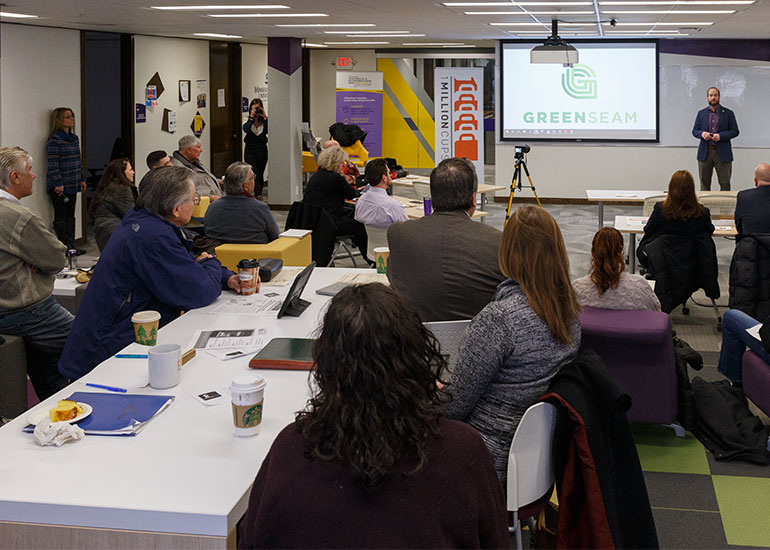 At the Crossroads of Experience and Entrepreneurism
How the 1 Million Cups Initiative is Paving a Path to the Future in Greater Mankato
Diversity, equity, inclusion. There is a movement sweeping the nation that relies on these three words to bring entrepreneurs together and to elevate them in their communities. It's known as 1 Million Cups. Founded in 2012 by the Ewing Marion Kauffman Foundation, it's based on the notion that entrepreneurs – and all business relationships really – develop over a million cups of coffee. Along with a little conversation.
"That idea of helping others over a cup of coffee is so homey and nice. We do enjoy our coffee and it gets the energy going," smiles Yvonne Cariveau, Director, Minnesota State University, Mankato College of Business Center for Innovation & Entrepreneurship. "The 1 Million Cups program is like a support group in some ways – the entrepreneurs are presenting and asking for help with the next steps and the audience is there to help them."
That's the value in the initiative: audience experience. With a room full of community and business leaders, the purpose of 1 Million Cups isn't to provide financial support for entrepreneurs but, rather, guidance on how to grow their business. And that's something organizers say, you can't place a value on.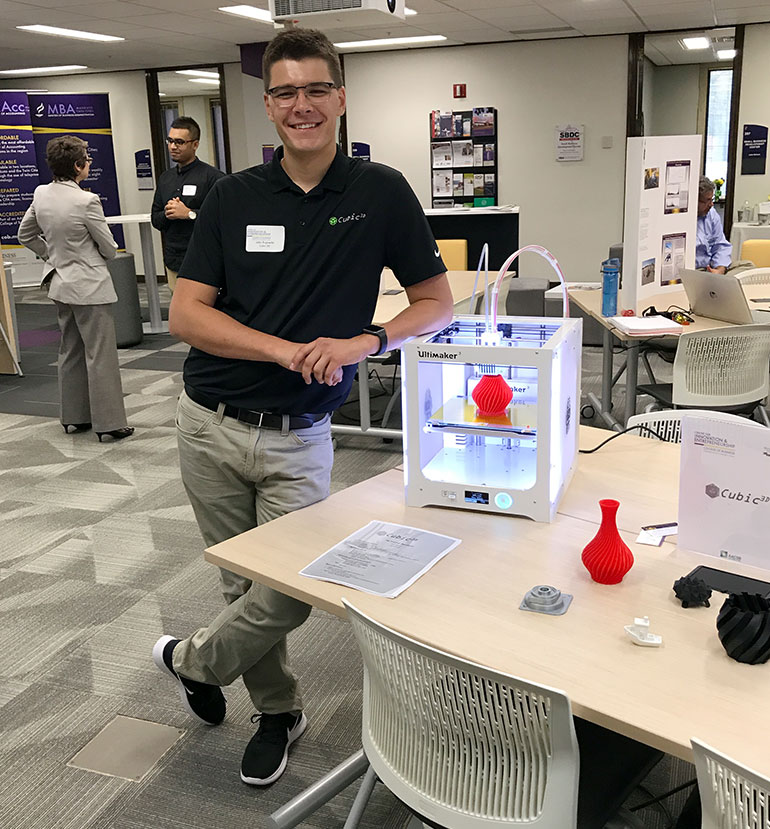 "I got involved with Million Cups from Yvonne Cariveau and Mike at the Small Business Development Center (SBDC). Yvonne encouraged and invited me to present and I worked with Mike after that to get everything ready. In addition to getting the presentation stuff ready, they have both helped me tremendously with my business. If I have any questions, they are my go-to mentors," says John Ruprecht, founder of startup Cubic 3D Printing in Mankato. "1 Million Cups has helped me grow as a business in crazy ways. I walked in there basically working from home and one of the things I said I was looking for was a space to get established. At the end of the presentation, I had two local business owners come up to me and tell me they had a space for me and would love to help out any way they can. That's how I got where I am now. I started renting in the Hubbard Building immediately after 1 Million Cups and when Dain Fisher opened Mogwai Collaborative, I knew it was the right fit for me. The co-working space is great and I love the variety it brings."
Ruprecht is just one example of how 1 Million Cups is helping grow the entrepreneurial spirit in the Greater Mankato Region. His company, Cubic 3D, for instance, is a small 3D printing firm that specializes in creating functional items from ideas. The challenge has been taking the manufacturing process of 3D printing into a more affordable market and helping businesses understand all the ways they could use his 3D services in order to grow their business, and likewise, his customer base.
1 Million Cups surfaced in Mankato almost two years ago, led by volunteers committed to bringing this free program to our community to educate, engage and inspire entrepreneurs.
"When I was starting the Center for Innovation & Entrepreneurship as the new Director (of a brand new Center), I needed to get some entrepreneurship events started that would help me to involve student entrepreneurs with people in the business community. COB Dean Brenda Flannery said she'd been to a 1 Million Cups and suggested it as a model we could use. I went to a couple of 1 Million Cups in St. Paul and Rochester and fell in love with the format – so I filled out the application to start one here," she explains.
Here's how it works: once a month two entrepreneurs pitch their business concepts to a group of students, faculty, small business people, economic development people, realtors, bankers, lawyers and potential investors. After the brief presentation, there is often lively and engaging conversation about their business models, goals and challenges. Those in attendance then offer advice on how to grow and improve the entrepreneurs' ideas. Nationwide, 1 Million Cups communities aim to present an inclusive and supportive front door to their local entrepreneurial ecosystems. It all feeds into the mission to educate, engage and connect entrepreneurs with their communities. Here in Mankato, dozens of businesses have made presentations.
"I think 1 Million Cups is working wonders in the local community because it is a place for like-minded people (both start ups and well established business owners) like me to come together and see how they can help each other. No one feels obligated to help, but they are there because they want to see everyone succeed and grow in the Mankato area and beyond. It is a completely different atmosphere when you walk in the room for 1 Million Cups because people don't come for personal gain, they come to help," says Ruprecht.
In fact, Cariveau says the learning extends all around the room…it doesn't stop at those making the pitch.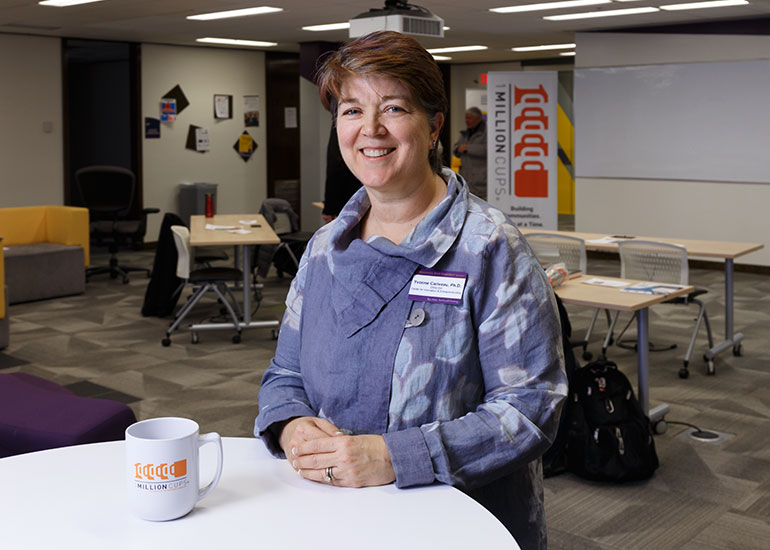 "We started November of 2017 and it's had a huge impact already. Something people often say, is that there are lots of agencies and groups out there, but that people aren't coordinating/connecting. Well, at 1MC, we are. Our organizers talk to each other once a month and we share information with each other and that has helped us to form partnerships we might not have had before. The SBDC Director is one of our organizers, he connected me to the Better Business Bureau and I did a workshop with them last fall. Our emcee is Lisa Hughes from MN DEED and she introduced several of us to funding sources we might want to look at for grants. It's just impacted the community in so many ways beyond its original intent," says Cariveau.
Ruprecht says he isn't sure where he would be if it weren't for the mentorship and experience he gained through 1 Million Cups. Keeping businesses like Cubic 3D, and entrepreneurial minds like Ruprecht's in Mankato, is one goal of 1 Million Cups.
"We often have students presenting about their businesses and some have talked to me afterwards about how they think they might stay in Mankato now that they see the support available to them in this area. Students and business people sit side by side in the audience and mingle before and after the event – the community people love meeting the students, and vice versa – they share a common interest in start ups. The community members that present, report liking the coaching process where we help them with their presentation and the event itself. They have reported getting new contacts, resources and offers that they would not have before," Cariveau says.
There are 180 1 Million Cup chapters in the country. The 1 Million Cups presentations are held the first Wednesday of every month. For more information, visit 1millioncups.com/mankato.
1 Million Cups events are held from 8:30-9:30 a.m. on the first Wednesday of each month at the Hubbard Building in Mankato.