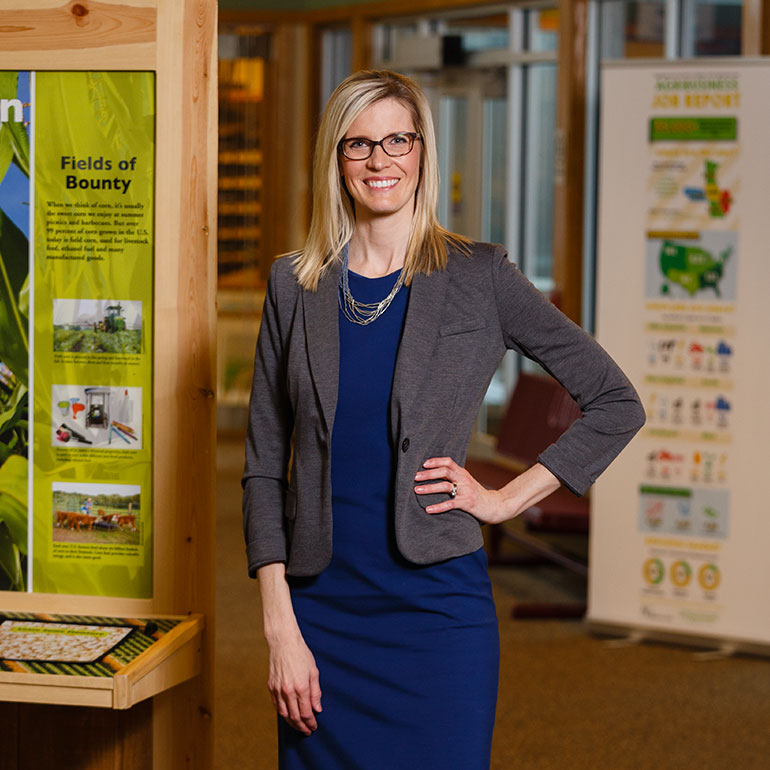 Jessica Rollins is executive director of Farmamerica near Waseca. (Photo by Kris Kathmann)
Growing Ag Awareness
Farmamerica is telling the rich history of farming in Minnesota, educating us about farming today and helping chart its future.
Stories are told in a variety of ways: through words, sound and pictures, for example. Still others are told in a more hands-on approach. Such is the case at Farmamerica just outside of Waseca. It has a story to tell, a story with a long history and yet a story that still has much to be written. A story consistently full of new beginnings and changing storylines with each new advance in technology and fertilizer, with each up and down of the economy. A story, rooted in a region that is on a continuum of innovation in agriculture.
"Farmamerica exists to connect people with the evolving story of agriculture. And we strive to accomplish that through our educational programs, events, and tours. We also have 240 acres that are used for agronomic and genetic research by ag industry leaders like Crystal Valley, Birds Eye Foods, and DowDuPont (soon to be Corteva AgriSciences)," says Jessica Rollins, executive director of Farmamerica.
Farmamerica is a 501 (c) 3 nonprofit organization established by the Minnesota Legislature in 1978 to preserve and promote the story of Minnesota agriculture. It is governed by a board of 15 volunteer directors. Its mission is one fitting for this region, it strives to connect people with agriculture by being Minnesota's center for agricultural interpretation.
"Only 2% of Americans grow the food, fiber, and renewable fuel for the other 98%. Consumers are concerned about food safety, its nutritional value, and its sustainability. God bless the internet, but it's not always filled with facts. One of Farmamerica's goals is to be an unbiased source of agricultural facts to help visitors experience, explore, discover and connect with our past and with today's agriculture. Farmamerica does a great job telling the story of our past, and I am helping develop a plan so visitors can begin to understand the economic importance and daily relevance of today's agriculture," explains Rollins.
Farmamerica uses 120 acres to tell the historic story of Minnesota agriculture through interpretive historic sites, including farmsteads from two eras, a one-room school house, blacksmith shop, and country church.
Most people in the area know Farmamerica as the field trip destination for third through sixth grade students to experience the history of rural living and farming. Roughly 2,000 students from a 70-mile radius visit Farmamerica each school year to discover connections with the past as volunteer interpreters bring the sites to life. "This program is a staple of who we are and what we do, but we are more than that too," Rollins says. As executive director, she is helping expand people's perception of Farmamerica as she plans events and new ways to promote Farmamerica. She looks not only to highlight the history of agriculture, but embrace and celebrate the future of an industry that accounts for nearly 28% of our region's workforce.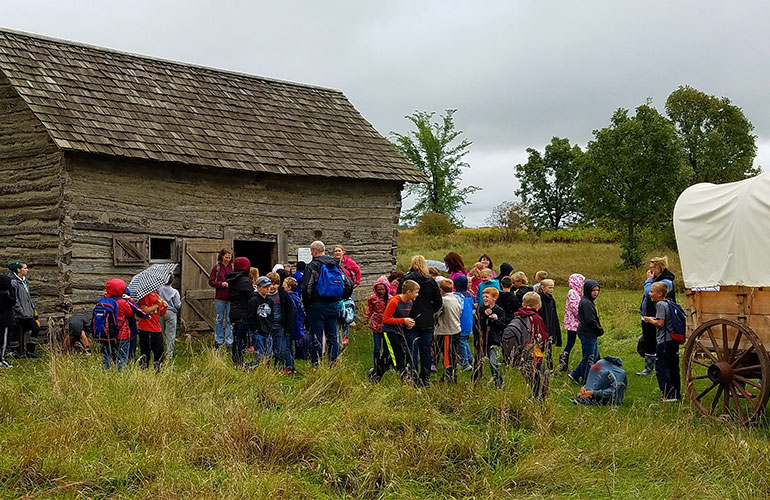 "Farmamerica has an exciting future where we will tell a more complete story by including the story of today's agriculture to help visitors understand and appreciate how connected their daily lives are to agriculture," she says.
"Agriculture will never be obsolete. We recently expanded our school tour program to include a more holistic story of agriculture so students can make comparisons and personal connections with the 'Then and Now' of agriculture."
Rollins' connection with Farmamerica started as a very personal one, she was married there in 2013. It was near her husband's family farm, but she admitted she didn't know much about it at the time.
"One night in 2016, I told my husband when I retired I wanted to volunteer at Farmamerica. A few weeks later he heard the executive director position was open and said I should just go work there now and get paid," she says. "And so that's what I'm doing and it is wonderful. I am incredibly passionate about farming and determined to help tell the story of agriculture so that people who don't farm can understand it better and so that farm families like mine can continue to have the freedom and opportunity to grow food, fiber, and fuel for our communities."
Farmamerica is located four miles west of Waseca, just off Highway 14. With limited staff, Farmamerica almost had its story end too soon.
"The Minnesota Legislature created Farmamerica as one of three interpretive centers that they supported in the late 1970s. The mining industry and the timber industry are the other two. They used to provide us with significant financial support to help our cause. Over the years that funding has decreased which hinders Farmamerica's ability to inform consumers and students not only about the history of agriculture, but also about the opportunities in the industry today."
Admissions are treated as contributions and donations. All funds received are used to underwrite the costs of educational programming. When funding was cut, Rollins says it was the creativity of remaining staff and passion of the volunteers that kept Farmamerica open and helping student tour groups connect with the state's heritage.
"Volunteers, who are passionate about sharing the story of agriculture, have been the key to Farmamerica's success," she reflects.
She says another key to Farmamerica's survival has been its approach to telling the story.
"Tactile learning; people can find everything online now, but at Farmamerica they get to explore, discover and truly connect with the history of agriculture as they walk along our ¾-mile timeline of history," she explains. "They can see and feel the pioneer life of the 1850s, they can sit in the desks of a country school, they can explore the kitchen of a 1930s farm house. These are things that few other places offer, especially all within one area."
As with any nonprofit, funding is a constant challenge.
"Some people view Farmamerica as a place they went to once as a kid and don't need to experience again because history doesn't change," Rollins says. "But our seasons change, and exploring our farms at different times of the year always offers new surprises. That's one thing that's great about having a Farmamerica membership, it makes repeat visits easy and admission to our summer and fall events very affordable. Sometimes, it's just nice to sit among the wildflowers in our prairie and listen to the birds. Sometimes it's nice to visit when we have a bounce house, ice cream, and tram rides. But anytime you can be outside on a farm, it is an adventure.
"I am surprised by how much untapped potential Farmamerica has. We are still very much in our infancy as a 41-year-old organization. It has been very rewarding to work with this board of Directors who are supportive of exploring all of the possibilities to help Farmamerica grow and share the story of agriculture."
Possibilities that include making Farmamerica a year-round destination.
"We're tossing around ideas of how to offer events and programs during our long Minnesota winters," she says. "Another way we are hoping to make Farmamerica a year-round destination is by maximizing our current square footage through the addition of hands-on exhibits exploring topics in today's agriculture, like sustainability, water quality, and seed genetics. We would like to revamp the Visitor Center and Feed Mill, add a playground, and partner with other organizations for additional ag-focused experiences. 
"Phase II of this long-term plan would be to expand the facility footprint to include more interactive experiences that showcase the opportunities in agriculture and help people relate to the evolving story of ag by adding building space with classrooms and exhibits. Right now, we have limited classroom space to do some of the programming we would like." For example, Farmamerica offers an Ag Career Exploration program for junior high students in partnership with Junior Achievement, but with limited classroom space some of the breakout sessions are in unheated machine sheds, "which is fine," Rollins says, "except that it really limits the timeframe in which we can connect students with career opportunities in agriculture and it limits the experiences we expose them to when we don't have the resources available in the make-shift classroom."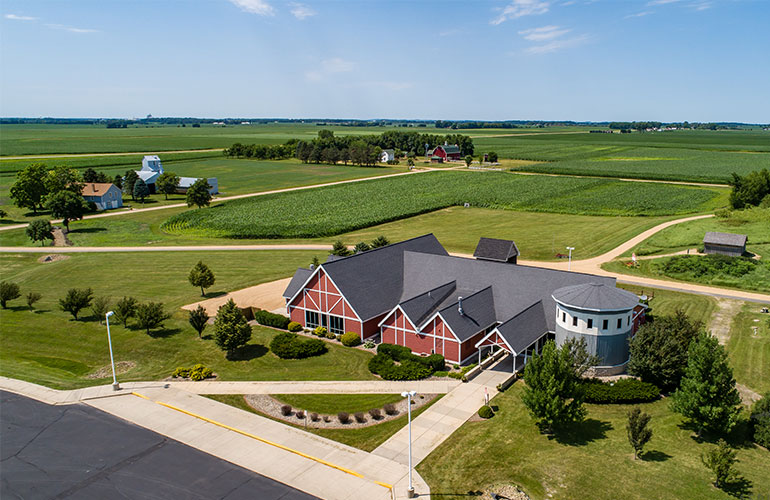 Before moving forward with any plans, they will wait for the results of a feasibility study which is expected to be complete by June. In the meantime, Rollins will keep pushing forward.
"We just hired a program and communications director who is building new day camp opportunities for youth this summer," she says. "Two separate week-long day camps will be available in June and July, as well as a single-day day camp, Farm Camp Minnesota, in August."
Farmamerica's new tour app makes the self-guided tour experience even more engaging and educational. For more information on Farmamerica and its offerings, visit www.farmamerica.org.
---
What to Expect
Visitors to Farmamerica start the journey from the Visitor Center, and from there embark on a mile-long trail that winds through numerous interactive sites including a Prairie Interpretive Center, an 1850s settlement, a country church, a one-room schoolhouse, a 1930s farmstead, a country grain elevator and feed mill and a blacksmith shop.
Rollins says the location is ideal. Sitting four miles west of Waseca, just off of Highway 14, it is an easy drive from many area towns and just 25 miles from Mankato and Owatonna. Plus Rollins adds, "We're on all paved roads which is pretty exciting anytime you're driving the countryside."
Brief History of Farmamerica
The Minnesota Agricultural Interpretive Center, called Farmamerica, was established by the Minnesota Legislature in 1978 to preserve, celebrate, and promote the state's rich connection to agriculture. It started with a few acres, donated by Roy & Marcie Lukken and with the help of the local community, legislators and contributors, the center has built a 360-acre site which includes a visitor center, a pond and prairie, many external historical buildings, plus a collection of antique farm equipment.
Brief History of Rollins
"I grew up on a farm in southeast Minnesota. We raised corn, soybeans, alfalfa, hogs, and beef cattle. Although I was active in FFA and enjoyed working with my parents in the hog barns, I didn't realize I wanted a career in agriculture until the final semester of college when I was doing a farm stay during my study abroad program in Australia. The farm family hosting our group was telling me about their struggles with drought and prices and regulations and misunderstandings about the agriculture industry, and that was kind of when it hit me that I wanted to be telling the story of agriculture, because I could relate to their story.
"Don't laugh, but I met my husband on farmersonly.com in 2011! He farms with his brother and parents near Pemberton. He also works at Minnesota Elevator as an engineer. Together we're raising our two daughters one-mile from the home farmstead that has been in the family for over 150 years.
"We got married at Farmamerica in 2013. At that time, I had no idea I would one day work there. I have so much pride for my maiden name (Dornink), and it was difficult to let it go nearly six years ago. But I have grown just as proud of the Rollins family name because they have a great reputation in the community; they strive to do things the right way, caring for the land and preserving it for our kids and the generations to come."
Meat-a-palooza
Farmamerica's big yearly fundraiser has been in the works for months. The third annual Meat-a-palooza will be held on August 8.
"Each year we have expanded the sampling menu of meats, beers and wines and we will do the same again this year offering more Minnesota brews and wines and showcasing elk in addition to pork, beef, turkey, and lamb," says Rollins.
The Essentials
Farmamerica
7367 360th Avenue Waseca, MN 56093
Phone: (507) 835-2052
Web:  www.farmamerica.org