Local Hemp Farmers Take the Lead

New Crop Emerging in Southern Minnesota
Local hemp farmers take the lead in this emerging market.
Matt Little has some definite plans for an uncertain industry. Along with partners Garth Carson, an entrepreneur and business owner, and Mike Drummer of Mankato, Little is creating a vertically integrated hemp business that strives to, as he puts it, "take our crop from seed to soil to products." But with an industry that is fighting 80 years of a marijuana hangover, of sorts, they're literally starting from the ground up.
"Right now, if anybody tells you they have it figured out, they're lying," Little says.
Nobody has to tell him about the healing effects of cannabidiol (CBD), one of dozens of non-psychoactive cannabinoids found in the hemp plant. That's because the workhorse of the cannabis plant literally is responsible for getting him out of bed in the morning.
Following back surgery, he hurt himself again in a snowmobile accident. Taking CBD from a vaporizing cartridge allows him to stop walking "like an old man" almost instantly, and to go out promoting their Midwest Hemp Farms (MWH), headquartered out of Waseca, and The CBD Centers, the retail face of his business.
The cannabis connection to marijuana makes potential customers falsely fear having to get high in order to get better. Although the road to acceptance is still a rocky one, testimonials about CBD's ability to help sufferers of everything from Parkinson's Disease and multiple sclerosis to fibromyalgia and glaucoma without the buzz has people seeking it out. And it's those stories upon which Little and his partners have built their business.
The term 'industrial hemp' refers to the cannabis sativa plant and any part of such a plant, whether growing or not, which has less than 0.3% of THC concentration on a dry weight basis. Their products are guaranteed to have just 0.001% THC.
"Our biggest way is we tell people [about its healing effects] through other people's stories," Little says from The CBD Centers store at 285 St Andrews Drive, Mankato. Located right next to Drummer's Garden Center, it opened in late February and was followed by stores in New Ulm and Hudson, Wisconsin. Retail was not in their early plans, but they found face-to-face interaction the best way to make people aware of CBD's healing effects.
As if on cue, a friend steps over with his vaping cartridge purchase. This man, 49, had sciatic nerve pain that has been helped by using CBD that is inhaled. In addition, insomnia that neither a sleep study nor various prescriptions could help has disappeared. It's been years, he tells Little, since he's been able to sleep 7-8 hours a night like he does now.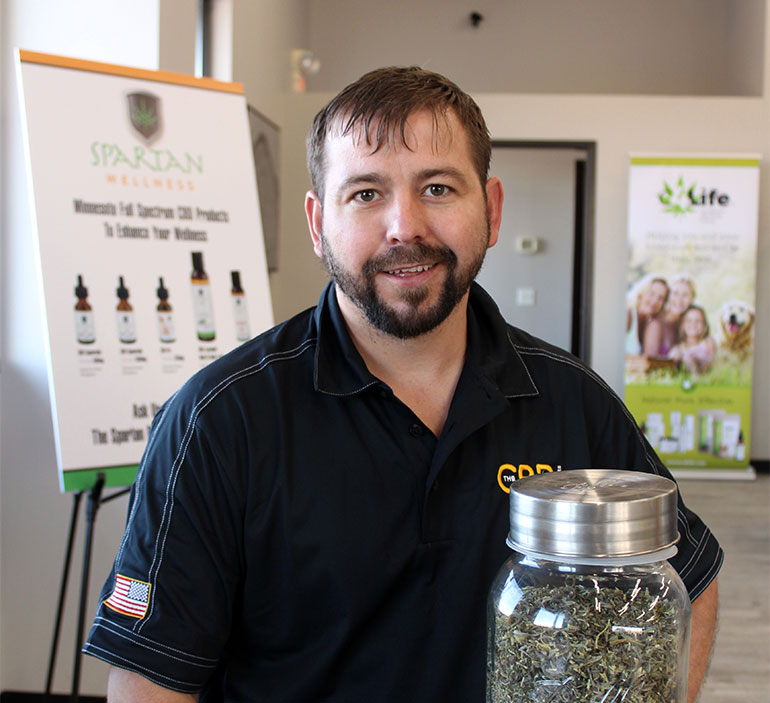 Waseca is hoping the hemp industry can help build back a local economy that has suffered from closings of long-time businesses such as Brown Printing. In fact, the old Brown Printing building is being used by MWH for processing. Leading this effort is Gary Sandholm, Economic Development Coordinator for the City of Waseca.
"A convergence of MWH Farms buying a greenhouse in Waseca [from Drummer], an introduction to Dave Rye with C4Life, and learning that the Agricultural Utilization Research Institute (AURI) has a major hemp initiative generated the spark for Waseca to use hemp as an economic driver," Sandholm says. C4Life, out of Minnetonka, is another company on the cutting edge of Minnesota hemp production.
Hemp had been grouped with marijuana in the Marijuana Tax Act of 1937, thus making it too heavily taxed to be economically viable, according to the website ministryofhemp.com. Under the Controlled Substance Act of 1970, hemp was again grouped with marijuana and declared a Schedule 1 drug, one considered unsafe and potentially addicting.
The 2014 Farm Bill legitimized hemp research. It authorized institutions of higher education or departments of agriculture in states that legalized hemp cultivation to conduct research and pilot programs. Minnesota began planting research crops in 2015, according to the website.
"MWH Farms and C4Life are focusing on CBD oils and products, which was the initial emphasis of our project," Sandholm continues. "As we became better aware of other opportunities with hemp, the project broadened to include these."
As Little and his partners discovered, making people aware of the CBD products and how they may be beneficial is a necessary first step. While doing this through The CBD Centers' retail sales, work continues on creating a hemp infrastructure similar to other agricultural products in order to support the demand when it increases.
One strong proponent of plans for vertical integration is Josh Pinkernell, formerly of Colorado, who wanted the opportunity to scale up the operation and joined as their grower last June. He was hired after meetings were held at Mall of America to bring together the right team: people who are passionate and serious about hemp, but who like having fun.
When asked the secrets to growing, Pinkernell says, "Time and care. It's a new crop for this region, so really paying attention to what works well and what doesn't is very important."
The secret to a successful industry, however, could depend as much on the nuts and bolts of agriculture. Currently, CBD prices are high, in part, because the production process is very labor intensive and uses equipment generally borrowed from other industries.
"It's not a push-button row crop at this stage," Little says. "Will it get there? I believe so. I think that's what's next, helping other people develop equipment for us."
One of those people could be John Dinse, who earned his engineering degree from South Central College and is working on a cultivator for the hemp crop. On this Saturday morning, he was working with Pinkernell in the lab, watching the rotating vaporizer remove ethanol that had been added in an earlier step.
Little says that much of the equipment has been modified from the distillery industry. "Nothing is new in this industry. When you go and talk to engineers, they all try to say we have this new different thing, but at the end of the day, we've been extracting oils from plants for hundreds of years."
When prospective customers enter the CBD store, they are greeted and given a tour of the on-site growing room, a converted cooler from the previous liquor store occupant of the space. This is a second stop, following the time spent in the greenhouse in Waseca. In each phase, workers carefully regulate the amount of light the plants get to take full advantage of the 90-day growth cycle.
Next, they get a look at the process that transforms the green and leafy biomass product into the oil and other products they can purchase. A one fluid ounce bottle of tincture, which is placed under the tongue, retails for $120. A 24-ounce muscle relief lotion sells for $45.
The makeup of the average customer is another thing that has taken them by surprise.
"We thought it was going to be 55 and older women. That is completely wrong," Little says. "It is 18 to 80 years old. I'm actually amazed at the young people that are taking CBD. They're using it for tests and focus."
cheap cbd gummies
order soma online
best CBD gummies for sale
cbd gummies reviews
cbd online shop
cbd gummies near me
buy tramadol
order xanax online
buy soma on line
orde soma online
order tramadol on line
soma online
purchase tramadol
tramadol buy online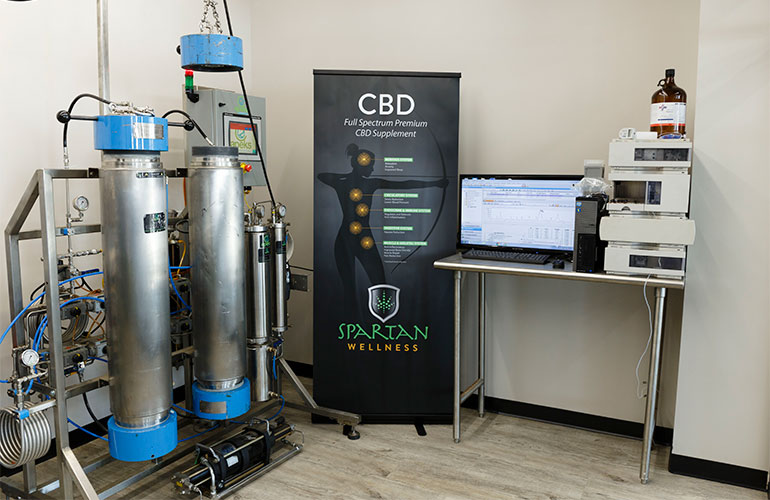 A generation that has been prescribed Ritalin and Adderall from an early age is tiring of their side effects, he says. Instead, they're seeking all-natural options like CBD that provide them clarity of thought that don't carry unwanted side effects.
One reason for the clarity is that hemp is grown without chemicals that can alter its natural makeup. Another reason is that CBD works with the body's own endocannabinoid system (ECS) that allows for strengthened cellular communication and regulation. In other words, it works by enhancing what is already there, not forcing the body to do something unnatural."
Another piece of equipment can analyze product to determine the true purity. Little said they put a strong emphasis on providing the product quality – measured in milligrams (MG) – that is on the label. In a rare move, they are pushing for regulations that will guarantee purity of product and integrity of manufacturers, he said.
"The one thing I say is, just because you can sell it, doesn't mean you should. Don't use CBD as the buzzword if the product is crap," Little says. Products that don't deliver as promised, he said, are hurting the burgeoning industry that is so far unspoiled by the presence of "big pharma."
After the tour, prospective customers are given the chance to taste and try the various products. Oils are placed on their tongues so they can sample the various flavors and, in some cases, feel the immediate effects. Added flavors, turpenes, help suppress the plant's natural flavors.
The true determinant for most people is if it works for them. And people are finding those answers through personal research and testing it.
"By that time it's not even a sell," Little says of the experience. "It's more like listening to them and finding out if what they're experiencing, finding out if this is going to help it.
"And it's literally changing people's lives."