Shane Nelson, Genesis Construction Group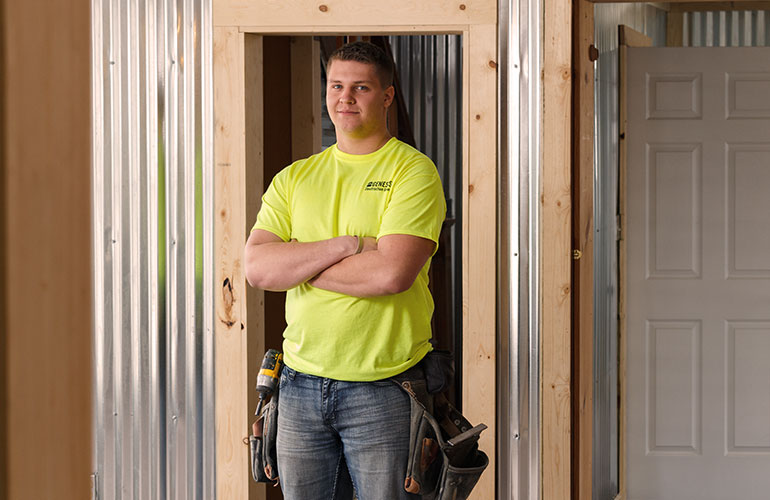 Photo: Kris Kathmann
Lessons Learned Propel Local Entrepreneur: Shane Nelson 
In the 1700s the word entrepreneur entered our vocabulary, meaning adventurer. While the meaning has been honed over the centuries and is now widely regarded as one who launches and runs a new business. However, entrepreneurs remain adventurers at heart. Taking on great risks based on an idea or expertise one has developed in hopes of making a profit. In this issue, we feature a Lake Crystal entrepreneur whose "adventure" started very early in life.
The secret to 21-year-old Shane Nelson's success is actually quite simple: he sees a need and he fills it. His entrepreneurial spirit was first born out of his own needs.
"When graduating high school I thought about the cost of college and everything," he says. "I thought I had it all planned out, but in thinking of how to finance it I came up with a solution and got my real estate license right when I turned 18. That led to me buying my first rental property, and then wanting to buy more. So I knew I had to figure out a way to finance purchasing more."
To meet that need, he just looked around him to see what needs were being unmet in his community and then pursued opportunities to fill that gap.
"I liked owning the rental property and I wanted to buy more so I thought, 'how do I pay for them?'" he explains. "Then one day I saw some asphalt sealcoating for sale and I just bought it! I could see places around town and in Mankato that needed sealcoating and I just thought that might be a way to make money. So I bought the equipment, learned the trade and started an asphalt company."
It was a leap that worked out for Nelson. Quality Asphalt is on year four now and going strong. In fact, Nelson hires up to two employees each year during the busy season.
So, working as an active, licensed Realtor for Homerun Realty in Mankato, Nelson also started juggling his new asphalt business and rental property businesses, when he stumbled upon another new interest he wanted to pursue: flipping houses. Now, how to finance that? Start a construction company, of course. Nelson founded Genesis Construction Company earlier this year with a partner, Mike Miller.
"Mike has a long history in the construction industry and he is more the hands-on guy," says Nelson. "I handle the business end of it."
The business end of things, Nelson admits he has learned just by doing. He believes his integrity and strong work ethic have helped make him successful.
"It's a struggle, no I don't have a knack for it," he admits. "I just take it day by day and give it my best. I can't say I'm a great business owner, I've messed up certainly. I mean, literally it's a day-by-day thing. Organized chaos I call it."
Nelson's deeply-rooted entrepreneurial spirit did get a boost early on.
"I read the book "Rich Dad Poor Dad" in high school. It's a book that really got me going and thinking about an entrepreneurial mindset," he explains.  "I read that before I started anything and it was great. It laid the framework."
Also important, says Nelson, is knowing when and who to ask for help.
"It's important for entrepreneurs to find mentors. I found mine randomly. They just seemed to be  placed throughout my life. Now, I don't mean a mentor that you go to for every little thing. But it's important to have someone you trust that you can bounce ideas off of. Anyone you know that knows more about a certain subject than you do, they are a mentor. So don't be afraid to ask for help."
Aside from mentors, he says he has found southern Minnesota to be fertile ground for entrepreneurs.
"There are so many resources here, it's empowering to someone wanting to start something," he says.
But he cautions not to get too caught up in it and just go for it.
"Don't think, just do," he says. "I mean, think, but don't worry. If you have an idea, a passion that you want to pursue, you just gotta dive into it. It works itself out."
Four "careers": Realtor, asphalt, property investment and now construction, all at the ripe old age of 21. Nelson says his age is both a blessing and a curse.
"I have a lot of debt," he says. "So if I were at a different stage in life, for instance if I had three kids and a wife, I would look at it differently. But I'm at the time in my life where I can take risks. Being my age has that advantage, but there are some people out there that might not think I know what I am talking about because they think I am young and inexperienced. Overall though, people see my youth along with my work ethic and they want to support me and give me a shot."
Nelson admits he has had his ups and downs, but he says he always keeps his eye on the long-term dream. And encourages other entrepreneurs to do the same.
"Stick with it," he says. "If you truly commit to doing something, just sticking with it for the long-term is important. It really just comes down to execution, doing what you say you will do. Have a strategy or plan and follow through."
THE ESSENTIALS
Genesis Construction Group
Quality Asphalt Services
Elite Properties MN
150 St. Andrews Court
Mankato, MN 56001
Phone:  507-720-8282