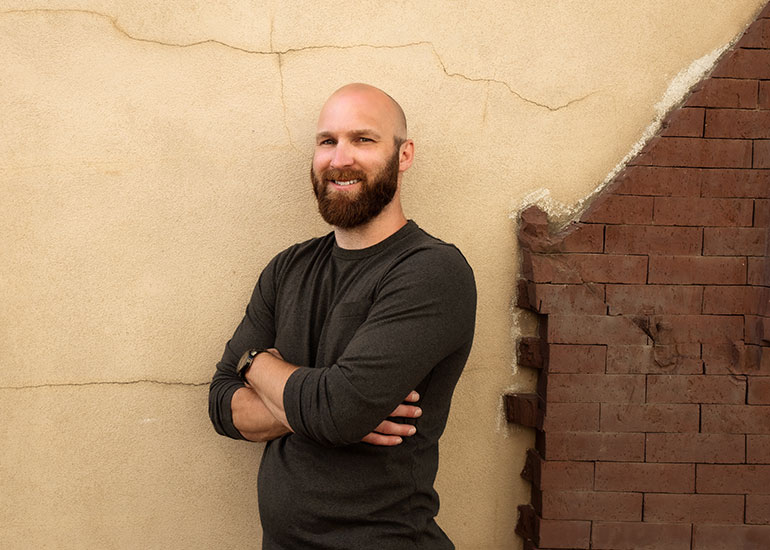 Benjamin Schoo (Photo by Jonathan Smith)
NU Surface
Benjamin Schoo has counseled in the field of addiction for 12 years. It's been a rewarding career which he enjoyed, but recently he discovered another passion.
"When my wife and I purchased our home in 2013, we began remodeling what we were able to on our own. The expensive upgrades were not in our budget like replacing our countertops and bathtub so when I was introduced to the idea of surface restoration, I was immediately intrigued," says Schoo.
The idea to make a career change began last year in September while Schoo visited the Clay County Fair in Spencer, Iowa.
"I met a gentleman who was tabling a booth providing a similar service as NU Surface. I talked with him for about an hour, inquiring heavily about the refinishing process at which time he informed me there were no refinishers in the New Ulm area. Later that afternoon, I told my wife I was going to start a resurfacing business and it has been her encouragement and support that has been the driving force behind this business getting started," he says.
In January he completed a refinishing certification course in Chicago and began practicing his newly learned trade on his own tubs and countertops, as well as those of friends and family. Soon he was booking jobs. By April, he made the decision to pursue the business full time, leaving his profession as counselor.
"I understand that many people, myself included, are limited both in finances and abilities when it comes to DIY home improvement projects. Replacement is not always an option and can leave a room seeming unfinished, no matter what the upgrades were. Bathtubs and countertop replacements are large expenses, not to mention the amount of time you are left unable to use the space. I wanted to provide people in similar situations as I was in with the ability to modify their home," says Schoo.
"We offer a much less expensive and much less time-consuming alternative to replacing worn, damaged, outdated or unsightly bathtubs, shower surrounds, vanities, sinks, tile, cabinets and countertops. We are able to repair chips, cracks, holes, separated seams or any other damaged problem needing to be fixed on surfaces. We have 27 different faux- granite options for countertops, sinks and tile and are able to match any color for bathtub and shower surrounds."
NU Surface
Phone: 507-217-7406
Web: nusurfacemn.com