Feature Collaboration Connection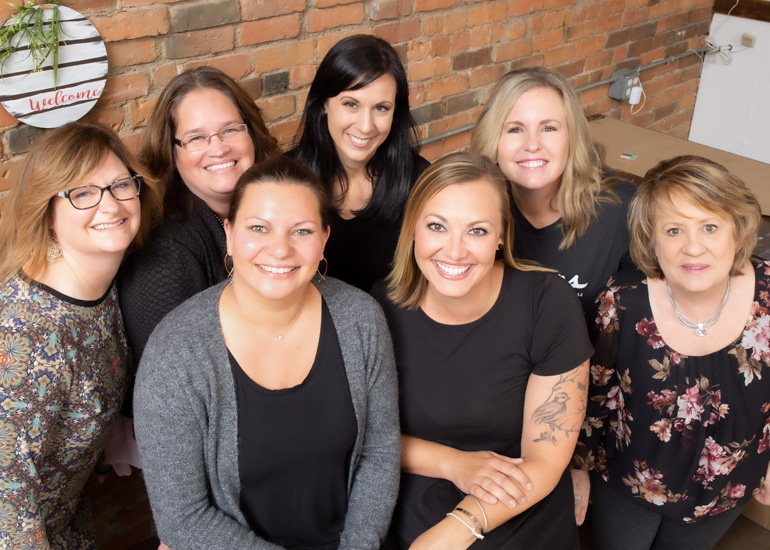 Left to right: Ellen Koenigs, Y Barbers; Lisa Phillips, Blue Skye Mercantile; Jeni Bobholz, Circle Inn; Julie Sabin, Rooftop Bar & Grill (coming soon to Belgrade); Laura Doyen, Design & Wine; Sandra Oachs, Spinners; Deb Morin, Neutral Groundz. (Photo by Jonathan Smith)
Women of Belgrade
By Angela Pick
There's a surge of new business owners in downtown "lower" North Mankato, and it's worth noting that the majority of the new business owners are women. Recently, Connect Business Magazine sat down to talk with seven women who have all owned a business on Belgrade Avenue for five years or less. This dynamic group had plenty to say about the recent revitalization of the area, and what it's like to be part of this community of women business owners.
The most recent addition to the area is Julie Sabin, whose business: The Rooftop Bar & Kitchen is currently under construction at 301 Belgrade Avenue. The Rooftop will be joining several existing bars and restaurants in the area, causing many to speculate about rivalries and competition.
Sandra Oachs, who took ownership of Spinners Bar & Grill three years ago, doesn't see it that way. "When Julie decided to build her restaurant down here, the newspapers called, and people were saying. 'How do you feel about this? Are you afraid you're going to lose business?' I said, 'Absolutely not! I think this is the most wonderful thing happening. First of all, she's a woman business owner, second of all, she is going to bring so many different people down here. It's going to be a great thing. She's going to enhance my business.'"
Jeni Bobholz agrees. She recently purchased Jeni's Circle Inn at 232 Belgrade after working there for ten years. "I get asked that, too. It's completely different though. If anything, they'll come to the Circle for a couple of drinks and then go there for a great meal. It's funny how people always go right to the negative. People assume that women business owners are going to be 'catty' or 'out to get each other.' It's not like that down here."
Sabin adds, "I am extremely proud to join such a wonderful, hardworking group of women owners. It's a great network for all like-minded women, mothers, and wives…we all might be just a little crazy."
Laura Doyen is the owner of Design & Wine at 300 Belgrade Avenue. Doyen has been in business for five years, but has been at this brick-and-mortar location for two years. She often sends her customers to other businesses on Belgrade after workshops at her store. "They're already parked here, so I encourage them to stay down here and see what the other businesses have to offer."
Ellen Koenigs has owned Y Barbers and ONATAH Eco Salon at 231 Belgrade for five years. Koenigs notices that "People like to stroll down the sidewalk and have different places to see and shop."
Just over a year ago, Lisa Phillips opened Blue Sky Mercantile at 237 Belgrade Avenue. Initially, she was concerned that her new neighbor, Deb Morin at Neutral Groundz would be angry because she was opening a store right next door, "But it wasn't like that! What I have works really well with what she has. These ladies have all really helped me."
Morin agrees, "We complement each other very well. I send people over there. I say, 'have you checked that one out?' Because I think the whole area needs to continue to support each other. For me, it's a community. I love what I do, I love the community here, and I love all the business owners and I'm a big advocate for women in business. We work hard. Everyone in this room works hard."
Belgrade Avenue is very much like a small town inside a city. Oachs notes, "We have restaurants, we have bars, but we also have a post office, we have a bank, we have a barbershop, we have design, we have shopping, we have coffee—all in one block. We have whatever you need. Isn't that the coolest thing?"
Bobolz adds, "Which is also why people want to live down here. There's really nowhere else you can walk or bike and get all of those needs met."
Morin notes that North Mankato has a very loyal group of patrons, "You would think that there was something on that bridge that blocks them from going across to Mankato. They love North Mankato."
That community bond extends beyond the residents and to the business owners themselves. Sabin was drawn to the area because of the walkability and the people that are in the community of this space. "I knew it was driven by women owners who take care of their employees and their guests. People come in to these places because they have great people to take care of them. I already knew that this would be such a great community to have great guests, great staff. All the staff visit each other as well to keep those businesses alive."
There are several levels of collaboration that happen between these women and their businesses. Spinners Bar and Grill serves a sandwich with Balsamic Vinegar from Blue Skye Mercantile. Jeni's Circle Inn embraces "Church Night" every Wednesday with drink specials and appetizers from Blue Sky Mercantile served on a platter created by Doyen at Design & Wine. They are currently in the planning stages of a Ladies Night in Lower North that will feature specialty shopping, crafting and a social hour.
Owning a business is demanding work, but these women somehow make it look easy. All seven of the women are married and in different stages of motherhood. Between them, they have 23 children, 8 grandchildren, and another on the way. When asked how they balance their lives, they replied, "What balance?"
By far, the greatest challenge they face is finding enough time in the day to do all the things. Morin finds that she is "busy all the time. I'm always heading in a thousand different directions."
Bobholz adds, "You don't want to miss out on anything. You want to be there for your kids, you want to be there for your husband, so you're always going to be lacking in something."
Doyen says that guilt is what bothers her the most. "Sometimes I'm working and don't get to kiss my kids goodnight. It tears me up sometimes."
Oachs advises, "One thing I learned recently is that you can have it all, but just not all at once. Sometimes we just have to prioritize."
On the flip side of that, owning your business allows for a level of family involvement that might not be possible with a conventional nine-to-five job. Phillips' daughter works full-time at Blue Sky Mercantile, and she is thrilled to offer that opportunity for her children. Doyen's children often help out at the shop washing sponges and greeting guests. Koenigs' five children all help in one way or another at the barbershop and salon. Bobolz loves that her daughter gets to see first-hand how important it is to work hard and build a strong work ethic. Doyen adds, "It's good for kids to see that you have to work for it, that things aren't just handed to you."
They all give high praise to their husbands, who, according to Bobolz, all have similar personalities. "They know that our business is our baby, and they tend to stay out of it and let us do our thing."
"It takes a strong man to let a strong woman take the lead," adds Oachs.
The women agree that North Mankato Mayor Mark Dehen and other city officials have been extremely supportive. "The City has been so easy to work with. Much easier than I expected them to be," notes Doyen. "If you send an email, you'll normally get an answer by the end of the day."
Morin adds, "I've found that they are all so approachable. I love having who we have in North Mankato."
In addition to the support from the city, the women are members of Business on Belgrade Association, which is a group of community members and business owners who love and want to keep the uniqueness of lower North Mankato and the downtown Belgrade Avenue area alive. This group coordinates local events such as Bier on Belgrade in September, Bells on Belgrade in December, Bookin' on Belgrade in May, and Blues on Belgrade in July.
Bobolz notes that "there are more women now in the Business on Belgrade Association than ever before, and I can tell that the communication has improved so much. Women are generally better communicators than men. When something doesn't work, we look at ways to improve but we don't dwell on it. We move on to the next thing. Let's just get it done."
Morin adds, "I think everyone in this room has had successes and failures, and we've learned to pick ourselves up and be strong enough to move on and try something different. We don't hang on to the negative. I know everyone in this room is strong."
In the future, all of these women hope to see more growth and more expansion of business on Belgrade Avenue. They would welcome clothing boutiques, maybe an antique store, an ice cream shop and even a grocery. "Belgrade has become a destination in and of itself, and the women on Belgrade feel strongly that the area can support more commerce," says Bobholz.
Koenigs adds, "It takes entrepreneurs, it takes people with passion to make it happen. It's important to find those people and support them."
These seven women are driven and passionate about their work. It's clear that they value communication and relationships. They are more inclined to cooperate than compete, and together they are finding their collective voice.