(Photo by Jonathan Smith)
FAMILY VALUES, HIGH-TECH SCIENCE
The Knochenmus family of Marshall takes their mission of providing the best in animal nutrition around the globe.
Knowing where food comes from before it hits our dinner tables is something consumers are embracing like never before. And never before have so many people relied on so few for their food. One Marshall company is on a mission to perfect technologies that naturally create an abundant global food supply. A company that revolutionized the very first step in the farm to table movement: the food consumed by the animals and plants that produce it for us.
Ralco uses science and technology to provide the agriculture and aquaculture industries with natural technologies that help create safe and abundant food.
"It's tough to boil down what we do to one phrase, but I guess what describes us best is that we rethink nutrient conversion every day," explains Brian Knochenmus, president and CEO of Ralco. "Whether it's poultry, swine, dairy, or beef we think about how the diet they consume puts them in the best position to do what is being asked of them whether that is to provide milk, or to provide food for consumers. Our mindset is to perfect nutrient conversion. We may never get there, but the pursuit of it is going to help us succeed."
It's a pursuit that started with Knochenmus' grandparents in the spring of 1971. Bob Galbraith founded Ralco after developing a product known as Suppli-Mix. A product Knochenmus says was ahead of its time.
"After my grandpa developed this product, Suppli-Mix, he knew he was on to something. So he and grandma mortgaged their furniture for 2,500 bucks to start their company," Knochenmus explains. "Really it started with his quest for better nutrient conversion for animals. He understood the pain of wasted nutrients, which when you think about it, was early for his time. In the early 70s, there probably was less of a need for low cost and efficiency because people could supply their own feedstuff. So, he really pioneered the idea of better use of feedstuff in diet in cattle and was able, through Suppli-Mix, to establish a better way to convert nutrients naturally. Also, he was successful because he understood the essence of people.
He understood that people buy from people and that is something that has probably been minimized in today's culture. But he understood the importance of personal interaction."
Today Ralco carries on that tradition and has added products, diversified, and created new business units. Still headquartered in Marshall, Ralco has global reach. It distributes products in more than 40 countries with offices in Ecuador, Uruguay, The Netherlands, Thailand and Canada, enabling them to better take the technologies to the people that need them. Ralco is considered a leading global provider of livestock nutrition, animal health products, crop enhancement products and shrimp production technology.
Knochenmus is still amazed at the continuous improvement and breakthroughs he sees in the industry. All of them, he says, are to the benefit of the end user.
"Every day, producers face operational decisions that affect their livelihood. Managing input costs is critical to ensure their money is invested wisely. Ralco understands this and has built strong partnerships with producers around the world to provide guidance. Many nutrition programs look good on paper, but you need nutrition programs that earn their keep at closeout," he says.
To that end, Ralco has invested heavily in research.
"We take a unique approach by focusing on the energy an animal gets from its nutrition rather than just the amount of energy in the diet. Our technical team understands how to drive and take advantage of digestive efficiencies. That knowledge leads us to build diets differently. Our diets, enabled by our technology packs and premixes, lead our customers to new levels of performance, efficiency and profit."
Third Generation Family Business
Knochenmus started working in the family business early in life, and has had the opportunity to touch about every aspect of the business.
"My father and mother and uncle purchased it from my grandparents in the early 90s, and that's about the time I got involved. I started working in the plant and in operations through the 90s, then joined the marketing and sales efforts around 2000. After that I got into technology and managed the R&D work and market expansion into international businesses as well as some business unit expansions, particularly taking technologies into crop science. So I've gotten to know most of the nook and crannies but its changed a lot over the years."
While his father, Jon, is still active in the company, Brian Knochenmus took over as the company's President and CEO in 2015.
Evolution of Ralco
Diversification has been key to Ralco's dominance in the industry and its growing global footprint.
In the 70s and 80s Ralco grew in the areas of beef and dairy. In the 90s they added swine to the mix, and made the investment into the scientific and technical expertise needed to really make an impact.
"When we hired a renowned swine nutritionist we truly committed to the people and research needed in our quest of nutrient conversion," he says. "We've brought a lot of science to the table and that's what we are known for: taking a scientific approach to product development. That commitment to science and technology is the secret sauce of Ralco."
That research and knowledge helped Ralco develop a milk replacer for baby pigs that was revolutionary. Called Birthright, it remains the gold standard for digestible and convertible nutrients for piglets.
"The Birthright product really made an impact in the swine industry," says Knochenmus. "It lets producers think about weaning pigs early off of sows or if a sow has died they can still feed the piglets. That product really made a big impression."
And it came at a time when the globe was closing a bit in agriculture and Ralco started finding itself on the world stage, getting opportunities globally in Latin America and southeast Asia, to Europe and Ecuador.
Staying on the diversification track, the next big thing for Ralco came in the form of essential oils and bringing them into mainstream use in animal feeds, in particular poultry and swine. Just like it had so many times before with its products, Ralco launched Regano and quickly set the standard in diverse use of oils to strengthen animal health. Regano remains a top seller today.
The next big milestone for the company came in 2009, when they formed an entirely new business unit called Agnition. This was the company's foray into crop agriculture, they were no longer just focused on animals.
"Agnition helped us to have a focus on crop science, particularly technology that stimulates the microbial environment in soils. Actually, our original product, Suppli-Mix utilized this same concept. So we were building on the 70s just taking it to different areas.
"We saw fantastic growth in crop nutrition," he continues. "Agnition releases nutrients in soil to help with plant health. The nutrients are in a form where plants can take them up more easily. It activates the soil and makes the nutrients ready for plants to absorb. It's garnered big time results in plant growth and yield."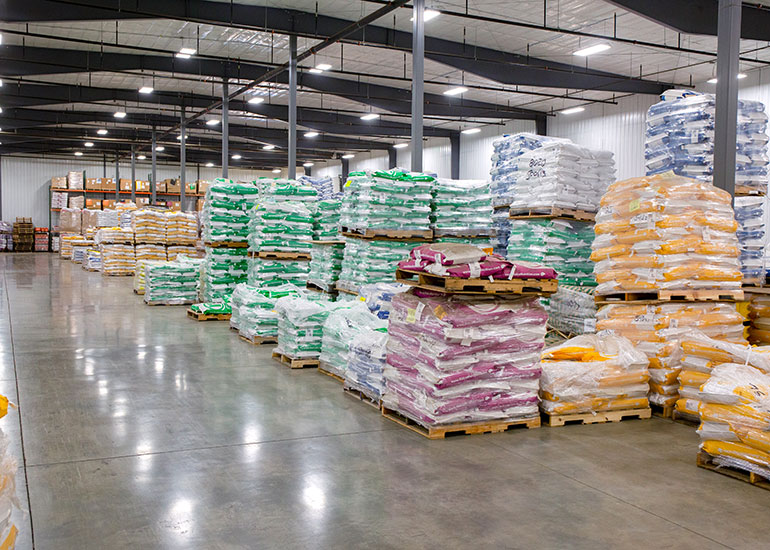 Not one to rest on their laurels, Ralco leadership recognized another new and unique opportunity in 2014.
"While in Ecuador on business, we ran into some researchers who were there from Texas A&M University," he reflects. "They were exploring land-based shrimp production. We thought, 'wow, wouldn't that be cool to do in Minnesota?', it seemed like a crazy idea. But the more we looked at it, the more we thought we could probably do it. So we acquired the patent from Texas A&M in 2014 and started developing our business case. It took a few years, but two years ago we were ready and split it off into its own business: The trū Shrimp Company. In Balaton, Minnesota we have land-based shrimp production. It's amazing."
The Future
Knochenmus says today, swine products do make up 60% of the business, but after spending the last two decades diversifying, he's happy with the track Ralco is on, although he does see an area he can improve upon.
"We started in beef, then added swine and poultry, even got into crops, trū Shrimp, and some aquaculture. That's a lot of expanding and diversification but we are in a good spot in the industries we are serving. I think where Ralco needs to do better is in that connection with the consumer."
More so, he says, helping the producers Ralco serves, better connect to the consumer.
"As a company we've had to gut check ourselves. Actually, not just Ralco but agriculture in general. It provides a product that every single person needs and we've not done a great job at connecting with consumers.
"At Ralco, we think about producers, distribution, manufacturing but it's important to maintain a good connection to the consumer. I think 98% don't know what goes on on a farm, so we need to make our voices known to counteract any misinformation that might be out there."
Ralco was founded in Marshall, and that, says Knochenmus is where it will stay.
"We've certainly had opportunities to move, but this is our home. Our family is here, our church is here, our employees live here. The thing about Marshall that is exciting – actually it's true of the entire upper Midwest – is that we are the epicenter of agriculture. Minnesota can be proud of that. Minnesota is a good fit for us, and Marshall in particular."
In total Ralco has about 200 employees.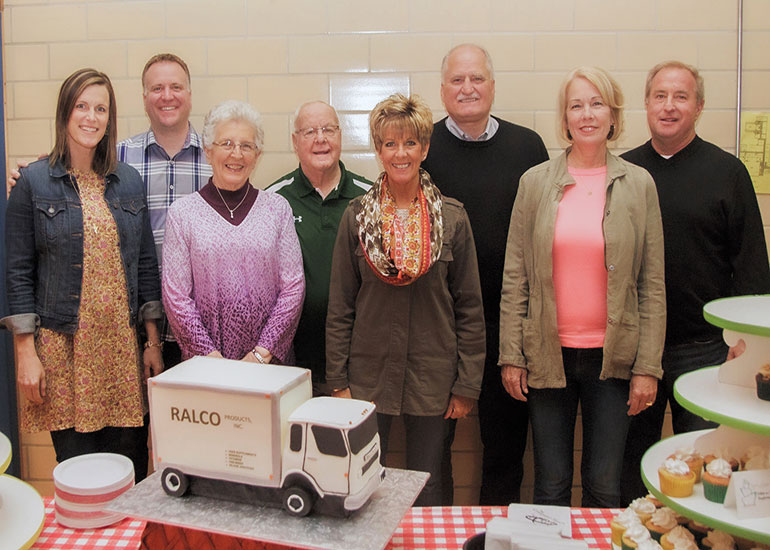 Past and present Ralco owners: Mindy Knochenmus, Brian Knochenmus (President & CEO), Lou Galbraith, Robert Galbraith (founder, President 1971-1990), Niter Knochenmus, Jon Knochenmus (President Emeritus, President 2004-2015), Pam Galbraith, and Randy Galbraith (President 1990-2004)
---
Almost a Baseball Team
Knochenmus has not only spent the last two decades growing the business, but growing his family as well.
"I am the luckiest man on the planet," he says. "And I'm not blowing smoke. My wife and I have been married since 1998 and we have seven children: four boys and three girls."
The oldest is Olivia, 20; then Odesssa, 18; Owen, 16; Oakley, 14; Osiah, 11; Ora, 8; and Ozak, 3.
"We are a faith-based family and are serious about stewarding our God given gifts. I'm just really thankful. My dad is still active in the business and we all see each other often. At Thanksgiving, a comment was made about how nice it was to sit down at the dinner table and not have family friction or descension. Again, I'm just very thankful."
---
Outside the Office
With his large family, Knochenmus says there is always something to do and his family prefers outdoor activities. "We have to be okay with variety," he says. "We like anything outdoors pretty much, we like hunting and fishing, more than half of us like water sports such as jet skiing."
---
The Essentials
Ralco
600 Michigan Road
Marshall, MN 56258
Phone: 800-533-5306
Web: ralcoagriculture.com