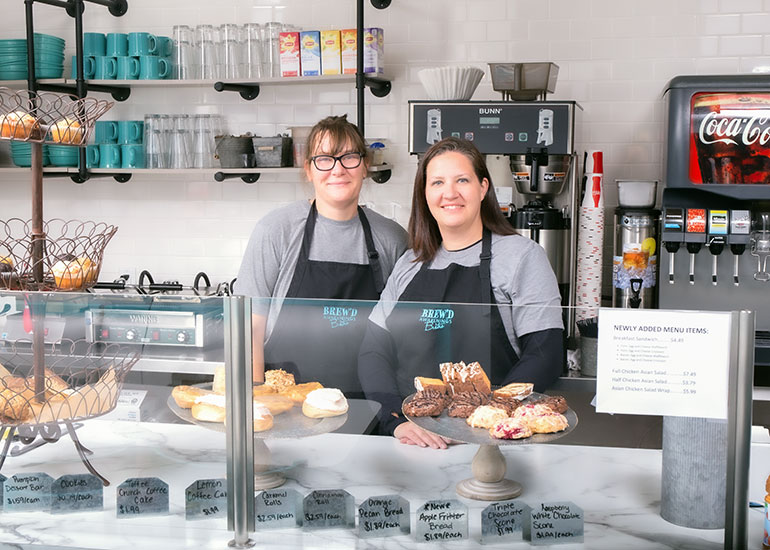 A thriving catering business has led to another business venture for one busy Janesville woman, Kendra Hoehn. She and her business partner, Amanda Slaughter, opened Brew'd Awakenings Bistro in downtown Janesville at the end of September.
"Two years ago, Infinity Catering officially started and has had great success. The rented kitchen being used was getting too small so we started looking at buildings in town to expand. We were approached by the current building owners to see if we wanted to open something in the other half of Wistes Meat Market when they reopened after the fire. They decided to limit their grocery availability and had commercial space to be utilized. Andy and Sarah Arnoldt have been great to work with and have helped us get up and going," says Hoehn.
Brew'd Awakenings Bistro is a small, quaint restaurant/coffee shop that serves tea, and hot and cold coffee, including flavored, all day. They also serve pastries, soup, salad, sandwiches, wraps and desserts.
Located at 206 North Main Street in Janesville, Hoehn says she is happy to finally be open to the public.
"Trying to get open has been the most challenging so far. It was hard getting the contractors lined up and stay on a schedule to finally get to opening day. We were hoping to open in June but so many different variables, it made us keep pushing the opening day back," says Hoehn.
"We knew that the community was eagerly waiting for us to open, but we have been pleasantly surprised at how supportive and welcoming the town has been, as well as the feedback we have been receiving.
Aside from Brew'd Awakenings and Infinity Catering, Hoehn is a mother of five and runs the lunch room at Trinity Lutheran School in Janesville.
Brew'd Awakenings Bistro
206 North Main Street, Janesville
Phone: (507) 995-7137
Facebook: Brew'd Awakenings Bistro