Matson Design Specialties, LLC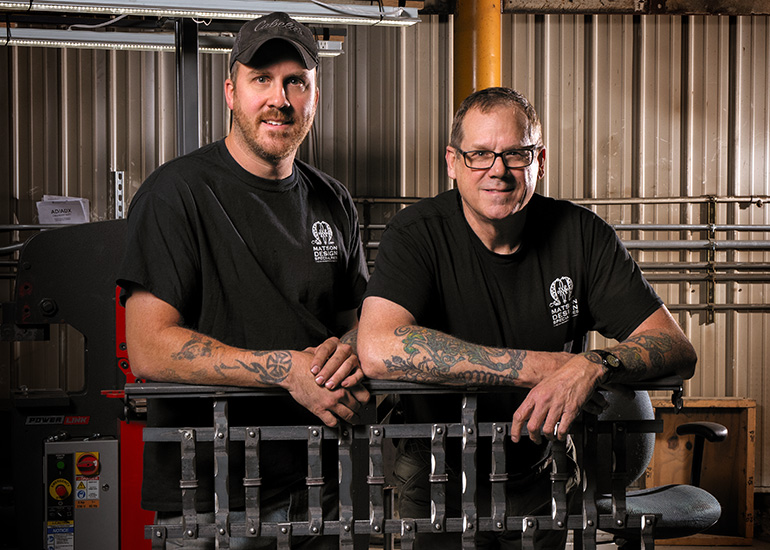 WELDING WIZARDS CARRYING THE TORCH
Father and Son Make Fabricating Their Family Business in Waseca
There is artwork all around us that many of us pass by and don't even notice: the sign outside our favorite store, the handrail we clutch walking upstairs, even the fencing around our favorite outdoor space. Many times it's practical, but it is artwork nonetheless. And two of these niche artisans can be found in Waseca, Minnesota.
When it comes to ornamental iron and premium handcrafted metal work, Matson Design Specialties, LLC is catching the eye of people and companies statewide. Located at 40185 State Highway 13 in Waseca, you can find the father-son team of Bruce Matson and Zack Matson. Together they fabricate both residential and commercial ornamental iron as their main specialties. Sparks fly in their fully equipped Waseca shop, where the smell of inert gas and the sight of molten metal meet. They fabricate everything from functional handrails, signage and fencing to ornamental light fixtures and much more. Together, they have found a niche market by combining their family talents. If you can think of it, they can make it.
The now-63-year-old Bruce Matson began welding out of high school in 1974. Bruce worked for several fabrication shops over the years before venturing out on his own. "I started the business in 1991 as a sole proprietor out of my garage part time. In 2013, my son Zack and I went full time and rented a small shop in Waseca.
Zack grew up in Jordan, Minnesota, and chose to follow in the career footsteps of his father. "I was fresh out of a divorce and I needed a shop to rent. I met Devin and Cathy Hoy from Waseca at a previous job I was at for a short period. They turned me on to a shop for rent by the old Waseca Dairy Queen. Devin and Cathy own Bullheads bar in Waterville. I strongly recommend stopping in there for lunch. We moved into that shop and that's when Matson Design entered Waseca," recalls Zack.
Space became a bit of an issue for the Matsons as their company grew. The bigger the orders from their clients became, the greater the need for space. They kept their eyes out for something that they could grow into. "We quickly outgrew that shop and moved to our current location north of town," says Bruce. Their new facility boasts 9,000 square feet of space in which the duo can conceptualize and make their designs come to life. The space is large enough to fit all the equipment the Matsons need to be able to channel their creativity and churn out their product. Zack says, "Our building is made up of two connected buildings. The large portion has a 5-ton overhead crane, three huge doors, generated three phase power and heat. Under this roof we have two very powerful machines. One is a 1/4-inch by 10-foot Cincinnati Shear for cutting large pieces of sheet metal. The other machine is a Pacific 165 ton press brake which is used for bending sheet metal. We have an iron worker for small shearing, hole punching, cutting rod, and a million other processes. Other machines include welders, band saws, tube benders, hand tools, benches, skid steer, forklift, and material racks." The shop includes all the tools that would make a fledgling fabricator drool with envy.
Starting out, the Matsons had their share of struggles like any fledgling business. "I feel struggles are an ongoing thing in the entrepreneurial world," says Zack. "You may have struggles early on but those change to different ones as time goes on. Early struggles for us were cash flow. Now it's trying to find the time to go pick up materials," he says. "In business you're faced with issues that pop up. If you live with the statement 'a lot can change in a day,' you'll succeed. Combine that idea with hard work and you set yourself up for success. Failure is not an option."
Looking to help their business grow, the Matsons set their sights on a larger audience. "Back in 2014 we wanted to attend the Minneapolis Home and Garden Show. The cost was $5,500. We knew we needed to do that show because it's huge exposure there," says Zack. "We were broke and trying to mastermind a feasible plan to make it happen. We contacted the Southern Minnesota Initiative Foundation out of Owatonna. They hooked us up with many great things, including the money we needed to attend the Minneapolis Home and Garden Show. In the five days at the show, we talked, shook hands, and networked."
With the connections from the show, Matson Design Specialties, LLC skyrocketed overnight, crediting much of their success to the Southern Minnesota Initiative Foundation. SMIF invests in economic growth in 20 Southern Minnesota counties. Since 1986 it has invested $114 million in our region. "Our largest client and best customer is Advanced Masonry Restoration out of Little Canada, Minnesota. We met them through the Home and Garden Show, along with lots of the smaller companies that seek our services as well," says Zack.
Standing out from the crowd is important in any business. Welding and fabricating is no different. "We are unique because of my diverse background as a fabricator. I use several welding processes: MIG welding, TIG welding, MIG aluminum and stick welding. We are also willing to work with customers in the Minneapolis/St. Paul area," says Bruce. This flexibility in coverage area allows the duo to bring in more business when times get tough.
To be an expert in one type of welding is impressive, but the Matsons are masters in a variety of welding disciplines. Zack takes a little time to explain the difference between some of the machines they wield. "TIG welding is short for tungsten inert gas. It's a heating element in one hand and filler rod in the other. The heating element or torch melts the steel into a pool. Once you get the pool of molten steel started you feed in the filler rod.
"TIG welding is a very precise and clean welding process. It's typically used in fancy or high-end projects," he says. Any welder worth their salt will tell you that TIG welding can be a very challenging type of welding for a number of reasons.
"MIG welding is also known as wire feed welding. A roll of filler rod, so to speak, is loaded into the welding machine. Drive dogs pull the wire off the spool in the machine and push through a hose out the front of the machine. It then comes out of the tip of the torch that is located on the end of the hose. The torch has an electronic trigger that feeds the wire and starts the hefty electrical current needed to complete the welding process. It is as simple as pulling the trigger. There are some fundamental things to know before having perfect welds. Technique, speed, machine amperage settings, wire speed, and wind. These are all key things that need to be perfect before our welds are perfect." This type of attention to detail and accuracy in their work make the Matsons masters at their craft. Although many of their projects are completed spring through fall, their diversity in metalwork has kept them busy yearround for the past three years – a boon for which they are grateful.
Small family businesses can sometimes mean long nights and weekends at the shop. The Matsons are no strangers to hard work but have been able to purposefully create a balance between work and family. "My typical day begins at 6 a.m. when my alarm goes off and in the shop by 7 a.m. with a big coffee. And back home by 5 p.m. or so. Our biggest challenge is delivering our product on time and in perfect condition. Some days run a bit longer than others and the weekends are often prep time for the next week," says Bruce. "Blood, sweat and tears are three things that are needed in starting a company," says Zack. All three the Matsons have shed in keeping their business running.
The younger Matson chimes in about how they balance work and family life. "In our field we have the luxury of not working too many weekends. Could we work weekends? Yes, however, family is pretty important. So many families struggle with family members not being home enough and it takes its toll on relationships. Do we work weekends? Absolutely, we do, but not anywhere close to every weekend. We schedule projects to make sure we have a little time off," he says. "Also, during the week, we leave to make it home at a respectable time to make it home for dinner."
When not in the shop or out on location, the Matsons take time enjoy the great outdoors. Bruce says, "My son Zack, his wife, Cassie, and I enjoy riding our ATVs in the Black Hills of South Dakota. They have the best trail system in the country. My wife, Laurie, of 40 years, and I enjoy camping with our four dogs and just relaxing."
Technology like the internet and email have helped the success of their business. "At the touch of a finger you have information unlimited." Using newer technologies, the Matsons advertise on social media and direct market to reach new clientele. This has allowed them to reach a larger client base with less effort than was previously possible.
Without realizing, you may have seen the Matsons' work in our area and beyond. You may have seen ornamental fencing, used a handrail they created at a local venue or unwittingly driven past a large metal sign they created. But few can make an onlooker's jaw drop like Bruce's favorite project. Bruce explains, "I'm proud to say I have done some high profile projects like the Frank Lloyd Wright house on Lake of the Isles in Minneapolis. They needed some light fixtures that somehow went missing, so I made new ones to match the others." A couple other of Bruce's favorite projects can be seen at the Minnesota Landscape Arboretum in Chanhassen and a church on Summit Avenue in St. Paul. He's also proud of two articles featuring his work in Midwest Home & Garden Magazine.
Not all jobs can be as illustrious as working on an architectural masterpiece created by Frank Lloyd Wright. They can, however, be just as rewarding. Bruce uses his creativity, craftsmanship and decades of experience to complete each project. The elder Matson says, "The key to our success is our willingness to meet customers on-site or in their office to help with design and fabrication problems. I often tell customers that your problem is my opportunity." This type of personal touch makes all the difference in the creative process and in the relationships with their clients.
Zack remembered a different project as his favorite. "My favorite project was the Loring Green West project," an immense condominium complex project located in downtown Minneapolis. He says, "It consisted of 350 aluminum guard railings that hung from the first floor, all the way to the 13th floor. We had the production going for speed, cranking eight to ten railings per day. One person was cutting pickets, another was cutting tubing, another welding, and another was tending to milling holes. The guard railings were then trucked on our 40-foot gooseneck trailer from our shop to D&K Powder Coating in Mankato. After being painted, they were trucked to Minneapolis, where they were offloaded at the job site."
Zack does much of the trucking of the materials himself, making the process both efficient and cost effective.
Whether the client needs small ornamental light fixtures or hundreds of guard rails, Matson Design Specialties, LLC can fabricate most anything that can be made out of metal. Zack's vision for their business is simple. "Work hard, deliver quality products and build a retirement."
---
Mutual Admiration Between Father and Son
Pride is evident in Bruce's eyes as he discusses his son.
"I admire Zack for his work ethic. He is always willing to work hard and make sure all aspects of the project are just right," says Bruce.
It's clearly a mutual admiration.
Zack says of his father, "I admire his creativity at work and his excitement in his after-work hobbies that he tinkers with on the weekends. His mind never stops thinking. He's always been the type of guy to tinker on a project. Currently he is building a truck box camper from the ground up. It's fantastic. He's thought out every step of the project from fabrication to wiring to air conditioning. The guy is a walking hobby/chemistry experiment that's gone completely as planned to grow a man into a funny, talented, creative and loving family man. That makes him unique like none other. The biggest characteristic that I really enjoy is his family-first attitude. Without him I wouldn't be the person I am today. I appreciate the person he is and am extremely lucky to have him as a father."
---
The Essentials
Matson Design Specialties, LLC
40185 State Highway 13
Waseca, MN 56093
Phone: 507-310-2000
Facebook: Matson Design Specialties LLC