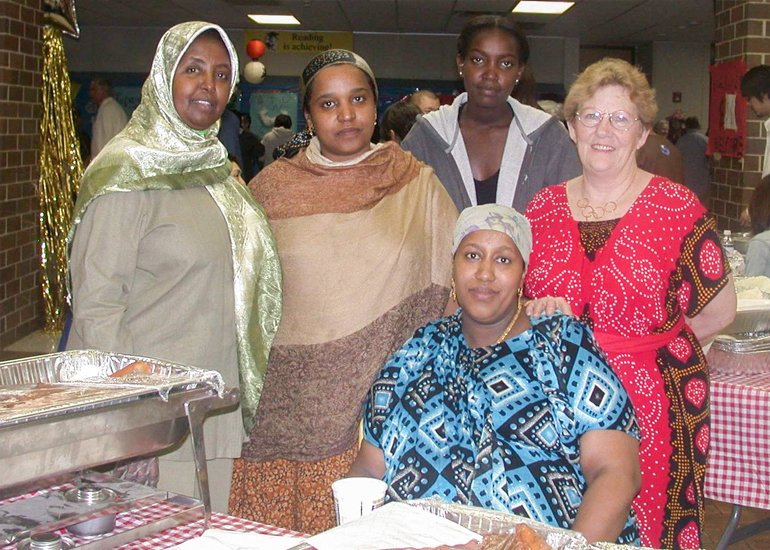 With a regional unemployment rate hovering around 2%, one of the greatest struggles faced by area businesses has been the attraction and retention of the talent they need to get their products out the door. While efforts by both our public partners and Greater Mankato Growth to improve the livability of the region have helped create a 4.96% population growth rate between 2010 and 2018, the even higher job growth rate in the community has employers struggling to fill their open positions. This explains why in 2017, over 45% more people commuted into the Mankato-North Mankato Metropolitan Statistical Area (MSA) for work than who commuted away.[1] To help address this, more focus has been paid to employing what has been called the "Hidden Workforce".
In this first of a two part series, the importance of tapping into this resource will be discussed. In part two, we will discuss practical and legal implications on how to incorporate this workforce.
While there is no singular definition of the "hidden workforce", the groups most often included are the formerly incarcerated, the disabled and refugees, asylees and immigrants. The U.S. Chamber of Commerce notes that 75% of former inmates are still seeking a job one year after their release.[2] The Wall Street Journal reported in early 2019 that the unemployment rate for people with disabilities, though declining rapidly, is about double that of those without disabilities.[3] With more than 53 different languages spoken by residents of 26 different racial and ethnic backgrounds in Greater Mankato, it is becoming more important for employers to tap into the growing pool of refugees, asylees and immigrants.
It is for this reason that Greater Mankato Growth has worked with our business community to offer tools and training on how to successfully employ this pool. Greater Mankato Growth remains committed to encouraging equal employment and to helping our member businesses combat the current talent shortage. Many of our member businesses have found success tapping into this hidden talent pool. Kelly Duncan, Human Resources Manager with Jack Link's, had the following to say about the benefits of hiring refugees and immigrants:
"Jack Link's has partnered with the Council of Churches for the past four years, as they were a strategic source of talent for our business as well as a great community partner for our current team members. Tapping into the population of Refugees/Immigrants has allowed us to continue to staff our business and grow our partnership with the Greater Mankato community. "One of our Jack Link's values is relationship driven (I foster collaboration with internal and external partners and respect diversity, because people matter). Mankato Jack Link's location is proud to support the growing population of Refugees/Immigrants in the Greater Mankato region to allow them to enhance their knowledge and skills while also providing for their families and often times still going to school (sometimes even learning ESL and getting their GED). At Jack Link's we also enjoy the education they have brought to our facility teaching us their culture, language, and enjoying some Sambusa!"
Finding Work in Mankato
One area resident—Habiba Ahmed, owner of African Fashion—described her experience as a refugee looking for work in Mankato. After arriving in Mankato in 2005, Habiba described how she found it difficult to find work due to three key barriers shared by most Somali immigrants and refugees: her language skills, her clothing and her need for prayer time. She sought assistance from Blue Earth County and described how Jessica O'Brien, now with ISD 77, helped her find work at a company that had found ways to address all those barriers. Jessica personally drove Habiba to AmeriPride where she worked for four years. At AmeriPride, the company had found ways to work within the restrictions created by clothing and had provided a space for Muslim employees to pray. Habiba noted that many employers fail to realize that prayer typically takes less than five minutes and that employees could typically be allowed to leave the line one at a time, creating little to no disruption to production. Regarding language, Habiba's speaking skills were limited when she arrived at AmeriPride. When filling out the application, Habiba was only able to fill out her name, address and phone number. Plant Manager, Tom Blaido, stepped in to help her fill out the remainder of her application. Despite this, Habiba did not require a translator in order to work at AmeriPride. Habiba noted that her role, sorting uniforms by numbers, required little English ability. Habiba also described how Tom Blaido would head out to the plant floor in order to practice conversational English with her.
After four years at AmeriPride and improved English skills from her practice with Tom and her attendance of ESL classes, Habiba partnered with one of her ESL teachers to approach Angie's BOOMCHICKAPOP with the goal of becoming their first Somali employee. The initial barriers of prayer time and clothing still existed. Habiba described how former VP of Human Resources, Colette Drager, saw her desire to work and helped seek ways to remove those obstacles. Habiba was given the opportunity to meet with co-owner Dan Bastian and Angie's found a resolution to the clothing concerns and provided Habiba with a place to pray. When it was time for her to pray, Habiba's spot on the line would be filled by another employee. Habiba flourished at Angie's. After five months at Angie's, Habiba was named Employee of the Month; she was given the responsibility to train new employees after seven. Habiba stayed with Angie's for seven years until she opened her own business – African Fashion. Habiba also works part time with Oak Terrace.
A Great Place to Live, but Difficult to Find Work
While AmeriPride, Angie's, Jack Links and other businesses serve as great models in how to access all available talent in our community, there is ample opportunity for all businesses to be an even greater employer of choice. Habiba reacted with surprise when she was included in a meeting with area business leaders and HR professionals discussing the talent shortage. Within her community, the perception is that there is an overabundance of talent and a lack of available jobs because there are few companies willing to remove the employment barriers her community faces. Many of the Somali refugees in Mankato commute as far away as Le Center, Owatonna, or Gaylord for work. There remain opportunities to reduce employment barriers further in Greater Mankato. Habiba noted that in 2019, she has seen many patrons of her store leaving Mankato for areas such as the Twin Cities, Ohio and to the South for jobs.
Habiba stays in touch with these former patrons and has asked many of them to describe their decision to move. They had overwhelmingly positive things to say about the Mankato community. They note that they enjoy the small-town atmosphere and describe our excellent healthcare and school system. Those who leave here note that both our youth and adult education programs are superior to those that they find in their new communities. Many are surprised to find that they received better ESL education in Mankato than what they can receive in the Twin Cities Metro. One former resident who moved to Ohio with her fourth-grade son mentioned that her son was performing at a higher level than the students at his new district. They astonishingly asked where he had been educated. Unfortunately, these residents are still leaving because these community benefits are outweighed by the basic need to be independent and employed.
Incorporating Refugees into Your Workplace
In part 2 of this series, Greater Mankato Growth and our partners will discuss practical and legal advice for incorporating refugees into the workforce. For companies not knowing where to start with employing refugees, resources like the Minnesota Council of Churches can help you navigate the barriers and find employees. The Minnesota Council of Churches (MCC) Refugee Services provides resettlement support to refugees coming to the area. Mankato's Adult Basic Education (ABE) services are also available to employers looking to hire refugees. Greater Mankato Growth looks forward to connecting anyone looking to tap into this pool with expert or business resources. If you would like Greater Mankato Growth to facilitate a connection with the Minnesota Council of Churches, Adult Basic Education, or business resources in the community, please reach out to Ryan Vesey, Economic Development Specialist at Greater Mankato Growth, at (507) 385-6644.
Ryan Vesey is an Economic Development Specialist with Greater Mankato Growth.
---
NOTES:
1. U.S. Census Bureau, Center for Economic Studies (OnTheMap) https://onthemap.ces.census.gov/
2. https://www.uschamber.com/series/above-the-fold/america-s-hidden-workforce
3. https://www.wsj.com/articles/americas-hidden-workforce-returns-11548478801