A Portrait of the American Dream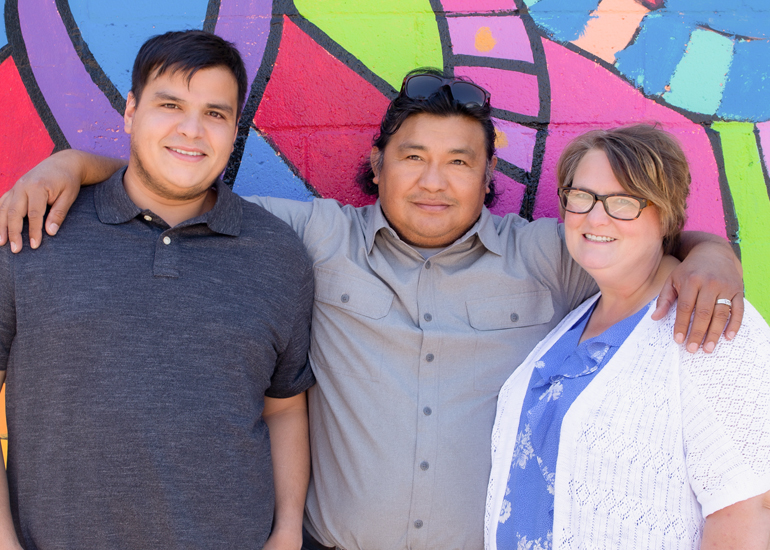 Let me paint you a picture of just how the American Dream is supposed to look. A young boy growing up in Yucatan, Mexico spent his days working in his grandparents' grocery store. Hard work was expected of him, and he made the most of it, paying close attention to how the store operated. Then in the 70s, the Mexican economy went into crisis. His grandparents lost the grocery store and their livelihoods. They lost their ability to support their family. So, at 11 years of age, the boy was sent to the United States with his younger sister. He enters the country legally, with the help of an uncle, to try to find his mother already living in California in search of a better life. This boy, already a young man really, set off to make his place in a new land. He didn't know English, but he knew hard work. So, he worked as a migrant worker up the coast of California, before heading East, wherever work could be found, that's the path he chose. His hard work paid off, and eventually he started his own company and a family. Raising them both in a place that offered him enormous opportunity: Mankato, Minnesota.
This is the story of Eduardo Ek, owner of Bellissimo Paint and Coatings.
"He came here for the American dream," reflects his son, Justin Ek. "We all want it and that's what he earned. He made it possible for himself and our family."
The phrase, the American Dream was born from the Declaration of Independence, which proclaims that "all men are created equal" with the right to "life, liberty and the pursuit of happiness."
It's that pursuit that led Eduardo Ek to southern Minnesota almost 40 years ago.
"His journey brought him to Winnebago," continues Justin."I think he was working on a farm near Winnebago, and then they lost their housing so they had to move to Mankato."
As a teenager, he had already learned how to overcome loss. Over the next four decades the migrant worker from Yucatan, watched his American dream become reality. He became a permanent resident of the United States, got an education, married his high school sweetheart from Mankato and raised four children. All of these actually happened simultaneously, as Eduardo and Jennifer, his high school love whom he met while attending Loyola, started having their children while still in high school.
Jennifer says, "Just like Ed, I will say that our kids did not have an easy life. If you're the children of a teen mom, it's not an easy life. They struggle right along. They grew up at the same time their mom was growing up."
Justin believes all of these circumstances plays into the success the family has finally achieved.
"My dad struggled, and we did too," says Justin. "We struggled along with him when we were growing up. So it was not just his tenacity to make it but ours too. We refused to give up. We will get what other people say is too hard to get. Not from anybody helping us, from us doing it ourselves."
"People may look down on it, but it's more of a step up to me. It's a privilege, almost, to have hardship. Hardship I think is a privilege because other people just don't have that exposure to things that you have. We just had to figure things out. You have to figure it out at such a young age it gives you a jump-start on life and decision-making and stuff like that. In many ways it makes it easier to be successful."
Eduardo and Jennifer, together now for 36 years, their four children all grown, believe the picture is now perfect.
Jennifer says, "For me, I feel like there were points in my life where it really felt overwhelming. The decision to have our children so young really impacted the whole rest of my life. I love my children, but it carries so much weight over your whole life when you have your children that early, but then I feel now as if I've worked so hard that this company is quite a reward for all of that hard work."
In this interview, Jennifer and Justin talk about their family-owned business, Bellissimo Paint and Coatings, and the role Bob Ross, yes THAT Bob Ross, has played in their lives.
Jennifer, let's talk about your side of the story. How did you and Eduardo meet?
Jennifer: We met in high school, actually. We both went to Loyola. Yes, we've been together for, let's see …36 years. I was born here in Mankato and grew up in North Mankato. So, I've lived here my whole life.
How did Eduardo find himself at Loyola?
Jennifer: I don't know actually exactly but then he was actually living with other- [This is when Eduardo passes through the room. He couldn't be there for the entire interview, but did pause to address this question for us.]
Justin: Dad, how did you find Loyola?
Eduardo: I was living with a friend of mine from Winnebago. He was going to Loyola. I was going to East High School. I was a wrestler at East, but the coach at East High School told me that I can't wrestle A squad because I got there too late. My friend told me, 'Why don't you come to Loyola?' So we talked to Father Schneider and Father Schneider told me, 'If you come here and wrestle for us, we'll help you with your tuition."  And they took care of everything. They said as long as you work hard that's all you've got to do. Then I met her over there. [Points to Jennifer. With a smile he bids us good bye, so he could get back to work.]
So you two met in high school and stayed together to start a family and a business?
Jennifer: We started Bellissimo in 2007. But we've tried other businesses over the years.
Justin: My dad is an entrepreneur. He has run every single business he could possibly think of. That includes two pawn shops, a restaurant, a driveway seal coating business, carpet cleaning and a few others. Painting is just what stuck. It just kind of worked for us and it has been good. I don't know, we both have kind of an aptitude for it and there was demand for it. So it is the business that took off.
But how did he get started with painting in the first place?
Jennifer: He was working for another company and had to travel a lot. We have four children and he was gone a lot from me and the kids. He was in Kentucky and he went to Wyoming and he was all over and then when he came home I was always like, 'This is a lot of work.' He finally just got tired of being away from the family.
Justin: Really, it started when he was helping another painter paint the Shopko in Mankato. That painter walked out in the middle of the job and the general contractor said to Dad, 'Well, do you want to finish this?' So he did. Then we bought a pump and then we just went from there, started our own painting business.
That's a pretty big bold move though as well, off on your own.
Jennifer: I know but that's the way he is.
Justin: It was just there for the taking.
Why do you think painting stuck?
Justin: Well, my dad learned English from watching Bob Ross paint on TV. He watched the videos and just trained…both his English and his painting.
Is that a true story?
Justin: Yes! That's where the aptitude for that comes from and hard work, really hard work. That's really what it is.
Jennifer: The kids have always worked in all of our businesses in one way or another.
Justin: We found success from that in ways that we struggled to make it work before. I don't know if my mom told you, and I don't care about saying it, but my dad and my mom started having their kids in high school. We had a rough start. They took a while to get up and going and tried a lot of things. So when he tried painting as a business, we stuck with it because we were making money!
You had one paint pump and the one job finishing Shopko, how did it grow from there?
Justin: It's simple: quality. My dad is a very meticulous person. He's very meticulous, very tedious. We just didn't stop. We just kept getting one job after another and when you do it that way, it pays off. We just kept building on that early success.
It was a humongous advantage, just having an entire family working toward the same goal.
Jennifer: Eduardo is very good at explaining things and people seem to like him. Then Justin went to get his business and marketing degree and so he's utilizing that a lot. Our youngest son got a communications journalism degree. He was helping with social media. There are just a lot of different components to our kids and how they contributed.
Justin: My brother is an Army veteran and now works in communications, network building, and stuff. So we have a good system, technologically speaking, because he built an infrastructure for us that works above and beyond other companies, I think. We are just firing on a lot of different cylinders all of the time.
One thing I find when I write these stories about people is that they come in with a talent, let's say it's painting in this case, but then in my mind, it would be really hard to just know the business side of it. The ins and outs of how to run a business. Is that just something that you learned by doing?
Jennifer: For me, this is baptism by fire. My degree is in social work. I actually went back to school. I've worked at nonprofits for the most part. I was a Spanish interpreter and worked for nonprofits that largely serve Hispanic populations using my Spanish and knowledge of the culture. When you work for a nonprofit, your grants run out a lot. That happened to me three times in a row. When that happened, I thought 'I'm just going to go back to school.' I went back to school, got my degree in social work, and by the time I graduated, we were extremely busy with the business. I was still doing this bookwork then and I was getting more busy and taking the calls more often and doing more. So by the time I graduated, I didn't even think it was worth it for me to get a job in that field because we were so busy that we really needed me to be here.
Justin: I think it goes a little bit further back than that though, because my grandparents, my dad's parents, and his grandparents, they all had businesses that until the crash, my dad was around to see so some of that trickled down to him. For me, I definitely learned a lot of things by doing them wrong. I also just study a lot, I do a lot of research on how to run a successful painting business in different markets and different climates and environments. I just always want to learn what we can do better. We're always trying to do things better.
How many employees are you up to now?
Justin: It's a seasonal thing, but I would say that on average we have about 10 employees consistently.
Is your whole family still involved in the business?
Justin: We do things like community events and stuff that all of our family comes together for, so they help me throw these things together. They have their own opinions about how much help I ask for, but they do like to be involved and that includes my nieces and my children.
So let's talk about what all you offer at Bellissimo.
Justin: We do basically walls, ceilings, interior painting, and trim cabinetry. We do epoxy floor refinishing for like garages but also hardwood refinishing, as well as exterior painting, murals, and stuff like that.
That's for residential and commercial?
Justin: Yes, and commercial work, industrial work. Right now we're working at the U.S. Army Reserve. We do a lot of government work.
Is that on a bid process?
Justin: You bid and if you're lucky enough to get it, then you get it, and then you're in a circle of vendors that could request you.
How far geographically do you serve?
Justin: We have some crews in the cities so we do work up there, especially in the Shakopee area and Minnetrista area. We do mostly houses up there. We can get pretty much all of southern Minnesota covered, but we like to stay in Mankato.
Jennifer: When we were first starting, we had to travel more than we do now. Now we're so busy we almost have to stick in Mankato, Eagle Lake, Madison Lake and Lake Crystal. We really have to stick pretty close to home to be able to get everything done in the summertime.
Why do you think that is? Is it word of mouth?
Justin: People get a lot out of us, because we live here and we have a lot of pride in our work, and we want to stay here. This is my future. If I don't do a good job, if I just do sloppy work or not good work, I don't come back or stand by my work, I'm not going to last. I've seen a lot of new painting companies come into Mankato and they come for two seconds and they're gone. It's because they don't believe in building good quality, they don't invest in this community, you know what I mean? They don't stay and do quality work here.
Jennifer: We have extremely dedicated employees too. I can't say enough good about our employees. We are so lucky and most of our employees have been with us a long time. One of them almost since the very beginning and two of them have been here for close to 10 years.
Justin: Yes, the guys are just the best, they kill it every single day.Also, we get referrals from others…not only clients, but others in our industry. Because if we go to bid a job and realize it is something not normally in our scope of work, we'll let the potential client know and then suggest someone we think would be good for the job.
Jennifer: We don't have a big problem finding someone else.
Justin: Because if it's not right for us, we don't want to do it. I'm not going to do it because it's just going to give us a bad reputation if we can't do it right. People like that about us and the other guy appreciates that I gave him that word. So he gets it. A lot of referrals come from building trust by reciprocating business.
Do you find it hard to find employees?
Justin: Our philosophy is that we give everybody a chance. People with criminal backgrounds or others down on luck, we don't judge anybody based on anything, really. Female or male, any race or age, we take everybody who wants to come in and learn and do a good job.
Jennifer: To an extent. I mean, as long as they're safe to go into somebody's house.
Justin: Right. Reasonably. A lot of people like that don't necessarily stick around for very long, but we give everybody a shot, and the ones that really love it that have never painted before, but they love it, they stay here for a long time.
How do you train that?
Justin: We start with the easiest thing you can do, watch. Watch what we do, watch why we do it, ask questions as much as you can. I know right away if a potential employee is not there for the right reasons. So they watch for awhile, and then I let them do it, I let them make mistakes. I let people make mistakes. I let people spray on practice things. You have to let people make mistakes if they want to learn something. That's the benefit that I've had as a son of a business owner: I can't really get in trouble! (laughs).  So I've benefited a lot from trying things and messing them up. You have to make mistakes to learn and I let people make mistakes so that they can learn.
You feel that Mankato is really a special place. What do you find so special about it?
Justin: Well, lately it's been the ability to impact our environment. Being able to be a part of the community is a great feeling. We were born and raised here. So it's always felt safe here. I've never felt racially discriminated against here. It just feels like a very, I don't know how to say it, the perfect America is in Mankato. That's what I think. There's a good mixture of both sides, which I appreciate, both idealogies. It's just a good place to be, I think. There's a lot of small business here. A lot of community, people take care of each other here and it feels safe. I like the safe feeling that Mankato has. We have a rich art and music scene. It's beautiful here, too. The natural beauty around us is awesome.
Jennifer: I agree, and for me a lot of it is family. My family's here, even my siblings. I only have one sibling who left and moved to Wisconsin. That's mostly because she married somebody from New Jersey, so they moved somewhere close for both families. Otherwise, my whole family's here. A lot of Ed's family moved here and now he still has a brother here. His mom is here. They're in Janesville, but they're close. My nieces and nephews from both sides of my family as well as Ed's family are here. It's good. We have our community here.
Justin: I also like that it is growing. There's a lot of potential here. There's a lot of opportunity here.
Jennifer: It is good to see–I know a lot of people think that there's too much growth or they are reminiscing about the good old days, things like that, but for me, I like to see the revitalization of old town but I also like to see the growth. The new buildings that are going up. I like to see all that. I like to see that it's expanding and that Eagle Lake is pretty much a part of Mankato now. That St. Peter doesn't feel that far of a drive anymore, because it just feels like one big community now. I like that part of it.
You did mention that you haven't experienced any racial discrimination here. Do you think maybe that's one reason your dad felt comfortable staying here because he had migrated, as you said, to here and maybe…?
Justin: Obviously, there's people that say stupid stuff.
Jennifer: I can't say that's never happened in the course of their lives, of Ed's life.
Justin: But I've never felt unsafe here. I'm not going to say I've never had somebody yell something out of the car window. I just think to myself, 'Come talk to me if you want.' But I think, yes, my dad definitely felt some racist stuff. When my dad moved here, he moved in with this traditional, old white guy. So dad basically grew up with that guy who taught him how to be a fisherman, hunter, he's got collection of guns. So he learned how to fit it in here, I guess you could say. (laughter) Obviously, he identifies as a Hispanic person but I don't know that, aside from his appearance, you would know. He fits in with anybody.
Jennifer: He's very adaptable, that's very true.
How long have you been in this location on Riverfront?
Justin: We rented the back of a shop first. That was just our paint shop and where we stored our tools. The owner of this building was moving out and he wanted to sell so he offered us the building to buy and we were like, "Yes, absolutely." We knew that the barrier of not having our own location was there. So we just thought it was a sound investment, so we purchased this property about four years ago.
Jennifer: Yes, we actually started in our home, and even when we were renting the back of the shop, the office was in our home. This building has been a good investment and a good addition to our business too.
Justin: It's good to have a place that people can come to. You wouldn't think that with a painting business like ours, you would get walk-in customers. Well, we get them all the time. It's definitely an edge for us to have this building.
What do you two want people to take away after reading this story?
Justin: What I'd like people to take out of this is that if they hire us, that they know that we'll stand behind our work always. That we'll be here for another, hopefully, 20-plus years and that–they can always reach out to us. Or if people are just going to do their painting themselves, I'll help them with questions and stuff. I love to help people get started in the right direction because they'll tell their friends, 'Hey, this guy is great, if you have the means to do so, you should hire them because they're an honest company.' I want people to take that we are hardworking, an all American family with principles and morals and values and we'll take care of your home like it's our own.
---
Getting to know: Eduardo Ek
Eduardo's love for painting goes back to his high school days in which his affinity for exploring colors led him to take up landscape painting. His deep satisfaction for the painting process, beginning-to-end, led him to win his school's Painter of the Year award for his works. That satisfaction for visualizing projects and watching them evolve continues to this day.
It wasn't until a friend approached him with a job opportunity professionally painting, that he realized he could make a living doing something he loved.
Since then, with the help of his family and dedicated employees, Eduardo has been at the helm of projects like those at which he got his start. He is still baffled by the fact that people are willing to pay him to be engaged in such a therapeutic process, a process which starts every time a new project begins.
He is a World War II enthusiast and enjoys traveling and fishing.
---
Getting to know: Jennifer Ek
She met Eduardo in high school and they have been together ever since, choosing the area to raise their four children, and now to have adventures with their four grandchildren, Addison, Charlotte, Milo and Simon. She speaks fluent Spanish, earned her degree in social work, and is a diehard Minnesota Vikings fan.
As a lifelong resident of southern Minnesota, she enjoys seeing both the growth and new development, and preservation of older structures that Bellissimo paints. Knowing that Bellissimo plays a part in the beautification of her hometown is very satisfying to her.
---
Getting to know: Justin Ek
Justin, who just turned 30, began painting ten years ago. Since then he has undertaken projects from furniture refinishing to complete home remodeling. His eye for design stems from a passion for perfection, keen sense of detail and a constant effort to keep with home styling trends.
Having earned his business management degree from South Central College in Mankato, Justin specializes in new home construction projects, though his experience extends into commercial and industrial realms. Justin shares his talents by doing a lot of public painting. He has several murals around the Mankato community.
Justin married his high school sweetheart in 2012. They live in North Mankato in the home Justin's grandfather built with their son. They have two children.
---
Talents of Bob Ross, Taken to Heart
Perhaps many of you reading this, have watched the famed painter Bob Ross demonstrating painting skills on his television program. Ed certainly did as a young man, it's where Justin says he learned English along with painting techniques.
Ross died in 1995, but his memory and legacy are alive and well in Mankato where Eduardo teaches Bob Ross painting classes in his free time. Currently on a hiatus due to the pandamic, Ed plans to resume them when he can. He even has a contract with the state security hospital in St. Peter to conduct the classes for residents there.
---
The Essentials
Bellissimo Paint & Coatings
417 North Riverfront Drive
Mankato, MN 56001
Phone: 507-469-8015
Web: bellissimopaint.com
Facebook: Bellissimo Paint and Coatings
Photo by Jonathan Smith