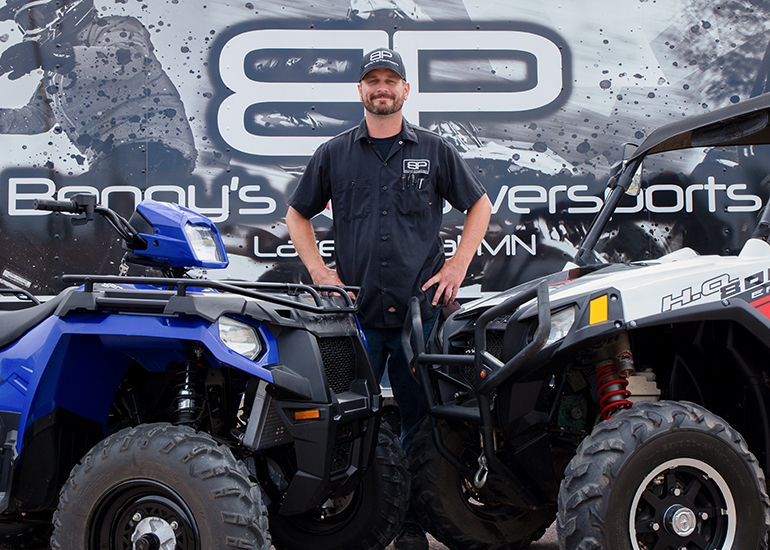 Growing up in an old farmhouse near Mount Kato on the south side of Mankato, Ben Havens had a passion for things that went fast, like dirt bikes and snowmobiles. That passion took root early and has only blossomed as time has passed. Like many who find their passion in life, Ben had to find a way to support his expensive hobby. He started to find projects on Craigslist and Home Magazine that he could fix up and resell. Around 2007, his used parts business started to take off. "I would find cheap old dirt bikes and snowmobiles that had bad engines or other expensive problems. I would buy them, dismantle them, and part them out. As I got familiar with selling these parts, mainly on eBay, I realized the world had a serious need for less expensive options for parts to fix their toys. Soon I was selling ten or more parts per week off of the parts-rigs I had torn down. This started to build a cash flow that led to more opportunities to buy more inventory. Soon I had no room in my garage to park my truck and decided to make a career out of it", says Havens.
Living just outside of Mankato, Havens attended Mount Olive Lutheran School as a child, then to Minnesota Valley Lutheran, before transferring to Lake Crystal Public School for his final two years of high school. It was during high school, that he started to work for Fastenal. "I started in the Mankato store summer of 1998 bagging fasteners and running deliveries. I moved to La Crosse, WI after high school to work in the Tomah, WI location and help with the La Crosse and Winona stores. I was offered a position as branch manager at the age of 19 in Fairmont. I moved back to Lake Crystal in 2001 and worked at the Fairmont Fastenal store as the manager until 2009," says Havens.
After working for Fastenal for 11 years, Havens decided to take a leap of faith and start his own business after attending Minnesota West Community and Technical College to get a degree in Powersports Technology. Faith is something Havens has an abundance of, as evidenced by a Bible verse he keeps on the wall in his Lake Crystal office. Proverbs 13:11 "Wealth gained hastily will dwindle, but whoever gathers little by little will increase it". Sound advice for any business person. Today, he is the owner of Benny's Powersports, in Lake Crystal and 2020 officially marks ten years of being in business as a powersports repair shop, retailer, and parts dealer. "I took on any and every project that people would bring me. When I first started I would fix anything from boat motors and lawn mowers to ATVs, dirt bikes, and snowmobiles. I kept the parts business going as much as possible to fill the slow times," says Havens.'
Benny's Powersports offers a dizzying array of products and services. Their target audience includes off road enthusiasts, snowmobilers, ATV and UTV riders, farmers and other agriculture related businesses. They buy, sell, and trade all major brands of ATVs, UTVs, and snowmobiles. They also sell new and used parts and accessories for ATVs, UTVs and snowmobiles, along with OEM and aftermarket products for all major brands. Benny's Powersports is a dealer for both Parts Unlimited and Western Power Sports. The two distributors are the largest of their kind in the world. Some other products include helmets and apparel, such as coats, bibs, hats, gloves and boots. They also sell wheels, tires and lift kits, along with skis, tracks, windshields, hoods, seats, oil, engine drivetrain parts and all maintenance parts. If that wasn't enough, they offer radios, stereo systems, winches, plows, and heaters. Some of their biggest sellers are tires in the warmer months and winter apparel and helmets in the colder months. If it goes in, on or near a powersports vehicle, chances are, they sell it.
The powersports industry is a fast growing and fast moving industry. Havens says, "Honestly, we don't have to come up with new and exciting products. The vehicle manufacturers, performance parts and accessories manufacturers, and our creative customers come up with new and exciting products. We just have to be tuned in to our business and react to the ever changing and evolving industry. We really try to communicate with our customers to find what they want and give it to them at an affordable price. We stay in tune with our industry by listening to our customers, having good conversations with them to find what they really want or need. Then we take the information they give us and find the products that fit their needs. As we continue to gain more and more knowledge of what our customers really want, we stock products in our store accordingly. Some of the challenges are being able to afford and manage the inventory and product lines that our customers want. We have good supply chains and relationships with other dealers that allow us to get products quickly to meet customer needs."
Now with four full-time employees in addition to Havens, Benny's Powersports is a family affair. Ben's sister, Shelly Freyberg, is the retail and online manager. His mother, Carol Eckert, is the shipping manager and in charge of online parts sales. Both employees work hard to continually grow and support the business in a number of ways. They run the day to day of shipping, receiving, and manage all retail and online orders. Tirelessly answering the phone and helping customers. Havens' first hire was a friend's younger brother, Jake Pahl. Jake is the service manager. He repairs most of the vehicles that come through the shop. He makes sure the customers are taken care of and he ensures the shop runs smoothly. Willy Taylor is a utility man of sorts. "Over the years, he learned so much through true hands-on learning. After six years, he's my lead technician for custom installation of plows and winches, windshields and full cabs, stereos and speaker systems, wheels, tires, lift kits, and anything else we do on a daily basis around here. Not to mention, he parts out every ATV, UTV, and snowmobile we tear down, by himself. Without the daily dedication of these four individuals, our business would not be where it is today," says Havens.
The future looks bright for Benny's Powersports. Ever expanding and in need of more space, they are now on their third location since opening their doors. They are adding another building to their Lake Crystal location. Havens states, "We are running out of room and building a new storage warehouse behind our shop. Towards the end of 2019 we made a deal with the city of Lake Crystal and another local land owner to purchase the properties behind our shop. We are excited to build our new heated warehouse. This will help us in growing our online sales business and offer our customers seasonal storage. We expect our new warehouse to be done by late fall 2020."
Expansion and growth is always a risk in business, but it is one Benny's Powersports is looking forward to with no plans to rest on their laurels. "I think the biggest hurdle we have faced throughout the years is funding our growth. You can be a successful business and continue doing business as usual or you can pursue aggressive growth. Growth is a challenge because cash flow becomes a big hurdle to get over. This challenge has helped me learn patience. Every aggressive entrepreneur wants to grow big and fast. If I could offer any advice, it would be: have patience. Grow a working relationship with a small local bank and pay your bills on time. We have evolved from a small used parts dealer and repair shop to a full retail showroom and full service powersports shop. Our online business is continually growing. We will continue to reinvest our profits and push forward to better serve our customers and employees for years to come," says Havens.
In the next five to ten years Havens would like to see their online business continue to grow into a self-sustained ecommerce site of its own and not rely on just eBay and other online giants for online sales. Adding another one or two technicians to service most of the customers quicker and more efficiently, is another goal for the future. They currently service over 600 vehicles (ATVs, UTVs, and snowmobiles) per year and would like to see that number doubled by the year 2025. "I am driven by the need to create opportunities for the people that work for me. If I don't make this business successful, I am taking away the opportunity for them and their families to thrive. We all have families at home. We all want our families to be happy, healthy, and comfortable. I feel a deep need to provide for all of my employees an opportunity to better their income and create financial independence. Everyone that works here has a salary and a commission. They are in a position to directly affect their pay every day by their commitment to this business and the job they perform. I also get excited to come to work because I'm literally surrounded by cool big boy toys all day. I get to fix them, make them cooler and faster, and yes I get to drive them too," says Havens.
Community is important to Havens and the crew at Benny's Powersports. "Small town communities and small businesses are the backbone of our economy. We live, work, and play with people in the local community. Our kids go to school with our customer's kids, play sports and have school activities with each other. I really prefer the small town atmosphere. We support our local community mainly by donating to local fundraisers with some of our products as door prizes and gift certificates to our store," says Havens.
As many business owners will tell you, owning a business is not for everyone. Generally working twelve hour days, Ben devotes much of his time to his business. "Honestly, it's not easy. You have to be able to manage your time wisely. With only 24 hours in a day, half of them are spent at work or preparing for work. On a daily basis you have some really tough choices to make. My wife, Sarah, is supportive of what I do every day and she is one of the main reasons this business has been successful. Without her support, I could not do it. Sarah was the one who really pushed me to make the leap and quit my job 11 years ago. She encouraged me to take the risk of starting a business from nothing (in an economic recession, no less). She gives me words of encouragement when I come home overwhelmed from the never ending, always growing list of things to get done at work. I can honestly say Benny's Powersports would not exist today without the encouragement and support of my wife," says Havens.
Outside of work the Havens family spends their spare time riding ATVs and snowmobiles with family and friends. Sarah's family has a cabin in Birchwood, WI and they ride ATVs up there as often as they can. It is their favorite family hobby. Fishing in both summer and winter is also a favorite pastime for the family.
There have been a multitude of projects and installations for Havens over the years but one stands out above the rest, he says. "One of the most nerve racking projects was when a friend of mine asked me to rebuild the engine on his parachute plane. These planes use a high output snowmobile engine for their powerhead. Since I had knowledge of snowmobile engines, I guess I was the guy for the job. Honestly, I turned him down twice before he ended up convincing me to do it. There's just an unsettling feeling to know your friend is 1,000 feet in the air with your engine keeping him up there. Don't worry, that was over six years ago and last I checked the motor has not failed him yet." Going to the Hay Days Swap Meet in North Branch, Minnesota every summer for the last twenty years has also been a favorite for Ben, who states it is the world's largest snowmobile swap meet.
Havens says, "I want our customers and future customers to know not only that we are here and ready to help them, but that we have a large amount of products on hand and a short distance away at our supplier distribution hubs. We can get thousands of powersports parts and accessories at great prices within one to two business days. We can ship them to our store, freight free, for our customers to pick up or we can ship them direct to their home or business, so they don't even have to leave the comfort and safety of their home."
---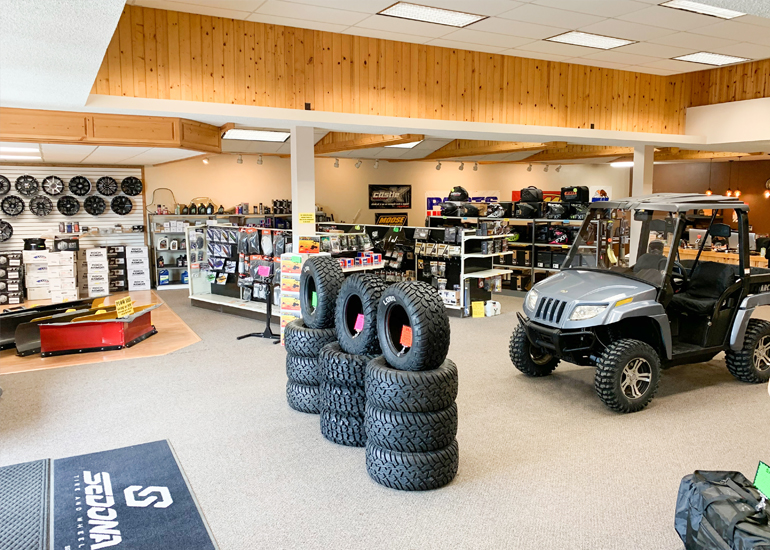 Benny's store sells a range of powersports accessories and apparel.
---
The Essentials
Benny's Powersports
111 West Prince Street
Lake Crystal, MN 56055
Phone: 507-726-2808
Web: bennyspowersports.com
Facebook: Benny's Powersports
Photo by Jonathan Smith