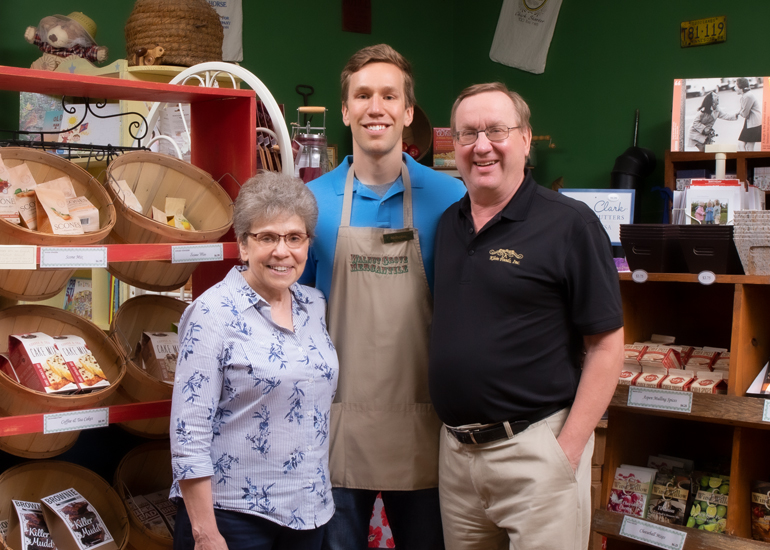 The recent ups and downs of the economy have stung a little, but Klein Foods, Inc. in Marshall has come up with a pretty sweet business plan to weather it all. Owners Steve and Kay Klein operate a business that today looks drastically different from when Steve's dad, Ray, started Marshall Honey Farm in 1951. But they both assert that Klein Foods wouldn't be what it is today without Ray's hard work, passion, and humility.
"My dad went to the Ag School at the University of Minnesota, and found himself one class short for graduation," Steve explains. "The only available course was about beekeeping. To my dad's surprise, he ended up very passionate about it!"
Ray's professor owned different commercial beekeeping operations throughout the state, and he offered Ray a job at any one of them.  Since Ray was a lightweight and always felt cold, he chose Marshall because he thought it would be the warmest location. After establishing Marshall Honey Farm, Ray worked with his brother Eugene to put down business roots in the community and surrounding area. He delivered honey in cans to stores and towns all over southwest Minnesota.
It was only natural that Steve grew up learning the beekeeping business. When he wasn't helping Ray in the bee yards, he found himself filling jars of clover honey and labeling them for their many customers. The partnership between Ray and Steve resulted in a thriving business and 16 national championships at the American Honey Show.
Unfortunately, circumstances out of their control hit the business hard in the 1990s. "We ran about 2,000 hives, and the business was very successful until high levels of pesticides, honeybee pests and dwindling bee pasture put tremendous economic stress on commercial beekeeping," says Steve. "By 2000, all of the commercial beekeepers in southwest Minnesota had disappeared."
To generate additional revenue, Klein Foods, Inc. was established in 1992. As an S-corporation owned equally by Steve and Kay, the business began manufacturing specialty honey products for the gourmet food and gift segments. Flavored honeys such as Amaretto Crème and Blueberry Delight proved to be a big hit with customers. The business began to grow rapidly, with its products found in stores across the country. "Within three years the new company earned more revenue than the beekeeping operation did," Kay adds. "We sold the commercial beekeeping operation and focused solely on Klein Foods."
In 2001, another opportunity for growth presented itself. The city of Marshall wanted the Klein Foods location for a new YMCA. In the process of searching for a building site, Steve and Kay started to dream bigger. "After several years of operating Klein Foods, we thought it would be nice to have a retail store to feature our own products, as well as others'," Steve says.
A new manufacturing facility was built, and a retail store named Walnut Grove Mercantile (WGM) was added. "Since we marketed nationwide, we chose a name that was tied to the area, but also had strong name recognition," Kay explains. "We also decided to create a Walnut Grove Mercantile product line."
By encouraging and valuing customer input, Steve and Kay soon found their business growing in unexpected ways. "As we worked on plans for the store, a wholesale customer of ours suggested that we add fresh fudge," Steve recalls. "We knew absolutely nothing about making fudge, but decided to give it a try." Within WGM's first six months of business, fudge was the best-selling item.
Several years after the store opened, a local church group approached Steve and Kay and asked if they would consider doing a fudge fundraiser. "We debated about it because we were concerned it could affect our store sales," says Kay. "As it turned out, the people who bought fudge through the fundraiser ate it so quickly that they came to the store to buy more!"
Other groups soon approached Steve and Kay looking to set up their own fundraisers. Fifteen years after that first successful fundraiser, Klein Foods has partnered with groups in more than half the states in the U.S.
Although Klein Foods still manufactures and supplies gift and gourmet stores with their original products, fudge fundraising has become the dominant part of the business – something neither Steve nor Kay anticipated.
"We have been so surprised with how the fundraising program has taken off," Steve says. "It's very important to us as a family and as a business to know that we are providing direct support to local communities and organizations across the country, especially here in the Upper Midwest."
Steve and Kay weren't content to rely solely on fundraising revenue, so they continued to find innovative ways to grow the business. Their product lines have expanded from gourmet honeys to include homemade barbecue sauces, preserves, fruit syrups, caramels, soap, and more than 100 different flavors of fudge. "We've recently seen strong growth in our corporate gift sales, especially for the holidays," Kay says. "We also offer tours of our facility and opportunities to make your own fudge."
Oftentimes great success can bring great challenges. The retail industry is particularly vulnerable to the ups and downs of the economy. Riding those waves hasn't always been easy for Steve and Kay.
"Our retail store has definitely weathered some difficult times," acknowledges Steve. "When we first opened, we had lots of customers. But every time the economy goes through a rough patch, we see that reflected in our sales and foot traffic. Thankfully, we've seen sustained growth in the store over the past few years."
The popularity of the fudge fundraising program has brought its own challenges. There has been a tremendous need to increase inventory, staff, and production, while also complying with the more stringent food safety laws that have made food manufacturing more intensive than it used to be.
Just like many other industries in southern Minnesota and northern Iowa, Klein Foods faces workforce issues, although the nature of their business makes those issues unique. Because the last three months of the calendar year generate close to 70 percent of their revenue, Klein Foods has many part-time employees. They have moms who work when their kids are in school, retirees, farmers who have lighter schedules after harvest, and college and high school students – all in addition to the full-time, year-round employees. "We've been incredibly blessed with the many employees who have gone above and beyond to help us meet demand over the years," says Kay. "They truly embrace the business as if it were their own." "And who doesn't want to make fudge?" quips Steve. "Everyone wants to be on quality control!"
It may have been the "warm" weather of Marshall that drew Ray Klein all those years ago, but it's been the community and the people that caused the Klein family and business to put down deep roots. When the store was built in 2001, Steve and Kay never considered leaving the area. "The community has been so wonderful to us over the years, and Marshall is a great city to have a business," says Kay.
Located right on an intersection with Highway 23, Klein Foods has found an ideal place for its twin arms of manufacturing and retail. There is easy access for both customers and freight shipments, and many travelers driving north in the summertime stop for a visit. WGM has even become a defacto visitor center for the community.
"The local people have given us such tremendous support," Steve says. "From the city, to the Chamber, to our customers – we couldn't be more pleased."
When Ray started Marshall Honey Farms, he probably couldn't imagine that the business would grow to include a third generation. Steve and Kay's son, Nicholas, recently moved to Marshall to work alongside them with the intention of taking up the mantle after they retire. "After being away from Marshall for about 10 years, I felt a strong desire to return and increase my involvement in the business. Being a third-generation company means a lot to me, especially knowing what my grandpa and parents have put into this place. I want to keep that legacy going and continue to see that it grows after my parents retire," says Nicholas.
By remaining open, adaptable, and focused on their customers, Steve and Kay have grown Klein Foods into a successful, multi-faceted business. If history is any indication, it seems that another opportunity could be just around the corner. If that's the case, Steve, Kay, and Nicholas are ready to grab it.
---


Walnut Grove Mercantile offers a nostalgic atmosphere which features the Klein family's own products, along with other fine foods and gift items.
---
Coping with COVID
COVID has affected our business in several ways. Most of our spring fudge fundraisers had to cancel because of school and organization closings. We also closed WGM during the official state shutdown. Sales in March, April and May were down by about 80%; thankfully, we've seen a bit of a rebound in June. Unfortunately we had to temporarily lay off our workforce as there was a huge decrease in demand for our products. Because of the strict food manufacturing sanitation regulations that we follow, there hasn't been a lot to change in terms of COVID sanitation practices, but we have updated our manufacturing process. We are keeping an eye on COVID as we come into the fall, as that's when we could see a really big impact on fundraisers. However, we believe that we'll see fundraising growth in the long term, as states and school districts will be facing reduced tax revenue. This usually translates into schools asking their extracurricular groups to do more self-funding (aka fundraisers).
---
Steve and Kay Up Close
Steve and Kay are both former school teachers. They have four grown children. Back in the commercial beekeeping days, Steve was heavily involved with the beekeeping industry, serving as president of the Minnesota Honey Producers Association and the Treasurer for the National Honey Board. He was also called upon by USAID (the US Foreign Aid organization) to develop other countries' beekeeping and honey marketing efforts. Steve is the president of the Lyon County Philatelic Society (the local stamp club). He enjoys flower gardening, as evidenced by the numerous flower beds outside of Walnut Grove Mercantile. Kay enjoys sewing, reading and photography. Steve and Kay are actively involved with their church and their family.
---
The Essentials
Walnut Grove Mercantile
1501 East Lyon Street
Marshall, MN 56258
Phone: (507) 532-3127
Web: walnutgrovemerc.com
Facebook: Walnut Grove Mercantile
Photo by Jonathan Smith