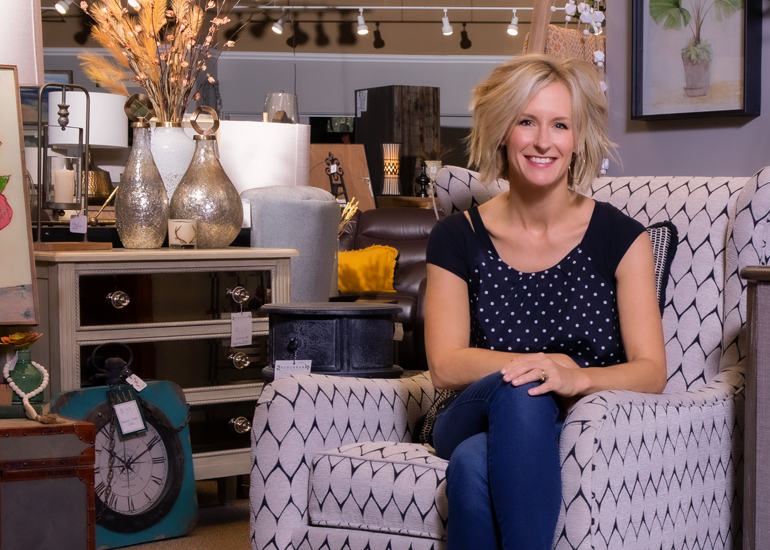 When Lawrence and Leta Clemons decided to open their own furniture store in 1959, the space they had was just outside Waseca city limits along Highway 14. So they decided to call their new venture, Suburban Furniture. The name stuck, even though things started changing quickly. Not long after opening, they added a flooring department and soon after that, bedding…offering more than just furniture. And in fact, while the actual location didn't change, its proximity to the city limits did, with the building of a new Highway 14, Suburban Furniture & Flooring ended up in the city after all.
Other changes the Clemons couldn't see coming? Well, in 1959, Americans spent less than $500,000 on furniture. Today the value of all furniture and furnishing store sales in the United States net 106.78 billion dollars. Independent furniture retailers, like Suburban Furniture & Flooring, make up about 15 percent of the market today.
The entire Clemons family has been there along the way to get a first-hand look at the growth in the industry as Suburban Furniture & Flooring now enters its third generation of family ownership.
In 1994 Lawrence's son, Kevin Clemons, bought the store and grew the business alongside his wife Keri. Then in late 2019, Kevin and Keri's daughter, Abby, moved back to Waseca with her family to take the reins of Suburban: just in time for COVID to hit and halt the trajectory of the industry.
"Right after I officially took over, COVID came to be," reflects Abby Hughes. "So I had a choice to make: to sit back and see what happens, or take the bull by the horns and try some new things."
And that is exactly what she did. Hughes fully understands that furniture pieces are items that consumers want to see with their own eyes, touch with their own hands and just generally "try on for size". In most cases, customers crave connection with retail furniture. A connection lost in the reaction to COVID. With the doors to her store closed for a time, she had to figure out how to make her customers feel that connection once again.
"So that has been a huge challenge for our team," she admits. "How do we take this brick and mortar store and turn it into a virtual experience? We still want to keep the way we work with customers but turn it into something we can do from a safe distance. We had to ask ourselves, 'how do we still bring in revenue?'
"We're quite old school, in fact we still have paper sales tickets! We don't sell anything online, so there was a long way to go and we had to learn pretty quickly. But the thing that came out of it was the Facebook videos. Those have been huge for us. We've been selling through Facebook and teaching too! We teach on a variety of things such as how to decorate your end tables or how to hang your art in your house, how high do you hang it or how to match colors. We choose different topics and that's been a huge stage and has helped us stay in front of customers."
As people are slowly allowed back into Suburban's 10,000sf showroom, it is clear that while online shopping and social media experiences are still popular, the need for physical space in furniture retail isn't diminishing. For Hughes, the goal is to grow both the physical and technical sides together. Help them co-exist, which she believes will add value to her customers' shopping journey.
"We didn't have an online presence really before COVID hit, but now we see the value in adding that to our business model. Truly it is getting outside of our comfort zone," she says. "I never would have done it on my own. I am not too afraid of talking in front of people, but it does take some courage to get in front of the camera and to ad lib and show people what you know. It's been fun, but I never, ever would have done that on my own if COVID hadn't happened."
In fact, her life has a record of finding success by getting out of her comfort zone.
"I think about that all the time," reflects Hughes. "I really could have missed an opportunity. When we were living up in the cities everyone thought we were completely crazy for wanting to move. We had great jobs, we were doing really well, had a fun life. People just couldn't understand our desire to move back to a small town, but it is the very best thing that could have happened to us."
Moving back to Waseca was something she and her husband had always planned to do eventually, however working in the family business was not in the plans…let alone running the whole thing.
"To be totally honest, I never had any intention of buying the business. I was happy working in finance. But when we moved back down here, I was spending more and more time with my parents and helping them and I realized how much I loved it. It is so perfect because it marries my business side, my finance and my numbers side, with my creative side. As soon as I actually got involved with the behind the scenes work and then out there with customers, it was a match made in heaven. I had no idea how much I would love it."
Love and passion are what got her through a pretty rocky beginning to business ownership. "I bought it in December of 2019 and to be honest, January and February were tough months for us," she says. "Historically they have never been great months, but this year we got off to a pretty slow and scary start, and that's before COVID hit."
Technology was one key to survival, but overall she acknowledges, they stuck to their roots to truly keep their doors open.
"I really think it comes down to service," she continues. "We care about our customers. Because we end up getting to know them, they end up being our friends. I know everyone probably says that, but we truly want to do the right thing for them. When you put customers first, you just genuinely want to make it a great experience and make it fun when they come in the store and you want them to love what they take home, well…I don't think you can lose."
A fun part of Hughes' job is to find those treasures she feels her friends, neighbors, customers, will like.
"That is a huge thing people are really starting to know us for," says Hughes. "We source things from all over the place. We go to market and we do our buying there, but we also try to find things that are super unique and that you can't find anywhere else.
"We keep price point in mind, so we are constantly on the hunt for what's on trend but also what's a good price. So when we put it all together and people walk in and look at the vignettes and see how we put things together, they get inspired and get ideas they can take home with them."
Hughes is glad she and her family are home again in Waseca.
"We are getting quite a little following and it is kind of neat. People come to our store from Owatonna, Mankato, Faribault, New Richland and, lately, quite a lot are coming down from the cities. We can't take all the credit for that. Waseca has a lot of other great shops as well, so they can make a day of it and go to other boutiques and eateries in the city."
The Essentials
Suburban Furniture & Flooring
2200 North State Street
Waseca, MN 56093
Phone: 507-835-3670
Web: subfurn.com
Photo by Jonathan Smith