A Brief History of the Martin County Historical Society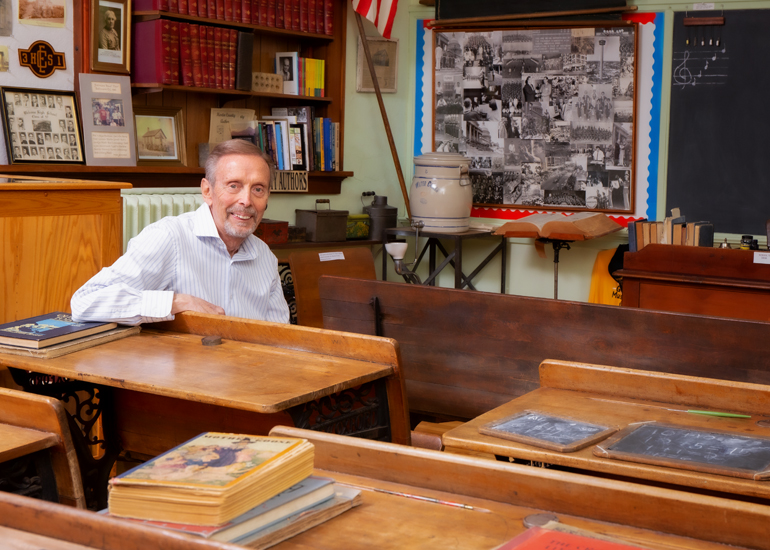 Lenny Tvedten was a 5th grade teacher in Fairmont for 30 years. When he was about to retire in 2001, a personal, professional, and history-changing event took place.
"Two of the Martin County Historical Society (MCHS) board members approached me asking if I would be interested in filling a new position, that of Executive Director," Tvedten said.
He knew he wanted to stay active following his retirement from teaching, but he was unsure of what direction he might go.
"I really knew nothing about museums, other than how to spell museum, but thought I would give it a try for a couple of years."
The rest they say…is history.
And for almost 20 years, that path has led him back in time to help preserve his beloved community's history.
"I soon found that my background did lend itself to a good share of the work of the museum, and with the help and support of excellent boards of directors, a great staff, and outstanding county and community support, I have been blessed with a second career that I never saw coming," said Tvedten.
As Executive Director of the Martin County Historical Society, Tvedten knows the past has helped to shape the future of the Fairmont area.
"Today's citizens have undoubtedly learned from the efforts of their predecessors and continued to make advancements and improvements in their respective fields."
Those fields in Martin County have blessed the area with a rich history in agriculture, business, education, medicine, entertainment, and more. And Tvedten is hoping the history lessons from those entities can resonate with both young and old alike.
"History is important so that we can learn from where we came as a nation, as a state, and as a county. Local history is important because it has influenced what we have become. Hopefully, we will learn from the lessons of history and have a greater appreciation of where we are today and where we will be going tomorrow."
There have been many unique and talented individuals throughout Martin County's history, including former Vice President Walter Mondale.
"I had the opportunity to interview Martin County native, Walter F. Mondale, in 2008. The video interview was shown throughout Minnesota by Our Story Productions, is on YouTube and is on our website as well," Tvedten said.
Mondale's past, and the history of the other individuals who've shaped the county's history are all documented within the walls of the Martin County Historical Society, located on Blue Earth Avenue in Fairmont.
So where else to begin this local history lesson than at the beginning?
Martin County was part of the Louisiana, Missouri, Michigan, Wisconsin, Iowa, and Minnesota Territories between 1805 and 1858. It was actually established before Minnesota became a state on May 23, 1857, taking portions of Brown County and Faribault County.
The early settlers in Martin County were primarily of English origin. In 1872, H. F. Shearman, a Connecticut lawyer, went on a hunting trip to Martin County. Being very impressed with the economic potential of the area, he purchased land near Fairmont and developed it into a model farm. He then went back to England and influenced many Englishmen, some quite wealthy, to invest in Martin County.
This became the "English Colony," or "Bean Colony," as they planned to become wealthy raising beans. They arrived in the spring of 1873 and planted approximately 1,000 to 1,200 acres of beans around Fairmont in Tenhassen and Rolling Green Townships.
The first business connection of the area.
And it wasn't long after that, that history was set in stone, paper, photographs and more.
The Martin County Historical Society (MCHS) came into existence on February 2, 1929 at the Martin County Courthouse, at which time the constitution was adopted. Mrs. H. W. Brodt founded it. The first board of directors included several famous Martin County citizens such as Judge Julius Haycraft (the first president) and Major Arthur M. Nelson.
In 1956, Dr. & Mrs. Roscoe C. Hunt donated $15,000 to the MCHS for the purchase of the former Catholic School on Blue Earth Avenue. This then became the Pioneer Museum, which is made up of three floors of displays. It is the current home of the historical society. Dr. Hunt had a room named after him in the museum for his generosity.
A new addition on the west side of the museum was completed in 1995, which expanded the staff's office space and created the main lobby area.
Tvedten says this has turned into another popular display area.
A state-of-the-art Research Library was completed in 2003. Tvedten says this houses the majority of MCHS's many research materials.
The library also holds a special connection for other businesses in the community.
"It makes for a great location to hold meetings and an elevator was added in 2007 to the museum to make our displays much more accessible," Tvedten said.
In 2019, the Martin County Historical Society (with Advantage Preservation) completed a project to have all of its microfilmed newspaper holdings and other reference resources digitized for the sake of preservation, increased access and efficiency.
A local business is credited with helping to preserve that history through contributions that have made it not only a big part of the community's history, but the historical society's history as well.
According to the archive records found at the historical society, Fairmont Railway Motors, first known as the Fairmont Machine Company, started out as a small machine shop in the early 1900s. It made things such as single cylinder engines that were used mainly to pump water, saw wood, and much more.
The archives say a breakthrough for the company occurred in the later portion of the 1900s when a railroad section hand, Fred Mahlman Sr., suggested placing an engine on a railroad handcar.
"This application had a profound and significant effect on the railroad maintenance industry and put the company on the map", according to archive records.
Records say its first President, Frank Wade, guided the company. Wade was also a prominent local businessman and the proprietor of the famed Interlaken Park.
The business prospered and, in 1913, the city of Duluth provided the company with an attractive offer to move their offices and plant there. However, a group of concerned and interested Fairmont citizens pledged to support the company and, consequently, the directors decided to remain in Fairmont.
The company name was changed to Fairmont Gas Engine and Railway Motor Car Company in 1915. Soon the company began the design and development of complete motorcars and began producing their own models in the early 1920s. In addition, during that same decade, the company began to produce and sell "maintenance-of way" work equipment that included weed burners, weed mowers, and ballast discers.
In 1923, Fairmont Railway Motors, Inc. was officially adopted as the firm name. In 1928, the company purchased the railway motorcar business of Mudge and Company of Chicago, and moved all tools and equipment to Fairmont. Soon after, the Chicago properties were sold.
Throughout the 1920s and 30s Harold Wade, son of Frank Wade, managed the business as its president.
And to say the company had a profound impact on the community might be an understatement.
During the Second World War, the company employed nearly one out of every 10 townspeople as it made different parts and railcars for the war effort. Making it where several residents of the area today could trace their roots back to the railway company.
Like many small-town companies, big offers may come in to better the business.
Stockholders approved a merger with Harsco, located in Harrisburg, Pennsylvania, on June 8, 1979. The goal of this merger from a local perspective was apparently to enhance the operation of the company by providing stability and continued growth.
As a result, when the company was later sold, the MCHS became the recipient of many examples of products, documents, pictures, and records from its past.
"Consequently, one of our latest improvements was to create a room dedicated to that industry, named the Kesler Room, in honor of a long-time custodian at the museum that passed away several years ago. In addition, there is a smaller room adjoining the Kesler Room that houses all the records of rail cars manufactured in Fairmont which numbers in the hundreds of thousands. This room is called the "Birth Record Room" because each individual 6 x 9 card provides all the "Birth" information as to when the rail car was made, including paint color, type of car, railroad it was shipped to, and more. Because there are many rail car enthusiasts throughout the world that buy and renovate these cars, we are frequently contacted from throughout the United States, Canada, England, and Australia for information about the specific rail car they are renovating. We can then provide this information from the "Birth Record" that we have in our files in the "Birth Record Room" in the Kesler Room," said Tvedten.
Helping to preserve and keep that storied history right on track.
In 2009 the MCHS purchased the house next-door, now called the Pioneer Parsonage, which used to be the Catholic Rectory, and added the building and property to the Pioneer Museum's grounds. The Pioneer Parsonage serves as an extension of the museum's displays and has been renovated to represent a 1910-1930s era home.
It is available to be rented for wedding showers, baby showers, birthday parties, business meetings, and more.
Also, the Martin County Genealogical Society moved into the building in 2009 bringing their research expertise, knowledge, and resources with them.
The MCHS has three employees: the Executive Director, Lenny Tvedten; the curator, James Marushin; and the administrative assistant, Dona Paris. But that's not all who help keep the museum up and running.
"We have approximately 35-50 very capable and willing volunteers that, depending upon their skill set, help with a wide variety of things including preparing the newsletter for mailing, serving as guides for school tours, and providing necessary work on the buildings and grounds such as painting, minor repairs, and more. The help and expertise provided by these volunteers is extremely significant to the smooth operation of the organization."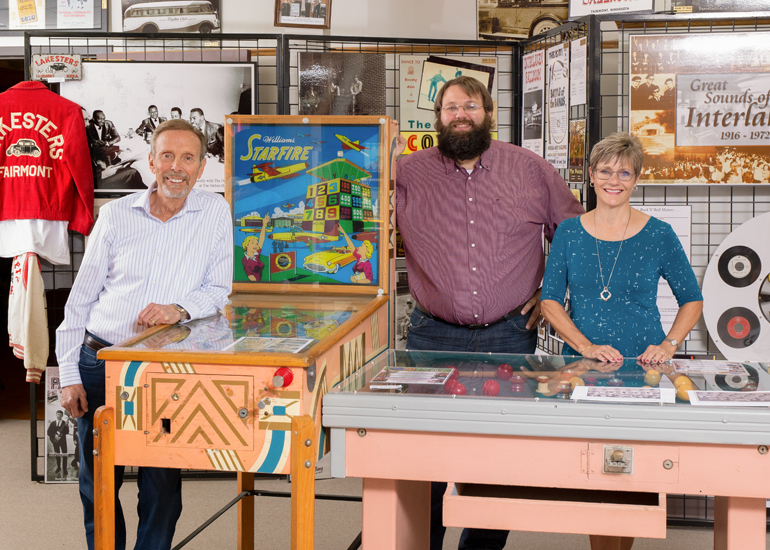 Martin County Historical Society's Executive Director, Lenny Tvedten; Curator, James Marushin and Administrative Assistant, Dona Paris.
And extremely important to the local community for all ages.
Tvedten adds, "Our mission is to provide Martin County residents and beyond the opportunity to explore and learn about local history through research, documents, artifacts, presentations, publications, and tours. We annually invite all schools in Martin County to visit the museum and we provide them with a structured scavenger hunt with retired teachers supervising nine different stations in the museum. We also partner with Heritage Acres in providing a "Fifth Grade Walking Tour" of a replica set of downtown businesses in Martin County's past. We provide on-site and off-site PowerPoint and other presentations in addition to creating video histories of Martin County military veterans. We also create an annual historic calendar and provide monthly historic articles to the four county newspapers. In addition, we have recently digitized our vast newspaper collection with papers dating back to the 1870s. I published a book, "Tales of Martin County's Past" in 2019. It was a compilation of many of the historic articles submitted to county newspapers since 2003. The addition of the Genealogy Society in 2009 adds significantly to our ability to provide family genealogy materials to those interested in pursuing their family lineage."
And that's just a sample of what Tvedten hopes you can appreciate when you plan your visit.
"I would hope that visitors to the museum take away an appreciation of Martin County's past coupled with a greater appreciation of its present. Being able to view the artifacts and documents from the past shows the progress that has been made, the people that contributed to its progress, and how it has been accomplished. Visitors will grasp the hardship of past generations coupled with their accomplishments that have led to where we are today."
And where the county is today, is currently being documented at the historical society for future generations.
"We are documenting the pandemic's influence on Martin County through photos and a questionnaire we are asking our members to complete that will be in our summer newsletter. This, in addition to our virtual museum tour, is in and of itself, history in the making."
Making that history has come with its challenges, like mostly everything due to COVID-19. Tvedten says there have been some programs and activities that they've had to adjust to try and serve the students and visitors to the museum with as close to the same experience as possible.
"Perhaps the most disappointing aspect of the pandemic was the fact that we were unable to complete our school tours in the spring. Consequently, we created a virtual museum tour that we were able to get out to schools that were unable to visit the museum this year. The virtual tour is provided on our website and YouTube channel and was appreciated by students and teachers alike."
Tvedten says as a result of the pandemic, the historical society staff has been working from home since mid-March. But that hasn't stopped the museum from providing services and answers to inquiring minds.
"Thanks to technology, we are able to do virtually all of what we normally accomplish at the museum from home such as maintaining financial records, responding to email and telephone inquires, conducting research, and providing historical articles to the four county newspapers on a monthly basis. In addition, we are open by appointment and are following all safety guidelines for staff and visitors alike."
Keeping those visitors and staff safe, because there's no stopping history from rolling down the track of time.
And if you needed one more reason to visit the museum: "Although I might be biased, I believe that Martin County has one of the finest historical societies in the state of Minnesota!"
Even though Tvedten doesn't teach in a traditional classroom anymore, he's found a new passion to bring history to life for all who walk through the Martin County Historical Society's doors.
The Essentials
Martin County Historical Society
304 East Blue Earth Avenue
Fairmont, MN 56031
Phone: 507-235-5178
Web: fairmont.org/mchs
Photos by Jonathan Smith