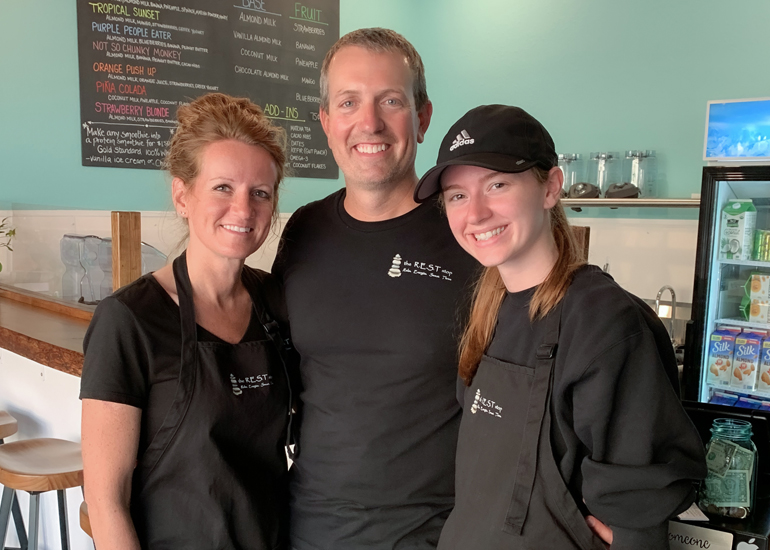 Inspired by the Jackson Business Challenge, a local Shark Tank-type contest meant to bring new business ventures to Jackson, Tom and Heidi Turner decided the time was right to plunge right in.
"We came up with the sauna business first and thought 'what pairs well with a sauna?'" explains Tom Turner. "Real fruit smoothies of course. After sweating out all the toxins from your body during the sauna session, you can enjoy the refreshing smoothie mixed up by one of our creators."
It was an idea the challenge judges liked, and after being awarded $10,000, the pair made their pitch a reality. They opened The R.E.S.T. Stop in historic downtown Jackson in September. "We picked this location as we wanted to revitalize downtown by giving a 118-year-old building a new life both inside and out," he says.
R.E.S.T. stands for relax, energize, sweat and thrive.
"We have a healthy living focused business, where we offer real fruit smoothies with no syrups or added sweeteners, paired with Far Infrared Saunas. We want our guests to always walk away feeling refreshed and better than when they walked in. Everything we do is driven by our mission statement: It is our mission to make healthy living effortless, efficient and simple, so our guests can add in the good which naturally crowds out the bad," he explains.
The Turner's say, aside from COVID, finding food suppliers for healthy food has been the biggest challenge. The best surprise has been the support they have received from the community and from fellow business owners.
The R.E.S.T. Stop
513 2nd Street
Phone: (507) 841-4422
Website: saunasandsmoothies.com