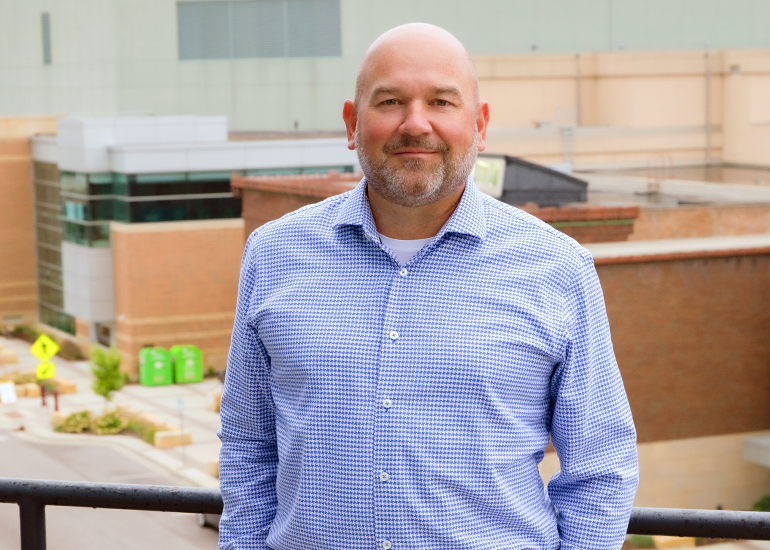 Long-time Mankato area community leader, Chad Surprenant leaves Minnesota but not without leaving behind a great legacy.
The Surprenant family legacy can be found all around us: Surprenant Field at Community Athletic Fields, the Surprenant Alumni Center at Mankato East High School; Franklin Rogers Park (soon to be ISG Field); and of course, the family business ISG, standing tall in downtown Mankato. A legacy earned by a family who built a business by building up their community through giving of their time, talents and treasures. Beginning with Ken and Mary Jo in the early 70s and continuing with the second generation to take over the family business, their son Chad. Chad following in his parents' footsteps in showing his commitment to Mankato and the state through involvement at all levels from youth baseball, to Greater Mankato Growth, to state committees.
"I feel like I have earned the right and paid the price to speak up, to try to help and fight for my community," explains Chad Surprenant, now Chief Strategy Officer for ISG. "As a leader, you also feel that by giving of yourself in so many ways, you should be able to have some influence – guidance, direction, meaningful input – on what this community could accomplish and where it should go. How can we have a bigger regional impact? And for many years I've been engaged in doing just that. I have been fortunate to have that voice in many areas, such as ISG where I get a paycheck, but also volunteering with Greater Mankato Growth, its bigger-picture regional entity GreenSeam, MSU's Civil Engineering Program, and others. You get what you put into those things and you don't do it for any reason other than to help a place or entity fulfill its potential. After a while, you learn that people are expecting and desiring opinion and leadership from you."
Indeed, that is a role Surprenant takes to heart. It's what drives him. He wants to live in a world in which he can make a difference.
"But what I discovered over the course of 2020 from May through August, is that my ability to influence went from something that I thought was relatively high to practically nil. That's not how I want to live. Other places are meeting face to face, having their children in school, and are competitively figuring out how to get a leg up. As a lifelong Minnesotan and seeing little competitive drive to keep up or exceed other places is beyond troubling. The day to learn about how bad COVID may be is months behind us. Rather than figure out how to better ourselves, Minnesota is still trying to convince us that it is going to get worse. I won't live in that fear."
While his family legacy lives on in Mankato, Chad Surprenant moved his family to Sioux Falls, South Dakota just before the school year began. He and his wife, Tara, thought they may eventually travel and move on…once the kids were out of high school. Surprenant says the direction Minnesota is now headed was an accelerant to his family leaving.
"I think it's an uphill battle for all of us, but it feels like Minnesota is making that hill steeper than what everybody else is making it," says Surprenant. "I'm not going to say business is everything and that you should throw caution to the wind all in the sake of business. The message delivered here in Minnesota is not business-friendly. What is worse is that it is being heard, not just by Minnesotans, but more importantly, it's being heard by people outside of Minnesota.
"We're already one of the higher-taxed states. And the continued message by our state leaders is not a can-do type of message, but rather it's a, 'Geez, this could get worse, we will never get back to before, there will be a new normal, etc.' Every single state is dealing with COVID and every single state is dealing with it in a different fashion of messaging and openness and personal responsibility, but Minnesota seems sluggish with moving forward or maybe still assessing how bad is it. Here we are in September with numbers going in the right direction, fewer hospitalizations, ICUs, and deaths; yet according to MPR, the State of Minnesota is planning a $9M ad campaign about COVID-19 seriousness. That direct and subliminal messaging is the equivalent of fighting with one's hands tied behind your back.
"Ultimately, time will tell who wins out of that but in the short-term, I can tell you what the business perspective is, and I think it bleeds into mid and long-term and that is people aren't interested in doing business here and they're going to go elsewhere."
And that is driving the Surprenants elsewhere. A family that has been woven into the fabric of Mankato area for decades, Chad and Tara Surprenant, along with his children, are now residents of South Dakota. As he has always done, Surprenant isn't running away but rather trying to find a solution, which he believes is in place, but not being utilized.
"The emergency powers is another part that is to me very damaging. You may not like the President or his party, or the Governor or his party. You may not like what the House looks like, you may not like what the Senate looks like, but we jointly elected all of them.
"In Minnesota, the governor is one party and the House is the same party and the Senate is a different party, but all you need is two of those three things to say the governor can have emergency powers. All these people that we elected as senators and frankly in the House too, why do we even elect them if they have no influence of the decisions being made?
"I'm not going to sit here and just complain about something and not do something about it, but that too is part of the challenge. I don't want to run away from a fight. If I still had influence, I'd stay here. It was the loss of influence, that feeling of helplessness, that I can't get this thing accomplished. That's the difference-maker. Otherwise we would still be in Mankato."
Outspoken. Competitive. Strategic. Thoughtful. There are a lot of adjectives to describe Surprenant. In the following interview we learn about his decision to move his family, and his influence out of state:
"From the personal side, ultimately Tara and I felt that the best education is in person, and there were options available to us that provided that. We trust South Dakota the most in delivering that," he explains. "From a professional side, due to lack of confidence in safety and business climate, corporate and development investment is being made in other states. At ISG, we share our work very well internally regardless of where it was won, and it is necessary for us to win work in areas where those things are happening, and it's happening in South Dakota and elsewhere. COVID and other turmoil pushed us to make an abrupt change that affects our children in their important last years of high school education."
We also learn how he continues to keep the best interest of his community and ISG in mind: "Regardless of where I am, I want to help that area or entity to reach its potential. That truly excites me, but it requires fertile ground," he says. "I have short-and long-term obligations to ISG and if I am spending time and resources on things with little potential for gain, then I am obligated to find better return on those efforts. I still have business interests in Mankato and Rochester and will support those the best way I can."
Strategy is defined as a plan, method, or series of maneuvers for obtaining a specific goal, Surprenant operates on strategy. It's what has gotten him to where he is today, and it is what drives his future.
Many of our readers know a bit about your background, but let's talk about how you got started in the family business.
1993 is when I graduated from Iowa State with a degree in civil engineering. At that time, I had a couple different opportunities presented to myself. I didn't know I was going to end up working here, that was never part of the equation at all. Although the job market wasn't great in '93, I had a couple different job offers. I was about ready to accept one of the jobs when my parents pulled me aside and said, 'Hey, we never talked about this, but we would have an opportunity for you here if you want.'
That's probably the first thing that I really debated as an adult: did I want to work for my family? There are some real positives to it, but there are some negatives. Ultimately, the deal I made with myself was to observe as much as I could in the industry while taking a job at ISG, knowing that it would provide accelerated responsibilities for me.
You took time to get the lay of the land, but when did you start making changes and bring in your own ideas and perspectives?
By 1997 the majority of the management decisions had been handed over to me. By 2001, I was officially the CEO. I then held that CEO role until January of 2020.
You once told me you felt added pressure in that CEO role because you wanted to earn it and for people to know it was not given to you because it was the family business.
It's pressure that I took to the very last day that I was CEO. Talking about that amongst the leadership people here too, they're like, 'Chad, you're overthinking it. ISG has 300+ people, most of whom don't even really know the story of who you are. They're not looking at ISG and even thinking that the S is your last name."
I got that, but I still felt the pressure. That was the negative, but at the same time that pressure provided a lot of fuel to prove myself and push and grow. That competitiveness and some level of tenacity is something that I think pushed us all the time.
Under your leadership, ISG grew beyond Mankato.
It was really fueled by two things. First, we had a lot of young people and we didn't want barriers in front of them. How do you provide leadership opportunities and things like that as well as client-facing relationships for them? You can't do that in a static environment. The business has to grow, or they have to wait for their current leader to die or retire or quit or whatever for them to move up. We felt we needed to expand geographically a little bit to provide more opportunities. Our first foray into that was January 2004, starting up a small office in Faribault. Ideally, we would've made it further away, but we had clients that were there and we can't move I-35, that's just where it was.
The second part of that though, was we were starting to look at the potential of a recession or something coming up. We realized that we were winning a large segment of local work. The business model of almost everybody in the architecture and engineering world at that point in time was, what I would call, a geographic business model. In essence, you define the radius by whatever you want, maybe it's an hour and a half drive, then you just have to win as much in that pie as you possibly can. Frankly, we were winning more than our fair share. The pie was super inflated by a super inflated economy pre-recession, and we were winning too much of a percentage of it.
We were too big for the geography. So we had to ask ourselves, 'Is there something that we can do alternatively to benefit that?' Part of that was expand geographically, but also part of it then was to think about how to become a more client-centric company. How do we find clients that maybe have 20 projects that they want to do next year instead of 20 clients that want to do one project? It's much more efficient from a business development standpoint, much more efficient from a managing projects standpoint.
Anyway, our geographical growth was started so that we could provide opportunity for young people, as well as expand our geographic footprint. It was also a little bit of a diversity push against maybe an upcoming recession.
And how did you fare when the recession hit?
It hurt us a little bit, but it made us far stronger than it ever hurt us. We had always been on a growth curve. We were generally growing about 20% per year. From 2005 through 2009, we had really plateaued out. 2009 was a 15% drop. So we looked at expanding even further geographically. We really wanted to get down to the Des Moines area just because from a movement of goods and general business perspective, the I-80 corridor going through Des Moines is great. It's not impeded by the Great Lakes. We just wanted to get down where there's probably more industrial work, more transportation work, those types of things.
We acquired an Iowa company in January 2012 and in one stroke of the pen, we went from a 60-person organization to a 100-person organization. That kind of started fueling some things. It wasn't an easy acquisition, it was not smooth sailing but it taught us a lot of things. It taught us that we can do it, taught us a lot about the people component, things that you have to root out, and distractions that will kill you. Distractions must be minimized.
It was a great learning process but we came out of the recession because of the things that we did changing from a geographic centric to a client centric or business unit-centric company. We came out of the recession very strong and very swiftly, that's how we were able to do that acquisition and then 18 months after that, acquiring Paulsen Architects here in Mankato, a very rewarding experience.
Of course, you've gone on to expand to more locations since then as well, but let's switch gears and talk about another feather in your cap, the ESOP (Employee Stock Ownership Plan). How did that decision come about?
That was also a very pivotal time. Ownership and leadership transitions in firms like ours are frequently the biggest sticking points. In slow growth firms, they can be profitable, but they appear very static. If you are a C-Corp firm, you are incented as owners to take out all of the firm's earnings annually to avoid steep taxes. We call that eating the frosting. It tastes good, but it keeps you away from investing in growth and other more lasting elements.
We decided that with the youthful employee base, we wanted to make sure they had real career opportunities. So rather than eating frosting, we were just going to reinvest it in growth. My parents were very generous in getting ownership out of their hands and getting it into other people's hands. At the time that we initially made the decision to become an ESOP, we had 19 shareholders. I was the largest of those 19 shareholders. My parents were completely out of it. The company was worth more than we could transact internally, a good problem to have. No small group of ISG employees would have been able to purchase it. Again, we have young people so they're still paying off their college loans. They're paying for their weddings, etc.
So, we had three options, we could essentially do nothing and keep doing it the way we're doing it as bringing on shareholders but at greatly discounted rates which was unfair to the original shareholders. We could get acquired, which the shareholders immediately dismissed. And then the third option was to look at an alternative means like employee ownership.
The ESOP ended up being great. The 19 selling shareholders got fair market value for what we were selling. The added benefit of it was that now everybody becomes an owner. We've been able to utilize that from a recruiting perspective or retention perspective, it's very much part of our culture. Now, every ISGer has an ownership interest in ISG. Very cool.
How many employees are you up to now?
About 320 right now.
You have locations in?
Let me start in Minnesota: Mankato, Rochester, Bloomington, St. Louis Park and two in the Minneapolis-St. Paul area. In Wisconsin we are in La Crosse and Green Bay. In Iowa, we have offices in Des Moines, Storm Lake and Waterloo. We are also in Sioux Falls, South Dakota.
You have a lot to be proud of. How did you know when it was time to hand things over?
Going back to a Humanities class I had back at Mankato East, Plato stated, "I know what I do not know; therefore, I am wise." That always stuck with me. Stated a similar way, I feel strongly that you should never limit your organization by your own limitations.
Successful businesses need many things, but two are exceptionally important; positivity and the ability to have vision and strategy.
I have positivity and a can-do drive, but I have never considered myself very charismatic. Amongst other things, charisma is the ability to be positive when circumstances are not all that great. I do know that I am very competitive, strategic, certainly willing to work, not greedy. The larger ISG has gotten, we need a leader who has an unwavering air of positivity. That simply is not who I am. My role is to see big picture, figure out how to accomplish our goals, develop and utilize relationships, and provide internal critique. I can do that job regardless of our size, 10 people or 20,000, but I just don't think my strengths align with being our CEO beyond where we have gotten. I'll support that person wholeheartedly.
As I was getting ready to turn 50 in April of this year, we knew that we always wanted youthful leadership and we were always competing against firms that had baby boomer leaders.
A lot of those firms are still dealing with transaction issues, distractions, how do we transition our leadership, our ownership, and whatever? We've already taken care of that with our ESOP, a fair, mechanical way of transitioning ownership. We removed that distraction. So we think that competitively we're ahead of baby boomer firms in that regard. We may be this young, they may be that old, but we're ahead of them as far as distractions. What happens is I get older and older, and I still hold onto a CEO title, I started looking more and more like the people that we're trying to compete against. So, can we outwardly and inwardly act and behave different than that?
It just felt like there are things that were piling up, whether it's real or perceived, but emotionally, the losses hit me more than the celebration of the victories, but the founder's kid component was there also­—I don't want ISG to look like those firms and I've been treated very well through this throughout this organization.
Our new CEO, Lynn Bruns is 44 years old, and is not saddled with the same insecurities or weaknesses that I have. He is a great leader, has a different style and is doing a phenomenal job of getting our company's individuals' strengths to rise and align. He is a positive force. We also separated the CEO and President roles that I had. David Doxtad is our President. He is tough, driven, and fearless. He is 33 years old. I am now the Chair of our Board, and we have shrunk our internal directors on the Board to four and increased the external Directors to three. Better perspective, vision, and accountability to where we want to go.
It just got to a point where I was ready to just, I don't want to say, do something else because it sounds like I want a different business card. I was ready to have a different role and just really focus on that. Focus on what I think my strengths are.
Let's talk about COVID and its effect on the state, on your business and on your life personally.
Well, it's interesting. At first you know, it was scary. We didn't know very much about it.
Every day since mid March was like getting another gut-punch. At first we were encouraging people to work from home. Just every day it stacks on top of each other, and ultimately, by the end of March, it's like, 'Okay, we've got to work from home or work remote environment for some period of time.' We were very fortunate. Our IT was set up perfectly for this.
I'd love to say that we saw it coming and therefore that was what the goal was. We had set up our IT so that people could work remotely, primarily thinking about them just being on the road or being able to share work. For example, a seasoned leader is in Mankato, but there's a young leader that we want to groom in Green Bay. Can that seasoned leader go to Green Bay and work remotely and be productive?
That's why we set up our systems the way we did, but it worked out perfectly for COVID. We didn't miss a beat from a production standpoint. Funny that it rhymes, but we don't want to just survive, we want to thrive as a result of this. We want to get out of this thing like the recession. We got out of the recession so much better than what we went into it and we wanted to do the same thing here. We already were headstrong and headlong into CEO transition, but there were other leadership transitions, different structural elements within our organization that we wanted to modify.
It gave us a huge opportunity but in the laundry list of things that we made and instigated from say April 1st through June 1st, it was amazing. That's one of the things I'm so proud of the team and it was in that time frame when we took a long look at ourselves with many variables removed, critiqued ourselves, and challenged us to improve. A tremendous amount of work occurred between April 1 and June 1.
Then June 1st people started coming back into the office and feeling better about that and depending on the offices that we've got, we've got anywhere from probably 50% people back in the office to 100%. Some of the other things that we've been noticing are roughly half of our people are in Minnesota offices and the other half are in South Dakota, Wisconsin, Iowa.
By June 1, we certainly felt that our ability to assess how serious COVID was had come. The negativity since then with more COVID fear, civil unrest, violence, etc. started to feel very political. We had already moved into solutions and competitive mode, yet so many were still in paralysis mode. That is not who we are, and when competing, you have to assume your competition is in can-do mode as well.
Frequently, we will put opportunities in front of our regional and national clients to be met with, "No, we will never invest in Minnesota again." In some instances, some of those things were being said to us before COVID, but the Minnesota response has not improved the feeling.
Since mid-May, I have made it a point to get out of Minnesota at least once a week. To me, it is about gaining a perspective of what others are doing. If you are locked up in your basement, you can believe almost anything. Yet, if you actually get out, you see all of the people who never stopped working to provide all of us service, food, and so many of the things we take for granted. In white-collar America, many of us can work from home, but we can also believe that we are self-sufficient when in reality, we are not.
In late June and early July, we took the entire family on an 18 state, 6,862 mile, 20 college, 4 time zone trip from Minnesota to Oregon to Tennessee to Michigan and back to Minnesota. Perspective. It also provided us a great opportunity to learn what people across the nation felt about Minnesota. None were impressed.
You are deeply rooted in the community and I know that you will continue to be but you've made a personal decision to move your family to another state. Do you want to talk a little bit about what went into that decision?
In 2011, my father died at the age of 76. He was exceptionally healthy, except that he had cancer. He died three years after he retired. I don't want that to be me. Tara and I want to experience other things, travel, maybe live somewhere else. That would have happened later, but we ramped that up so that our kids could go to school in person and so I could put my talents to work for ISG in a more fertile place. I believe the best place I can do all of those things right now – support my family, support ISG – is in South Dakota. If Minnesota doesn't change its approach, there will be more and more families like ours moving elsewhere.
---
Surprenant's Side Gigs
• ISG, Board of Directors, Chair
• Minnesota State University, Mankato, Civil Engineering Advisory Board, Chair
• Iowa State University Civil Engineering External Advisory Council, Member
• Greater Mankato Growth Board, Director
• South Central College Foundation Board, Former President
• Mankato Area Foundation, Former Board Member
• Mankato Golf Club, Former President
• Mankato Area Youth Baseball Association, Former Board Member
• GreenSeam Steering Committee, Founding Member
• GreenSeam Board, Director
• Cultivation Corridor Board, Director
• Iowa State University Surprenant Ingenuity Lab, Donor
• Northwoods League Mankato MoonDogs, Co-Owner
• Northwoods League Rochester Honkers, Co-Owner
• Mankato Area Foundation Shared Spaces, Donor
---
Surprenant the Restauranteur
"When I was working with Tony Frentz and Rob Else on the design of the Eide Bailly Building, the three of us had always thought it would be super cool if we reserved the top floor for a restaurant. We felt like we were underserved in the community from the restaurant perspective.
We've got an ownership group that's looking at getting that done. In fact, we're designing it actively here at ISG and unfortunately, with the COVID deal things are moving slowly. A lot of the prices are going down, but the disadvantage is the delivery of manufacturing materials is dragging out longer and longer. When exactly do we open up? We don't know. Probably March, April maybe.
The views up there are stunning. I have been involved personally a lot in the design process and just having a vision of what it is that we want to get accomplished."
---
Growing up Surprenant
"I'm the youngest of four kids and the other three were bing, bing, bing, born in 1960, '61, '62 and then I came along in 1970. In between those events, my dad went to Iowa State on the GI Bill, and with three young kids. I wouldn't say a failed farmer, but the family didn't have a lot of money and the family name probably wasn't so great down at Murray County, Minnesota and so couldn't get any more loans. They just said, "Well, what do we do next?"
"They actually debated whether or not my dad should go to college or my mom should. The times were such that ultimately, they decided probably that my mom would end up being more of a stay-at-home, which is kind of ironic because over the course of time, then once my dad had a couple of jobs outside of his education, then my mom was the do it all, do everything within the company. She was the secretary, receptionist, writer, and bookkeeper. She was all of that from 1973 when the company started until probably about 2000 when we actually started getting that type of administrative and bookkeeping help. Then grew from there."
The Essentials
ISG
115 East Hickory Street, #300
Mankato, MN 56001
Phone: 507-387-6651
Web: isginc.com
Photo by Jonathan Smith