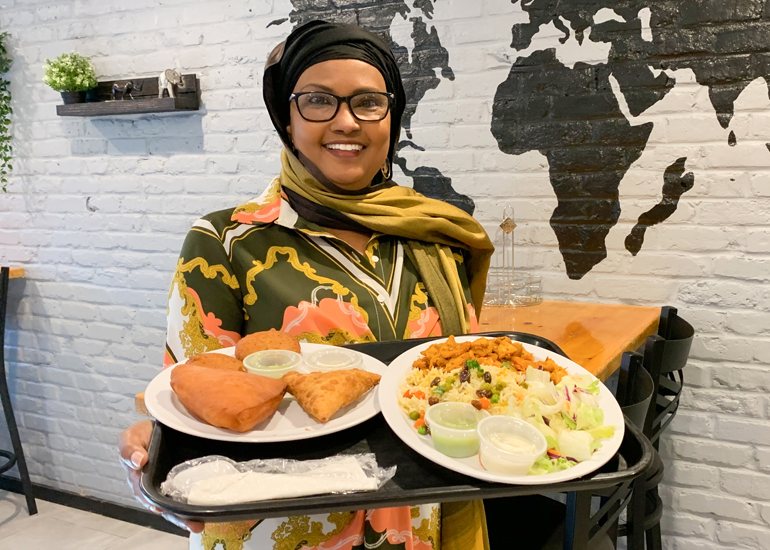 Several different restaurant/bar-type businesses have tried to make a go at the corner of Belgrade and Center streets in North Mankato. The latest one, though, hopes to find success by reflecting the neighborhood around it and the growing Somali population in North Mankato, while at the same time introducing new flavors to a well-established neighborhood. 
J's Sambusa opened in July 2020 at 503 Belgrade Ave. Its owner, Nasra Ibrahim, based the restaurant on a simple premise: Somali food is a beautiful marriage of natural flavors and subtle spices that are sure to tantalize your taste buds.
"J's Sambusa is Somali food," explains Ibrahim. "But our food also has a little taste of Italian since Somalia was colonized by Italy. It also has some African influence on the taste."
The Sambusa is the restaurant's most popular food. A Sambusa is a fried or baked pastry with a savory filling. Besides the Sambusa, Ibrahim says people also love other menu offerings such as rice with goat, chicken/beef suqar and more.  
The "J" in the name stands for Jamila, which is the owner's nickname. It's a nickname she brought with her when she emigrated to the United States from Somalia in 1994. She also brought with her the dream of opening her own restaurant one day, a dream she got from her brother who owned a restaurant in Mogadishu. 
Her eventual goal is to extend the menu and serve more people, although she recognizes there are challenges that must be overcome. 
"Things are going OK for us here," says Ibrahim. "Although we have this pandemic, it would have been better if COVID did not exist."
The Essentials
J's Sambusa
503 Belgrade Avenue
Phone: (507) 720-6333
Website: jssambusa.com
Photo by Jonathan Smith