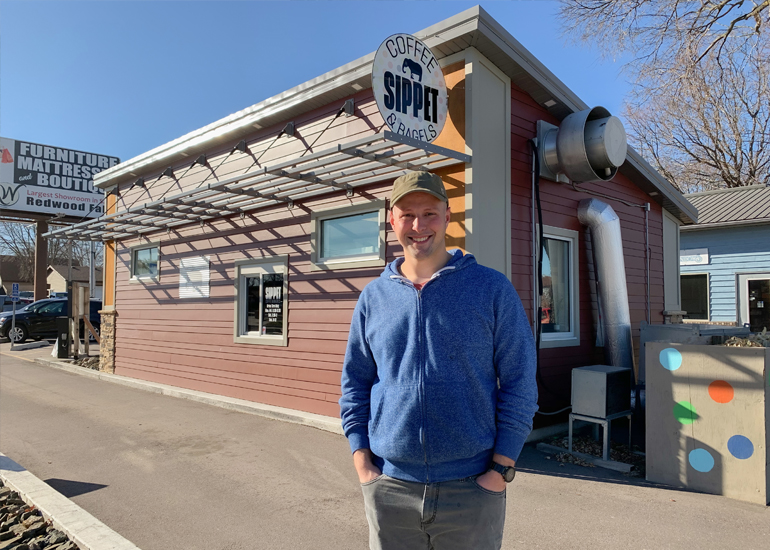 Forging partnerships with other local businesses has been a cornerstone to success for New Ulm's new drive-thru coffee shop, Sippet Coffee & Bagels, which opened in 2019. 
"Supporting local is what we strive to do," says owner Aron Bode. "Even our coffee beans are sourced from our neighbors. We are serving Colectivo Coffee from Wisconsin. We use the most local ingredients whenever possible, from honey and maple syrup to milk and eggs. Our New York-style bagels are shipped straight from Long Island, New York. We also have an ever-growing food menu that changes weekly. We use as much local produce as we can and have partnered with many local farms."
"Sippet is a local drive-thru coffee shop," he says.  "New Ulm did not have a drive-thru coffee shop yet, so my brother, Eric, and I talked about it for a couple years. Eventually he found the property and Sippet was born!"
He says while the pandemic has been challenging, business is good.
"We are on the same playing field as everyone right now while trying to operate a business in a pandemic. So we are just doing the best we can." 
Bode says the new year brings with it opportunities to try new things.
"Our goals for 2021 are to just keep moving forward. We also want to keep expanding our food menu and trying new things that we have not done," he says. "Our coffee and bagels will always be here but it is just too much fun to keep trying new stuff!"
Sippet is based on the premise that a great coffee experience combines the best local flavors and the convenience of not having to leave your car. Their New York-style bagels are handcrafted, baked in-house each morning and feature house-made flavored cream cheese.
 The Essentials
Sippet Coffee & Bagels
701 North German Street
Phone: (507) 354-7477
Facebook: Sippet Coffee & Bagels
Photo by Jonathan Smith