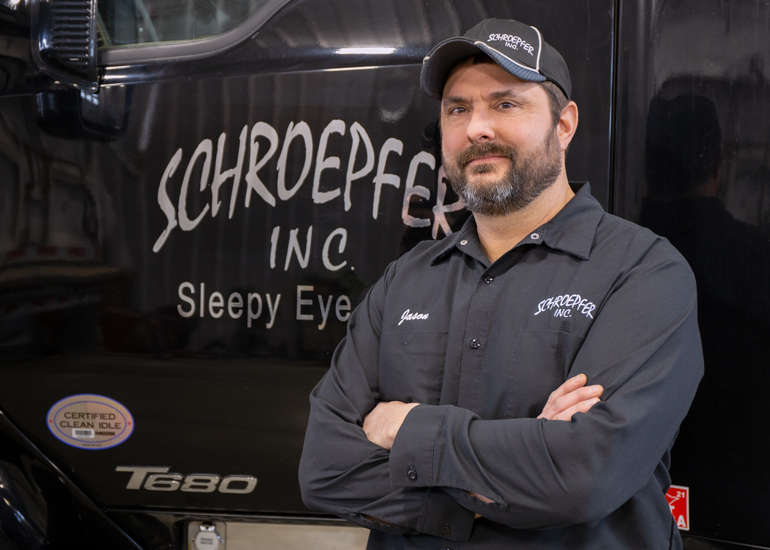 A True Family Business
In 1999, at the age of 25, Jason Schroepfer lost his father. Six weeks later, he started his own business, Schroepfer Inc., out of Sleepy Eye.
"As a young man I had the notion to do what my father did, or what I thought he might want me to do. At the time I did not want to lose any more of him than I already had. I thought that if I drove a truck, which is what my dad did, I would keep him alive in some way."
Thus began the businessman journey for the New Ulm High School and North Dakota State College of Sciences graduate.
"I went to the bank and took out a second lien on my pickup for down payment money to purchase a truck and trailer. I started out leasing my truck with Brown Transfer out of Springfield, Minnesota, which hauled feed ingredients into Christensen Family Farms in Sleepy Eye."
During that time, Schroepfer continued to use his experience as a diesel technician.
"My father told me to never throw my schooling away, so I worked on customers' trucks at night and on the weekend in a Quonset building on the farm I bought in 1998 outside of Comfrey."
Then another milestone came in Schroepfer's life.
"In 2000 I married my wife and business partner, Amber. She is my sounding board for the business and takes care of all the paperwork aspects of the business."
Like all businesses, they sometimes hit a bump in the road. When 2007-08 rolled around and the world was in a financial crisis, things slowed up with hauling feed.
"I decided to purchase my first refrigerated trailer and go over the road. (Because everyone has to eat, right?) That's when my brother Jake started to work for us. At that time, I put a hold on fixing customers' equipment. My brother and I were both over the road trucking and with gas $4 a gallon and higher for diesel prices, it was hard to make a profit. If it wasn't for driving reliable, older equipment and maintaining them myself, I was able to save every penny I could. I'm not sure if we would have made it if I didn't do that."
Through perseverance and a bit of wisdom from his late father, Schroepfer was able to continue his trucking business.
"One of my last trips over the road, I had been out nine days, unloading in Chicago; that trip was the moment I realized I missed my wife and three young children too much to keep doing this. That is when I decided I would hire a driver for the truck I was driving and open the shop back up to full time. Like dad had said, never give up your schooling. At that unloading dock in Chicago, I started calling all the customers I knew and told them, starting that Monday morning, the truck shop will be open full time."
However, Schroepfer didn't want to lose one important connection.
"I also did not want to give up the trucking connection with my father, so keeping the trucks going was the only option. Shortly after getting out of the truck, I needed to have an office in the shop. Sharing a desk with my wife was not working. At that time, the internet was not as accessible and the old silo on my farm site was in the way of the signal for the internet. One weekend my brother and I decided to take the silo down, which, for the record, did not end well. I ended up with a helicopter ride to the Mayo Clinic in Rochester, not what you need when you are already strapped with making ends meet, and are now laid up and cannot work. I guess what I'm trying to say is: for everyone out there trying to get their business going or keep their doors open, it's in these trying times when we find out what we are made of, willing to not accept failure when life throws us roadblocks, looking at it as a learning opportunity instead. Maybe you need to branch out to different avenues to find a different path. It will not be easy, but it can be done," Schroepfer said.
He said those challenges helped him formulate a successful business plan, as well.
"This is also why we are so diversified. In the repair side of the business, running our own trucks, we know firsthand that down time is one of the costliest. So being able to work on all parts of the equipment is like being a one-stop shop and is more efficient for the customers."
From there, the business continued to grow.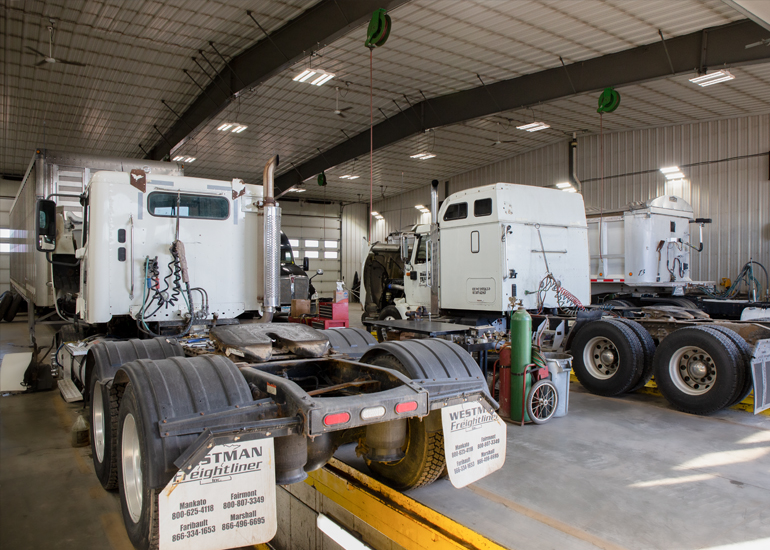 "We would add a truck and trailer when needed, and the shop continued to grow and eventually my brother Jake stepped out of the truck and into the shop. As things grew and I saw a need for something, I tried to seize that opportunity. Continuing to grow, we ended up hiring a dispatcher full time to take care of freight/drivers. The dispatcher we hired is also my cousin, Scott Schroepfer."
By about 2014-15, it became a challenge to park all of their trucks, along with the customers' trucks, in their yard. The shop was bursting at the seams. That is when Schroepfer started looking at properties and drawing up plans. He said it took about two years to find the right property.
"Definitely worth the wait, the location has worked out great."
In April 2017, they moved into the new facility in Sleepy Eye, known as Schroepfer Inc. The company is family owned and operates 17 trucks and 29 Reefer trailers that haul food products from Minnesota to Colorado and Texas. They operate a freight brokerage to assist with their freight customers. They also have a diesel shop that has many options for repairs, including engine overhauls, computer/engine diagnostics, transmissions, clutches and rear-ends, air conditioning, any trailer repair, department of transportation inspection, aluminum/steel welding, over-the-counter part sales, truck tires, and ag tires and service.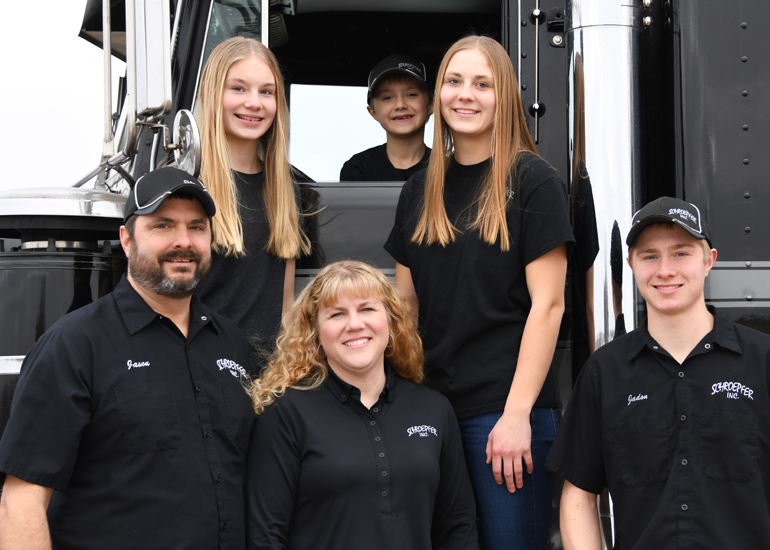 Jason and Amber Schroepfer and family.
It's a true labor of love for Schroepfer and his family.
"Starting and growing a business takes a lot of time and sacrifice. Once you have grown the business and poured your heart and soul into it, it becomes like one of your children, you want it to grow and become successful in whatever it does. It is a blessing to work with family – even though you are working, you are still spending time with them. Although most of the people you work with are not family, they become like family in a way. We spend a lot of our life at work, so it is good to be surrounded by great people."
Schroepfer also credits his wife with her business background and support in helping to keep the business afloat.
"She would help with all of the business things, plus being a mother and taking care of the kids. I couldn't do it without her."
Schroepfer Inc. employs 25 people, another key ingredient to the company's success, Schroepfer says.
"I feel the key to our success is hiring the best of the best and putting the correct people in the correct positions. I have learned early in my career that you need to pay people what they are worth to the company; I can sleep at night knowing I am not underpaying my help. One other key to our success is that no matter the roadblock in front of you, there is always a detour or another path we can take."
That positive attitude has helped Schroepfer during the challenge of a work/life balance.
"The biggest challenge is being able to remove the business hat and replace it with the family hat, especially since the trucking industry is a 24/7 job. There is a real balancing act between them. More often than not, the phone rings with a problem that needs to be dealt with. Sometimes they are easy fixes, sometimes not. At times it's just challenging to put the family hat back on after those calls. You can't just close the doors at 5 p.m. and go home. Regardless of the time of day, sometimes life is interrupted in more ways than one."
Yet, through it all, Schroepfer Inc. remains a family affair.
"Three of our children have taken an interest in helping out at the shop/office. Jadon, our oldest, at age 17, spends a lot of time at the shop working with the other techs. His passion for the business has grown more and more over the years. He works at the shop every day, plus trying to keep up with school work. He's even taken responsibilities with the fuel station and is considering following in my footsteps someday. Jenica and Jaclyn, 15 and 12, also help out in the office and shop when needed. Our youngest son, Jaxon, is 7 and his job is to remind us to live like our youth and not worry."
A true family business in a family-oriented community.
"We enjoy being able to provide our services to Sleepy Eye and the surrounding area. Sleepy Eye has a great community. The people who live and work in Sleepy Eye care about their community and want to see their community thrive. When the community works together and has the same goal, great things can be accomplished."
And they're not done growing.
"What is next is we are planning on adding onto the repair shop in Sleepy Eye. We feel that to service the community, and surrounding area, we need to add two additional bays and, in addition, two more techs. We will also be adding an additional truck or two in the near future to keep our freight customers' relationship satisfied."
There's no telling where the future will take Schroepfer and his company, but with the right tools, the right people and the right road map, there's no doubt that they will keep on truckin'.
---
The Essentials
Schroepfer Inc.
22071 State Hwy 4
Sleepy Eye, MN 56085
Phone: (507) 794-7452
Web: schroepferinc.net