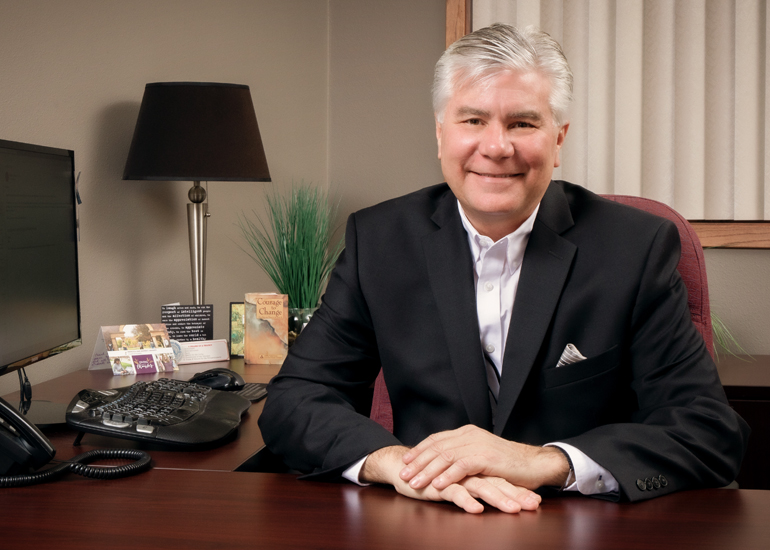 Man On A Mission
He's a man on a mission to be sure. A mission to help others, whether it's through his professional endeavors or personal relationships. Scott Weilage is a community leader in a number of areas. Weilage hopes to spread a positive message and always hopes to inspire others, while at the same time leading his company, Wealth Centers of America, to new heights. It's Weilage's unique perspective that helps him to help others define their own wealth.
"It's much more than money," Weilage explains. "It is also about health, friendships, community and the spiritual."
With that in mind, Weilage has spent the last 30 years helping folks throughout the region build their own wealth, whatever "wealth" means for them.
"We also seem more and more focused on multigenerational planning. Sometimes people think they have to be wealthy before connecting with us but perhaps the opposite is more true. When I am asked 'Scott, what does Wealth Centers really do?' My reply is we help people accumulate and grow wealth, then we help families preserve it. With never-ending political uncertainty, economic uncertainty and tax-related uncertainty, people realize like never before the need for an advisor beyond a 1-800 number in the back of your company benefit booklet. You really need a team of a advisors just like your employer in many cases. We can provide that team."
Weilage's own journey came from very humble beginnings.
"My history begins pretty normal through about sixth grade, when it becomes very humble. That's when my family moved to an abandoned home – not empty and for sale – but abandoned. Fast forward to me leaving college, and wanting to go to work with my father, who had a background in insurance. At that time, he was right out of a 30-day inpatient alcohol treatment, facing foreclosure, the IRS just cleaned out all his bank accounts and we had no office. I so admire that he didn't quit and even went on to 40 years of sobriety and counting. At that time we began again with the business by negotiating a lease for a one-room office above the old Phoenix Restaurant in Mankato. I refer to all this as starting at less than zero."
Not deterred by that, Weilage found he had a knack for perhaps knowing how to get his family out of the hole. He learned by doing and now uses what he's learned in life to pay it forward.
"Along the way I have not had many mentors in a traditional sense and had to learn a lot from scratch from trial and error. Perhaps as a result, I've tried to reach out to help students better understand entrepreneurship and our industry in particular," he reflects. "We maintain a great relationship with Minnesota State University-College of Business. While the road often has seemed very long, the blessings continue to outweigh the challenges. I do have to mention a few people, though. I'm certain the compassion and caring I have comes from my mother. My father taught me to never quit no matter what.
Looking back, my longtime assistant, Kathy Langdon, gave me perhaps the biggest compliment and boost of confidence one could have starting in business by agreeing to work with me at then age 32. She left a support role with the upper management of a very prominent company at the time called CWC. She bet on me and we have both won for almost 25 years! I'm blessed with a pretty amazing life, in a wonderful relationship, and have a great team at work, a life full of countless and incredible friends, and two great children that I'm so very proud of."
Weilage has fond memories, but is always looking forward.
"We are excited about how we might grow the brand even further and expand the reach of the services we provide. That will be our next very exciting chapter."
You were born and raised in Mankato and I think your love of the community really shows in all your endeavors.
I do love the community, as many do. It's just kind of the best of all worlds. I did leave for one year to attend college at the University of Minnesota, Duluth. It was really fun and just a great experience, but after a year I came back home.
Let's just say I didn't get a lot done academically my freshman year, but it was an important time in my life because it was really a confidence-building year for me and my first time stepping out of the smaller community I grew up in. At college no one knew your history and it didn't matter who your parents were and those kind of things. I gained more than you can imagine from just that one-year stint up in Duluth. I grew up really quite humble and poor. At college everyone lived in the same housing for the most part and it leveled the playing field a little bit.
What was your plan when you returned to Mankato after a year?
I attended Minnesota State University-Mankato for one more year of college. During this year, my parents were really dealing with a tough period of time. My dad had just gotten out of alcohol treatment, looking at losing their home. There was no office, there was no anything. And back then there were no wealth management-related course curriculum as there is now.
I then asked my father, "What do you do again?" He had a strong background in insurance going back to the '60s. So I started facilitating things, really at a young age, always with an interest in business. We brought my mother in, who had a nursing background; she helped clients ultimately with health insurance and Medicare solutions, which we continue with yet today. I helped review the lease of our soon-to-be one-room office. Then we just started to layer on different services for folks and growing the business in various areas.
How many years has it been since you started in that one-room office?
We just celebrated our 30th year. We started as Weilage Advisory Group. Then two years ago we went through a brand change: Wealth Centers of America. To me, I think it's one of the best brands in our industry. From our one-room office, along the way, I purchased our 7,000-square-foot office building to help us grow.
Asset management is really at the core of what we do. We've been fortunate to witness and work with a very large "family office" over the years. A family office is defined as providing a vast array of resources for the very wealthy. We've witnessed the resources and teams of advisors and folks around them in such a way where they truly are succeeding on purpose. It's been really the goal for us with Wealth Centers to create that team of advisors that really look at comprehensive planning and the "big picture" well beyond just asset management. Our goal is to provide that same team environment for all clients, not just the super wealthy.
What have you seen over 30 years? What's been key to weathering ups and downs of the economy?
I wish I knew, but being fairly diversified in our business model has been a great asset. I love our business model. Whether it's the stock market up or down, people need more help, not less. We've certainly endured different periods of time, like 2008s. What we're dealing with now is the craziest thing we've ever witnessed, but we seem to be doing reasonably well and the future looks pretty bright. I think people are more mindful of the planning and needs that they have, especially as they get closer to retirement. If you're a business owner, we do a lot of employee benefit-related work as well, to not only attract employees but to retain them is no easy task. We get involved in a lot of those areas, as well. Team work makes the dream work for us all.
Who would come to you at Wealth Centers of America? Who is your target in that?
It's really three target markets. It's individual families, business owners, and even other advisors. We're even doing more and more multigenerational family planning. The super wealthy certainly try and leverage family assets to help set the next generation up for continued success. I think more families need to think like this. Then it's business owners with employee benefit-related needs, 401(k)-related support that they're looking for. Then we have a B2B channel or a wholesale channel working with independent advisors, CPAs, banks, and property casualty firms providing them resources and expertise they may not have.
How many people do you have here?
We're a boutique firm; we've learned bigger isn't necessarily better. We seem to get a lot done specific to asset management with three to four team members. Beyond asset management there are another seven more providing different skillsets with comprehensive planning in mind. We get a lot done for folks.
Yes, a one-stop-shop.
That is certainly overused, but I'm amazed how many issues we can get handled for clients at our office. We are aware many people don't wake up in the morning and spring out of bed going, "Hey, I've got to work on my asset management, get my will completed," and that type of thing. It's through plate crowding, if you will, that we help people get some really critical planning issues accomplished for clients.
My standard joke is, Prince should have called us back in the day, we could have helped save his estate millions of dollars. It's amazing that people, even of that level, don't have estate plans and didn't do the right planning from an estate perspective. Yet that is more common than not.
I think it might be intimidating to people, who might not even know how to get started.
I get that even with our name, do you have to be wealthy to go to Wealth Centers of America? The answer is no. Again, coming from my humble background, we're really passionate about helping the smallest of investors because they're going to be tomorrow's leaders and that's where I came from. We hope that really prompts even the smallest of investors, the youth, to be starting to think about saving money and the importance of investment. You don't have to be wealthy. I'm often asked, "What do you really do, Scott?" Fundamentally, we help people accumulate money and then we help them hang on to it.
It's critical planning decisions along the way, like when to start social security payouts and no one wants to run out of income, so there's some real critical decisions to make along the way. The best time to start is now. For business owners, there's again more challenges than ever on how to attract and retain employees, key person issues, and succession issues. Whether you're a small startup or you've got 1,000 employees, we're able to help people in a lot of those different capacities.
What made you decide to rebrand?
That's a long story, too, but from kindergarten my last name has been misspelled and mispronounced. The good news is, if somebody could pronounce it and spell it, you knew your marketing was effective, but nevertheless, always an uphill battle, and again, we really intend to continue to grow. We certainly want to continue growth in a regional capacity, maybe even a national capacity.
How would that work, like, a franchise sort of thing in this industry?
Might we have Wealth Centers offices in every small town like Edward Jones, time will tell. I think there's a natural fit and the need continues to grow. Perhaps there is a Wealth Centers "help desk" potentially in various bank locations, many of them struggle with continuity and consistent levels of service with a turnover of advisors. We're playing around with some of those models, which remain intriguing.
How fun for you, after 30 years of doing what you're doing, now you have a new innovative approach; you probably feel energized?
It makes me excited to come to work every day. Yes, growing into a large brand like that continues to intrigue me and makes it fun.
What kind of people are you looking for?
There's a really strategic arrangement that I see long-term with MSU. MSU is one of few universities that have a financial planning track. They're producing students that want to enter into our industry, but in the day of no landlines, I don't know how anyone starts from scratch in our business. They really need to be matched up potentially with an existing wealth management firm, financial institution, CPA firm, or a large property-casualty firm, basically a firm that has an existing book of clientele. There may be an opportunity for us to make those connections. I've always really enjoyed identifying problems and figuring out solutions and really facilitating some of those processes. I love seeing people find their passion. Our industry isn't shiny and a fancy new car kind of stuff. I think it's a sleepy industry full of potential.
And mentoring people, I feel like you'd be good at that.
I love Minnesota State University and there's just a good bunch of energy and students that seem to come out of there. Not to take away from colleges in the area. I continue to be fairly involved speaking to MSU groups like their marketing clubs, financial planning and entrepreneurship clubs. As a community we likely take for granted the MSU presence we have, but I can't imagine Mankato without MSU. I think they might continue to provide a component of our future success.
I really am fond of the underdogs, and really applaud small business in particular; just knowing what it's like to sign the front of a paycheck is something missing for most. Yet, I've been signing the front of my paycheck since college, which is really weird to some. Maybe as a result, this is why I've got so much compassion for business owners and entrepreneurs. It's thrilling to see colleges or universities like MSU with entrepreneurial-focused classes and curriculum.
And finally, let's talk about your community involvement. Particularly in this year, I feel like you've tried to rally people to come together and support each other. Tell us about the Do Good Double Decker Bus and its history.
How does one come up with this idea remains a big question even in my mind. We first began looking for something unique to market our business. MetLife used to have a blimp. We wanted something fun to make us stand out. But along the way it turned into something else. This became almost a personal crusade to see if we could get something as outrageous as a double decker bus completed. It was purchased as a regular city bus then I found a welding shop in Owatonna that added the upper level. My incredibly sharp accountant thinks I'm a genius for the additional tax deductions and losses, yet my even more awesome banker thinks I'm crazy. Both may be correct! I never had the goal of going into the transportation business or making money with it. It's sure been a fun mobile billboard, supporting some great community causes and events along the way.
Contrary to what some may think, this was a very carefully thought-out project over a period of a more than a year in advance of purchasing this. After much research, I wanted to do this. I happened to be on eBay. It was like 10 o'clock at night. A private party in Portland, Oregon was selling this 1995 Gillig Phantom city bus as an auction item. It took some nerve and two glasses of cabernet, but I bid on it and went to bed not knowing how it would turn out. I've never purchased anything on eBay before, but I woke up the next morning owning a bus in Portland, Oregon! Then reality sunk in and the crusade began on working on a really outrageous goal.
Life is generally hard for all of us for various reasons. 'Dream Big-Reach Higher' is what we want to encourage everyone to do; families, businesses, communities, our youth, and especially our clients. With our logo, it seemed like a fitting statement. Also, "Forward" is the directional sign on the front of the bus. We want to always move Forward and Pay it Forward. It's not all hype for Weilage, though, who backs it with genuine caring for the community he grew up in.
I think what makes life interesting for me is, each day, thinking about how I can help others. There's nothing but smiles with this bus, which is just amazing. It's all centered around delivering happiness and creating not only a corporate culture that is positive, but community cultures and a sense of community, people coming together. The bus seems to indeed do all that.
---
The Do Good Bus
The Do Good Bus has lived up to its name.
"We always wanted to direct our energy to literally mobilizing our ability to help nonprofits and get better engaged helping community-based activities."
To date these are some of the groups and causes the Do Good Bus has been involved in:
• United Way Leadership Kayak Trip
• United Way Film Set for Fire and Ice Event
• Mankato Symphony-Arts Tour Live Auction
• The Solstice Concerts-VIP Seating
• Mankato Marathon Cheer Squad
• Small Business Support-Bringing customers in and raising awareness (during flooding and COVID): The Roadhaus-Henderson, Knotty Bar Bar and Grill-Elysian, Spinners Bar & Grill-North Mankato and Big Dog-North Mankato
• COBRA Attack Helicopter installed for Fairmont Veterans Memorial Parade
• Veterans Auxiliary Parade Float for Eagle Lake Tater Daze Parade
• Float for Grand Marshalls IV Play Eagle Lake Tater Daze Parade
• Madison Lake Paddlefish Days Parade
• Float for the Honorable Mankato Mayor Najwa Massad in West Mankato Kids Parade
• Float for the Arts Center in St. Peter 4th of July Parade
• Zonta Woman's Group-Chankaska Wine Tour Live Auction
• Pheasants Inc. Fall Tour
• North Mankato 150th Birthday City Tours
• Float for the College of Business in MSU 150th Downtown Homecoming Parade
• Stuff the Bus for Partners for Housing (with Santa and the Grinch aboard; brought in hundreds of pounds of household items for those in transition)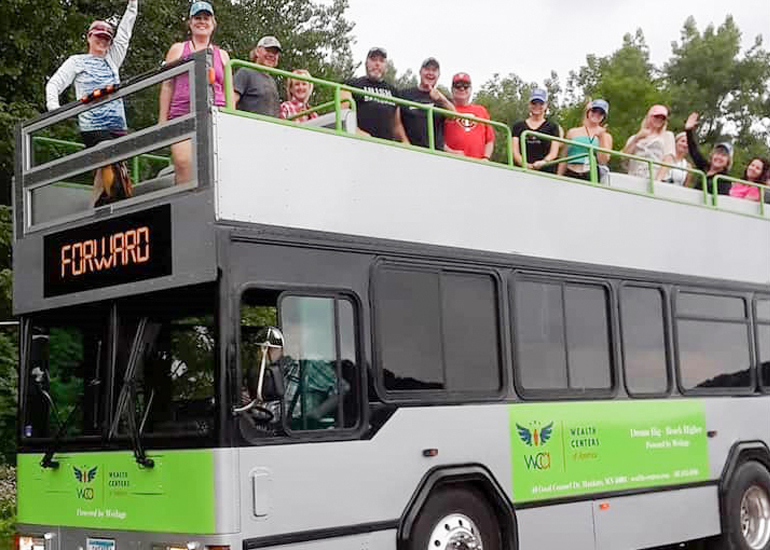 Submitted photo
---
The Essentials
Wealth Centers of America
40 Good Counsel Drive
Mankato, MN 56001
Phone: (507) 625-4810
Web: wealth-centers.com
Facebook: Wealth Centers of America
Securities products and advisory services offered through Park Avenue Securities LLC (PAS), member FINRA, /SIPC . OSJ: 920 2nd Avenue South Suite 1100, Minneapolis, MN 55402 Phone # 612-746-2000 PAS is a wholly owned subsidiary of The Guardian Life Insurance Company of America® (Guardian), New York, NY. Wealth Centers of America is not an affiliate or subsidiary of PAS or Guardian. Guardian, its subsidiaries, agents, and employees do not provide tax, legal, or accounting advice. Consult your tax, legal, or accounting professional regarding your individual situation. 2021-115606 Exp 01/23
Photo by Jonathan Smith