The A Team: Profinium's Ag Lenders Have Farming Backgrounds and Expertise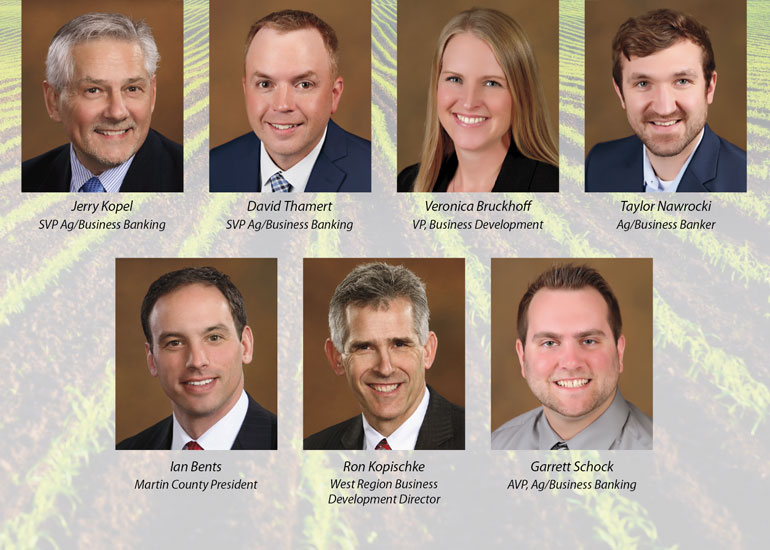 People and passion are the keys to Profinium's promise to cultivate relationships in everything they do. That credo is perhaps most evident in their approach to ag lending.
"One thing I like about being an ag lender is truly getting to know the people I am helping," says David Thamert, Profinium in Owatonna. "The first thing I do is go in to get to know the operation, their family, how they like to do business, those sorts of things. That will help me understand the best way to help them."
Profinium's ag lenders understand the best ways to help because they themselves have firsthand experience in the industry before becoming lenders.
"All of our ag lenders have a farming background," says Veronica Bruckhoff, Profinium in Mankato. "So we understand the lingo, we understand the trends. We understand when they need money, what they need the money for and why. We eat, live and sleep ag."
That's the way life has always been for Profinium ag lender, Taylor Nawrocki. "Growing up on a farm as a kid will always be very special to me," explains Nawrocki. "One of the most rewarding parts about being an ag lender is being able to build relationships within the ag community, help our clients achieve their dreams, and celebrate their success!"
Helping them succeed often means helping them pivot quickly. "The aspect of ag lending that I enjoy most is that the environment is extremely dynamic and fluid, which allows us to help our clients act swiftly to grow and enhance their operation. Ag is in the blood of our clients, which is evidenced by relationships that span generations," says Ian Bents, Profinium in Fairmont.
Being with families through generations is the best evidence of Profinium's commitment to the industry and the people in it.
"Having worked in Martin County for four decades, it is gratifying to work with multiple generations of the same family. It is fun to have worked with them and see them succeed both personally and professionally," says ag lender Ron Kopischke.
Profinium Bank's roots are in agriculture, and while they service a number of different industries, agriculture will always be a main vein.
"We've been in ag a long time and we are in it for the long haul," says Bruckhoff. "We've seen farming operations through ups and downs in the market, natural disasters and all the things that can make or break them. We stand behind farmers and we have for 140 years."
Profinium is a full financial health solutions center offering personal and business banking, mortgage, insurance, trust and wealth planning services.
---
The Essentials
Profinium
100 Warren Street, Suite 100
Mankato, MN 56001
Phone: 507-389-8900
Website: profinium.com
Facebook: Profinium