Kenwood Home + Kenwood Design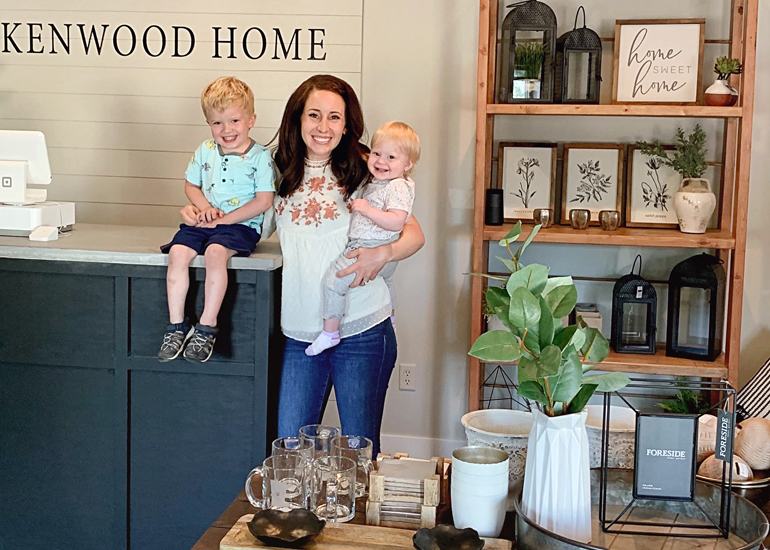 2020 was a big year for Abby Gronli. First, she decided to go all-in on her business, Kenwood Design, transforming it from a fun side gig to a full-time career. Next, she purchased a building to house her growing business. Finally, she took advantage of her new space to open her new home goods store, Kenwood Home.
"I've always been drawn to all things home," Gronli said. "My interest with interior design peaked when my husband, Micah, and I bought our home on a farm near Wabasso. It's a 1960s house that needed a lot of work to make it feel like our own. I found myself loving all the home renovation and design projects we've taken on."
The new building in Wanda is a great fit for Gronli; located near her home and the perfect size to house both Kenwood Design and Kenwood Home.
"Wanda is a small town, but I've found that people are willing to make the drive to check out what's in the shop and find items for their home," Gronli said. "There's something so sweet about being set up in a quaint little town."
Kenwood Design offers interior design services for projects large and small. Gronli also provides online design services for DIYers seeking guidance.
"Everything is done virtually for my online design clients," Gronli said. "I piece together the design plan for them, then they're in charge of setting everything up in their homes."
Kenwood Home carries a wide array of home goods that are updated monthly. Offerings include vases, florals, wall decor, kitchen utensils, textiles, and storage solutions. The shop is open monthly for a two- or three-day period.
"I've always had a love for small, locally owned shops. When we bought our building in Wanda, I knew this was my chance to own and operate a shop of my own," Gronli said. "My ultimate goal is to help people love where they live. When I wrap up a project and clients share with me that it finally feels like home to them, that's when I love my job most."
The Essentials
Kenwood Home + Kenwood Design
100 North Railroad St.
Wanda, MN 56294
Web: kenwoodhomedesign.com
Facebook: Kenwood Home + Design