50 Years of Success and Growth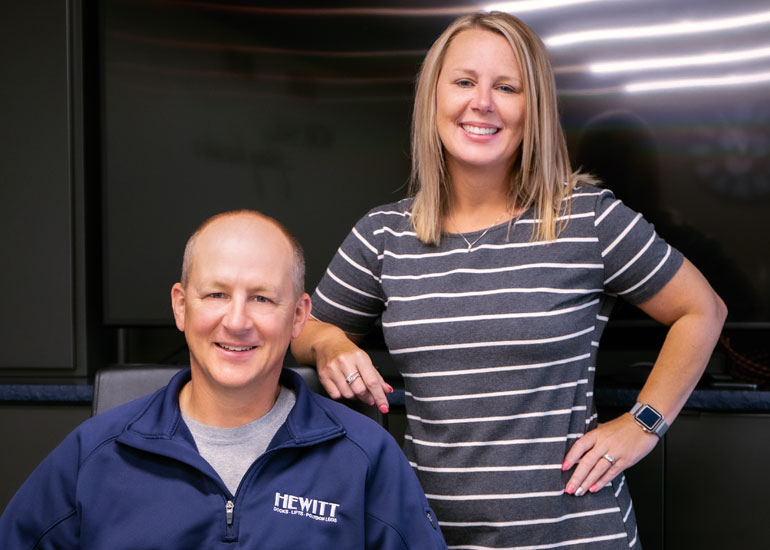 With Second-Generation Hewitts at the Helm, Business is Booming and Product Offerings are Growing
If you've spent any time on a Minnesota lake, chances are good you've encountered a Hewitt dock or boat lift.
Hewitt Docks, Lifts and Pontoon Legs first made a splash in the waterfront recreation scene with its portable Roll-A-Dock in 1971. Fifty years later, it's an industry leader, and its products are still making waves with a reputation for superior craftsmanship, rock-solid construction and easy-to-install modular components.
A family business in every sense of the word, Hewitt Docks was founded by Larry Hewitt and Linda Hewitt in 1971. They passed the torch to two of their children in 2016. Siblings Troy Hewitt and Sara Evans now own Hewitt Docks. Their brother, Dan Hewitt, was the company's sales manager for many years and continues to help the business seasonally. Their spouses, Cindy Hewitt and Kent Evans, followed them into the business. The four make a close-knit team, with Sara Evans serving as CEO, Troy Hewitt as COO, Kent Evans as CAO and Cindy Hewitt as CFO. The third generation of the Hewitt family is on deck and already learning the ropes.
Tucked between old and new Highway 14 on the southern edge of Nicollet, the Hewitt manufacturing facility includes more than 20 buildings – 450,000 square feet of production area – on a crowded 22-acre lot. The growth continues, with a new building in the works.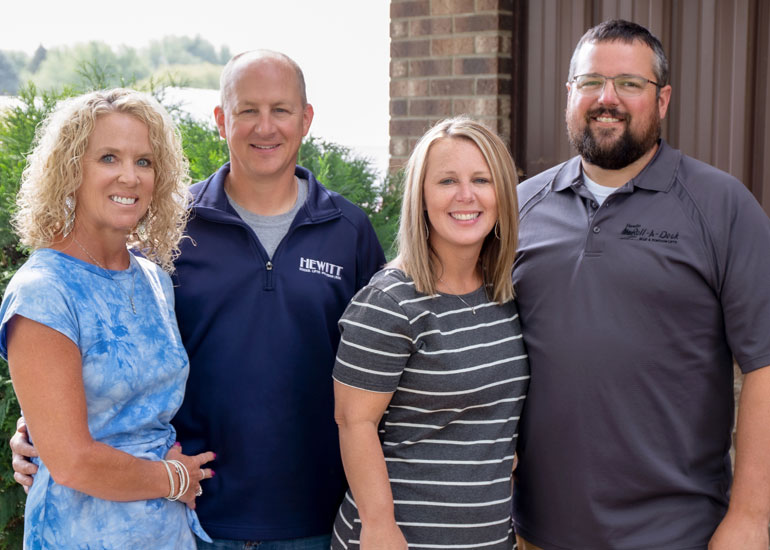 CFO Cindy Hewitt; her husband, COO Troy Hewitt; CEO Sara Evans; her husband, CAO Kent Evans.
Its expanding sales network mirrors the growth of its manufacturing capacity: Hewitt products are sold by over 450 dealers stretching across the United States and Canada. Today Hewitt Docks customers span the globe.
While the Roll-A-Dock put the company on the map, it is now one of literally hundreds of product options. Whatever you do on the water, Hewitt Docks has a product to make that experience better. Its offerings include a wide variety of docks, pontoon legs, upper decks and roofs, and canopy frames and covers. Hewitt lifts accommodate everything from jet skis to pontoons to floatplanes. Need a stairway or gangway to get from the bank to the water? They've got that covered, too. There are even products for the kiddos, including swim rafts, kayaks, and storage racks for paddleboards and lily pads.
2021 marks Hewitt Docks' 50th anniversary. In a fitting tribute to this achievement, the company is giving away a 50-foot Roll-A-Dock on its website.
Looking back on five decades of growth and change, the company has had a remarkable journey. The company that started with the purchase of a simple, small-town welding shop is now a major player in a competitive market. Business is booming, and the future looks bright.
"The achievement is starting from zero and then putting the Hewitt name on the marine industry," Troy Hewitt said. "We're not just in Minnesota, not just in the U.S. The Hewitt brand is very well known everywhere."
Humble Beginnings
When Larry Hewitt bought the Bauer Welding Shop in 1971, he was just looking for a way to support his family that would keep him close to home. Although trained as a machinist, he had been on the road working construction for too long.
"I didn't like being gone from home," Larry Hewitt said. "My son was little. I'd come home and he didn't even know me. I wanted to get into business for myself. I looked at different businesses – gas stations, mechanic shops – and I'd come back home and talk to Linda about it. I said I'm not going back on the road. So we made an offer and bought the blacksmith shop out."
A machinist with a can-do attitude, Larry Hewitt was handy with his hands and not afraid of hard work. His new business, Hewitt Machine & Manufacturing, Inc., was the perfect fit.
"He liked to build things with metal, so that's how he started. He welded, fixed lawn mowers, did anything he could do to make ends meet," Troy Hewitt said. "When Larry bought the business, Bauer said, 'I give him a year, and he'll run it under.' So for many years after that, whenever Larry would see him somewhere, he'd always tell him, 'Still here!'"
In those early days, Larry Hewitt had to be a jack-of-all-trades. He made repairs, sold lawnmowers and snowmobiles, and built everything from wrought-iron railings to metal corn bins to hog gates.
"I did anything to turn a dollar," Larry Hewitt said. "I plowed snow all winter, whatever it took to buy groceries."
Larry Hewitt built his first rolling dock as a favor to a friend with a bad back. His friend's request was simple: he needed a dock that was easy to maneuver into and out of the water. Larry Hewitt designed a simple, lightweight dock with a solid support structure modeled on building rafters. He attached car tires for portability. It was a simple but elegant solution that made for quick and easy dock installation.
His friend liked it so much, he wondered if Larry Hewitt would also build him a boat lift.
"We drove around the lake and looked at a bunch of lifts, and he said, 'We're going to build that.' It was winter, so we weren't busy. So we went ahead and built them," Larry Hewitt said.
As soon as that first dock hit the water, it started attracting attention. So did the boat lift. Neighbors started asking where they could get one for themselves. Gradually, orders started trickling in. Though he didn't realize it at the time, Larry Hewitt had created a product that would transform his business and change the trajectory of his entire family. That first dock became the prototype for the Hewitt Roll-A-Dock.
"Roll-A-Dock put us on the map," Troy Hewitt said. "There's nothing that compares to it. We build it just like a bridge, and the wheels are braced front and back so it can take the push and pull time after time. There's not another dock in the industry that you can pretty much put in 100 feet or more of dock, time after time, and it'll still be the same 20 years from now. Nobody else in our industry does that."
Word got around, and sales increased. The more docks and lifts Larry Hewitt built, the more people seemed to want them. He decided to use the following winter to build up some inventory.
"That was the first year we stuck our necks out for inventory," Linda Hewitt said. "We made 13 to 15 of them, hoping they would sell. That's how we learned you had to have the inventory. It was there when the people were ready for it."
Soon dock products were almost 50 percent of their business. Hewitt Machine & Manufacturing, Inc. had begun its transition to becoming Hewitt Docks, Lifts and Pontoon Legs.
It was a busy time, and the Hewitts learned the ropes as the business grew. Customers were requesting other types of docks and lifts, as well as related products like canopies. Larry Hewitt spent his time developing solutions for these new requests. Soon he needed seasonal help to meet demand. Linda Hewitt was the company bookkeeper, working from home so she could keep an eye on their young children. She also helped package nuts and bolts, lending a hand wherever it was needed.
Those early years were exciting but challenging.
"There's no two ways about it. The first bunch of years were hard," Larry Hewitt said. "We didn't have enough money coming in to buy groceries, and she went to work at night. We went through some tough times, but we just never quit."
As Linda Hewitt puts it: "It wasn't all gravy."
Eventually, the business found its feet and outgrew its original Third Street location. In 1974 the Hewitts purchased a lot just outside of town and built their first building.
"It was a slough, so we hauled a lot of fill in to build that first 60-by-100-foot building. That's all we could afford to do," Larry Hewitt said. "And we thought we had the world by the tail."
Little did they know that this building was only the first of many the company would need as it continued to grow.
"When we put the first main building up, Larry said that was more than we probably ever would need," Linda Hewitt said.
"Every time we put another building up, I wondered how much bigger we would grow. But we did it in steps. We did it as we could afford it and as we needed it."
Growing Up In The Business
The family business was always a part of life for the Hewitt children. The basement of their family home was transformed into the company's canvas department, with seamstresses churning out canvas canopies. They woke to the sound of sewing machines every morning. Then, after school, they pitched in wherever they were needed.
"We all grew up in the business," Sara Evans said. "We all had miscellaneous jobs, like cutting rope to tie the canopies down. Both my brothers would come over after school with their friends, and they were in charge of the painting of the docks. It was just what we knew."
Growing up in the business instilled a solid work ethic in all the Hewitt children and paid off when the time came for them to assume leadership roles. They understood the company from the ground up.
"Being able to do everything, from the grunt work to the entry-level stuff, it's helped to get me to where I am," Troy Hewitt said. "Having the know-how has definitely helped."
Troy Hewitt became an official Hewitt Docks employee right out of high school. It was still a seasonal business at this point, so he spent the off season working various jobs. It was a great learning opportunity.
"We were never busy year-round, so when we shut down, I worked (other jobs). I worked for a pizza place. I washed dishes. I worked for a local gas station. I worked for a construction guy. I hauled chicken manure and eggs. And I learned," Troy Hewitt said. "I worked with a lot of different supervisors and superiors and owners. I never forgot what I didn't like. I never forgot how I didn't want to be treated. So I've kept what I learned, and I try to treat our employees the right way."
Sara Evans worked as a receptionist and in order entry, working in various office positions at Hewitt Docks until she gradually worked her way up to CEO.
"It was an opportunity that we were able to be employees first," Sara Evans said. "We were able to learn other aspects of the business first before we had to lead it. Our kids are doing the same thing. Both my nephews are here right now. They started out with the grunt work, and now they're working their way up. My kids are only 11 and 12, so the most they can do is mow the lawn. But it's nice to give the kids this opportunity."
As the first generation of Hewitts steps aside, the third generation is getting more involved. The youngest Hewitts and Evanses are growing up in the business just as their parents did. In addition to learning the many different jobs required to make the products, they're also gaining firsthand experience of what it means to be an owner.
"Our kids understand that if you're the boss, you don't just get to boss people around," Sara Evans said. "At school, they did this (Junior Achievement) program called BizTown. You had to decide if you wanted to be an owner or a worker. Everybody in our daughter's class wanted to be an owner except for our daughter. She said no, '… because when they call in sick, my dad has to go to work. When something breaks down in the middle of the night, my dad has to go to work.' It's good for them because they see that we can't just come and go as we want as business owners. There are times that you have to make sacrifices."
Sara Evans and Troy Hewitt officially became business owners in 2016. Like their parents, they are running a company, working with their spouses and raising children. But, you might wonder, does it ever get to be too much family time?
"We get that question a lot: How can you stand working together and being together all the time? But we don't see each other much at work. Our jobs don't really cross over that much," Kent Evans said.
Company Culture
The Hewitt clan is a pragmatic, hard-working bunch, but an undercurrent of humor and camaraderie enlivens their conversation and permeates their company culture. Cindy Hewitt describes it as "family-oriented, employee-focused, laid back and trusting."
The company has 90 employees and 450 dealers. Hewitt workers are considered part of the extended Hewitt family; Hewitt dealers are their friends. Providing a good life for each and every one of them is one of the company's top goals. The Hewitt family believes their employees' happiness has a direct impact on the success of their business.
"When we say family first, we mean our employees and our employees' families come first. We give them flexibility. If they need to go home and take care of their child, we have empathy for what they are going through. We're trying to make sure that their life is good, that they have work-life balance and that they know they're appreciated here," Cindy Hewitt said.
One of the company's mottos is "work hard, play harder." It's all about balance.
"We've randomly brought our employees in and just said, 'You know what? It has been a long week. Let's call it quits at noon,'" Sara Evans said.
When the second generation of Hewitts took the helm five years ago, they took measures to improve employee morale, benefits and compensation. The result was a decrease in employee turnover to less than 10%.
The company also demonstrates its appreciation by recognizing employee birthdays and anniversaries, and celebrating Christmas and other holidays. In addition, monthly employee meals and small tokens of appreciation, like water bottles on a hot day or surprise snacks, send employees the message that they are an essential and valued part of the Hewitt business.
"We like a lot of food. When the pandemic hit, we knew that the grocery stores were going to be crowded, so we sent them each home with 5 pounds of meat and rubber gloves and other essentials," Sara Evans said.
The Hewitt family is not afraid to roll their sleeves up and pitch in wherever they're needed. It is not uncommon to find them all out on the production floor, working side by side with their workers.
"Our employees see that we're willing to jump in," Sara Evans said. "This last year, we were so busy we needed all hands on deck. We were all out in the plant working."
Hewitt Docks also works to nurture and grow its employees. It provides opportunities for employees to learn new skills and grow into new positions, including training on new equipment, leadership and sales.
"We've got a great crew right now. We try to take care of them the best we can to keep them here," Sara Evans said. "If they stuck with us through this year, I think we're golden because it was crazy. We've seen things we've never seen before."
Unexpected Pandemic Effect
Speaking of crazy years, while Hewitt Docks had to deal with the nerve-wracking chaos of the pandemic just like any other business, 2020 ended up being a surprisingly good year.
"Initially, we didn't know what was going to happen, if it was going to shut our business down or shut our sales down. We thought people would buckle down and not spend," Cindy Hewitt said.
The company shut down a week before Gov. Tim Walz issued stay-at-home orders and remained closed for three weeks. Fortunately, everything was already in place for their busy sales season. The question was, would they be able to sell it?
"We have 80 to 90 percent of our product ready to go by April 1," Troy Hewitt said. "So last year when the pandemic came, here we sat with warehouses full of product and everything was being closed down. We had this massive amount of inventory, and we're making payments on the company. What are we going to do? We closed for three weeks, and when we reopened, man, it opened and it opened hard."
What the Hewitt family couldn't predict was how much the pandemic would affect the way people lived. The lockdown required remote work and time outdoors, making lakeside living all the more enticing.
"It's been a surprise. Everybody's out on the water," Cindy Hewitt said. "People are spending more time at their lake property and spending their money on lake property equipment."
As a manufacturer, Hewitt Docks was considered an essential service. Once the Hewitts figured out how to safely get back to work, they reopened. Their business took off like a rocket.
"It was the exact opposite of what we thought was going to happen from the beginning, and it's still going strong," Kent Evans said. "We're seeing this change in how people spend their time and their energy at home. That is going to carry on past this pandemic year."
"As of June, all the product on our premises was spoken for," Sara Evans said. "We're booking so far out, trying to stay ahead of everything. Normally the Fourth of July is our cutoff where if people don't have the product, they don't get it till next year. We're usually starting to ramp up for next year by this time; instead, we still have a ton of products to ship. We're one of the few businesses that can say COVID was good for us."
It's a trend that Hewitt Docks is betting will continue, making its products more desirable than ever.
"People have realized that life is too fast paced. So they're enjoying this time at home," Troy Hewitt said. "Life is slowing down. I think it's been a good thing."
A Notch Above the Rest
When asked what sets Hewitt Docks apart from its competitors, Sara Evans jokes: "We put more love into it."
Joking aside, the family is very clear about what they need to do to stay on top of the pack. Top on the list: building a quality product that stands the test of time.
Hewitt docks are built to last a lifetime. That's not just wishful thinking; they can prove it. Many of the docks they made half a century ago are still going strong.
"The docks Larry built 50 years ago are still out there and still being used today," Troy Hewitt said. "As long as it didn't get struck by a storm and they continue maintenance, they can last a lifetime."
Product durability is due to a combination of quality materials, proven design and superior craftsmanship.
"All our products are definitely overbuilt," Kent Evans said. "We take them to extremes, and we build them so they last. Those extremes translate into the safety of the product."
Hewitt Docks ensures the quality of its products by controlling every aspect of its production process.
"We definitely watch our quality. It's what makes us," Troy Hewitt said. "We do everything from start to finish. We job out very little. If we can't make it, then we look elsewhere domestically. We control our manufacturing so we can control our product. We pride ourselves in this."
The company's secret sauce is its attention to detail. The Hewitts constantly evaluate every aspect of their manufacturing; streamlining processes, adding quality checks and improving product functionality.
"We're constantly improving our products. Every year we clean up edges and change things to help open up production," Kent Evans said. "We look for ways to make it more efficient and keep our costs down so we can stay competitive."
Once quality testing is complete, the Hewitt families enjoy putting their docks and lifts to the test in the environment they were designed for: the lake. Like their customers, they love a good day on the water.
"We both have lake cabins, so we make sure we're going there often enough to test our products as well," Sara Evans said with a laugh.
In recent years, the company invested in a roto-mold machine that enables it to manufacture its plastic bumpers and tires, ensuring these components are available when it needs them. It's also opened up new revenue streams, allowing Hewitt Docks to sell parts to other companies, sometimes even their competitors.
"We couldn't get the product anymore from our suppliers. That pushed us into expanding into that area. We bought the old gas station next door, remodeled it and purchased the roto-molding machine," Kent Evans said. "We can attach all kinds of different molds, and we expanded our CNC machines so we can make our own molds for whatever products we want."
The roto-molding capability makes changing product designs and customizing products simple. They can add names, change colors and create custom bumpers to meet their customers' needs.
"If somebody wants something changed, special, odd or different, it's not a big deal because we do everything here," Troy Hewitt said.
To meet changing market needs, Hewitt Docks continually updates its product line. A high-end, customizable dock and a more aesthetically appealing staircase system are its latest product additions. In addition, plans are in the works to expand the company's reach outside the marine industry, with handicap ramps and specialty roto-mold products.
When combined, these practices make Hewitt Docks a formidable competitor in the marketplace.
"People try to copy what we're doing, but when it comes to price, they can't. Because we do everything ourselves, we control our costs. We're able to sell our customers something bigger and better for the same price as lesser quality, lighter products," Troy Hewitt said. "Our customers always get their money's worth."
Ready For Anything
While Hewitt docks may last a lifetime, their customers' tastes are constantly evolving. Special requests for unique widths, colors, canopies, and wireless remotes are growing more and more common. As a result, the company has created a special department to manage customer requests.
"The clientele for our business has changed because lakefront property is becoming more and more scarce, so it's more valuable," Cindy Hewitt said. "More of the middle to upper class is buying from us, which in turn means they want more custom and fancier options."
The Hewitts have also witnessed a shift to larger boats. Gone are the days when fishing fans were content with a 16-foot motorboat. Today boats are bigger, which means docks and lifts also need to be bigger to accommodate the boats' increased size and weight.
"They might have been through three lifts because they keep buying bigger boats. That's definitely changed from 50 years ago to now. It's not a 40-foot fishing boat anymore; it's a $180,000 wakeboard boat," Kent Evans said.
Hewitt Docks typically starts producing inventory nine months prior to the sales season to ensure it can meet demand. The Fourth of July weekend traditionally marks this shift from sales to production for the following year. Whenever possible, it ships products to dealers before winter sets in, allowing dealers to delay payment until the start of sales. This frees its production facilities for continuous manufacturing and sets its dealers up for a rapid start in the spring. When people begin to open their lake homes and start thinking about what they'll need for the summer ahead, Hewitt products are ready and waiting.
"We always believed in having inventory ready to go, so when spring pops we can truck," Larry Hewitt said.
Of course, there is an inherent amount of risk in this strategy. Funding must be secured, materials purchased and payrolls met long before payments start rolling in. The Hewitt management team has become adept at keeping one eye on their production schedule and the other on their purchasing forecast to ensure they have the materials they need when they need them.
"It's scary every year to put all that inventory into the warehouse," Troy Hewitt said. "But it sets us apart from our competition."
This strategy was particularly beneficial in 2020. When the pandemic shutdown left some of its competitors scrambling to produce products, Hewitt Docks was primed and ready to go. As a result, 2020 was its biggest year ever. This strategy should also pay off in 2021, when supply chain issues are popping up everywhere and lead times for critical materials such as aluminum have jumped from four weeks to 14 months. Other manufacturers may be stopped in their tracks, but Hewitt Docks is moving ahead. Its materials were locked in long ago and will be there when it needs them for its upcoming production season.
"A good relationship with your vendors is key. We're loyal to our vendors, and so they do help us, giving us notice in advance if something's going to go up, so we don't have the big jumps that most (manufacturers) see," Troy Hewitt said.
Its product inventory also saves Hewitt Docks from having to make last-minute price adjustments.
"Being ahead on the inventory allows us not to have the midseason increases," Kent Evans said. "This year is a little different.
Demand has been so high we are still building to sell this year. We're constantly bringing more stuff in just because the sales have been so crazy."
The Hewitt team plans to keep riding the wave their momentum has created into the future. If the accomplishments of the past 50 years are any indicator, their future will be bright indeed.
---
Life Lessons
• Work hard, play harder
• Believe in your people
• Watch your receivables
• Don't jump in over your head
• Quality is a commitment
• If it's not broke, don't fix it
• Grow slowly
• Loyalty attracts loyalty
• Treat your employees well
---
Family Business Finalist
Hewitt Docks, Lifts and Pontoon Legs has been selected as a 2021 Finalist in the Twin Cities Business Minnesota Family Business Awards. It will be recognized on Oct. 28 at the Hyatt Regency in Minneapolis. Congratulations from the Connect Business Magazine team!
---
Behind the Scenes
Hewitt Docks, Lifts and Pontoon Legs was recently featured on Made For The Outdoors TV. For a behind-the-scenes look at its manufacturing process, watch season 6, episode 3 at: Made For The Outdoors TV (http://www.madefortheoutdoors.tv/)
---
Life in Retirement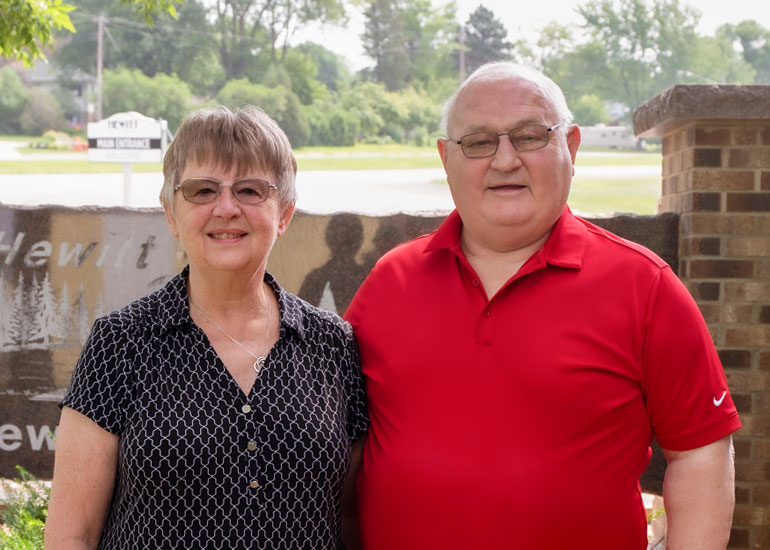 When you've built a business from the ground up, letting go is not easy.
Larry Hewitt and Linda Hewitt sold Hewitt Docks to their children five years ago in the fall of 2016, but they continued to work there for a while to ease the transition for themselves and their children. Linda Hewitt retired four years ago, and her husband followed her into retirement two years later.
They're enjoying the extra time their retirement provides for family and friends, but there are days they miss the hustle and bustle of the business.
"The hardest part for me was how much I missed working with Sara. She and I talked every day. We'd constantly holler across the hall. Once I left, I missed that part of it," Linda Hewitt said. "I also miss some of the dealers, talking with them. They became our friends."
It was even harder for Larry Hewitt. It took an accident to sideline him and show him that it was time to let go.
"I thought, 'I can't retire. I can't sit still,'" Larry Hewitt said. "Then I had an accident out here and got hurt walking to work. My leg was busted up pretty bad. We talked about it and talked about it and decided it was time to back down."
"He finally realized Troy could do it. Up until that point, I don't think he wanted to admit that they could do it without him," Linda Hewitt said.
"To finally do it was tough," Larry Hewitt said. "It took two years for me to move over to my man cave. I've got a couple of classic cars. I doodle around with them, and that's about it."
Although fully retired, they remain involved in small ways. For example, Linda Hewitt chauffeurs her youngest grandchildren to activities so their mother can focus on work. She also enjoys some of the simple things she didn't have time for before retiring.
"I run with Sara's kids a lot, so she doesn't have to leave to do it. Then every Thursday, I have lunch with some other girls in town. That was something I didn't get to do before," Linda Hewitt said. "I'm not doing anything super special, but I'm sure busy.
They always say you don't know how you worked a full-time job because you're so busy after you're retired. It's just a different kind of busy."
Larry Hewitt often stops by to mow the lawn or run errands.
"I come down here, but I've got to stay out of the way because everybody is so busy," Larry Hewitt said. "It's like a beehive, and they've got work to do."
Looking back at all they've accomplished, the Hewitts share a sense of pride in the business they built and the strong, capable family they raised. Every other year, the couple gathers their family together for a weeklong vacation away. It's their way of celebrating all that they've accomplished over a lifetime of collaboration in work and marriage.
---
The Essentials
Hewitt Docks, Lifts & Pontoon Legs
709 Old Highway 14 East
Nicollet, MN 56074
Phone: (507) 225-3421
Web: hewittrad.com
Facebook: HewittLiftsRollADock
Photography by Jonathan Smith